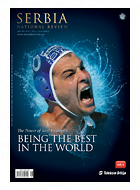 SERBIA - National review, No 47

Prologue
We are closing the eight and entering the ninth year of "National Review". Still believing in the power of true examples, we have the Winner again on our cover page. Everything we could say at this moment can fit into this champion's cry of the best water polo player in the world. The faith, the will, the heart, loyalty, knowledge, love, and sacrifice, and righteous indignation, and contempt. That is the cry of those we are proud of, unlike the spiteful pragmatists and people-amphibian. Once, when all this becomes a blurry past, they will remember us for this cry, and not for those who steal, lie and have bad smell.  <


CONTENTS
Prolog
IN 2015 WE WISH YOU – YOU
Everything in Your power

Vitrage
NUMBERS, EVENTS, INTERESTING THINGS
Album
IMPORTANT BREAKTHROUGH IN TOURISM PUBLISHING
Beautiful Belgrade with No Make-Up
Heights
STOLOVI, A LESS KNOWN DESTINATION NEAR KRALJEVO
Mountain of Narcissuses and Horses
This is not a dull geography textbook for seventh grade, filled with unnecessary information. It is a directory that should be repeated and carefully listened to. It opens to us depths of languages and mountains. And you should get to know Stolovi, if you haven't done that already. Its meadows filled with beautifully white flowers and wild horses. Even Miloš Obilić, a legend has it, found his magnificent stallion Ždral here. He offered all the treasures for it, and got it for free. This is what happens with heroes in Serbia
Text and photographs: Dragan Bosnić
Birds
UNUSUAL COLONY OF OWLS IN KIKINDA
Winter Holiday on the Main City Square
They spend winters in treetops on the Square of Serbian Volunteers, every year. A few hundred of them. The citizens of Kikinda protect them with constant care and special regulations. They do not prune the trees that are the homes to these birds. Tourists and experts come from a far to study and record, a crew of the BBC's "Wildlife Magazine" was there. And the people of Banat, like ancient Greeks, believe: if an owl flies over you during a battle, you will certainly win. They are being flown over every day
By: Dragan Batinić
Photographs: Tamara Ristić
Discovery
SECRET UNDERGROUND CITY IN MALI ZVORNIK
Stone Girl below the Mountain
Intended for longer stay of high government officials in difficult war conditions, it was built in strictest secrecy. So strict that even Germans, during four years of occupation, did not discover it. It stretches over 5,000 square meters, has a kilometer and a half of hallways, conditions for the placement of more than 3,000 people. Among seventy five rooms there are apartments for the king and his family, members of the government and the General Staff, dormitory for the guard, chapel, library, cantina, bathrooms, well, horse stalls... It was used in accordance with its purpose only for three days in April 1941. Today, eighty years later, someone finally had an idea to do something smart with it
Text and photographs: Nenad Marković
Invitation
"CHRISTMAS STREET" IN RUMA, FOR THE FOURTH TIME
On the Bridge between Years
This street gushed in the middle of the City Square, like a river that resurfaces here every winter, always at the same time, colorful and playful. It connects two holidays, two calendars, two school breaks, two years. It bids farewell and welcomes, rejoices and entertains, watches and presents, gathers and brings together. That is why it deserves its name and your visit
Pilgrimages
GORNJA TRNOVA IN MAJEVICA, VILLAGE OF THE RENOWNED FILIP VIŠNJIĆ (1767-1834)
Homeland of Serbian Homer
The blind gusle player and epic poet saw far from here, through space and time. From here he set out into the world as to the open sea. Here is one of the two caves of Starina Novak and traces of the hoofs of Šarac, horse of Kraljević Marko, who appeared anywhere the Serbs needed heroism. There were also vineyards, convocations, reputable artisans, but now this is all gone. There are herbs, water from stone, rich hunting grounds, memories. And there will also hopefully be more people again
By: Jelena Bodul
Traces
NJEGOŠ' STREET IN HERCEG-NOVI, FROM TVRTKO'S FOUNDATIONS TO OUR DAYS OF ILL FORTUNE
Related to the Heart
It is not an ordinary street, a strand of hair in the "eyebrow below the mountain". It is one of the golden threads that keep bringing this city and this sea, again and again, into the very heart of Serbian culture. Toward the bottom of this street, twelve-year old Njegoš went to school, and toward the top, Marko Milјanov died. In this street, Ljubiša and Matavulj spent their time, Andrić and Raičković lived, Ćopić and Desanka stayed, Džumhur and Kapor exchanged stories... If you don't believe me, ask Nogo and Bratić (you will see them there)
By: Branislav Matić
History and Legend
PAVLE BAKIĆ, EUROPEAN HERO FROM VENČAC
The Last Serbian Despot
Raised on the principles of old nobility and honor, he was educated and brave. Circumstances changed, empires and opponents, and he led his unwavering battle, our, always the same. He could have abandoned the occupied Serbia forever in December 1525. He inflicted heavy defeats on the Turks near Kahlenberg and Baden, he defended Vienna and the Danube, the only one who met them in the battlefield in Slavonia on October 12, 1537. He fell as a hero, in the battle, and his head, like the head of Karađorđe later, was taken to the sultan in Constantinople. So he would see that it is possible
By: Jovo Bajić
Patina
IN JEVREJSKA STREET NO. 16, WHERE "ONEG SHABBAT" HOME USED TO BE
True Spirit of Old Dorćol
When it was opened, on March 4, 1923, the ceremony was led by rabbi Isak Alkalaj, and the king's emissary was also present. In addition to the Belgradians of the Moses' Law, which were then about 13,000, the people from Dorćol of other religions and nations also gathered. After the war, a cinema was located there, boxing club, Cultural Centre "Braća Baruh", and UDB also had its corners there. Today, behind the inscription in Latin "Cinema Rex", many things happen. And maybe it is high time to give back to this old building its true glow and meaning?
By: Miloš Lazić
Annals
MARKING THE 20TH ANNIVERSARY OF THE MOST UNUSUAL MUSEUM IN BELGRADE
Childhood of Automobilism
From the first automobile (1903), first driver (Sreten Kostić), first petrol station (1919), first and only "Formula 1" race here (1939), from the time brandy was poured into the cooler instead of antifreeze, to the present time, a long road was passed. When you come to the Automobile Museum in Majke Jevrosime 30, you can travel far. Depends on you. On how much you can still enjoy and drive through time. You'll see: we were not that fast, but we were deeper, more passionate and more romantic
By: Uroš Matić
Photo: "National Review" archive,
Automobile Museum, Dragan Bosnić
Fairytale
VRETENKO, THE EIGHTH DWARF, AND HIS JOURNEY TO THE PRINCESS
Life Made of Stories
Every dwarf in the village knew some kind of crafts. To patch fishermen's nets with moonlight threads, for example. Or to make magic potions. Or to excavate diamonds in caves. Only Vretenko was sitting down telling stories all day long. Nobody believed in those stories but him, but everybody would leave their work and come to listen to him. This made the village head very angry. And then one day, the king announced that he would give his daughter and half the kingdom to the person who tells the most beautiful story. It was the opportunity of a lifetime for Vretenko
By: Nebojša Jevrić
Illustrations: Predrag Todorović
More than a Game
UROŠ PETROVIĆ, WRITER OF MYSTERY STORIES FOR CHILDREN, YOUNG AND OLD ONES
Mischievous Collector of Boomerangs
He started writing wishing that there again are books that will bring back the play of the shadow of fire on the face of the storyteller. He will explain the writer's tricks, and then everything will be even more mysterious. Writing is for him a filigree work on preparing the fireworks. He says that the words don't put the magic in motion but help us see it. Children today are the victims of mindless parents' love, disarmed by being overprotected, trapped in a 2D world. He understands and awakens them, and that is why he is always welcomed as a rock star
By: Vesna Kapor
Photographs: Archive of Uroš Petrović
The Winner
FILIP FILIPOVIĆ, THE BEST WATER POLO PLAYER IN THE WORLD, EXCLUSIVELY FOR "NATIONAL REVIEW"
Believing in One's Way
When he was fourteen, he entered the team of "Partizan", when he was sixteen he made it to the national team. He won everything, twice already pronounced the best in the planet. He is especially grateful to those who helped him to realize what he should not become in life. What we miss, he says, is full awareness of the value of what we have. And the sense of duty that we must leave at least that much to our descendants. He is not longing to repeat in the New Year the successes from the old one, but always to create something bigger, different
By: Dejan Bulajić
Photographs: Archives of Filip Filipović
Year
VRNJAČKA BANJA IN THE DIFFICULT YEAR OF 2014, WITHSTOOD ALL THE BLOWS
Steps in the Right Direction
Floods and budgetary problems have been overcome. The main consequences were removed quickly, the season was realized successfully. Conditions were created for infrastructure projects, from reconstructions of main streets and the large park, to construction of an aqua park and athletic stadium. The year was crowned with a big German investment in three mini hydro power plants. The strategic goal is for Vrnjačka Banja to stand once again shoulder to shoulder with Baden-Baden, Karlovy Vary and Vichy
Health
SUMMARY AND ECHOES OF THE "MONTH OF ESTHETICS" IN "MERKUR"
Ways toward Beauty
To stimulate people to raise the quality of their lives, make it more beautiful and cheerful. To show them what role the medicine can have in this. To point out that many things should be thought about in time and that the most important beauty comes from us. These are the frameworks for this unusual and very successful project in Vrnjačka Banja
Connections
"TELEKOM SRBIJA" IN PROJECTS OF SUPPORT TO AUTHENTIC CULTURE
From Little Ones to Giants
Traditional cooperation of this national company and Kolarac Endowment, thanks to which in previous years the visitors have been able to enjoy the program "Giants of Music", was in 2014 expanded with joint project "From Little Ones to Giants". The program of music workshops for children between five and twelve years old, entitled "How to make music: Knock, Knock, Kolarac" was also successfully completed
Knowledge
GYMNASIUM "SINGIDUNUM" AND NEW POSTULATES OF SECONDARY EDUCATION
Foundation First, Then the Rest
The gymnasium has continued the tradition of "Singidunum" University, recognizable for the high level of educational servicers. It is of general type, but the students, according to their affinities and studies they want to later enroll in, will have the appropriate structure of classes. Prior knowledge will be tested in order to compensate for what was missed. Gaps are difficult, not the subjects. Those who cheat in studying, cheat themselves
Text and photographs: Rozana Sazdić
Studies
A VISIT TO STUDENT PARLIAMENT OF BELGRADE BUSINESS SCHOOL
The Skills Verified by Life
Great theoretical knowledge from academic studies is often not applicable in practice. Good vocational studies, like those offered by this school, insist exactly on the opposite. Lectures and practice are based on case studies from Serbian economy on solving specific business problems of local companies. Professors are renowned experts with great business experience
Energy
A NEW BUCKET-WHEEL EXCAVATOR IN MINING BASIN "KOLUBARA"
For Recovery and Stability
Novi excavator, called "rodent", weights almost 1,700 tons and has a capacity of 4,800 cubic meters. It is designed to excavate both coal and mullock. A business deal concluded between the EPS and "ThyssenKrupp" is worth 18.7 million Euros. The main contractor and supplier is "Metal", a branch of "Kolubara", which has been getting ready to build another bucket-wheel excavator, bigger even than this one. Despite difficult blows in the floods last spring, there is enough coal, the system is stable, and there will be no power shortages or price increases
By: Ana Pavlović
Photographs: Archive of "Kolubara"