God Seekers
RUSSIAN PRIEST FYODOR KONYUKHOV, AN UNUSUAL PILGRIM TO THE END OF THE WORLDS
Miracles of Eternal Journey
A master mariner, deserving master of sports, Orthodox priest, painter, writer, journalist. And only one man. He is the only person on the planet who reached all five of its most remote points. He was on both poles, climbed Everest twice, he sailed around the world on a yacht four times, rowed across two oceans. And without help from God and St. Nicholas, he says, he would not have come as far as a newsstand
By: Jovan Plamenac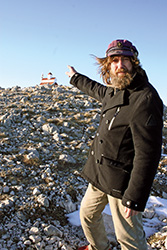 Having heard that in Montenegro, in Herceg Novi, there is the Church of St. Fyodor Ushakov, the first in the world erected to this saint, the famous Russian admiral (1744-1817), Fyodor Filippovich Konyukhov and Vadim Borisovich Ciganov, friends from Moscow, agreed to donate the icon of this saint to it. They shared their idea to Cyril, the Patriarch of Moscow and all Russia and, having obtained his blessing, they went into action.
The icon of St. Fyodor was painted and lavishly decorated in Moscow. It was transported by plain to the Seychelles, where Vadim's yacht "Saint Victoria" had been anchored. The six-member crew, under the command of Fyodor Konyukhov, left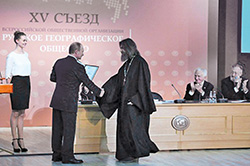 Seychelles on a 4,500 miles long journey on August 5, 2010, on the day when the Orthodox Church celebrates St. Fyodor. Having survived a great storm (which damaged the ship) and pirates' attack near the Horn of Africa, they arrived in Bar on October 28.
Fyodor Konyukhov was already an Orthodox deacon; he was ordained in his hometown of Zaporizhia, on May 23 that year.
Fyodor, born on December 12, 1951, knew that he would be a sailor when he was only a boy. His father Fillip sailed too, as well as grandfather Mikhail... Maritime and fishing have a long tradition in his family, which is from Arkhangelsk Governorate.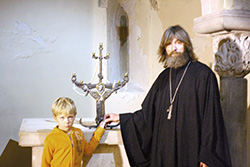 His grandfather used to say: "Sedov didn't make it to the North Pole. You should go there." The grandfather knew the famous Russian hydrographer, explorer of Arctic, Georgi Jakowlewitsch Sedow, who had tried to conquer the North Pole in 1912. (The North Pole was conquered only in 1948 – by plane.)
In the Maritime School in Odessa he studied to become a navigator, and in Polar School in Leningrad he attended school for mechanics... Today he is a master mariner and yacht captain. he sailed around the globe four times in a yacht without anchoring in any port, he sailed across the Atlantic Ocean around fifteen times, once he even rowed across it, in 46 days and 4 hours, setting the world record.
BEATINGS FOR THE FIRST EXPEDITION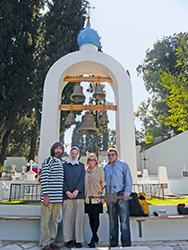 What does Fyodor Konyukhov do on a yacht on journeys that long except, of course, running it, preparing food, cleaning... because, he is alone? He writes a diary, which is then transformed into books. His book "Ocean – My Family" is wonderful, full of faith. In this book, alone for months between the sky and water, he talks to his son Nicolai, teaching him the Christian values of life. When he had been a little boy, he left him a testament, resembling the writings of the holy fathers. It is one of his twelve books published so far, which made him a member of the Association of Writers of the Russian Federation.
He paints, draws, sculpts... He has made over 3,000 paintings. When in 1983, he was admitted into the Association of Fine Artists of the Soviet Union, he was its youngest member. Then, in 1996, he was admitted into the Association of Fine Artists of Moscow, the section of Graphics, and in 2001, section of Sculpture.
He is an honorary member of the Russian Academy of Arts and a recipient of its Gold Medal. He has exhibited his works on many exhibitions in Russia and abroad.
For a while he issued the magazine "Journal of Fedor Konyukhov". He is also a member of the Association of Journalists of the Russian Federation.
He made his first journey, which later got the status of his first expedition, when he was only fifteen: he rowed across the Sea of Azov in a fishing boat. His grandfather's words echoed in his head and he thought: "If I make this, I will certainly go to the North Pole." When he returned, what he got from his father – was a good beating.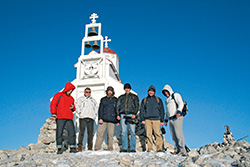 He was on the North Pole three times, on dogsleds and skis. he is the first Russian who has fulfilled the program "Big Helmet": he was on the North and South Pole and Mont Everest, and is the only citizen of the Planet who has reached its five most extreme poles: the North and South Pole, the Pole of Relative Inaccessibility in the Arctic Ocean (the point in the northern hemisphere of the Earth that is the most difficult to reach, a major challenge for all passengers), Mont Everest and Cape Horn ("Yachtsmen's Pole").
The most famous Russian traveler has had over 40 unique expeditions around the globe until now. He has become a regular member of the Russian Geographical Society, an eminent master of sports (it is the largest sports title in Russia), has entered into the encyclopedia "The Chronicle of Mankind". From 1998, he has been the Head of the Laboratory for remote training under extreme conditions of the Modern Humanitarian Academy in Moscow. he was awarded the Order of Friendship of Peoples of the Soviet Union, Order ofHoly Martyr Georgi of the first instance for exemplary and sacrificial efforts on behalf of God's holy Orthodox Church, UNEP's Global 500 award for contribution to environmental protection, UNESCO's Fair Play Award... He is an honorary citizen of Nakhodka in Russia and Bergin and Terni in Italy.
LITURGY ON THE MOUNTAIN TOP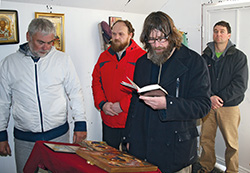 Fyodor Konyukhov, Vadim Ciganov, Fyodor Tuzov, coordinator of this project, Oleg Molčanov, painter, a member of the Russian Academy of Fine Artists, Oskar Konyukhov, Fyodor's oldest son, Executive Director of the Federation of Yachting in Russia, Jovan Plamenac, a priest from Bar, and Krsto Plamenac, a cameraman, student theology – it was the crew that, on yacht "Saint Victoria", in rough seas, sailing for 17 hours, on March 3, 2011 in the evening came to Bari, to St. Nicholas of Myra, the Wonderworker. The abbot of the local basilica allowed them to enter the enclosed and locked part of the temple, where the Saint's grave is located. Fyodor's dream to bow to the relics of St. Nicholas finally came true.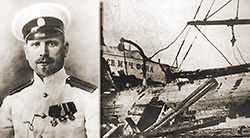 Having returned to Bar on March 5 in the afternoon, after less than one hour of break, the members of the exhibition, in strong wind, went to the top of Rumija. Fyodor Konyukhov, who meanwhile received the rank of a priest, climbed another mountain top, one among many on all six continents, but the only one where, in a church, he was able to thank God for the mercy that had been coming down on him for all those years. The day was coming to an end and there was no time to serve a liturgy.
Priest Fyodor served a liturgy on Rumija half a year later, on October 29. It was one of the regular monthly liturgies in this temple. He was so happy, so filled with gratitude... and appreciation.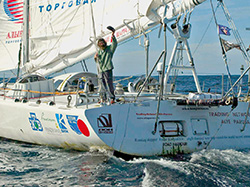 In the late 1960', in Babruysk, where he had graduated from the art school, he also graduated the seminary. Even then he was planning to be a priest; while still young to travel around the world and when he gets old, when he is 50, to become a priest. Chances were that this is what happened, but not quite: as years were passing, his age limit was moving up.
On Easter in 2012, he completed his journey around Ethiopia. In ancient Ethiopian capital of Aksum he was greeted by the patriarch and Catholicos of the Ethiopian (old Eastern) church Abuna Pavle (passed away on August 16, 2012). As published by the "Voice of Russia", priest Fyodor Konyukhov was the first European who saw the Ark of the Covenant.
On camels, with an expedition of 16 members armed with automatic weapons, in which he was the only Caucasian, in the desert where the temperature would reach as much as 58 degrees Celsius, he crossed almost one thousand kilometers. He had also been in Aksum two years before.
TO THE BORDERS AND BEYOND
When he was ordained as a priest, Fyodor Konyukhov donated to the Diocese of Zaporizhia an icon of St. Nikolas Misgornski. Namely, although he has a blessing to paint cons himself, although he is an educated and recognized painter, he gave this icon to, based on his sketch, be done by a better painter. ("Painter is one, and icon painter something completely special. In icons one must embed the spirit, but one must get to that point.") St. Nikolas Misgornski (toward Cape Horn) is holding this Cape in his right hand, and a ship in his left.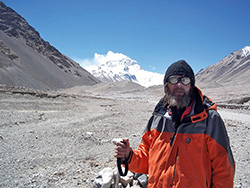 Pirates who would manage to pass around Cape Horn, the southernmost point of South America, where the sun almost never rises and where winds are very strong, were highly esteemed and had an earring in their ear, as the highest decoration. It is more difficult, Fyodor says, to go around the Cape Horn than climb Everest.
On Mont Everest "there is to breathe", Fyodor says. During the last expedition to this peak, in 2012, his entire beard was pulled from the oxygen mask and he lost eight kilograms. It was, the experts claim, one of the most difficult seasons in the history of organized climbing on the highest mountain peak on Earth. As many as eleven mountaineers died. Several expeditions, with about a hundred people, were canceled.
They climbed in strong wind. Rain was pouring down, damaging their batteries for electricity. A part of the round they passed on all four. It was terribly cold, he could feel his hands and feet. He was getting overcome by fear; on several occasions he thought that this would be his last trip. And eh continuously prayed to St. Nicholas to "pull him up".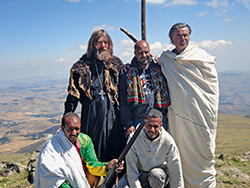 In almost half a century of his travels there have been numerous dangerous situations. Once he spent three days and three nights trapped in an overturned yacht. Another time, on the Atlantic, while sailing with his son Oskar, he was caught by a storm. They hardly managed to prevent the boat from overturning. He was overcome by fear, for his son.
His first trip around the world was especially difficult for him. he sailed continuously for 224 days, alone, without stopping in any harbor, without radio station, without telephone... The yacht was small and storms were fierce.
However, the most difficult trip for him was not one of those where he was alone, but the one from 1986, when, with the group of the legendary Dimitrij Špar on skis he drifted into a polar night, toward the Pole of Relative Inaccessibility in the Arctic Ocean.
With alpinist Volodya Janočkin climbed McKinley, the highest peak of North America, in Alaska. This is where the great Japanese traveler Naomi Uemura died, the man admired by Fyodor and his role model. And that is not a very dangerous place. However, when he embarked on a journey to conquer that peak, in one moment he was overcome by great fear. He could not make a step further. He managed somehow to overcome the crisis and keep going, but after that event he started thinking more seriously about his own "risk limit".
TRAVELLING TO BREATHE
"Have I met by risk limit?" Fyodor asks himself. Will God still guard him in life threatening situations, in which he finds himself consciously with this kind of lifestyle? Does God need him here, on earth?
Still, although in an advanced age, in row boat "Turgojak" tailor made for him, without anybody's help, and without stopping in any harbor, he recently sailed across – the Pacific Ocean. He started from Chile, from Concón, on December 22, 2013, and in 160 days, by rowing, he sailed to Mooloolaba on Australian coast. he crossed 17,408 kilometers. The previous best result in rowing across the southern part of the Atlantic Ocean was in 273 days.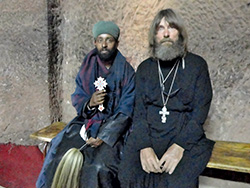 As soon as he set foot on the solid ground, he received a congratulation note from Vladimir Putin who, half a year later, at the 15th Congress of Russian geographical Society, handed to him the Golden Medal Mikluho-Maklaja, as its first laureate.
And he would also like to row across the Indian Ocean... Well – maybe – and then to end his career as a "traveler". Anyway, he has already met the conditions for retirement, "to ride in the subway for free". All he needs to do is get the papers.
His "schools for travelers" in Nahotki and Vologda are already working, and they promised to also open one on Altai.
When he was six years old, his grandfather Mikhail gave him a little cross. He has been carrying it around his neck ever since. Mikhail's brother was Nikolai. He was a priest. In 1928, the Bolsheviks killed him by taking him out on ice and pouring water on top of him. Russian Orthodox Church added him onto the Diptych of saints. The icon of Holy Martyr Nikolai Konyukhov today also adorns the Church of Holy Trinity on Rumija.
"Every man who has no faith has a difficult life, especially travelers", priest Fyodor says. Ever since his early youth, he has been used to praying to Saint Nicholas and God, no matter where he is, especially at night. "I have a feeling that Saint Nicholas never leaves me. Without help from the Heavens I would not have survived."
Fyodor Konyukhov never lifted weights, never wasted his time and attention to sports trainings. His muscles are quite weak. "I have neither physical, nor moral, nor intellectual ability to cross the ocean or reach the Pole. One can only do this with God", father Fyodor says.
"Travelling is the only time when I can breathe air", he says. "There, there is no vanity, gossip, empty talk..." And there is time for prayer, in which he spent his entire life, long before he became a priest.
He lives modestly with his family, mostly from the money he makes from selling books and paintings.

***
On the Top of the Tops, the Second Time
He climbed Everest again when he was already 60 years old. He did this for the first time on May 11, 1992, only ten years after the first Soviet expedition that had managed to do this.
***
Signs along the Road
From the money he earns when travelling he has built a large number of "časovnji", little churches. he would usually build them in places where he lived or started his great expeditions. That is how he expresses his gratitude to God.