Pro memoria
ON THE OCCASION OF THE FIFTH ANNIVERSARY OF DEPARTURE OF MOMO KAPOR
Sentimental War and Peace
With irresistible ease carrying his Herzegovinian lordship, always adding to it a little of the city and the world flavor. he knew how to drink up the night and enchant people with stories: he was proud of the titles "the man of taverns" and "war reporter from the Homeland". Fe figured out why traitors have such a fear of art and traces. he spared neither himself nor life: he took and gave away everything. He disarmed with his humor, conquered with his jokes on his account. When he left, it was, of course, a beautiful day. We did not have, and will not have, another one like him
By: Mišo Vujović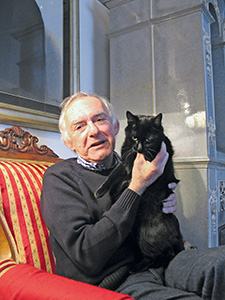 Recently, Srpska književna zadruga and "Momčilo Momo Kapor" Endowment published the second book of interviews of Momo Kapor from 1990 to 2000, entitled Sentimental War and Peace of Momo Kapor that included long interview "Patriotism is a matter of home upbringing", published in 2000 in Glas Crnogorca, then 101 percent Serbian and oppositional weekly in the Federal Republic of Yugoslavia. Namely, the authorities in Podgorica supported the opposition in Serbia, while the regime in Belgrade ruled together with Montenegrin opposition on federal level. In both states we were foreign, "subversive" and "clerical-national".
After the collapse of the daily edition that found its way as a wedge between two party bulletins of the divided DPS, Dan and Vijesti, except for a few computers, a significant debt and facilities of the Church Municipality of Podgorica, all we had left was the blessing of metropolitan Amfilohije, enthusiasm of Jovan Plamenac and the late Zoran Bogavac, and the idea not to leave without the "scream into the night". We opened the pages to all those who wanted, could, dared and knew what they want to say. That is how the interview-novel with Momo Kapor came into being, one of the longest in Serbian journalism. In early March it was the fifth anniversary of his death, which is an occasion to remind ourselves of a few details from the countless hours we had spent together.
I am aware that there is very little that has not been said, published, or written by now about Momčilo Kapor, or what he did not say in his narrative confessions written down by his or someone else's pen. And he lived quickly and fully, sparing neither himself nor life. Even just before the end, preparing his final balances, this eternal traveler would not give Probably, as a chain-smoker, he regretted for not being able to fulfill that vow of Danilo Kiš, to light another one before his death.
"If a flower pot fell on my head, I would not be sorry: I have seen the world, had successes and failures, friends and enemies, children, I drank the best wine, had fun, suffered, hung out with famous man and women – what else? I lived a few lives, while others haven't lived even their own."
In the beginning of our friendship, in the eve of the war, I was a frequent listener at parties in Belgrade taverns, which he considered to be the soul of the city, and he highly esteemed the derogatory term "the man of taverns" and considered it a virtue. People who were bypassing the taverns he saw as anti-social loners, although he was convinced that taverns are refuges for loners. he frequently repeated that Serbs cannot live without taverns, and he compared them with city squares in ancient Greece. Our friendship and hanging our began on a sunny square in the "Bermuda Triangle", in the late 1980's, with which the last Belgrade bohemians disappeared.
TESTIMONY OF A BOOK AND ITS POWER
In the war we have become brothers and colleagues – war reporters. he was especially proud of the title of a war reporter from his homeland. The joint misfortune and call of the ancestors called us to leave the asphalt into the free mountains of Serbia. It brought us closer together and I mustered some courage to engage in conversation with that always attentive and friendly man, picturesque storyteller, whose words were melodically coming together in a continuous line called inspiration. After more than a decade of our war-tavern friendship from a marathon conversation, with a glass of alcohol, that interview-novel, as he called, it was created, sometime in the eve of the so-called changes or transition from one phase of collective schizophrenia into another autistic form of collective transition.
We quenched the Good Saturday sorrow of that historical year of 2000 with whiskey, convinced that the resurrection of all values we had been fighting for was slowly coming. We were wrong, both him and I, and who could have imagined and estimate the depth of the free fall that has lasted until today?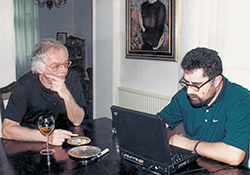 He spoke lively, emotionally, using without hesitation all those juicy adjectives that reflect the characters of individuals from the city center who were not on his side and who did not spare him, trying to crucify the just published novel A Beautiful Day to Die.
"This book thus provoked pathological, paranoid reactions of the mondialists. Those were offenses. It was an accusation as if I was persecuted in the Hague. I wrote a book describing, not politically, what had happened in Belgrade. How the eagles behaved, swallows, pigeons, cats, people, houses. How the snakes began to walk toward the top, excited, how sulfurous clouds were rising, how the power was coming out. I thought a lot of why they had attacked me. They didn't attack me because it was bad literature. It is with no doubt the literature that I write. They don't want us to leave traces about that crime. Book lasts much longer than film tapes, magazines, daily papers. Those who are paid peanuts by the West, like scum, those who didn't go further than Trieste with shopping bags in their hands, they are afraid of a work of art. They are afraid of testimony of a book."
Our mutual friend Zoran Bogavac, writing his book-testament Silent Bells. Christian Heritage of Kosmet, emphasizes that black letters on a white paper are the only weapon we have left and that every publicly spoken word on the Earth is heard in Heavens.
PAINTED STORIES, RETOLD PAINTINGS
When I showed to him the published interview on eight pages, the format of Politika, he asked me pensively: "So, who is going to read this novel of an interview!?" And then he joyously startled: "Please, send a copy to Mateja, I have read enough of his rags of interviews."
Momo Kapor did not only write poeticized stories, essays and novels, but well-illustrated life guides. he always told me that it is the most important that you write what you see. To testify!
"In my life there are only two things I was doing every day: I drew and smoke."
There is also the third one – he testified, clearly, purely and picturesquely. He knew to pull it a little, wash it up, make it more beautiful, add a little of his city and world charm.
And someone correctly noticed that hi stories were panted and his paintings told. He used to speak in vivid images, casually leaning against the bar counter, he knew to drink up the night in an instant, to enchant people around him with his charm, wit, to poke a drowsy listener with a joke. He knew how to wrap a cynical remark nicely, with a smile, aiming it at someone who would try to impose his opinion upon him.
I was lucky once to meet him on Zlatibor after several months of abstinence, crowned with resting from wringing by painting and from painting by writing. He was energetic and inspired, telling me about an ancestor of his from Vučji Dol, about the indispensable Mirilović family, about the father and his faith in runaway brothers, about dear Zuko who had moved in time, about patriotism as good manners one learns at home. We talked about Andrić and the fate of is obelisk in Višegrad, which had been thrown away by bully Murat Šabanović into the Drina, yelling: "You wrote enough, now swim a little!" he laughed, contagiously, while reading my text "Devil in Murat". And so we stayed until dawn with white wine at "Srpski Bek". With mineral water, we were followed by the unbreakable "Puriša Đorđević" who, around noon, brought me the novel For Whom the Bell Tolls with inscription: "Here is the book, here is the war, now write a better novel."
Momo Kapor was urban and traditional, he was carrying his Herzegovinian lordship with style, he was the only academician wearing jeans, a gentleman who did not entertain the crowd for a drink, unlike most of the colleagues. Once, in "Šumatovac", this most worldly Herzegovinian, as Ćosić used to call him, discretely, sold a painting unseen, in order not to jeopardize his reputation of a gentleman.

***
Revenge
"America, as a new continent, got bored of being a colony under European influence. Pragmatically people as they are, they made a plan. Jewish dealers, as was Lika Steli with whom I made an interview twenty years ago, decided to use a piece of junk into which they invested money, make a film about its author who had died of overdose, and conquer Europe. And they conquered it with that garbage. This is the return of American junk to Europe. That waste was once exiled from Europe, but is now returning with vengeance, in various forms."
***
Role Model
"Momo Kapor was my role model, when I was young I considered him the teacher of 'sentimental upbringing' and I wanted to become a writer like him", Ljilјana Habjanović Đurović said at the promotion of a Kapor's book. In 1991, as a reporter of "Duga", he made an interview with Kapor. She emphasized that she keeps coming back to his books even today: "He was loved by the readers, because he followed the basic values all his life."