Winner
NEMANJA MATIĆ, FOOTBALL STAR OF "CHELSEA" AND SERBIAN NATIONAL TEAM, EXCLUSIVELY FOR NATIONAL REVIEW
Stairway to the Top
His memories from Tamnava are still bright. He remembers the village playground, the churchyard, people. His springs of patience and persistence, faith and will, are there. The starting and ending point. Luckily, he left Serbian club football early. He didn't have to trudge through the mud, he wasn't wounded too much. Afterwards, in Košice, Vitesse, Lisbon, twice in London, he left and took as much as he could. Measure was the key lesson. He understood that football is game and war. And that humbleness is the privilege of the great
By: Dejan Bulajić
Photo: Guest's archive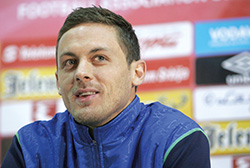 The performances in "Chelsea", one of the best European teams, are magical moments in the career of Nemanja Matić. Great efforts, heartiness and persistence lead to the wished result. Distant paths merged into one, dominated by the determined and humble character of this young man from Tamnava.
– Of course I feel great pleasure because of all that is happening to me, but I don't have too much time to think about it. I'm very busy and I try to concentrate on my tasks. I think I have much room for improvement, so I'll leave enjoying that feeling for later.
As a boy, when he began gathering his first experiences as a player, he didn't even think he would reach so far.
– Yes, I never went so far in my thoughts. I always went step by step and tried to do every following task the best I could. It taught me self-discipline and patience. Of course, like all other boys, I dreamed of playing in a large European club one day and a good career. I couldn't, however, even anticipate that I would play in the Premiere League, in a team fighting for the title.
Even today, when there is not enough time for resting, he often returns to those days in his thoughts, to the small Tamnava village of Vrelo, where he started off the paths leading him through the world.
– I think about it every day! I'm in contact with my childhood friends. Whenever I hear from them or get a message from them, memories start flowing. I had great friends, not only in the football field, but in the village in general. However, the boys I trained with – Marko, Boki, Aca, Vlada and many others – had a special influence on my growing up and my character. They were all sports enthusiasts, with great will and passion. I think they had a major impact on making me so persistent and determined. Without any exaggeration, I owe them certain gratitude for everything I have achieved up to now.
Especially interesting is the story that, at the time, he was able to juggle the ball for a whole kilometer from his house to the football field he practiced on, without letting it fall on the ground.
– It was a child game I used to tempt myself. I often happened to succeed in passing the entire way from home to the field. Sometimes, however, some older fellows used to wait for me at the shop and break my concentration by throwing jackstones at me. Then I'd go back and try again. One of my wonderful childhood memories.
EARLY LIGHTS OF TAMNAVA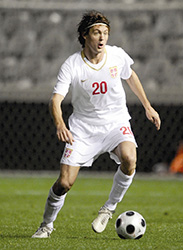 Nemanja's father Dragan, former football player, founded the younger categories in the village club. He played in "Mačva" Šabac with Miroslav Đukić, making the most famous fullback pair of the Yugoslavian Second League. His uncles were also engaged in football, and the family of his mother Biljana also had remarkable sportsmen. She is still a great sports fan today.
– Mother was never a professional sportswoman, but she loved to play basketball. She began watching football with my father and I can tell you that she hadn't missed a single game in the last fifteen years. Most of them mine and my brother's. Sometimes, when I would come home late, I'd find my father sleeping and her sitting in front of the TV watching a match.
Nemanja left his family early, starting off his own paths of life.
– In spite of that, I'm very connected to them. In a normal way, like all people who know how to find the right place for all important moments in their lives. I left home early and became independent. My parents got used to it and understand me completely. When we miss each other, they either come to visit me or I use a day off and go to my village, because I feel nostalgic. In any case, I know they are my sincere support and that without them I wouldn't be able to persist on what I'm doing.
Nemanja's career developed slowly, without any special pompousness. Perhaps because of the early escape from the eyes of the local sports public.
– Anyway I try not to have too much hustle around me. I think reporters should write about sportsmen with measure, without exaggeration. They shouldn't make me what I'm not. I'm aware that, as a player of "Chelsea", I attract attention of the public and people are interested in many details. Still, I try to make them write about me as little as possible, finally also not to become boring.
Due to the fact that he left his home early to play abroad, he never felt local club football.
– I'm a fan of "Zvezda" and my wish to wear its jersey came true in younger categories. Sometimes I'm sorry I've never played in its first team, but when I think about it, I was lucky to have my career develop the way it did. I left the country early, so all my ambitions related to local football soon faded. Serbian football and I parted very quickly.
Senior football took him to Slovakia very early. He was only nineteen.
– This was crucial for my career. I was given the opportunity to play in "Košice", a well-organized club, in which I began maturing both as a player and as a man. I did well and therefore earned an invitation to the junior national team. Through "Chelsea" I continued my career in Dutch "Vitesse", which was also very important for my future advancement. The Dutch league is exceptional for a young player to gain excellent experience and mature within a short period of time. I used it in the right way, and opened the doors of larger clubs.
FOREVER IN LISBON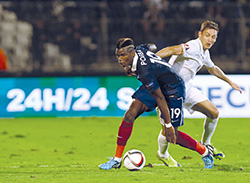 His stellar moments began in the Lisbon "Benfica" jersey.
– This club will always have a special place in my life. It is one of the biggest in the world. There are no words to describe the attention with which people in Portugal follow that club and how much it means to them. I'll never forget that and will be the fan of "Benfica" until the end of my life. It is where I advanced greatly, with a great coach, players and all the people working in the club. I owe them for everything they had done for me and the opportunity they had given me. I just hope that I succeeded at least a little in repaying them.
First time, "Chelsea" let him go easily. However, the second time, they didn't let anyone take him over.
– The first time I was in the club, it was obvious there was no place for me there. They had brilliant football players, members of their national teams, so I couldn't show my qualities. That is why I left, with the intention to use a different environment to show that I'm up to the strongest clubs. When I take a look back, I'm sure that both I and they did the right thing.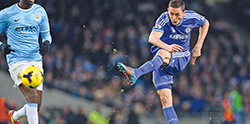 A constant place in the first team proves how much Nemanja means to "Chelsea" today.
– For the time being, everything is going well. I try to do everything my coach asks me to and work the best I can. It's true there's pressure, because "Chelsea" plays without calculation, always to win. Other teams have a constant wish to prove their game against us, they are highly motivated and it's not easy to resist this constant pressure. I think that for now everybody is satisfied with my games and my behavior both in the field and out of it. I hope everything stays as it is and I'll try to advance even more and help the team as much as I can.
It seems that Nemanja is still not aware that, thanks to him and Bane Ivanović, the number of "Chelsea" fans in Serbia is increasing.
– If it's really true, I'm happy. We wish the real picture about us would reach our people, so they would accept it not only as our personal, but also as the success of Serbian sports. We'll try to make our fans, both in England and in Serbia, happy this season and win the Premier League.
His strong example undoubtedly influences boys from all parts of Serbia, who'd like to take his roads through life.
– I don't see myself as a star, let alone an idol of younger generations. However, I assume there are boys who'd like to have a career like mine. The more they consider me important, the more I have the obligation to show with my behavior and playing what a real professional looks like, a player of "Chelsea" and the Serbian national team. It's a grand, yet nice obligation for me and I hope I'll fulfill it with dignity.
NATIONAL TEAM AND ITS BARRIERS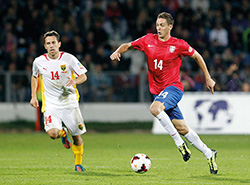 The story of the national team is the only thing that disturbs the idyllic picture of his realized ambitions. How to explain the phenomenon of the football national team and its problem?
– To be honest, I don't know! It seems even that from this position, I'm not competent enough to answer that question. I haven't been in the national team long, but I tried to do my best in all the matches, to help as much as I can. It will be so in the future as well. Why there are so many problems, it is hard for me to say. There are more experienced and older people, who could give real answers through analyses. Only this could help us determine where the problem is.
Sometimes it seems there are certain psychological barriers in the team, that the team simply doesn't trust itself.
– Perhaps you're right, perhaps not. I can speak only for myself. I believe in my quality and always start a match hoping I'll win. I'm not afraid of anyone. However, I can't say whether there is any kind of barrier in the team. It's probably more visible looking from aside, although that perspective is elusive as well. Finally, the coach and coaching staff will deal with it, since none of us football players have time for it.
It also seems that from time to time our public is too critical about the national team.
– I have always been my worst critic. Already in the field, I'm perfectly aware how I'm playing and don't need anyone to point out my weaknesses, because, if there are any, I'm already aware of them. It often happens that criticism is unfounded, without a good analysis of our mistakes, why we lost, without a real view of the individual contribution of each of the players. Furthermore, we sometimes go over victories too easily, we fall into euphoria although we didn't play well. In these cases there are also no analyses, and this hits us severely already in the following matches. There should be an established system, in which everyone should know that Serbia must play as a serious national team even when it's losing. As it is now, we are fantastic when we're winning and there's nobody worse than us when we're losing.
I'LL COME BACK ONE DAY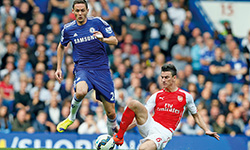 After great efforts, he finds sanctuary in his family.
– I have my wife and my two children with me. After each match or training, I rush home to see them, because this is where I feel best. We are really happy with our life and, thank God, what's most important, we're healthy. To be honest, I don't like to speak about it much, to keep off bad luck from something that means most to me.
Once, when the sports paths come to an end and the paths of life continue...
– Right now I feel and think that my sports paths won't come to an end soon. Even when I finish my active sports career, I'd like to continue working in football. I still don't know what it could be. Perhaps as a coach or scout. But I will definitely stay in football and continue being engaged in sports. That's my life. I can't see myself in anything else.
Perhaps the roads will once bring him back to his hometown, where he already built a kind of a sports complex with his brother Uroš, also football player.
– We built a field with artificial grass and this summer we'll begin building the accompanying spaces, locker rooms, gym… After everything is finished, it will be an up-to-date and functional sports object. By the way, I told my wife, who is not willing to return, that one day, even in my old age, I will return to live in my hometown. This is my plan, because I believe that one must end in the place he has begun.
If, at the end of such a walk of life, he would meet a boy dreaming the same dreams he had...
– I'd tell him to never stop dreaming, never to give up on his dreams. If it's football, to run after the ball as much as he can, to fight. And not to forget that football is both a game, which one should enjoy, and a war in which victories and defeats are paid dearly. That he must bear all this with equal strength.

***
Church in Vrelo
– All the wonderful memories that relate me to my hometown cannot fade even after all these years in foreign lands and among other nations. I'm very nostalgic and I like that feeling. I know what church symbolizes and I don't like to make a difference between churches, but our village church is the dearest to me. We spent a lot of time in its yard as kids. Priest Dragan took care of the yard. The grass was as fine as the one at "Wembley" and he let us come and play in it. That's why the church is a dear childhood memory.
***
Mourinho
– Without any doubt, one of the best coaches in the world. It's an honor to work with him. I try to use each training, each moment, each of his words to improve my playing. He's a great motivator, which I appreciate greatly. He knows how to move the team and build its self-confidence.
***
Bane
– It's a privilege to train with such players as those of "Chelsea". I'm also happy to have an extraordinary professional such as Bane Ivanović. He's a highly appreciated and trustworthy player. I wish people in Serbia would know and also appreciate it. Bane is one of our sportsmen we can really be proud of.