Palette
JOVAN BIJELIĆ (1884–1963), PAINTER AND ACADEMICIAN, FIFTY YEARS LATER
All Shades of Sweet Bitterness
He has traveled a long way and many bridges. He painted in the manner of realism, more of intimism, in the spirit of the modern art between two wars, as well as ultimately expressionistic. His kinsfolk are Kisling and Modigliani, Pasquini and Vlaminck. He most appreciated Tintoretto and Delacroix. Life hasn't spared him, but he endured all the hard strikes bravely, in the freedom he had given himself. He experienced too much suffering to play with aestheticism and to be a dandy. Some underestimated him, but he saw much beyond his time
By: Dejan Đorić
Photo: Dragan Bosnić, National Review archive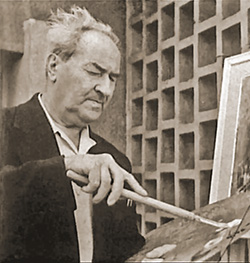 Compared to the attention given to other Serbian modern artists, for example Petar Dobrović, Jovan Bijelić (born in Revenik near Bosanski Petrovac in 1884, died in Belgrade in 1964), painter and academician, has not been attributed the value he deserves. The Gallery of the Serbian Academy of Science and Art corrected the unfavorable circumstances Bijelić's rich opus found itself in, and organized his retrospective exhibition closing on March 10, marking fifty years since the artist's death. The exhibition will later be opened in the Gallery of Matica Srpska in Novi Sad, from March 27 to May 5.
The exhibition Jovan Bijelić's Belgrade includes forty-eight works from the collections of SANU Gallery, National Museum in Belgrade, Museum of Contemporary Art in Belgrade, Serbian Theatrical Museum, National Theater in Belgrade, City of Belgrade Museum, Memorial Collection of
Pavlje Beljanski and Gallery of Matica Srpska in Novi Sad, National Museum in Smederevska Palanka, National Museum in Šabac, as well as rarely exhibited works from private collections.
Bijelić was educated in Sarajevo, Cracow and Paris. He met and artistically reached many crucial phenomena in twentieth century art. He painted in the manner of realism, even more intimism, in the spirit of Serbian bourgeois modern art between two wars, as well as ultimately expressionistically. Smail Tahić, considered even by Lazar Trifunović the best expert in the life and work of this artist, mentions in his monograph painters Bijelić is similar to: Kisling, Modigliani and Pasquini, but most of all Vlaminck. The luxurious, shabby and sensual style, expression full of passion, juices and artistic battle, led this artist towards avant-garde, indicated by three extraordinary abstract paintings from 1921, the first such in our art.
RETURN TO REALISM IN BELGRADE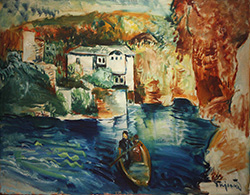 He came to Belgrade in 1919, but his environment did not accept his experiments, published in Ljubomir Micić's Zenit magazine. Due to his bad financial status, Bijelić started working as a scenographer. As he emphasized later, Belgrade returned him to realism, through ordered portraits. The spirit of abstraction and perhaps informalism pervades some of his later works. Storm over Marinkova Bara from 1955, from the Storms cycle, makes him, as it did between the two wars, a painter in the center of the latest artistic developments, not only in Yugoslavian proportions. He was interested in artistic matter, juiciness, multilayeredness and richness, coloring as the absolute realm of painting. He knew too well of the higher quality of old painting compared to the new, because he was, before all, a painter. He mostly appreciated Tintoretto and Delacroix. He humbly stated that only twenty-odd paintings are valuable in his entire opus. Making a summary of his creative work, he singled out only three – Bathing Girl, Girl with a Book and Landscape with Golden Sky.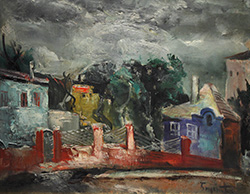 He experienced two much suffering and poverty to be an aesthetician and a dandy. He lived in Belgrade in small moldy apartments, with only one room and a kitchen. During the war, he was in Karaburma. Lazar Trifunović tells that local peasants sold him dangerous brandy named "daskovača" (made of denatured alcohol). His studio, personal archive, paintings and sketches were destroyed in the bombing of Belgrade. His daughter Dubravka was shot in the Banjica concentration camp and his son Severin, actor, also did not live long. Near the end of his life, the painter was blind for three years (his sight returned only on one eye).
Bijelić was a bohemian and perhaps that's why his landscapes and portraits are imbued with so much emotion, weight, even mysticism. He never cared about civil norms, he lived in cafes, small studios, with his future second wife while still married to the first. Leading an anti-civil life, far from luxuriousness and richness, enjoying the freedom he gave himself, he was, paradoxically, the gr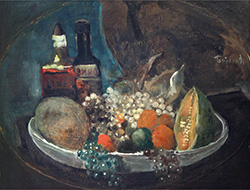 eatest portrait painter of the Belgrade bourgeoisie, although he always thought these were his low quality works. He painted more portraits than Petar Dobrović and Branko Popović together, painters very popular in that area at the time. He was hired by rich people from high society, actors, writers, lawyers, industrialists and the Karađorđević dynasty.
Bijelić's career as a professor should also not be neglected. During the war, he taught in the school of Mladen Josić, the only one of its kind in Serbia, and already in 1926, his students were Pavle Vasić, Đorđe Popović, Peđa Milosavljević, Danica Antić, Miomir Denić, Aleksa Čelebonović, Jurica Ribar and Nikola Graovac, his closest student, with whom he exhibited together. Today there are third-grade successors of that school, living from imitating Nikola Graovac.
INEXHAUSTIBLE WORLDS OF PAINTING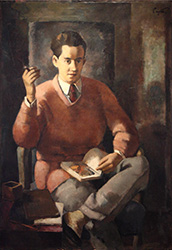 Simona Čupić, professor at the Belgrade Faculty of Philosophy Department of Modern Art, succeeded in creating a new interpretation of the life and work of Jovan Bijelić, different from previous studies of Smail Tahić, Lazar Trifunović and Miodrag B. Protić. Having in mind the most remarkable representatives of the early modern art history, T. J. Clark and Griselda Pollock, her essay in the exhibition catalogue has features of social history of art, setting creativity into a social and historical frame.
Bijelić's opus is, however, so varied, that it can initiate completely different aspects. Almost each of his paintings is strongly resolved in terms of composition, besides all the ostensible freedom, while, in terms of coloring, he has surpassed even our contemporary painting achievements. It is,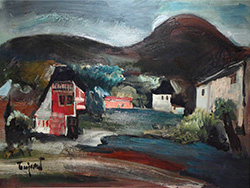 therefore, necessary to analyze the role of color in this painter's opus, deal with purely artistic elements, meaning of certain paintings, since, on the level of artistry, his importance reaches very far. His contemporary heirs Moma Antonović and Radislav Trkulja show how inexhaustible the world of painting is.
It is interesting that none of the experts in the life and work of Jovan Bijelić paid attention to his interview in the Sad i nekad magazine in 1936. Even then, Bijelić was the only one to claim that Serbian art is in deep crisis, which also reveals him as a conscious artist. He was considered an uneducated bohemian, yet he had insight in the phenomena beyond his time.

***
Chronicles in Portraits
Bijelić's Belgrade artistic chronicle has extraordinary artistic values. Famous art historian Miodrag Kolarić, PhD, dedicated some of the most beautiful sentences about the history of Serbian art to the "Portrait of a Woman in Red" from 1932. Also valuable are portraits of reputable people such as Milan Dedinac, Branimir Ćosić, Nevenka Urbanova and Ljubinka Bobić.