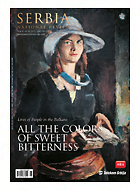 SERBIA - National review, No 48

Prologue
 "Those who sing mean no evil, and those who think don't feel like singing." These are the words of Milovan Vitezović, teh first among the associates of National Review, this year's laureate of "Vib's Award" for lifetime achievement in satire. Of course, there is the third option: to think and sing. To know all the faces of evil and persistently, joyfully and confidently to build good. Guided by this principle, we sailed through Serbian time and space in this edition again. We visited the Ibar Gorge and Zrenjanin, Banja Kovilјača and Vraćevšnica, Sion i London, underground and on the five most extreme points on the planet. We even rowed across the ocean twice. Take a look. <


CONTENTS
Prolog
FROM SERIOUS CONCERNS TO PERSISTENT HOPE
Orientation

Vitrage
NUMBERS, EVENTS, INTERESTING THINGS
Album
FEMALE FACE OF THE GREAT WAR
The Same Heroic Spirit
An Undertaking
RESTORED MONUMENT TO SERBIAN SOLDIERS IN THE IBAR GORGE
A Giant on the Rock
A group of experts and enthusiasts from Kraljevo did not allow the stone soldier, who had been watching over the gorge for eighty five years, to collapse. Again, one can read above the Ibar from afar: To the Ibar soldiers who died for the king and their homeland 1912–1918. For the peace of the heroes' souls, for memory and lessons to posterity
By: Radmila Tamindžić
Murals
LEAFING THROUGH THE WALLS OF ZRENJANIN
City Moved by Images
Mural "Four Fat Horses", painted in 1992, was saved from the lethal embrace of one advertisement and shone with a new glow. The same author also painted the mural "I only count the sunny hours". Some other walls revealed the giants of Serbian culture, Bečkerek Fortress, even the famous Trotters. This city has smiled to its creative and youthful image in the mirror. And winked
Text and photographs: Miodrag Grubački
Gardens
IN BANJA KOVILJAČA, BELOW GUČEVO, AN OLD OUTDOOR TREASURY
The Park with Royal geometry
There, in excerpts of manuscript of old park masters, you will find the varieties that cannot be found anywhere else in this part of Europe. You will also see those that force us, with their toughness and combativeness, to reflect upon their symbolism. You will also be puzzled by some local ones that, according to books, cannot survive here. You will stop at the crown-shaped flower garden. Reasons to be proud, but also reasons to worry, are plenty. Finally, Banja has started addressing both with full seriousness
Text and photographs: Nenad Marković
Roads
FROM VRAĆEVŠNICA MONASTERY TO GORNJA CRNUĆA, BETWEEN SNOWS AND FRUIT BLOSSOMS
Uprising, a Day Before
About hardworking, humble and friendly nuns, about the fear top search in distress, about the hard and continuous restoration of the monastery, about the best neighbors from Gornja Crnuća, former capital of Serbia, and about the sad departure of prioress Evdokija. About why we will do it easily, if we are human
By: Miloš Lazić
God Seekers
RUSSIAN PRIEST FYODOR KONYUKHOV, AN UNUSUAL PILGRIM TO THE END OF THE WORLDS
Miracles of Eternal Journey
A master mariner, deserving master of sports, Orthodox priest, painter, writer, journalist. And only one man. He is the only person on the planet who reached all five of its most remote points. He was on both poles, climbed Everest twice, he sailed around the world on a yacht four times, rowed across two oceans. And without help from God and St. Nicholas, he says, he would not have come as far as a newsstand
By: Jovan Plamenac
Pro memoria
ON THE OCCASION OF THE FIFTH ANNIVERSARY OF DEPARTURE OF MOMO KAPOR
Sentimental War and Peace
With irresistible ease carrying his Herzegovinian lordship, always adding to it a little of the city and the world flavor. he knew how to drink up the night and enchant people with stories: he was proud of the titles "the man of taverns" and "war reporter from the Homeland". Fe figured out why traitors have such a fear of art and traces. he spared neither himself nor life: he took and gave away everything. He disarmed with his humor, conquered with his jokes on his account. When he left, it was, of course, a beautiful day. We did not have, and will not have, another one like him
By: Mišo Vujović
Life, Novels
SLOBODAN DESPOT, WRITER, FROM ALPINE BELVEDERES, EXCLUSIVELY FOR "NATIONAL REVIEW"
Home Out of Harm's Way
Raised and classically educated in the West, gazing towards all sides, far and deep. He writes in French, translates from five European languages. Among the poplar trees on the Mitrovica bank of the Sava in Srem, he has his own Stražilovo. He says that the technological human is an invalid in a rapid evolution towards the state of an obese worm. On the fronts of the media war, he realized how the Empire lost control over "the narration of world crises". In difficult times, besides Christ's prayer, he repeats several Baudelaire's and Akhmatova's verses. This is how he defends his sanctuary from ugliness and transience. This is how he brightens up the day
By: Branislav Matić
Winner
NEMANJA MATIĆ, FOOTBALL STAR OF "CHELSEA" AND SERBIAN NATIONAL TEAM, EXCLUSIVELY FOR NATIONAL REVIEW
Stairway to the Top
His memories from Tamnava are still bright. He remembers the village playground, the churchyard, people. His springs of patience and persistence, faith and will, are there. The starting and ending point. Luckily, he left Serbian club football early. He didn't have to trudge through the mud, he wasn't wounded too much. Afterwards, in Košice, Vitesse, Lisbon, twice in London, he left and took as much as he could. Measure was the key lesson. He understood that football is game and war. And that humbleness is the privilege of the great
By: Dejan Bulajić
Palette
JOVAN BIJELIĆ (1884–1963), PAINTER AND ACADEMICIAN, FIFTY YEARS LATER
All Shades of Sweet Bitterness
He has traveled a long way and many bridges. He painted in the manner of realism, more of intimism, in the spirit of the modern art between two wars, as well as ultimately expressionistic. His kinsfolk are Kisling and Modigliani, Pasquini and Vlaminck. He most appreciated Tintoretto and Delacroix. Life hasn't spared him, but he endured all the hard strikes bravely, in the freedom he had given himself. He experienced too much suffering to play with aestheticism and to be a dandy. Some underestimated him, but he saw much beyond his time
By: Dejan Đorić
Frames
DECADES OF FILMING FOREIGN MOVIE HITS IN BELGRADE
In the Vortex of World Pictures
Ever since its birth, film has had an important role in the sentimental education of Belgrade people, just as Belgrade has had an important role in film history. From Filmski Grad in Košutnjak to the landscapes in the wider vicinity of the capital city, this was the place of making "The Long Ships", "Genghis Khan", "Marco Polo", "Caravaggio"... Remarkable members of the film society such as Sergei Bondarchuk and Alain Delon, Luc Besson and Ralf Fiennes, directed their movies here. BBC filmed its "War and Peace". After a pause made due to the wars in the ruins of Yugoslavia, the world movie makers are here again. This is useful both for the guests and for the hosts
By: Zoran Plavšić
Fairytale
IN SEARCH FOR VRETENKO, THE EIGHTH DWARF, DEAR AND UNBEARABLE
Return to One's Story
It happens sometimes: on a crossroads, a hero of one fairytale runs into another by mistake. Drawn by the story. And it creates a chaos among the storytellers. They must use all their skills to keep the things under control. Once, in such an unfortunate event, good pirates from the Sava had to interfere. After everything, they returned successfully to the harbor, at the end of the pier in Block 45. They also brought one eagle's feather, which we use to write all this down
By: Nebojša Jevrić
Fate and Commentaries
KATARINA BRANKOVIĆ (1418–1492), GREAT-GRANDDAUGHTER OF PRINCE LAZAR, COUNTESS OF CELJE
Beyond Pain and Death
As if her life has united the tragic fates of the Branković dynasty and Counts of Celje. The destiny of the last ones. Her father Đurđe was the last important ruler of the golden Serbian middle ages, and her husband Ulrich II of Celje the last sprout of his reputable family. Katarina outlived her children, husband, brothers, parents, sister. However, in line with her origins and rank, she remained firm in faith and dignified. She never transferred her pain to others
By: Orhideja Josifovski
Heritage
ANOTHER REMARKABLE VOICE OF A SERBIAN HOMER
Endowment of Stojan Hajduk
The profession of a hajduk became his personal poetic name. He lived on the verge of death, in the mountain and in the dungeon, at the time when witches used to take away children. He had a great contribution to Serbian epics, both from the inside and the outside. He sang of heroes from Šibenik and Udbinje to Durmitor and Skadar. He loved chivalry and wisdom, eyed sabers and winged horses, marriages and duels. He studied the power of a woman and the drama of betrayal. He reached the heights from which one sees that the end is actually the beginning
By: Dragan Lakićević
Traces
VRNJAČKA BANJA REMEMBERS THE PATHS OF ITS GIANTS
Great Heart of Thomas Lipton
Exactly one hundred years ago, in the midst of battles and major outbreaks of typhoid fever, this Glasgow born Irish Sir, the famous tea producer, provided great help to Serbs and stayed in Banja. He was delighted with Serbia and its people. This year, Banja will mark the places where he stayed and bring back to life other memories of him. Nurturing of such values has become a part of the tourist image of Banja
Road Signs
CULTURE IN RUMA IS NOT ONLY ABOUT CONVENIENT EVENTS
The meaning of Dedicated Nurturing
Yes, a province is a psychological and not geographical category. Yes, it is much more joyful and beautiful with culture. Yes, without tradition and roots we would only be "a lone straw tossing in the whirlwind". That is why people in Ruma are trying not to separate economy from the culture of living, legacy from modernity, and to ensure that programs of cultural institutions are really a part of a daily life of these hardworking and talented people
Gatherings
CELEBRATIONS IN SREMSKA MITROVICA AND THEIR ECHOES
The Magical Square of Srem
Stories are still being told about it. In transitions between years and counters, during the school break, the city was colored in red and green, "completely covered with smiles". People danced, played music and sang, competed and fell in love, gave away awards and gifts. And they will do it again. Who could resist it and why would they?
Connections
MT:S ANDROID CONTEST OF "TELEKOM SRBIJA"
Introduction to Entrepreneurship
Highs school students have demonstrated great creativity and knowledge in creating applications for mobile phones, as well as ability to think as entrepreneurs. Gymnasiums from Belgrade, Novi Sad, Kragujevac, Senta and Valjevo participated. "Telekom Srbija" will continue to support young people to help them stay dedicated to their education and career, and to build both in their own country
Health
GREAT INTEREST IN PROGRAMS PF "MERKUR'S" CENTER FOR MEDICAL ESTHETICS
Rejuvenation
The personalized programs of body weight balancing, body shaping, treatments, diet, and exercise have been recently supplemented by skin rejuvenation esthetic surgery and esthetic dentistry. There are also the most advanced procedures with devices, as well as gynecological programs
Energy
A LITTLE CHRONICLE OF RECOVERY OF MINING BASIN "KOLUBARA"
The Most Difficult Year, the Greatest Feats
The strike of floods was terrible. In May 2014, in one night, everything stopped and it seemed that the situation was dire. Prognoses were very pessimistic and very few dared to announce them publicly. All resources were engaged, both financial and human, governmental and professional. And now, long before the most daring prognoses, they are already working on all four surface mines and the production has reached 90 percent of the one before the floods. The difficult experience demonstrated once again the extent of what they can do and how much more there is to be done
By: Ana Pavlović
Energy
SUCCESSFULLY RESTORED BLOCK A-3 IN THERMAL POWER PLANTS "NIKOLA TESLA"
The "Trio" Is Back in the system
After two hundred and eighty days of complex works, the Block was introduced into the network on February 4. The project value is 78 million Euros, and more than thirty local and foreign companies participated in it. Nominal power of the Block was increased to 328.4 megawatts (23 more than before). The control system was modernized, and the work adjusted with the environmental standards of the EU
By: Miodrag Vuković