South
IN POREČ, TODAY IN MACEDONIA, THE PLACE WHERE THEY STILL REMEMBER DUKES AND HAIDUKS
Pressure, Heavy and Obscure
This area around the Treska River, in Western Macedonia, they used to call Little Šumadija, In the first decade of the 20th century, the core of the Chetniks' activity used to be located herewith dukes Micko Krstić, Mihailo Josifović, Trenko Rujanović, Dane Stojanović... Statistically, there are almost no Serbs here today. Displaced, exiled, killed, denationalized. But, one must scratch a little and be patient. The story swells like dough. Underneath the double bottom of identity, a different reality is here for eternity. It is not joyful, but it exists
By: Milutin Stančić
Photographs: Luka Suša, Milutin Stančić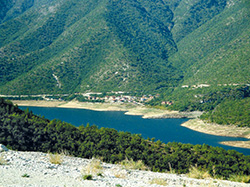 The cold February morning at the exit from Skopje clears our perspective and focuses the curious eyes toward the landscape of Western Macedonia. The little known Poreč and Poreč Serbs, curious courses of history, our guide Dragan Ilić tells us. Himself from that area, he points out that Poreč gave some great names in Serbian history.
– My grandfather was serf Novak Ilić. He died in 1943. Subsequently issued documents said that Ilijevski, with an explanation that "in 1945, everybody was asked what they wanted their last name to be". This system brought us more harm and wounds than all previous eras and governments. It also contributed to the disappearance of Serbs in Poreč. Today, they say, there are 7,000 souls in the entire area.
The past, turbulent, lives in the stories of people from this area. Once the Albanians, in the spring, stole and took away a large herd of sheep from the peasants. They asked for buckets of gold in order to return the sheep. In all villages, with great pains,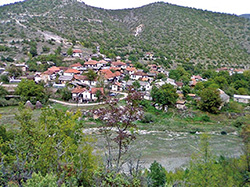 people collected and donated. But the same tax collector appeared in the fall. Then Duke Mihailo Josifović went into the mountains and took over the control. Cleared away the tyrants. The never came again.
Mihailo was a Serbian Chetnik duke from, the early 20th century, from the times of struggles for Macedonia. He joined already in 1905 as a Chetnik of Rad Radivojević Dušan. After Rad was killed in 1907, he acts as a duke. After the outbreak of Albanian uprising in 1913, he defended Kičevo together with Vasilije Trbiće, Boško Virjanc, Jovan Dolgač and Dane Stojanović.
And so Dragan Ilić tells us, while landscape opens up in front of us and in the corner a piece of the Treska River. Exactly after its basin (porečje), where the valley leans against the Central Macedonia, Poreč was named. The center and the biggest settlement of Poreč is a town of Makedonski Brod, a municipality. The Treska is also called the Great River by the locals.
THEY OWN NOTHING, AND HAVE EVERYTHING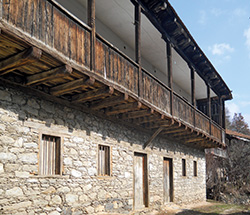 We come to two villages filled with Turkish flags. The road then turns into the territory of the village of Latovo, where we are searching for someone to talk to about duke Micko Krstić (1855–1909), Micko Porečki, a Chetnik duke in Old Serbia (today Macedonia). The man in front of is moving away on foot, we rush toward him.
– Shall we give you a ride?
He sits down and we are introduced. He is Sašo Krstevski, he says, a descendent of the famous duke. He takes us to the place where Micko's house used to be, showing us the road he used when he left and the one he took when he was killed.
– Micko was born here, in Latovo, in Rabetinska Reka. His ancestors are from the village of Trebin in Poreč, the area well known for preserving Serbian traditions. As a boy, Micko went to Skopje to learn the craft of making pack saddles. Upon return, he found the old evil of Albanian Džemail-aga, who humiliated and blackmailed his father. Micko could not stand that, and joined the fight... he had a daughter Lenka, and she has Anastasija, my grandmother. The elders told me that he had been killed when he arrived in the village on the day of St. Petko, his saint da – Sašo says.
He invites us into his house, like a true host. He has three children: Kristina, Saško and Borče. He also speaks about the surrounding areas, the village of Rusjaci, about Brod.
– Although the center of the district, it has been dying out slowly. People are disappearing, there is no work, life is hard.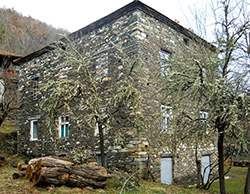 Also recognizable is the lively speech of this remote part of what is today Macedonia. Micko's offspring speaks well. He lives with his family, too modestly. Micko was also like that, he says. he didn't spend more than necessary.
Conversation goes somewhat more easily with last year's homemade plum rakia.
– Micko wrote down his memories, but they are not preserved. A relative took the manuscripts to Skopje, apparently to print a book, and actually took a lot of money to destroy it. To erase the traces.
Micko's offspring says that the duke was killed in Slatina, while other accounts mention Ižište, and was buried in the place called Dvorci. He had a monument in Brod.
People here are scared, with caution of those persecuted. They don't open easily in the first encounter, they wait. Simple-hearted villagers, they smile when you mention a duke, someone from that area. They are not used to having "someone talking about their heroes and having evil intentions..."
– Simple-heartedness? They own nothing, and have everything. Their eyes radiate goodness.
It is not by accident that they have remained the last one in this area that is dying out, only the river swells in the desolated beauty.
A FEW REMAINED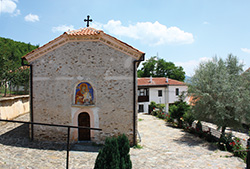 – Do you know something about Zafir Premčević? – Dragan Ilić asks, young men Vlatki and Aleksandar Đurčevski from the village of Lupšte. They smile, their cheeks rosy. They purchase flour in the only store in Modrište, from Ljupčo, the host, and Branka. They have no money so the pay back in wood. Dragan asks them when they will get married, they smile:
– We will, we will...
Ljupčo, he says, has ten cows. He sells milk, but also "makes cheese, supports his sons in Skopje". He opens for us an old church from the 14th century dedicated to Atanasije the Great. In front of the door he looks toward the sky. He is worried for the crops. He works the land of his ancestors, but "he also knows all the signals of the society". That is how he interprets the "privileged practice" to have controls visiting him one after the other, "sending them through various inspections from Prilep, Gostivar, Kičevo..."
– How come, you are a driver, and you have read so many books, how do you know all that history? – Dragana asks, honestly curious.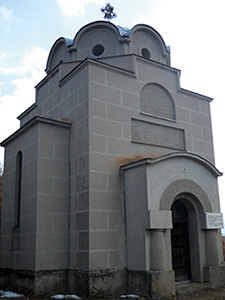 – The times have changed, my countryman, internet enables you to learn many smart things. See about the curse of this area, where I was born, see and hear why it is so neglected and destroyed, The only guilt of these killed people is that they were Serbs – Dragan tells him, taking a sip of the homemade plum rakia.
Stanko Ivanovski is passing by. He went from Brod to Samokov, he says, to visit the bees. We talk cautiously, indirectly, he opens up slowly. Still, he reveals that he used to be a policeman, he even worked in Skopje for eight years. Until 1955 his family's last name was Ivanović.
– We are now Ivanovski. You know everything about this area, I have nothing to add. It is how it is, I have seen and experienced it all.
He mentions Mitre Josifovski in Samokov who, he says, has books about Poreč. He says that we should look for him. As if he wanted to take off the burden of further confession from his shoulders.
We stop in the village of Manastirec. In tavern "Izvor", run by Slave, the host, we take a coffee break. We speak silently, tiredly, everybody with their own thoughts and mixed feelings.

– In my childhood, there were four hundred children here. Today, there are only about thirty of them attending school – Slave says. – Everything here is closed, children. The time has stopped long ago. A few people remained, we struggle. "Suvenir", which used to have 500 employees, is now closed. Some Czechs have come to manage the factory but, I see, there are slim chances that anything good will come from it. They only have seven-eight employees. It is sad. "Crn bor", "Elektromontaža", "Godel" and others are also closed.
The school in Manastirec, he says, was built by Todor Cvetanović (Cvetanovski), who was "isolated in Albania, and returned in 1946".
Devič, it says on the board. We stop, look around, then continue.
Topolnica is all about dogs barking, narrow streets. One leads up the hill. Mika comes by, a local young man. He is in his boots, in the midst of some heavy manual labor. About twenty people have remained in the village, he says. There is also Dragan's mother's house, and below another one, closer to the river. The village is tame, calm. Legend says that long time ago three brothers came here. That is how Lower Mahala (Čukalevci), Middle (Šaškovci) and Upper were established.
The Church of St. Mina is from 1910. Around it, like in the churchyard, the village cemetery.
BONES SHINING WHITE IN THE SUN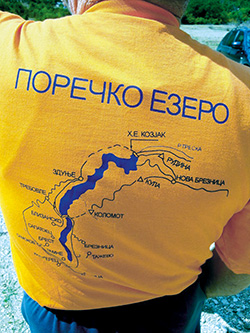 `In the vicinity of Poreč monastery dedicated to the Holy Mother of God, endowment of King Milutin Nemanjić, there is the Memorial Charnel House of the local Serbs, from this area, butchered on Christmas Eve in 1916. In this horrible butchery, committed by Bulgarian occupiers, one hundred and three respected people were killed. The bloodshed and fear were supposed to change people's "national awareness". The history remembers event as the Butchery near Derviška njiva.
Experts of the competent ministries of the government of Serbia, as well as state institutes for the protection of cultural monuments of Serbia and Macedonia, visited in the summer of 2003 Serbian monuments and cemeteries in the territory of Macedonia. This is their report on the Memorial Charnel House:
"Memorial chapel with a charnel house in the village of Manastirec near Makedonski Brod is dedicated to the killed people from Poreč and the surrounding areas, killed by Bulgarian occupiers in 1916. The monument is relatively well preserved and it is cared about by those from the nearby monastery Mala Bogorodica."
On the basis of detailed report and evaluation, specific works on remedy and reconstruction are planned. The major part of it, even today, twelve years later, "is yet to be realized Standing in front of the charnel house, ah, we can only witness the horrible carelessness toward ancestors, martyrs, history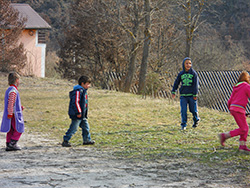 . Toward ourselves. Broken doors, smashed windows, bones and skulls scattered around. And the monastery is right next to it, with doors well locked. Those who are managing it now, members of a non-canonical church, guard it even with video-surveillance. It seems they are not looking through the window. The scattered bones of the martyrs are not shining white in front of their eyes.
Children are playing in front of the school in Manastirec. They accept us with curiosity, as only children can do. Girls are the most talkative. Ivana from the first grade, Hristina and Viktorija from the fourth grade. Clearly and brusquely, as adults, they describe the school and daily life in the village.
On the way back, we drive toward Brod mostly in silence. We feel the pressure, heavy and obscure. Blagojče from Modrište is also with us. He is also silent, as if weighing from the side the weight of what we would bring from here. The road winds through Poreč and through time. There are signs along the road. And us, on the road? Do we know where all this is leading?
***
Tobacco Pipe of Duke Micko
The village church is dedicated to the Holy Mother of God, Sašo says while leading us to it. The golden watch of duke Micko was taken as a family memento by Sašo's brother who lives in Belo Brdo, in Croatia. And Saša was given a ring and a tobacco pipe. He shows it to us and remembers the song "Sednal mi Džemo sloboden".
***
The Same Measure
Džemo, Micko's blood brother, came to Micko's wedding, they say in Poreč. Džemo asked to kiss the bride. Micko told him that he could do it, but only if he brings his own bride to him. Arrogant Džemo angrily refused and left the wedding. Later "they fought to the knife twice".
***
Under One Roof
In Topolnica, people tell us, village houses used to be built with interesting Balkan mountain characteristics. On the ground floor there were stables, warehouses, barns, and residential areas on top. On the attic they dried meat. Everything under one roof. In the winter, when snow falls, they wouldn't even have to go outside.