String
VLADA KANIĆ, AN UNUSUAL MUSICIAN WHOSE SONGS WERE APPROPRIATED BY THE PEOPLE AND THEY WOULDN'T GIVE THEM BACK
A Little House in Srem
In the late 1960's, music career of this singer from Zemun, a civil engineer, was on the rise. He visited Norway for a two-months long gig and stayed there for forty years. He built dozens of bridges, buildings, houses, kindergartens, schools, roads... But is most important work, the only one that will certainly outlive us all, is certainly his song "A Little House in Srem". There is no tavern in Serbia in which this son cannot be heard, and some are even named after it
By: Mišo Vujović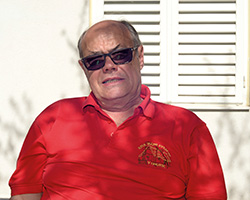 This ballad was created one winter far away from Srem and Zemun. While searching through the guitar strings, worming up next to the fire of his childhood, flames of memory were awaking old memories and turning them into melody. With this melody, many generations will revel and mourn, the last bohemians will use it to chase away the morning mist filled with smoke and malligand, many will court and fall in love with it, and some will be escorted by these melancholic sounds to the eternal rest...
– I was at the funeral of a young tamburica player in Zemun and my heart stopped when the remaining part of the orchestra started playing my song. Only then I became aware that this "Little House" is no longer only mine, and that it is my only building that will not be affected by the ravages of time. That little house is present everywhere, in inns, taverns, beautiful and elegant restaurants, it goes equally well with wine and beer, rakia and whisky, champagne and liquor, smile and tears... Two taverns were named after it. People have simply appropriated it, it has become a part of this passionate soul of ours – says Vlada Kanić, toasting with local rakia from the slopes of Fruška Gora, where recently he found his little house in Srem, that area of it covered by vine, more prone to bohemian than to hardworking life.
– One winter Saturday in Stavanger, excited after learning that my father had sold our estate and vineyard in Bežanija, where I lived to see so many beautiful moments with my friends and relatives, I took a guitar and my "Little house" was created in one day, in one breath. It is clear that formerly asleep verses of my childhood started pouring out of me. Who knows how long I had carried them inside! Of course, the song is dedicated to my father Milan, a tailor from Zemun, a man with bohemian soul who used to gather his buddies in our vineyard where they would sit and drink without women and tutors. I remember, that foggy Saturday, my blue-eyed Eva was still alive, how I took my guitar while the lunch was getting ready. The day was melancholic like my soul, a memory fluttering in still life. In these memories, on a sunny field with golden autumn color palette, in the vineyard that no longer exists, there is the abandoned Little House. I walk around the vineyard and put the images together... Each one of them hurts like an open fracture of the soul...
That song is not only a memory of my father and those dear people, but also a farewell to one time that will never come back, but also to one beautiful and elegant world, careless youth...
IF ONLY THE HEART WOULD...
– The children studied and played on the floor, I was in the vineyard with my guitar, alone and melancholic, but the verses were transparent and clear, gushing out like these creeks of Fruška Gora in the spring. At the moment I needed a choir for the chorus, and I gathered my little orchestra, with Norvegian accent, and all five of us sang in Serbian: "If only the heart would, if only the soul would..." – a story with a touch of sadness, but also happiness because life had given him a model family.
– The untimely death of my wife Eva was a terrible blow for me. Guitar kept me going, not let emotions and sorrow bring me down. But she gave me three wonderful children: Marko, Elizabeth and Eva. They are now grown up people, have children of their own, and with five grandchildren I feel completely fulfilled, happy and accomplished man.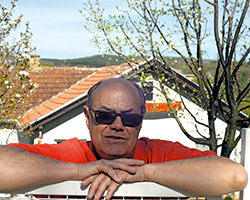 Already as a student of civil engineering, in the 1960's, Vlada Kanić embarked on the world of music, winning awards at prestigious competitions. At the Youth Festival in Subotica in 1963 he won the audience award, four years later he made his debut at the "Belgrade Spring", and in 1968, when his music career was on the rise, he goes for a gig in Norway. And stays there 40 years, working as a civil engineer.
– Joca Adamov, Zdenko Runjić, Kornelije Kovač and I began our music careers at the same time at the Youth Festival in Subotica. We all made our debut with our melodies. The next step was "Belgrade Spring", where I performed in 1967, I was getting ready for Opatija, but my career, through "Šumatovac" tavern from the famous "Bermuda Triangle" of Belgrade, took a completely different turn. While sitting one afternoon in "Šumatovac", then the gathering point of musicians, filmmakers, writers and journalists, I received an offer to appear in Norway. As a young man who wanted to see the world, I embraced the agreement signed for two months. We did the agreed gig successfully, but after that I stayed for another 40 years, working as a civil engineer. Luckily, I never abandoned music, even with my Norwegian friends I founded an "exotic" orchestra. I taught them to play Russian gipsy music, and our ambition was to perform in some local circles. Much to our surprise, this music was accepted very well by the audience, and the epilogue is three recorded CD's – this energetic seventy-four year old remembers, trying to make a parallel between Belgrade in the 1960's and the one today, accelerated, tired and a little chaotic.
WARMTH FROM THE MARGIN
Vlada Kanić, just like most creative and talented people, miss some very popular places in Belgrade, which simply died under the attack of fast food and fancy style.
– At the time of my departure, those taverns were institutions, and when I returned they were gone, despite the fact that tavern is an inseparable part of the spirit of this area. As young people, besides sport and music, in these taverns we discussed Kafka, Sartre, Dostoyevsky, Yevtushenko... I read Kafka's Process and I didn't understand anything, but in discussions with older people at the tavern I learned how I was supposed to rad him – he remembers melancholically. He does not deny that young generations are conceptualizing new environments, but not at the expense of tradition and authenticity of this region.
The situation is even more drastic in music.
– In my time, people listened to pop and folk music. As children, in our house on Sundays while waiting for the lunch, we listened to authentic folk music which today almost does not exist. Instead of that, we have rhythms that are foreign to us, some thrillers so unlike our spirit have entered our ears. I don't want to judge, but it is a markedly different environment. Today it is normal not to sing one tone, but to vibrate with those thrillers. The more the thrillers, the better the singer... Those responsible who broadcast such music are well aware of its quality and always have the excuse that people love it. But the task of the art is to entertain and infatuate, but to educate, illuminate and awake sublime emotions in people. Of course, I don't judge the fans of this music, I am aware that it has already made some serous deposits here. I have no ambition to fix anything, but I gave myself the task to be a kind of a person on the margin who will on the side compose a different kind of music, and write lyrics for it with some warm human message. Much less is needed for happiness than what the major part of the mankind is aspiring today.
***
Elephant Route
– Everybody who on the wide elephant route steps in the direction where everybody is moving will never find their own way. All those who are looking for their own way and shortcuts in life, whether it is music, a different type of art or any profession, they will always, despite the price that is sometimes quite high, reach their goal satisfied. Friends sometimes ask me what I did in Norway for 40 years? What have I gained? Instead of the expected answer about a big capital, shoe or pasta factory, yachts, villas, cars, my answer is: "I raised three children, three stable, hardworking and accomplished people, I have five grandchildren and one song that will continue to live after me."
***
Role Model
I was lucky to be friends with Mika Antić who was, as a member of the jury at the Youth Festival in Subotica, in charge of evaluating lyrics. Every time I would win the first prize for lyrics, and he would be the one to tell me that before the official announcement, with mandatory remark: "You should not sing. Your job is to write. To It is your gift, leave the singing, everybody can sing today." Unfortunately, I have taken his advice only recently, although Mika Antić was my role model.
***
Salon for Crying
– Some people, already vulnerable from the wine, would get sad by the song. A tear would drop. My father Milan would stoke their hair, always with the same words: "Don't spoil our mood, dear. It doesn't go with the song. Go down to the little house, I have made a salon for crying there. Have a good cry, then come back to us with joy. So that we sing together." Unfortunately, my father Milan, to whom this song is dedicated, never heard it.
***
Folk Song
On the Petrovaradin Fortress, some time ago, Gypsies are playing my song. I come to them and say that it is my song.
– Oh yes, many say that, they love it – the leader said.
– You didn't understand me. I wrote the music and the lyrics.
They wave their heads, cynical grin and golden tooth smile at me. I am persistent, but in vain. Well, now I will translate this to you, U think. I takeout one thousand dinars, stick it in the accordion and say: "Come one, play it again!"
– Well, now it really is your song! – they say and thundered: "There is a little house in Sreeem!..."