Wheel
CITY CYCLING IN SERBIAN CAPITAL HAS REACHED THE "CRITICAL MASS"
Infection of Positivity Spreads around Belgrade
In Amsterdam, almost every resident has a bicycle. In Helsinki, people ride bikes even in the snow. In Copenhagen, the cyclists have their own bridge. In London, they are building a cycling highway. Belgrade is not on this list of cycling cities. Nevertheless, a group of brave and very creative people have been fighting persistently to change this. They are immensely interesting, and their equation is clear: good will be repaid by good
Text and photo: Dragana Barjaktarević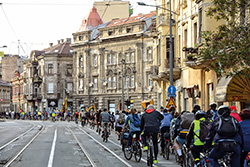 Because nobody pushes you with their elbow, backpack, umbrella. Because you are free to choose the pace and directions. Because you can feel the air in your hair, on your face, in the sleeves. Because it is good for health. And is good for nature. There are many other reasons in favor of cycling. And Belgrade is increasingly aware of that. Slowly. But it is spinning. We have cycling tours through the city, cycling festivals, several associations, more frequent gatherings of cyclists, recreational or activist ... and thus more people riding two wheels.
VOTE FOR A BIKE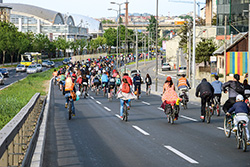 – People travel around the world on their bikes. It is nonsense to say that a city is not for cyclists. All we need is to connect two logical points - explains Zoran Bukvić, President of the Association "Streets for cyclists".
The Association has existed informally since March 2011, when the Max Sagmuler, an Austrian, launched in our country the concept of "critical mass", as it looks in Vienna. Two years later, it was made official. They registered as an association of citizens "Streets for cyclists" and moved to Savamala, to the office they received to use by non-governmental organization "Ministry of Space". They imagined a space where people gather, socialize, share knowledge ... And so it happened. When you come into their office you can learn how to fix a bicycle, find out which routes you can freely ride on or, if you don't like to ride solo, get information on collective rides.
One of those collective rides is the "Critical Mass", a colorful and noisy group of cyclists who carry banners: I love my bicycle, I choose two wheels, Vote for a Bike, Down with the Curbs ... It takes place every last Saturday of the month, and the route is always different.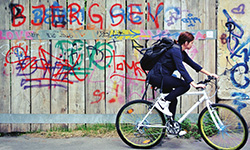 – We are trying to visit as many parts of the city, because the more people see and hear us, the greater the chance that they will pull their forgotten bicycle out of the basement and join us – Bukvić shares his hopes.
You can see it with your naked eye, there is increasing number of cyclists. In order to make their ride easier, they have been continuously sending to the city authorities suggestions and comments regarding cycling infrastructure. On their initiative, a part of Branko's Bridge was paid and working hours of cycling elevator were changed, and instead until 17:00h it is now open until 20:00h.
– These may be little things, but that is how you begin – they say at the Association and invite everybody with an idea to join them.
POLO ON WHEELS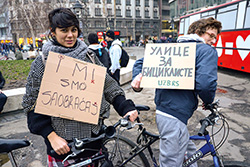 In addition to the city cycling, the Association promotes the sport cycling, in a new and unexpected way.
In front of the Tower Nebojša, a few guys on bikes performed an unusual game. The equipment is improvised, and passers-by were asked, "What is this fictional sport?" It is polo, but there are no horses. It requires skillful cycling, but it isn't cycling. They use a stick and a puck, the sport is a bit rough, but it is not hockey. When all usual suspects fail, this new one appears, combining a little bit from all the old ones – bike polo.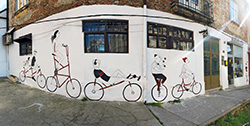 If being recognizable is important in the biography of a discipline, then bike polo in our country is a very young sport. It has existed elsewhere in the world for more than a hundred years. Irishman Richard J. McCready, the former cycling champion and editor of The Irish Cyclist, organized the first bike polo match back in 1891 as a part of a farewell party marking the end of his racing career. Soon afterwards, they clubs started appearing across Ireland and the UK and America. Until 1999, it was played exclusively on grass. And then hardcourt – bike polo on solid surface develops in Washington. It was played by couriers on bikes dur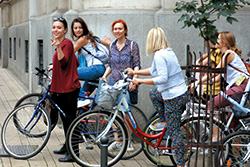 ing breaks in between deliveries. Given the attractiveness of the sport, hardcourt bike polo quickly spread to the rest of the country. It develops gradually, teams gather and organize the first tournaments, mostly in the north and the west coast of the United States. Since 2007, they start playing hardcourt bike polo in Europe. It was brought to Belgrade by members of the association "Streets for Cyclists".
– Because, in addition to activism and political activity, people also need to have fun – says Zoran Bukvić.
A BIKE TOUR AROUND THE CITY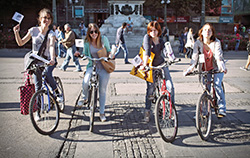 An Austrian, as we said, started the "Critical Mass" in Belgrade. Another foreigner started organizing cycling tours, as an alternative way to see Belgrade.
Ralf van der Zijden, a Dutchman, during one of his business visits to Belgrade, was so thrilled with the city that he decided to stay here.
– I remember watching Belgrade from the taxi on my way to the airport and I fell in love with the city, just like one falls in love with a girl – Zijden remembers. He founded the organization "iBikeBelgrade", with the idea to show to other foreigners how beautiful Belgrade is. He added to this his love for cycling, and launched the first cycling tours in our country.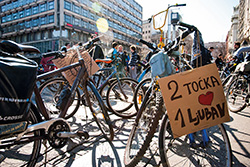 Tours are organized every day, from May to October, regardless of weather conditions. The place of gathering is in front the City Library at the end of Knez-Mihailova Street or on front of Sports Center "Milan Gale Muškatirović". "iBikeBelgrade" currently has several different tours in its offer: morning tour through the city, afternoon tour along the river and tour on electric bikes. They ride slowly and stop every ten minutes or so, in order for the guides, depending on interests of the participants, to talk about the times past or contemporary pulse of the city.
In cooperation with the Museum of Yugoslav History, "iBikeBelgrade" also organizes "Bajskultura" (Cycling Culture). It is a cycling tour intended for all those who want to learn about the heritage of New Belgrade in an unusual and fun way. The ride begins in front of the Branko's Bridge and includes visit to buildings that were created in the first phase of construction of the city on the left bank of the Sava River: CK, SIV, Hotel "Yugoslavia", Pavilions, Student City.
PAPER GIRLS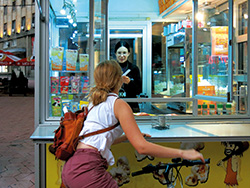 Bicycle is a means of recreation, a means of transportation, sports tool, but also an aid in promoting art.
Unless our perception is distorted, art is everywhere, in stillness and in motion, in galleries and on the streets. By following that principle, "Papergirls" ride bikes and throw art scrolls into the hands of random passers-by. Without strict rules and reason. Actually, the reciprocity is placed in untarnished sense of gratuitous giving. And in the smile that appears in the corner of perplexed lips. Because: have you ever received a gift from someone you don't know!?
Project "Papergirl" was born in 2006 in Berlin, as a response of Aisha Ronniger na tightening of the laws related to street art. Good enterprises do not stand still, and the project has expanded to other cities. Radmila Jeremić has brought it to Belgrade.
– It was supposed to be a mini action – she says. – I didn't expect great response. And then! Around 150 artworks arrived.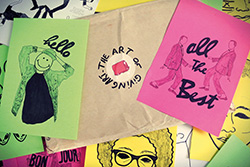 Just enough to help Radmila make friends with postmen. She posted the "Open Call" for submission of works (under quotation marks, because there is no selection, everything is displayed and everything is shared), and then for several months the works were arriving from different directions. Doodles, drawings, prints, poems, letters, brooches. That first year, even one video installation. When there are enough works, an exhibition is organized in a non-gallery space, and afterwards they are taken off the walls, rolled, and every hand is welcome in this work.
– Once my grandmother joined to help – Radmila says.
The following morning, at a spontaneous route, the one that enables safe passage for bikes, distribution of art rolls to surprised passers-by begins.
– The first year people were completely bewildered, mistrustful, they didn't know what was happening and why we were doing it. We throw them a scroll and they don't want to take it. Of course, there are always those who are thrilled without having even opened the scroll.
And after every ride, they also get some positive feedback, as a clear equation that good will be repaid by good.
***
"Belgrade Velograd"
"Belgrade Velograd" is an international cycling festival that promotes the use of a bicycle as a daily means of transportation. The goal of the festival is to gather, in a friendly environment, all those who are interested in cycling. It consists of three units: conference, fair and different types of cycling fun (cinema, fashion show, bike polo game, BMX exhibition...). The axis of the festival is "Orange Bike Ride", a large group ride, where everybody can participate, as long as they wear orange.