The Winner
NEMANJA BJELICA, SERBIAN BASKETBALL CHAMPION, THE MOST USEFUL PLAYER OF EUROLEAGUE, EXCLUSIVELY FOR "NATIONAL REVIEW"
The Real Fruits of Complete Dedication
Basketball asks for everything and he is giving it. It happened, it seemed to him that he had hit the bottom and that he can no longer go down that road, especially when in "Partizan" they suddenly classified him as a generation written off. He overcame the most difficult periods only thanks to his parents Milovan and Slavica. In the most important periods of his career he encountered old masters and great people: Svetislav Pešić, Duda Ivković, Aca Petrović, Želјko Obradović. Now, in Europe, he is no the top, but looking at even higher peaks
By: Dejan Bulajić
Photographs: NR and Archive of Nemanja Bjelica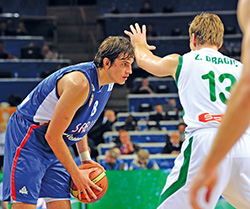 Many unusual life stories sometimes fit into one sports story. Or vice versa. Nemanja Bjelica, basketball player of "Fenerbahçe" Basketball Club from Istanbul, is currently the most striking basketball figure in Europe, which is reflected in the recognition as the most useful player of the Euroleague. It is a true satisfaction after everything he has experienced in his career.
– I am very flattered by this recognition, because it is the crown of the season in which I, just like the entire team, I invested a great desire and effort to achieve the best result. In this way, everything I have done is even more significant, but it is clear to me that recognition like this is not earned by an individual player, but that the support of the team and trainer are behind it. I am sorry, however, because there is no sense of complete triumph, because at the final tournament of the Euroleague we didn't manage to get into the finals. It remains our goal for the next season, as well as my desire not to lose the position among the best players of Europe.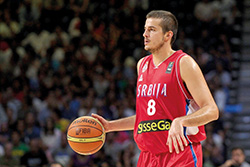 Nemanja clearly sees the points on which he has achieved the biggest progress against the past seasons.
– First of all, I feel unburdened, and for this I give credit to trainer Želјko Obradović, who has given me full freedom in the game, as if I am a point guard, and not the center. Besides this, Želјko gets the maximum out of every player in his own unique way: he only asks from us to give our best, he supports us and shows that he trusts us. he is not only a great trainer, but also a great human being, and because of this I am even gladder to be able to reciprocate the trust he has given me. Besides this, this year I have also worked a lot physically, with fitness coach PredragZimonjić, whom I have known since 2009, when I was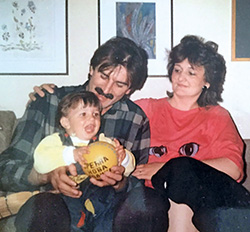 gaining my first experiences with the national team. Cooperation with him means a lot to me in the club as well. It seems that everything I have invested this year and in previous years is now coming to the fore, and this award shows that someone has recognized this and valued it in the right way.
In step with professional rise, he is maturing as a person.
– Basketball is what I have fully dedicated myself to and it helps me discover the life itself. Maybe my maturing and searching for true paths took a little more time, but since I arrived in "Fenerbahçe" I have put the things in the right place and it brings the desired results. Simply, you cannot achieve a good result unless you are fully committed. I am finally aware that basketball requires from me to give it everything, with no reservations, and now I am doing it, without, of course, neglecting my family and some other priorities in life. I want to use my time and discover how far I can get, and I can only do this if I give all I have.
PARENTS BEYOND WHAT IS POSSIBLE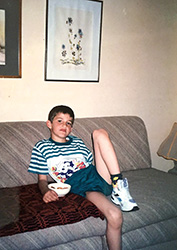 Many will say that every success story resembles a one before. Nemanja's story, however, disproves this.
– I started to get involved in sports just like any other kid, for healthy lifestyle. At the beginning it was swimming, and then, between football and basketball, I chose basketball. I lived in the blocks of New Belgrade, first in Block 44, and then 70. In my elementary school "20. oktobar", "Partizan" opened its basketball school, which was taught by my PE teacher Ljuba. he taught me the first steps in sport, but it was still more in the realm of fun and spending time with friends, and not competition. A somewhat more serious story began with now late Aca Janjić, to whom I owe many knowledge about basketball, which I am still using today. I gladly remember him, because he was a good man and excellent trainer. He reco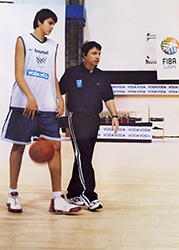 gnized a talent in me and started developing it. I passed through all junior categories of "Partizan", I was the captain of my generation, and then it happened that, between ages of 15 and 16, in the club they declared that we lacked perspective. They evaluated that our age group should be shut down and focused on a younger group. How wrong this evaluation was can be seen in the fact that not only me, but also some other players from that generation, such as Lešić, Sinovec, Malidžan, are still playing actively and successfully. It really shook me, because after ten years in "Partizan" someone characterized us as useless. I overcame that period only thanks to my family, because my father Milovan and mother Slavica were standing next to me all the time. Especially my father took this pressure upon himself, trying to spare me some great excitement. The support I was given from my parents was above their abilities. If it hadn't been for their love and persistence, I might have abandoned all this.
Saying goodbye to "Partizan" was inevitable.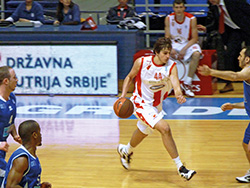 – My next stop was "Superfund", where I spent two years. In this club I undoubtedly progressed, especially with Mirko Ocokolјić, but the impression that people did not believe in me enough was still dominant. I was not a part of junior national team selections, I couldn't come to the fore to the extent in which I felt I deserved it. I felt this clearly and I could not stay indifferent. because of all this, it seemed quite uncertain what I was doing. I couldn't even dream that I would achieve what I am now. Only with great will power I stayed persistent and did not stop practicing, which finally made me stronger. Great and successful career seemed far away. I remember, one day, coming back from a game, passing by the "Arena", I longingly said to my father: "Imagine what it would be like if one day I also played for the national team in the 'Arena'!" Still, it turned out that I was up for the task. I was lucky to find people who recognized talent in me and forced me to work on it.
SIGNS IN THE MIDDLE OF THE ROAD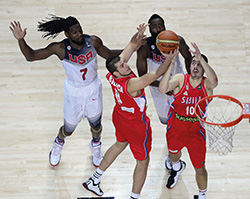 The road next brought him to Austria.
– Leaving the country was inevitable. I was disappointed with the entire chain of events, I felt that no one believed in me, except for my family. Somewhat earlier, I was beaten up with my friends in the neighborhood where I live and it really seemed like there was no end to misfortunes: Somehow in this period, my brother Vladimir introduced me to a man who became very important to me. Bojan Tanjević understood me well, gave me great support and helped me overcome that bad period. I Austria, I finally started playing, I had a good season and it seemed like things were finally moving. However, soon I broke my leg. Then I thought that the entire world had collapsed. I was desperate. The whole thing was even worse because I was in Austria alone, conditions for recovery were not great, and I asked to go to Belgrade for rehabilitation.
He couldn't imagine that from that moment on the things would start moving in the right direction.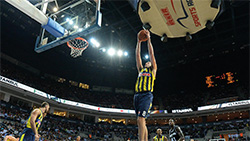 – I wouldn't even dare thinking about it, and it happened. I came to Belgrade for rehabilitation and the first thing that happened to me was encounter with the girl who has never left my life after that. I remember, it was the night after the New Year's, I was feeling down, with my leg in my cast boot, and then... I meet Mirjana. Thanks to that cast boot we now have good marriage and little daughter Nika. After recovery, I worked hard for three months radio with my fitness coach Branko Karalejić, because I wanted to go back on the field as soon as possible. After everything that happened, it didn't even occur to me to go back to Serbia. I wanted to settle down somewhere in Germany or Austria, to play and, finally, to find some peace. That is what I said to my family and friends, but...
Unexpected turns were waiting ahead.
– I think that I really deserved that, at this moment, someone who would finally recognize my talent appears. Fortunately, it was a man of great authority, then the coach of "Zvezda" Svetislav Pešić, who had no second thoughts. he brought me to "Zvezda" and I remember that everybody asked who I was and where I came from. They thought I was not from Serbia because nobody knew me in basketball circles. This was actually my true beginning. Finally, under guidance of a true expert, with people who knew how to work with me. The career started taking off: from "Zvezda" I left to Spain, and from there to Turkey, where I am still wearing the jersey of "Fenerbahçe".
A SERIES OF SPECIAL PEOPLE
Along with the club career, the notable national team career also developed.
– I owe everything to my work and a group of excellent coaches. Pešić opened the doors to basketball for me, he sent me toward the goal I had set for myself, and I can never forget that. I was brought into the national team by Duda Ivković, a great man, whosepatience I may thank for getting into the senior team. Namely I was invited from the university selection to join preparations of the first team, which was getting ready for the European Championship in 2009. I remember working hard at the trainings, but at the controlgames I was terrible. I didn't even know what was happening to me. Late Aca Petrović, then assistant selector, also a great man, encouraged and comforted me, but Duda had the decisive influence. Once he pulled me to a side, when he saw I was feeling down because of weak games. He told me not to worry, to keep working and not to feel so burdened. That is how my national team story took off.
National team, today.
– We have a really great potential. First of all, we have a young coach, who was a role model to many of us. We grew alongside his generation and dreamed of getting the same role one day. Last year we achieved the result that nobody expected and the appetites are now bigger. The European Championship is ahead of us, but there is an unfavorable circumstance that we will not be able to count on Nenad Krstić, who used to be the axis of the team and who meant a lot to me personally, because from the start in the national team he was my great support. At the European Championship they see us as favorites, but I think that we should be realistic. Our desire is to be among the best, just like all other participants. However, I think that the priority is to enter the Olympic Games and that we should set our ambitions with respect to this. It is a good thing that we have a lot of young players, who have important roles in their clubs. We will be one year older, and that much more experienced, and willing to prove ourselves again.
***
Family
– Sometimes it seems to me that certain things happened as a destiny. As a boy I was not serious, a little irresponsible. I couldn't even dream that among my friends I would be the first to build a family and enjoy it with all my heart. No matter how difficult my day was, I know that my two girls, Mirjana and Nika, are waiting for me at home and I feel the best next to them. They give me immense strength to survive on the level where I am now. And I thank god for giving me the chance to become a father at such young age. It is a remarkable feeling and I would recommend it to everybody.
***
Collection of experiences
– Unfortunately, there is little time that I could spare for some other activities besides basketball. Certainly, it means a lot to me that I have met different nations, cultures, religions, ways of life. In Austria, I lived in Traiskirchen, a town with a population of 5,000, and I know what it feels like to live there, and how it is in Istanbul with a population of 20 million. I have brought great impressions from Spain (I am sorry I didn't learn to speak better Spanish). Unfortunately, basketball does not leave much free time. One day I might make up for what I am missing now.
***
Serbia
– There are special feelings that connect a person to the country where he was born. I love Serbia very much, I am proud of it and I am extremely happy for having an opportunity to fight for it. I am that much happier when we achieve a good result, because I know how much that means to our people. Besides this, I am aware that athletes promote their country in the best way possible, and I will give my contribution to this. I am glad when, while traveling, I hear from other players that they know about Serbia, about Belgrade, and that they are full of impressions.
***
The Ultimate Challenge
– I think that it is a dream of every basketball player to join the NBA one day. I had this option this summer, and I decided to make that step. I signed a contract with "Minnesota". I think I have the quality for this league and I will do everything to prove it.