Talents
NEMANJA MAKSIMOVIĆ FROM LOZNICA, THE RISING STAR OF EUROPEAN FOOTBALL
A Man for Big Decisions
He was never pushing to be in the front rows, on the contrary, but since his young age he has been deciding historical games. Since he introduced the "Pioneers of Loznica" in to the strongest league of Serbia, until the decisive goal to Brazil in the finals of the World Championship for juniors in 2015 in New Zealand, or until the recent goal on Cyprus, which brought the champion of Kazakhstan into the European League of Champions for the first time in history. Already in his parents' home in Banja Kovilјača, he learned: "Success does not change good people". Even when he was without a club, on the street, and now on the throne of the world, his behavior is the same. Beautiful and difficult road is ahead of him, just like the one behind
By: Nenad Marković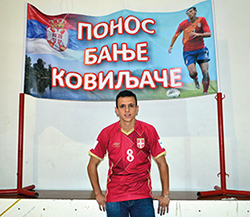 Before leaving for New Zealand, to the World Cup for juniors younger than twenty years, he said that the team was preparing ever since it had qualified, that it was ready and that it needed only a few minor adjustments. He was aware that as one of the most experienced in the team, the player for whom this was the third major competition, he carried a greater responsibility. He believed in success, but was not rushing. "Step by step to the goal", he would say. He managed to achieve the things he believed in. Towards the end of the second overtime, in the 118th minute of the final game with Brazil, a national team that had had a series of twenty games without defeat, he scored a goal and brought a world title to Serbia, and to himself a place in the history of Serbian sports.
– It's really a remarkable feeling to beat Brazil in the finals of the World Cup, and I had the honor to score a goal two minutes before the end of such a big game. It was very difficult, real finals. It was all about waiting who will make a mistake first. We took the lead, and were maybe even a little scared by this advantage, received a quick goal and everything returned to the beginning. When everybody thought that penalties will decide the winner, a great counter-move decided it all. I felt good throughout the game, except for the first thirty minutes of the finals. When extensions started, I felt great, like it my first match at the tournament. I had strength, I got up and could not play for another half an hour, and if that had been the case, I would have scored another goal. By the time when that crucial counter-attack started, I saw that I was first in front of our defense, the only one who can get involved, and I started to run. Živković gave me the ball on time, and for the first time in my life I was so calm that even in training I have never felt that way. I knew I had to wait for the goalkeeper, , I saw that he expected me to aim the first corner at the internal angle, and I otherwise like to kick at the external angle, I do that all the time, and I scored the goal through his legs.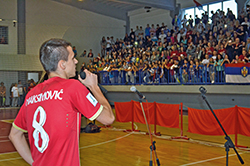 This goal in the finals, scored peacefully like playing with his friends in the school yard, was not the only moment in which Nemanja decided the outcome of the World Championship. In a quarterfinal match with the national team of the USA, the series of penalties seemed to be endless, but then the Serbian number eight went to the penalty area and made the eighteenth penalty kick perfectly calm. He did it in accordance with the sentence printed on the inside of his jersey, which was read by the team members before every exit into the field: "God gives the toughest missions to the chosen best ones!"
– That penalty meant a lot to me. Selector Paunović said that at that moment, by taking responsibility, I matured, and this helped me in the final. I was not supposed to kick then, but something told me to make the penalty kick. I never did it in a more relaxed manner, I was absolutely sure that I will score. That is what I answered to the judge when I approached the ball and when he, quite unusually, asked me whether I would score. They said that I spoke with goalkeeper Stephen, but that is not true.
CONCORD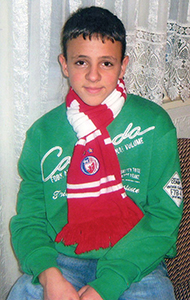 In contrast to the usual behavior of Serbian team, junior team members did not fall even when they were losing, nor they retreated into defense when they had the lead, they always played to the end, until the last whistle of the referee and there was no friction or jealousy among them. They demonstrated in practice that only a harmonious team can make good results and that only unity saves the Serbs.
– That's my strongest impression that I carry from New Zealand. What a team we are, what kind of friendship exists among us. We spent thirty-five days together and not for a moment we felt nervous, what happens when many people spend so much time together. It did not happen to us. The presence of a psychologist in the team was very important. It is important that you can talk to a professional when you have a dilemma. It's not the same to talk to someone who doesn't know this well. The support I received from home was important for me, but in addition to my parents, family and girlfriend, the greatest support came from the team, because we lived together for this goal. We are a team of very good players, but the most important is the atmosphere in the team. If we preserve this, I believe that we can achieve results even in the senior competition.
When he was still a kid he was dreaming about winning the world competition, while running after the ball with his friends from his native Banja Koviljača and the selection of the local football club "Gučevo". The late Grandpa Slavko took him to the stadium for the first time.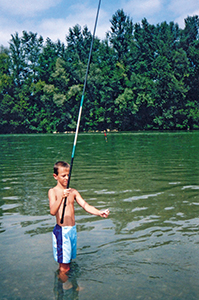 – He barely managed to talk the coach into letting me train since I was a kid, I was only five years old. I have always loved football. The ball was my favorite toy, I often slept with it. I played football all the time, like all the children in our street and the surrounding area. Those places where we used to gather, socialize and, of course, play ball were important to me, especially the yard of elementary school "Vera Blagojević" in Banja Koviljača. One does not forget that. I'm still in touch with these friends, we talk to each other constantly and we see each other whenever I come home. After "Gučevo", I joined "Jedinstvo" from Roćević, and then in the third and fourth grade I transferred to FK "Omladinac" in Loznica, and I played there until I went to "Red Star". I was in the sixth grade, twelve years old, when I first put on the red and white jersey and it was the realization of a childhood dream. I was too young to go to Belgrade, so I traveled to trainings two or three times a week, 140 kilometers in one direction. I was a child then and I did not know enough, it was not hard for me. Only now I see how difficult it must have been for my parents to get organized, adjust their obligations, take days off to drive me to Belgrade so often. But we all are aspired to the same goal. I studied the best exactly while driving in a car on the way to the trainings. I remember, it often happened that I would go with my father Radisav, a traffic policeman, on Wednesday to the training, and then we would not go back, but stay until Sunday at my aunt's in Belgrade. Then the two of us had serious discussions on how to explain to my mother Tanja, a teacher, that I would not go to school for three days. It's a nice memory and definitely a good experience.
TEMPTATIONS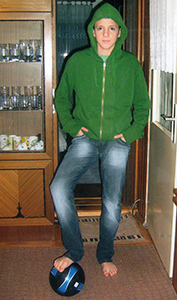 However, not everything went smoothly. Nemanja was to meet great temptations, maturity tests one after the other, and he was just a teenager. An injury and one month in the cast kicked from the game after two years in "Red Star". He did not practice for six months and there was no point to travel to Belgrade any more. There was a question of what to do next, and opinions were mixed.
– My father wanted me to go back at any cost, mother was against. Father had the final word and it was certainly the best move. I came back to life, played constantly for a year in pioneer selection of FC "Loznica", we won the title and the barrage with "Sloga" from Požega we made it to the highest rank, the Quality League of Serbia. The most important thing was that I played constantly. During the injury, the biggest problem was me alone. It was winter, cold, I just ate and played games. I gained a lot of weight and it was all my fault. When I came back after injury, at the preparations in Macedonia, I sat on the bench more than I was working. I was just saying that I cannot go any more and everybody laughed at me. Those six months were the worst period of football and then I was the least in it with my head. When you are in the eighth grade, you think about everything except about the things that you should be thinking about. Return ton Loznica helped me realize that I had to do much more in order to play again like before. That's what I did. And then it had to be decided what to do next My father wanted me to stay in Loznica and play in the Quality League, and my mother insisted that I go back to Belgrade. Then she had the last word, and she was right. They both made the right decision for me at the right time.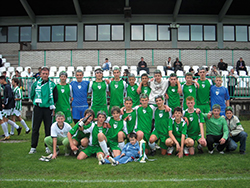 The second departure to Belgrade also meant separation from the parents' home. Mother and father stayed at home, and Nemanja, at the expense of the club, lived in a house in Kumodraž, together with his teammates. They liked the peaceful neighborhood, and everything was organized for them. The road to success is not easy, and the toll to the finish line is not cheap.
– In the beginning it was hard, but later I got used to it. We were all in the same situation, so we supported each other. I had a good company, they were normal guys, and none of us thought about deviating from the right path. When you live with friends, time passes quickly, there is school, training, obligations, and one doesn't have much time to think about home. My aunt lives in Belgrade, so I visited her as well, and it means a lot when you have someone older on your side. Early departure from home is difficult, but because of that it was later much easier for me to get used to it when I moved abroad. The price persistence and success is not cheap, one has to give up a lot. Two years ago I was one of the few players who were going to school regularly, but at some point one had to decide. One had to be given the priority. In a big city, where so much time is lost in the transportation, I could not go regularly and I finished the other two years of high school part time. It was not possible to do otherwise. No matter how expensive, I would always recommend to those who want to succeed to try. If they have their goal and they don't give up on it, it will pay back.
AFFIRMATION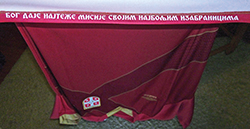 He was young, played regularly, although there was disagreement over the position in the team, he had a good time and he would have remained a part of the team had they not called him for the preparation with the first team of the red-and-white. Driving test was an excuse for not going with the first team players.
– I passed the driving test, but a year later. My father said that because of the driving test I could not join the first team. And they invited me only because some of the players refused to go on training. They never seriously counted on me for the first team. In "Red Star" I was given opportunities in the younger categories, but they thought that I was a forward, while I wanted to play defensive midfielder, so they constantly moved me from one position to another. I was doing fine in "Red Star" then, I wanted to stay in the juniors, I knew that at the age of 18 I was not for the first team. And everything would have been fine if they had not invited me to sign the contract, and after that, when we come back from the preparation, they themselves didn't know what to do with me. Then I decided to leave and I never doubted that I made a wrong decision.
The early departure from Serbian football, observed today, was a big plus for me. I started in time to deal with some of the things that in our country people don't pay much attention to. In Europe, trainings are more serious, life is better, people take more care about food and everything without which you cannot play football at the top level. I went to Switzerland, I was to move in one of two clubs, but that didn't work out. Then, was with my parents and the manager, I agreed to wait for the right opportunity, he did not want to find me a club at all costs.
Despite the fact that he was the only one who didn't have a club, the national team did not forget him. Selector Drulović not only invited Nemanja to the team, but he put him into the first team. Nemanja justified the trust.
– Thanks to Jovan Stanković, Ljubinko Drulović, Veljko Paunović and the Football Association of Serbia, I was given a chance to play with the national team and became the champion of Europe in Lithuania, and I was the only one without a club for six months. I was calm and believed that something will happen. After the championship, I made a move that many people found strange – I went to Slovenian "Domžale", bit it allowed me to play senior football for a year and a half.
FAME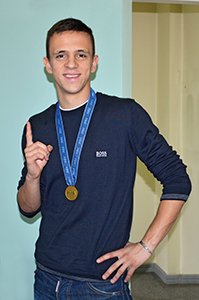 Since February he has been playing in Kazakhstan, the current champion "Astana", and he says he likes it there. He fit into the team quickly, found his place and became one of the most respected players. In the key match for a place in the League of Champions against"Apoel" in Cyprus, he scored a tie goal and in this way introduced his team into the most prestigious European football competition. There, they willface "Atletico" from Madrid, "Benfica" and "Galatasaray". This is the biggest success in the history of Kazakh football.
– We played our worst game, until we received a goal. That made us relaxed and we played better. It happened that I was again the man of decision, and the match was truly historical, this time for the Kazakh football. I was pulled by the ball, I felt the space, walked in, and put it in the net. Apparently, I get this feeling to find myself in the right place. My teammates like to joke with me that I achieve goals only in the most important matches. When "Apoel" scored a goal and tied the score, because at home we celebrated with 1:0, I thought we would play extra time, that penalties would not decide on the winner and I that I would miss the plane to Belgrade because of this. I think that in the draw for the League of Champions we had a lot of luck, the group is good, we could play. I am confident that we are ready to compete against the big European clubs and that we will not have a supporting role.
Nemanja does not like to take photos, so after returning from the World Cup, as well as after Lithuania, he definitely retreated in the last rows. However, the winning goal brought him fame, in Serbia he was greeted as a hero. In addition to welcome ceremony on the balcony of the City Hall, the celebration was expected in the homeland, in Koviljača and Loznica, but also in Astana. That has not changed him. He did not allow himself to take off, still firmly standing with both feet on the ground.
– Fame is the other side of success. Now it is fine, but certainly there will be bad times, when it is difficult. And that, just like this now, one must endure, withstand. The welcome in Belgrade was magnificent, the perfect atmosphere, and I am grateful to everybody for coming. It was the same at home in Banja, the welcome ceremony was organized in the school sports hall and it was touching. In my mind, nothing has changed. Euphoria will last for a while, and then everything will go back to normal, just like before. After Lithuania, it took me six months to realize that one cannot live off of old fame, that there is no past service in football and that, when I come back to the club, I would have to prove in every game. At the time when I was without a club I behaved the same as now, when I am world champion.

***
Hometown
– I have loved the Drina since childhood. We would always go to the river, as a family. If after the game with "Apoel" I had not had duties with the national team and before that two days off, it would have been the first year that I did not swim in this river. I love Banja and Loznica and the Drina, I like to come, my family, friends and girlfriend are here, but, I think, I will hardly be able to, at the end of my career, come back and live there. In the future I do not see myself in any other line of work except football. I have been doing this all my life and I will certainly stay in it, although now I cannot know in what capacity.
***
Networking
– I used to read a lot of books, but lately I have not had enough time. Here in Kazakhstan, the time just flies, we travel a lot, it is a big country, we are often in quarantine. Sometimes I find time to take a walk with my friends from the club, and there are several of us from our region. We live in the city center, close to one another, and together we go for lunch. I do not have accounts on social networks. I had a Facebook account before, but I shut it down. Social networks have their good side, but not in the way most people use them. I have no need for it, I'm not used to it. I've heard that after the World Cup profiles appeared under my name on Facebook and Instagram, but it had nothing to do with me. It was made by some people who must have been very bored.