Lighthouses
NADEŽDA PETROVIĆ (1873-1915), PAINTER, A HUNDRED YEARS LATER
True Spirit of European Europe
Her life and work testified about her supreme patriotism, self-consciousness and skill. She opened the paths of modernism in Serbian art. She outgrew her environment and époque, painted as the ones that were only about to come. She broke rules to establish her own. The greatest world experts in impressionism cannot bypass her. And each Serbian generation returns to her again, as shown by the recently closed exhibition in the Army Home
By: Dejan Đorić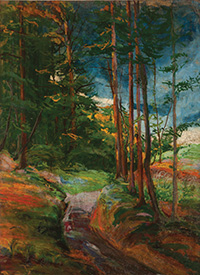 Nadežda Petrović (Čačak, 1873 – Valjevo, 1915) is a Serbian lady with a very rich biography. She is the beginning of the ascension of our woman in the modern times, personification of a free-minded and wise person, not connected to the family, responsible only to her own objectives and values. She opened the paths of modernism in Serbian art and, with the great strength of her personality, working energy and strong will, became the type of a contemporary female intellectual, art critic, political activist, organizer of the artistic life in Serbia and in the Balkans, perhaps even feminist. She was a meteoric phenomenon, matured too early for our environment, misunderstood just like her brother Rastko Petrović. Critics wrote that colors in her paintings resemble dough and that she paints with a messy brush. At that time, her paintings were worth ten average salaries, today two hundred and fifty. She brought the spirit of Europe in its most advanced form to little Serbia. Katarina Ambrozić, the best expert in her opus, whose PhD paper was copied for decades, challenged an auditorium made of reputable German art historians, PhD's and museum workers on behalf of Nadežda. She proudly asked them whether there was such a progressive female painter in Germany in Nadežda's time, anyone similar to the Serbian lady educated in Munich. They answered with silence. Paula Modersohn-Becker and Gabriele Munter, her most important contemporaries, cannot compete with this lady from Čačak. To be honest, we should say that Nadežda does not mention Wassily Kandinsky, who surpassed her in international proportions.
FOLLOWING HER OWN RULES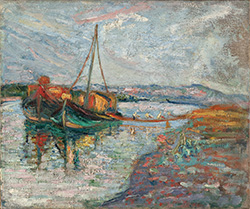 Her painting in the early twentieth century was among the most progressive in the world, while she, in Serbia, experienced much of what impressionists and postimpressionists did: mainly disapproval and lack of understanding. At the time the impressionist school was still strong, she painted as the ones that were only about to come, expressively, without submitting to conventions, realistic sights or classical composition. Having an extraordinary feeling for color, she was able to harmonize all contrasts and types of color, balances and tones. One gets the impression that she could start from any part of the painting, with any color, and always find a coloring solution for the whole. Old masters avoided greens. They considered them raw, acrid; Nadežda uses them plentifully, as well as black and white, which were almost absent in their pure form in old painting, or formed by other colors, such as golden or silver. She broke rules to establish her own, so, even in the greatest tension of tones, she skillfully found purified tone relations, and painted expressive paintings in a pastel tone.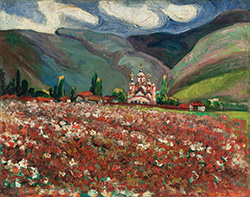 It was a time of artistic revolutionaries, impressionists, postimpressionists, symbolists and secessionists, while she belonged to artists who were only about to become and stay up-to-date. Expressionism is one of the several basic style formations of entire art, such as realism, abstraction and fantastic art, like metastyle, eclectic or synthetic. Expressionism was less accepted in Serbia. From the late eighteenth century, we were immersed into different forms of realism, from the 1950s into fantastic art, or, as usually called, neo-surrealism. Abstraction and expression rarely find roots here, they are some alien occurrences. Reality art, realism with a surplus of meaning, or fantastic art, as an artistic response to epics, legends, folk imagination and magic, are suitable for the Serbian hayduk and peasant mentality. The irrational, mythical side of our character is followed by similar visual art, ever since the medieval illuminations, frescoes depicting the Final Judgment and church sculptures. Nadežda separates from the mainstream; she belongs to the Germanic and European spirit as much as she does to ours, but in her own way.
UNITY OF ETHICS AND AESTHETICS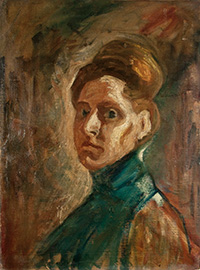 It is very strange that expressionism, from early renaissance to the "New Wild Ones", neo-expressionism in the 1980s, represents a typically German style. We cannot understand how and why this nation, consisting of remarkable craftsmen, soldiers, professors, philosophers and scientists, who mostly aspire towards preciseness, order, discipline and vertical hierarchy, embraced the most disheveled form of art, with too much freedom and too little binding. The answer to this question should be sought in what the Germans call "spirit of the people", where the collective spirit rests, correctly marked as "blood and soil". Every genuine art is determined by race and nationality. Nadežda Petrović knew that well and succeeded in something that was almost never repeated here again, except to a lesser extent by Aleksandar Tomašević, Lazar Vozarević and Svetozar Samurović. She represented Serbian peasants, gypsies, muddy roads, wooden fences, the benighted but warm Serbian villages and countryside, bridges of old Serbia, peonies of Kosovo and the idea of the Kosovo oath, churches and monasteries, the most typical national subjects in the most avant-garde manner. This lesson will never be followed by any of our progressive artists; almost all experimenters are ashamed of their origins and tradition. The greatest experts in impressionism could not bypass her titanic appearance. The most voluminous international studies about that movement, written in English, in a choice of all Serbian painters, reproduce only her work.
The local public and art historians unselfishly repay Nadežda Petrović. Each generation discovers her in their own way, so the young and youngest ones rushed to her exhibition in the Army Home Big Gallery in Belgrade (from November 19 to December 24), organized by the "Defense" Media Center, exhibiting her works kept in the National Museum in Belgrade. In return, this significant Serbian woman repeatedly reveals our public the unity of ethical and aesthetical values.
***
Among the World Greatest
Nadežda Petrović is one of the greatest expressionists in world art, certainly one of the first, and her significance surpasses local borders. The German public felt it well at the exhibition organized by Katarina Ambrozić in the Munich New Pinacotheque in 1985. There were more visitors than at the previous one, exhibiting works of Ivan Meštrović.
***
Lessons on Patriotism
After 1945, there was no one to listen to her lessons on patriotism, which she paid with her life, dying from typhus as a national fighter, volunteer nurse in World War I. They didn't understand and accept her for the richness of her personality, as a whole, but narrowly and partially, only as a painter.