Winner
MILICA MANDIĆ, BELGRADE GIRL, THE BEST FEMALE TAEKWONDIST IN THE WORLD
A Long View from the Top
Every medal has at least two sides and we must know them all. The first step towards achievement is believing. The gold from London is a convincing fruit of brutal trainings, samurai discipline and great support. It gave meaning to many years of many people. Why hide the fact that expectations for Rio are on the same level. When one holds first place in the world, contesters show more passion and aggression, so this is another thing to fight against. But the best ones know how
By: Dejan Bulajić
Photo: Guest's Archive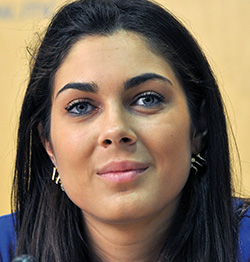 We found Milica Mandić in the "Galeb" Taekwondo Club in Belgrade, the place that witnessed her growing up, maturing and continuance. Among the walls decorated with trophies, levitates the secret of champions, available only to those who dare to invoke it.
– I have completely identified myself with this place and I see it as my second family sanctuary. I was created in this club, next to Dragan Jović, who has been my coach from the beginning. I spent years here and matured both as a person and as a sportswoman.
A girl in martial arts.
– Like many other girls, I was also in a dilemma which sport to choose. I tried swimming, basketball, danced folklore, but I finally decided only in fifth grade, when I came upon the "Galeb" Taekwondo Club poster, advertising enrolling of new members. When I arrived, I realized that was what I needed, because I liked everything it offered and requested from me. First of all, discipline. Finally, taekwondo and this club formed me as a person, because I learned many things from my coach and other contestants. I was immediately attracted by fights and stayed in them to this very day. It is not just plain comparison of physical strength, but prudently making moves in the right moment. One must think about it and advance every single day.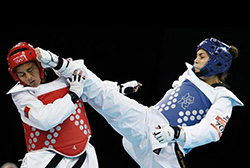 Martial arts and personality traits.
– There are no similarities in my case. I'm a very calm person by nature. I undoubtedly belong to martial arts, I feel good in it and I like the feeling that it determines me in a way. However, I'm not so aggressive outside of sports.
The phenomenon of success of Serbian sports?
– Many believe it's all about Serbian defiance. It's clear to me that I have the best coach and that I'm part of a club which means a lot to me. Still, when you look at how things work in other countries, you see that they have a well-elaborated system, both towards sports and towards individuals. We don't. Many of my colleagues are probably driven by these aggravating circumstances, they give them additional motivation to fight and prove themselves. There's a defiance that lightens up in us, a wish for results, a wish to represent our country in the best possible manner. I believe this is what pushes us all.
NEW FORMATS OF RIVALRY
The pressure of the public as an obstacle on the road of maturing.
– I like my sport very much and really try to enjoy it, although I placed high objectives before myself, which immediately imposed great pressure. To be honest, I created more pressure for myself than the public did. No one simply expected me to achieve what I have done at the London Olympics at the age of twenty. However, I believed I can do it and requested it from myself. Even now, when everyone expects me to continue being among the best, I see it more as my own challenge towards myself and I'm ready to deal with it. Despite everything, I enjoy my sports, the trainings, the tournaments, and I'm happy I feel good in it. I know this is a privilege in my country today: doing what you like and having full satisfaction from it.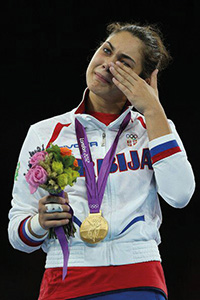 Olympic reflexes of London.
– For me it was only a realistic outcome of long and hard work. I believed that I could win the Olympic gold, and Dragan Jović believed it as well. Besides him, I must also mention Marija Srećkov, psychologist, who also prepared me for such a thing, as well as professors Dušan Ilić and Dragan Jablan. When you have people full of support around you, such a well-organized club, your family that supports any of your decisions and constantly motivates you, then you are really on the right path to achieve something valuable. I went to London completely ready for anything that might expect me. This, together with my wish and motivation, resulted in gold.
Effect of the Olympic triumph.
– As any other, that medal also has two sides. The first one is private and it didn't change. I have fun, like I used to. There are my family and friends and people who have been around me for a long time. I continued training with the same enthusiasm, because all those results are now behind me and I have an even stronger wish to advance and continue being at the top. A positive change happened in the attitude of the public towards taekwondo. The media and ordinary people became openly interested in our sport. More young people came to the club to train. There was also a change in the attitude of my greatest rivals towards me. While I was among the top ten, they saw me as just another one of them. However, when I became Olympic champion, I became their target. They all wanted to take me off the throne, so I had to face another format of rivalry, with much more aggression and passion. This is what I was trying to get used to during the past three years and I believe I have succeeded.
I CONSTANTLY THINK ABOUT IT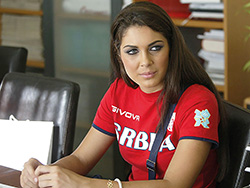 New Olympic year.
– I'm satisfied with the previous three years. Reaching first place on world rankings and staying there for more than a year is an extraordinary result for me. Even more because it was the first time I was confronted with serious injuries: two hand fractures and torn muscle. However, in spite of everything, I kept first place and almost earned Olympic quota places. Now I know what's before me. Serious preparations begin in January and everything will be subordinated to the Olympic tournament. There's nothing to hide, I'm completely concentrated on it and ready to repeat my London success. I don't know whether I will succeed, but I know I constantly think about it.
Exaggerated criticism towards sportsmen.
– I've never had such problems, but I notice that some of my colleagues from other sports are facing lack of understanding. One should know that sports impose a great load and that it is very hard to stay on top for a longer period. Competition is fierce, the training rhythm and some other external factors can be burdening, so failures are very likely. Everything is easier when results are good, but if failures repeat, walls crumble from all sides. It would be much more useful to show understanding and good faith in such situations, because the public attitude means a lot. It can encourage you and make you regain your strength, as much as it can push you into depression.
Spare time.

– We traveled a lot this year, almost every weekend, to tournaments or preparations, so I didn't spend much time in Belgrade. When I'm here, I spend my time with my closest ones – my family, boyfriend, friends. I enjoy being with them, these are my precious moments. I like to tell them about my adventures from the journeys and they like to listen, because all these experiences mean a lot to me, discovering new people, new countries, different characters and habits. I absorb all that, because I know one day it will be part of my sports and life story.
Discovering the world.
– When we stay at least a few days in one place, I can see all the things I otherwise wouldn't get to know. These are important cognitions. Then you actually see how differences make the world more beautiful. I was very impressed by Iran. A completely different culture and way of life. I was especially amazed by their girls, sincere and friendly, regardless of the circumstances they live in. They openly speak about what bothers them or what they like. They wear scarves, which I also had to wear from morning till night, training with men is forbidden, they are not allowed to shake hands with anyone in the street. It's completely different than everything I'm used to. I'm also full of impressions from St. Petersburg and Barcelona, as well as several other cities, not so popular on tourist maps.
THE LAST SAMURAIS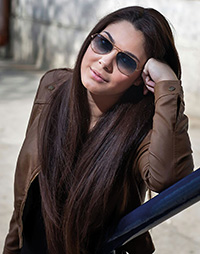 Affinity for art.
– Regarding movies, I like comedies. They suit me well after strenuous trainings or during the days of pressure before competitions. However, if I should name my favorite movie, I'd vote for The Last Samurai. Music? It is an integral part of my day. On my way from my home to the club, during trainings, before competitions, I always listen to music that boosts and motivates me. It's mostly house and dance. Reading relaxes me at tournaments or during long journeys. A book slowly introduces me into its world, provokes my interest and releases the burden. The last one I read with pleasure is My Name is Memory.
Friends.
– My club is actually my great friend. I can always find someone to talk to about anything that concerns me. There is always someone I can lean on. However, there are always special persons, therefore I like to mention my former coach and godfather Uroš Todorović, who baptized me three years ago and is my best friend. I feel the same about my sister Jovana. There is also my boyfriend. Our relation is full of understanding and trust. I enjoy the moments I spend with them.
Strong bond with the family.
– It is a bond that means everything to me. My father, mother, sister and grandmother were there when I started, they supported me without forcing me into anything. They were worried about me and happy for me. The triumph in London was a great satisfaction and relief for them as well. Now they know I am accomplished. Even if I don't do anything else, the great success will remain. I'm grateful for everything they did for me.
After sports?
– There is a reflex pushing me to think about it. I believe I will stay in sports, I just don't know whether it will be recreationally or as a coach. I'd like and hope to be a coach one day and pass on my experiences to younger ones. I enrolled at the Faculty of Culture and Media in the meantime. I'm at the fourth year now and I must admit I'm very interested in that field. So, one day when I start thinking about how to proceed, I will certainly have several choices in front of me.
***
Persistence as the Key
– Persistence is a common name for work, order and discipline. So many talents failed because they did not persist in what they were determined for. Continuous training and self-development lead to results. This has to be learned as well, so it's very important to have a professional and experienced team, to encourage you when you face crises, fatigue, dispiritedness or bad results. Many things are much easier to overcome when you have the support of capable and sincere people, but without persistence you can't move much further from the beginning.
***
Return to Belgrade
– I like the local atmosphere, I love Belgrade and living in it. It is unique for many things, full of charm and contrasts. I would never move from here. What I would change is general hygiene. We are negligent towards our environment and the city that offers us so much. We make it dirty every step we take and, what's particularly bad, it seems that, instead of fighting it, we reconcile with it. If we would be able to restrain ourselves, Belgrade would blossom.
***
Example
– I feel wonderful when I have the opportunity to motivate boys and girls both in the club and outside of it to take a more active role in sports. I know that achievement of great results by someone from their surrounding means a lot to them. It encourages and pushes them, because it is easy to identify with the successful ones. They believe they could do the same. I see it as my mission.