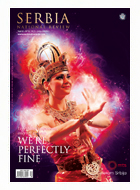 SERBIA - National review, No 52

Prologue
There was a bit of everything. Things we'd like to forget, but cannot. Things we'd like to remember forever, but they're slipping away. 2015 remains behind us, another year in this strange century occasionally resembling a real matrix. In spite of the inhumanly grinning face of the époque we live in, there's always a possibility for us to turn to more beautiful things. "Life has the meaning we give it", reminded Dučić. And Beethoven: "The only sign of superiority I recognize is goodness." Don't forget to show and say it to the people you love. In the year 2016, we wish you yourselves. If you have yourselves, you'll have everything else. Cheers! <


CONTENTS
Prologue
SORROW OF MASTERS IN THE AGE OF CHARLATANISM
Nothing Lasts Forever
Vitrage
NUMBERS, EVENTS, INTERESTING THINGS
Album
NEW YEAR WHIRLS IN BELGRADE
City of Open Heart
Notebook
REPORTERS OF "NATIONAL REVIEW" IN KOSOVO
Where Tears Instinctively Roll Down Your Cheeks
In other places, we talk, discuss, argue. Here, we are quiet. We listen to the voices from the depths of history, contemplate on the storms that struck us. We wait. This is no ordinary land. One whispers before sanctities. Those who were granted temporary predominance by foreigners, pretend that everything is all right and that their five minutes would last forever. However, deep inside, they feel it will not be so and that makes them very nervous
Text: Milutin Stančić and NR Press
Photo: Đorđe Bojović
Pilgrimages
DOBRI POTOK IN KRUPANJ, A UNIQUE CHURCH CENTER
A Shrine Dressed in a Park
"Humans dream, God determines." The people of Rađevina have known this well, ever since the old times, so they founded their first church in the place where angels took their icon lamp during the night. Nowadays, there is an extraordinary park around this old church, with two underground chapels, several museums, a gathering point with an open-air stage, hundreds of years old linden trees, fountains of Vlajko and Damjan, the eldest and the youngest of the nine Jugović brothers. Those who come here with a wide-awake heart, find grace and tranquility. There is everything except one thing: prices and pricelists
Text and photo: Nenad Marković
Mirror
ENCLOSURES TO BELGRADE KAFANAS STUDIES
A Safe House for Men
As far as we know, the first kafana in the world, in the present sense of the word, was opened in Mecca in the XV century. The second was in Cairo, third (from 1522) in Belgrade. Belgrade, however, had its kafanas-motels, called pandokeons, even a millennium earlier. Be as it may, it was famous for its kafanas for centuries. In another place, this colorful information would be used for creating a great magnetic story and tourist attraction. Instead, some people in Belgrade want to extinguish all authentic Belgrade kafanas and offer foreigners everything they already have plenty at home
By: Miloš Lazić
Bridges
IVANA AŠKOVIĆ AND THE SECOND DECADE OF HER "BIDADARI" SCHOOL OF INDONESIAN DANCE
Dance as Spiritual Elevation
We should get down to the archetype, to the very roots of the ancient unity. We should dive into this culture and let it awaken us, change us. Every dance is a type of a prayer, a ritual of giving oneself as a gift, with full awareness that art is something much more and more important than us. This wisdom, once you master it and let it master you, begins to illuminate you and your daily life. You recognize the timeless beauty in your body and movements. You learn to invoke the best that you have inside you. In that moment, dance becomes a philosophy, mythology, fairytale, a new life. The transformation is deep and profound, alchemical
By: Dragana Barjaktarević
Reminder
DUNAVSKA STREET IN NOVI SAD, MADE OF CHAPTERS OF A GLORIOUS HISTORY
The Street of Serbian Book Trade
Today it is a place where people of Novi Sad go out, a must-see tourist route. From the second half of the XVIII to early XX century, in the oldest part of this street, in an area not longer than two hundred meters, there were more Serbian printing shops, bookstores and binderies than ever in one place in the entire national history. These books, calendars and magazines make us proud even today. It is difficult to say whether this street is more beautiful to leaf or to wander through
By: Đorđe M. Srbulović
Memory
DAVORIN JENKO (1835–1914), COMPOSER, AND HIS CENTURIES-LONG SLAVIC SINGING
Our Remarkable Foreigner
Slovenian by birth and Serbian partially, he left a deep trace in the history of Southern Slavic music. When you hear "Gde si dušo, gde si 'rano" or "Za tobom mi srce žudi", do you think of him? He wrote the Serbian anthem and the old Slovenian one, dreamed of a state of all Slavs. He left Vienna to become a chorus master in Pančevo. Later, he achieved greatest honors and recognitions in Serbia. He met Vela Nigrinova, the love of his life, in Belgrade. He died in Ljubljana in 1914, while Suvobor and Kolubara were on fire. He wrote his last will in Cyrillic
By: Petar Milatović
Lighthouses
NADEŽDA PETROVIĆ (1873-1915), PAINTER, A HUNDRED YEARS LATER
True Spirit of European Europe
Her life and work testified about her supreme patriotism, self-consciousness and skill. She opened the paths of modernism in Serbian art. She outgrew her environment and époque, painted as the ones that were only about to come. She broke rules to establish her own. The greatest world experts in impressionism cannot bypass her. And each Serbian generation returns to her again, as shown by the recently closed exhibition in the Army Home
By: Dejan Đorić
Fairytale
ON A QUEST FOR A PRINCESS WHO LIKED STORIES
Blue Horns with Stars
Stories are not hunted, they are lived. When you live curiously and awake, when you gladly play and dream, stories are woven by themselves. If you don't find them, they find you. Our little princess knew it. She did not want a prince without a good story. If she finds a good story, it will certainly include a handsome prince. What about Mandrel? With his story, the good dwarf softened even bogeys, thus saving both them and himself
By: Nebojša Jevrić
Winner
MILICA MANDIĆ, BELGRADE GIRL, THE BEST FEMALE TAEKWONDIST IN THE WORLD
A Long View from the Top
Every medal has at least two sides and we must know them all. The first step towards achievement is believing. The gold from London is a convincing fruit of brutal trainings, samurai discipline and great support. It gave meaning to many years of many people. Why hide the fact that expectations for Rio are on the same level. When one holds first place in the world, contesters show more passion and aggression, so this is another thing to fight against. But the best ones know how
By: Dejan Bulajić
Photo: Guest's Archive
Care
RUMA MUNICIPALITY EXTENSIVELY INVESTING IN YOUNG PEOPLE
The Future Has Your Faces
Equalizing the quality of life of children and youth from the city and from villages, improvement of conditions of education, restoration of sports facilities, dedication to children with disabilities – these are strategic commitments of this local self-government. If the children do not stay here, everything else we do is meaningless
Recognitions
BOBAN ĐUROVIĆ, PRESIDENT OF VRNJAČKA BANJA MUNICIPALITY, LAUREATE OF THE PLAQUE "CAPTAIN MIŠA ANASTASIJEVIĆ"
The Measure of Accomplishments
Consolidating administration, establishing financial discipline, development projects, own and foreign investments, high level of cooperation with the state government and the local economy – these are just some of the elements of the extraordinary impact of this local self-government. There is a lot of work ahead, but no lack of energy or ideas
Health
"MERKUR" IS GROWING INTO AN INTERNATIONAL CENTER OF MEDICAL TOURISM
Guests from All Over the World
Thanks to "Merkur", Serbia has been given the opportunity to be a recognizable country on the world map of medical tourism. Healthcare institutions, spas, tourist organizations and the state would generate income. The figure of several hundred million euros per year is at play, which would rank the medical tourism among the important drivers of Serbian economy
Connections
ANOTHER'S SOCIALLY RESPONSIBLE CAMPAIGN OF "TELEKOM SRBIJA"
You Choose How You Communicate
Electromagnetic radiation is an inevitable consequence of the use of mobile and other devices. The campaign provides practical advices on how to minimize exposure, and encourages user awareness of responsible use of the devices
Studies
BELGRADE BUSINESS SCHOOL AND THE FRUITS OF ITS INSTITUTIONAL RECONSTRUCTION0
Principles of Development Strategy
"Studying without thinking is useless. Thinking without studying is dangerous." (Confucius)
By: prof. Dragan Jerinić, PhD
Introducing
STUDENT RESORTS "BEOGRAD" AND THEIR NUMEROUS POSSIBILITIES FRO EXTERNAL USERS
More than Academic Camps
The capacities on Avala, Zlatibor and, in the future, those on Palić, with their high category villas and pavilions, with restaurants and associated programs, have been growing into real tourist complexes. They host students from Serbia and abroad, sports teams, organizing conferences, scientific meetings, festivals, large and small celebrations. More and more people are spending a part of their annual vacation there. Why?
Energy
IN "ELEKTROPRIVREDA SRBIJE", JUBILEE OF "TAMNAVA – WESTERN FIELD"
Two Decades of the Most Important Mine
One hundred and fifty nine million tons of coal, 353 million tons of overburden, records that would astonish even the experts. From 17 November 1995 until today. Every fourth kilowatt-hour of Serbian electricity comes from coal from this mine. In the zone of "Tamnava - Western Field" there is still about 322 million tons of coal, which means at least another twenty years of stable production
By: Natalija Živković
Photo: Archive of "Kolubara"
Examples
TENT, A BRANCH OF THE "ELECTRIC POWER INDUSTRY OF SERBIA" EXCELLING IN HUMANENESS
People's Gratitude Is the Greatest Reward
The thermal power giant from Obrenovac implements at least ten campaigns of voluntary blood donation per year. As many as one hundred employees participate. Of the total of two thousand voluntary blood donors in Obrenovac, around seven hundred of them work in TENT. It is encouraging that there are many young people amongst these humane and solidary donors
By: Ljilјana Jovičić
Photographs: Archive of TENT