Pilgrimages
IN VRBNICA, ON ZELENGORA, A TEMPLE HAS SPROUTED LIKE A STONE MUSHROOM
To Appease Ancestors and Descendants
It is beauty, my son. Beauty of eagle and black grouse, wolf and otter. Especially when Zelengora turns green. But, every torrent of new history was breaking against the shoulders of this mountain. Grinding. Many partisans and soldiers from Ravna Gora were killed here. By the hand of enemies, mostly Germans and Croatians, but also in the mindless local fratricide. TO all those martyrs, my son, we have built this Church of St. Pantelejmon. All of them. For them, for the peace of their soul, and as a lecture to the offspring. So that this evil, God forbid, never happens to us again
By: Miloš Lazić
Photo: Saša Savović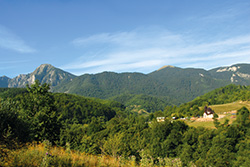 The SUV was bouncing on the macadam road as a wild horse. With any other type of vehicle would one would have to go twice as cautiously and at least half the speed, and you get as far as you can: Vrbnica is less than thirty kilometers away from Foča, but distances on Zelengora are not measured with a meter but with a clock. If they had asphalt, nothing would stop them.
The road is winding through the gorge like a snake. On the left there is a cliff hidden by beech trees, on the right an abyss that could be seen through ash tree leaves thinned out by draught, hot summer and recent autumn. Zoran Đorem, a friend from Foča and a reliable guide, is trying to drive away poorly disguised fear of his companions by changing the subject:
– Bellow is the Vrbnica Creek, habitat of autochthonous trout, creek trout, and heaven for fishermen, if they find a way to get down there. The fish is smaller than its California cousin that dwells in freezers of restaurants, but is also tastier! Like incense, and it also tastes like one. Only, it is difficult to catch. As if it has four eyes... just like everything else in the village.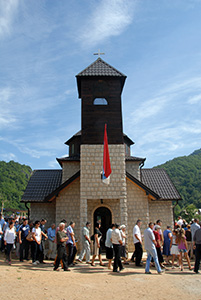 And the village? The census from 1991 says that Vrbnica had as many as twenty one inhabitants and that they were all Orthodox, which was, it seems, very important back then. And there was also one poetic discrepancy! Someone noted down that the village is tucked in the valley on altitude of 905 above sea level. Below, and up above?! It was also noted that the village has an old cemetery but no church. This is how it was until recently. Because of the new little church near the old cemetery, last summer we visited Vrbnica, on Sunday, August 9, exactly on the Day of St. Pantelejmon, the patron saint of the church.
Actually the little church in Vrbnica was roofed already in 2014, on the Day of St. George, when the bell donated to them by friends from the Church Municipality of Prelјina near Čačak was consecrated, and then, on the Day of St. Pantelejmon, the completely finished temple was consecrated.
– They didn't invite anybody – Zoran smiled. – But everybody is welcome. And not only for the holiday, but always. This is what these highlanders are like.
ALL FIVE SOULS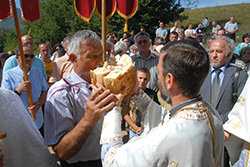 The "welcoming committee" consisted of the entire village, all five remain inhabitants of Vrbnica, a few of those who, meanwhile, made it to the city searching for a little easier life, three priests and at least two hundred friends who arrived from Foča, Bileća, Nevesinje and the entire Republic of Srpska, as well as brothers from Serbia.
They receive guests in the small churchyard, and lead them behind, to a wide meadow between the old village cemetery and the new temple, under spacious tents. Only there they toast.
Between two sips, the one as welcome toast and the one that follows, they don't miss to brag how the new company "Forests of the Republic of Srpska" on Zelengora is the owner of 55,000 hectares of high vegetation. Forests. And that these are inhabited by nowadays some very rare species, such as wood grouse, wolf and brown bear, that the grey hawk is cruising over their heads, and that otters rule over the creeks. They are proud of this treasure as if it belongs to them. Personally. But then, who knows, it probably does?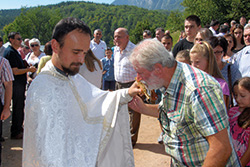 – It is good this way, because who else would come here during the year besides hunters and occasional mountaineer – the guest continues this story with a humorous twist, while the hosts are seriously nodding their heads confirming his words.
But, it is not exactly like that. Vaso Kulјić, a big man from Bileća, claims for himself that in Vrbnica he is by no means a guest, but the host, so to speak.
– Just like all inhabitants of Bileća – the good man laughs. – Because, you only cross the lakes, and there you are. There, in Vrbnica, the number of inhabitants rises in the spring, because my neighbors from Bileća, the Mandićs and Petkovićs, have six mountain settlements here. And they are not alone! And as soon as everything turns green, it is a sight for sore eyes. And the name itself says enough: Zelengora (Green Mountain)!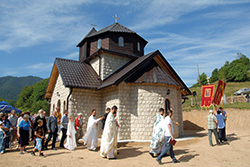 As if wanting to confirm Vasa's words, and deny the joker, Zoran Mandić proudly points to the weekend settlement of wonderful mountain houses as if he built them himself. He didn't. They were built by lovers of nature and quiet from Foča and the surroundings, and two were built by friends from Russia line.
– The wind rose whirls above Vrbnica, and they say that this is the ideal place not only for a holiday, but also for recovery of lungs – Zoran explains. – Before the war, they used to send anemic children here. There is no hotel, of course, but there is cheese in skin and blueberries. Every year on St. Elijah's Day, in the time of blueberry harvest, Vrbnica goes alive with more than a hundred souls. And a little before that, in June, when the Mountaineers Club Pašina Valley organizes daffodil picking, which has already become traditional. What more can you expect? All we still needed was a church. And, here, we built it too.
MOUNTAIN MADE OF BONES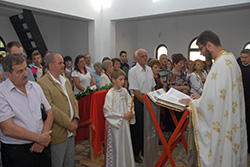 The Church of St. Pantelejmon was consecrated in a liturgy, and the priest gave a speech on this occasion. Vrbnica belongs to Ljućka parish of Metropolitan of Dabro-Bosnia, but the priest has to come here from as far as Brod. In the summer it is not a problem, but in the winter, it is a different story. The snow stays for a long time. That is why the local villagers, relying on experience, sometimes bitter one, say that arrival of monks, one to lead the service and the other to serve, would be the best solution.
The little Church of St. Pantelejmon in Vrbnica was not built only for strong faith and service to the God, but is also a monument. The area around the village has been marked by sufferings about which Gojko Vujičić said the following: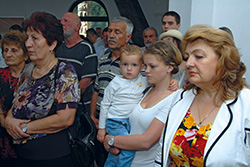 – The people killed in Vrbnica were the poet-partisan Ivan Goran Kovačić, and together with him the partisan doctor Simo Milošević. They were killed by Chetniks in 1943, and no one knows where they were buried... although the village knows everything. Two years after the Battle on the Sutjeska, Vrbnica was drowning in blood. About ten thousand partisans, withdrawing toward Serbia, got stuck here, among these rocks. Not many escaped because of Germans and Ustashe. People also remember May 13, 1945, which was deadly for Ravna Gora youth from Čačak, Milanovac, Valјevo... Those who survived typhoid or battle were captured and later killed. Around two and a half thousands of them. Including the General Miroslav Trifunović, born in Kragujevac. As a young man he crossed Kaimakchalan and was decorated with "Karađorđe's Star" for this, and later he was given a number of medals. He participated in all the wars of that century. Because of that, this is the mountain of bones. Bones scattered in fratricide. This church of ours is a monument to all of them. So that it never happens again.
All this suffering is probably the first reason why a few friends decided to build a church in  Vrbnica. It was erected in only two months and twenty days.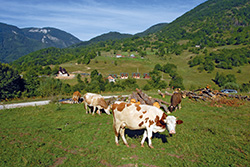 – Zoran Mandić and Dušan Vujičić helped the most, Foča knows this – Vaso says. – It is also known that two hundred square meters of Bileće stone was donated by Jugoslav Tabaković, that the land parcel for construction was donated by Miloš Vujičić... They don't like when we talk about this, but it is the right thing to do.
Old Gojko never left Vrbnica, and as if he has traveled around the world. He can't hide his primordial wisdom even with his sparkling humor. His hospitality is almost deadly – he chops, pours and offers, you cannot escape. Even more so if he recognizes an attentive listener in his guest.
– To tell you about people's suffering, no way – he sighed. – We built the church to make peace. I know two people who killed our father in 1946, but I have never mentioned their names to anybody, so as not to spill evil blood, so that my people would not retaliate.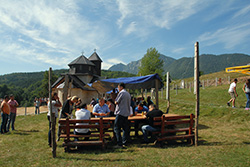 He says that before that war there were twenty houses in the village, and that they had a shop, but with every force passing through, Vrbnica would be cut in half. Only the cemetery was growing.
– Well, my family and I were taken to be shot twice, and both times we survived. Once before Ustashe and the other time before Germans, after the famous Fifth Offensive. Only our father Pešut was killed on St. Sava Day in 1946, there is his grave with a tombstone above the church.
The way he started, his guests would spend the night there.
– You can go now, we will continue when you finish that job of yours.
The gala lunch and socializing lasted until late afternoon, and when someone on Zelengora stays until the evening, they would also spend the night there. They said farewell to impatient guests with a heavy heart, and only after the promise that they would definitely come sometime in the future, to continue where there is darkness interrupted them.
***
It Was Enough
– Preljina church municipality is a well organized parish – Mićo Nenadić, until recently president of the Church Board of Pranjane, started  in a roundabout way, lighting a candle for all the victims of the offensive and counter-offensive which swept Zelengora. – That is why we are helping Orthodox people everywhere. It is no wonder that our bell rang exactly in Vrbnica. After so many years of grave silence, when bones have done their work historically and ideologically, let it be known how many young boys died here. A the church does not call names: everyone deserves to be mentioned. This should never happen again to anyone. It was enough.