Winner
VELIMIR STJEPANOVIĆ, OUR BEST SWIMMER
Serbian "X Factor"
Successes are a result of persistent faith, great effort and self-discipline. Fair play and sports dignity are implied. The role of the family is exceptionally important, as well as the supportive energy in your own nation, which often speaks through you. Perhaps it's the genes, our talent and fighting spirit, the history that made us stronger with its temptations. We also mustn't forget defiance. Most Westerners don't understand it. They consider it a powerful non-calculable factor in our game
By: Dejan Bulajić
Photo: Guest's Archive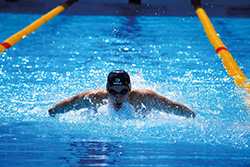 He has already proven to be the best Serbian swimmer. Patient and persistent, aware of the way to the top, he is determined to show that he belongs to the elite of world swimming. However, Velimir will not remember the year 2015 for supreme results.
– In terms of results, this was a pretty bad year for me, considering that I didn't succeed in what I expected at the World Championship in Kazan. However, I must look at things from the bright side. I met three Olympic standards, which is an excellent thing. Furthermore, I achieved good results and won medals at world cups in Dubai, Doha and Hong Kong, and set my new personal record in 100 meters freestyle. I showed myself that I can reach the victory stand in the strongest competition and that I have what it takes to win a medal. On the other hand, I realized what I should work on further, what my shortcomings are, and now I'm trying to correct them. It is mainly about the need to be the strongest when it's most difficult, in the last 50 meters of the race, when the decision is made and champions separated from other finalists. I'm an optimist and I think I'm on a good way.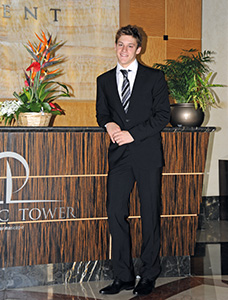 Are you satisfied with the way of working and training or believe that some novelties need to be introduced?
My coach Chris Tidy, in cooperation with Marko Bukvić, coach and physiotherapist, creates my water and dryland training plan. Sometimes I make a suggestion that contributes to my development. I think everything is in its place and nothing needs to be changed. During the enhanced mode, I do nine (intensive) to eleven sessions a week. Three weeks before the competition I reduce the intensity and work according to a special plan.
The Olympic year is ahead of us. Are all your plans submitted to your performance in Rio and what are you hopes for the Olympic Games?
They certainly are. I took another "year off" at the faculty, as I did before the London Olympics, only then it was the year after graduating from high school. I missed the last European Championship in small pools for the same reason. I have a precise training plan and seriously hold to it. I don't have much time for other things. Every day is submitted to my advancement in the pool, to be faster and stronger. Perhaps it sounds a bit harsh, but fighting for success has its price.
FRUITS OF EFFORT AND FAITH
Did you ever anticipate that you could reach such heights in a sport with very strict criteria?
I think these results are actually a product of faith, my personal and of the people that surround me. Finally, that is why I decided to enter this sport. I started swimming at the age of six and, at the time, it was pure fun. However, when I was twelve, I began working with Chris Tidy. I went to my first competition outside of Dubai and won first prize in England. I was declared best thirteen year old swimmer and it was the first sign that I can do a lot in this sport. I began training more seriously and thinking about successes. Gradually, with hard work, I reached this level, but I believe I could be even better.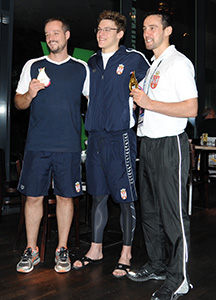 According to your experience, does sport strengthen the character and fighting spirit in people?
Being in this sport requests great mental and physical strength, as well as a strong character, which is probably also the case with other sports. There is the result imperative, present in every race, because you don't enter the pool to be second best. At least in my case. That positive pressure makes you a fighter, someone who strengthens his spirit and body, learns how to deal with victories, as well as, what matters most, defeats. When you lose, which sometimes happens due to several milliseconds, especially in swimming, you have to congratulate your opponent, to hold your hand to him, however painful it might be for you. Next time you try to be the one whom others congratulate. Fair play is important, the chivalric attitude towards yourself and your rivals. It is also important to know that, when in the pool, you first represent yourself, then your family, whose name you carry, and then your country or your club. You must justify the expectations of all of them, as well as to preserve honor and sports dignity, regardless of the result of the race.
EXAMPLES, SUPPORT, GUIDANCE
We live in a time when younger generations have everything at the reach of the hand, including sports, through the internet or television. Do you think that nowadays less boys and girls wish to be actively engaged in sports because it implies great efforts and discipline?
I belong to that generation myself, although at the time of my childhood all this didn't reach such proportions. Nevertheless, I decided to be engaged in sports. It is a personal thing and I wouldn't like to be unfair. And it's not only up to the children, because parents are a very important link in that chain. Children notice something they like on the internet or TV, but mothers and fathers should direct their wishes. I remember reading that Ana Ivanović used to watch Monika Seleš on television, and Novak Đoković admired Pete Sampras. However, if it weren't for the parents to see their initial interest for sports, support them, invest in coaches, equipment, take them to trainings every day, organize their school activities, they probably wouldn't be what they are now.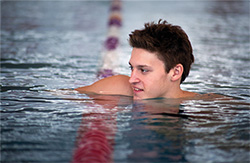 Do you watch other sports and what is especially attractive for you?
As far as my obligations allow me, I mostly watch our sportsmen at international competitions. Whenever I can, I watch basketball, water polo, football, tennis, all games of our national teams. Needless to say that I am amazed by Novak's matches, and, of course, him as a person. He is the first in the world, which is also an unbelievably great and important thing, but also an extraordinary human being. He is natural, with both feet firmly on the ground, and always finds time for others. Even if he doesn't have the time, he'll still find it.
How do you explain "the phenomenon of Serbian sport" and its success?
We Serbs are a very talented nation, not only in sports, and it's just necessary to channel it correctly. I don't know what exactly it is, whether it's the genes, our fighting spirit, our history that brought us difficult times, which undoubtedly made us stronger. Whether it's the hunger for winning, a strong motivation to succeed in order to ensure our existence. However, defiance should also be mentioned. It is something hardly understandable to Westerners. They often call our defiance "the X factor".
Are you aware how much the accomplishments of our sportsmen mean to people in Serbia, and that, for some time now, these are some of the rare true joys for them?
Thinking of myself and, of course, my family, I know how much joy we find in the successes of our sportsmen. Each time I enter the pool, I'm aware that I'm swimming for Serbia, for my people. If I make at least one person in our country happy with my victory or result, it's already a success for me. However, the successes of sportsmen should not be the only joy in someone's life. One should first look for happiness within themselves, their family, in the things we do. Then everything will be much more complete and meaningful.
AWARE OF WHAT'S OURS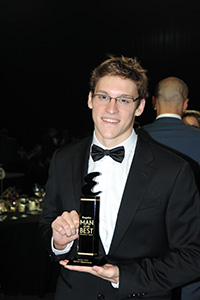 Do you agree that you have imposed yourself very fast as one of the elite figures in Serbian sports?
I would be glad if it were so. Considering that I'm not in Serbia that often, perhaps I don't see it with your eyes, but in any case it's wonderful when I'm in my country and receive words of support and encouragement from people I don't know. It shows me that they appreciate my achievements.
How much do you really know about life in Serbia, having in mind that you spent your childhood and grew up far from it?
While I was younger and had much less obligations, I spent a few months each summer in my homeland, so I learned a lot. I have friends in Belgrade, family in Srpska, and we mostly communicate over the internet. I also watch the news, try to keep up with the events, as far as time allows me to. I see things are moving forward, that it's not going fast or easy, but that there is some hope that it will be better. My friends from Serbia tell me that they are aware that things will move for the better only when every individual confronts his or her shortcomings and finds space for their own advancement. Only that is the way an entire society can advance. One doesn't go without the other.
Although born in Abu Dhabi (August 7, 1993), you never had a dilemma about competing under the Serbian flag?
I grew up in a family that always cherished real values, where we learned who we are and where we come from. The material aspect was in the background, so this was a completely natural choice.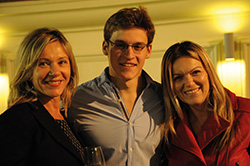 How much do you know about Serbian tradition and culture? What do you like in your nation and what would you change?
I think I know our tradition pretty well, thanks to my family and my closest ones, although some things sometimes seem a bit unusual, even illogical. We have a rich cultural heritage, great artists, we have things to be proud of. We just have to raise the awareness that it is all ours. Also, it would be far better if we were more united. This misfortune has been following us throughout our history.
How much time do you have for yourself and your hobbies, outside of sports?
Not too much at the moment, but still enough, considering that I made a pause in my studies. Everything can be organized if there is a will. I'm attracted by nice restaurants, I like video games and spend much of my free time at the computer. As for movies and music, I prefer movies (music is anyway part of my everyday life). My favorite show is Dr. House. I saw all the episodes, I like that kind of humor. I don't have too much time for books, although I'd like to. Whenever I sit down to read, I immediately feel sleepy. I'm chronically sleepy, which is no wonder since I get up at five in the morning for trainings.
***
Self-respect
There is nothing specific I would change. We just have to appreciate ourselves more than we do at the moment. See, all my friends – Englishmen, New Zealanders, Arabs, who sometimes join me at the training camp in Belgrade, are amazed with everything they see and the warmth of our people. So, we need more self-respect. If you don't respect yourself, others will not respect you either.
***
Time
I wish I could spend more time in Serbia, but my obligations don't allow me. Last summer I didn't even manage to see my cousins, although I really wanted to. I hope it won't be the case after the Olympics.
***
Message to Young People
– Sport is the best thing, full of positive energy and it will give you many unforgettable moments. You will meet different cultures and find many true friends from all sides of the world. You will live a healthy life and always be fit. Nothing is unachievable, "the sky is the limit". So, start working out already today.