Guide
A SKETCH FOR ART MAP OF SAVAMALA AND OTHER STIMULI
New Belgrade Creativity
Modern sensibility of the city and new artistic practice, new media and a new generations have been transforming the dilapidated and abandoned Sava slope, almost deserted, into the most creative neighborhood of the Serbian capital, and this part of Europe. Disheveled, rustic, imaginative and informal, Savamala excellently combines culture and entertainment, creativity and market, old and new. The emphasis is on expressly local artistic expression, Serbian and Balkan, which attracts to this "cultural district" a large number of foreigners, who desire originals and not provincial copies
By: Dragana Barjaktarević
Photo: Dragana Barjaktarević, Marija Piroški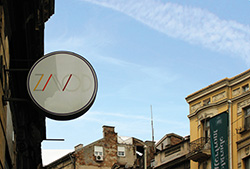 I came to Cultural Center "Grad" the first time in late 2009. Quite skeptically, convinced that I got to a wrong address. I came to buy tickets for the concert of "Nouvelle Vague" and, if that had not been so important to me, I probably would have turned around and run away from Savamala of that time. I was holding a piece of paper with the address in my hand, and I could not connect cultural center and that dilapidated neighborhood. The place is still quite dilapidated. But it is breathing. It has been reanimated by some creative people.
CULTURAL CENTER "GRAD"
When, seven years ago, they opened the Cultural Centre "Grad", Ljudmila Stratimirović and Dejan Ubović probably could not imagine what kind of cultural wave they launched in Savamala.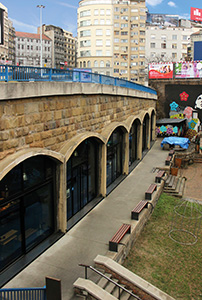 – We chose this location by chance. We explored many alternatives throughout the city and eventually found an old abandoned warehouse in Braće Krsmanović Street. The Municipality of Savski Venac supported our idea to open a cultural center. And so, by a chain of lucky events and the fact that someone wanted to hear us, we have found ourselves in this area. We liked the area, because it is near the center, yet isolated enough to let us build our own story with people who have similar energy – says Ljudmila.
In the meantime, Savamala has changed a lot. Galleries have been opened, hubs, cafes, night clubs. However, in the sea of new content, "Grad" has maintained its authenticity. Rustic atmosphere of old warehouse, unusual interventions of remake artists, poles painted by Ema Ema Ema and Sretan Bor, Miona's birdies on the facade, a small garden with polka-dot tablecloths and red and white lanterns, exhibitions and conferences upstairs, in the gallery overlooking the river, unusual fashion accessories in "Gradstor", "Fashion to Go" on Saturday before going out, foreign language classes, amateur dining table at the "Gourmet Monday", are just some of the details for which people love "Grad", a program so diverse, yet perfectly consistent.
– A part of the program we plan ourselves, but a lot is created also in collaboration with artists, organizations, teams, musicians. Regardless of the fame and genre. The only important thing is that they correspond to what we consider the image of the Cultural Center "Grad" is.
"MIXER HOUSE"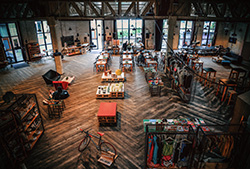 Another cultural center of Savamala created through transformation of an old warehouse. "Mixer House" moved to Savamala neighborhood in 2012, first as a festival, and then as a carefully designed space that will become a meeting place for designers, musicians, creative people, dreamers of a better and more beautiful Belgrade. It includes a cafe, venue for concerts, lectures, workshops, performances, a design shop selling products made by designers from the Balkans – from furniture, toys and clothes, to wine and gourmet delicacies. Manager of the "Balkan Design Shop" Miloš Kuzmanović told us why she loves her job:
– What am I doing here is communication with the young talents in the field of design, but also with some well-known designers from the Balkans: Dechko Tzar, Remake, Mooshema Studio, TEN Fingers, Škrabac, Over, Koba Yagi toys and others. Direct contact with creative people, planning, talks about new collections, tips on how to improve something,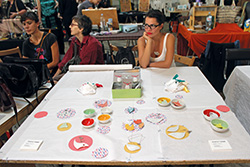 what to change, and enjoying mutual success in the end, is exactly why I love my job.
The unique local design is one of the reasons why an increasing number of tourists are coming to Savamala.
– Whether it concerns turbulent history of peoples and countries that are situated in such a small territory, or the fact that the area is traditionally a crossroads of trade and artistic routes, I still don't know, but the quality and uniqueness of the local artistic expression are more than obvious. And this is not recognized only by the locals, but there are more and more are flowing into this creative quarter of Belgrade. The reactions are very good, so I think we are on the right track and that we are doing something really good for our art and design scene.
"ZAVOD" CAFÉ GALLERY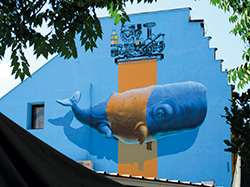 In the vicinity of "Mixer", in Kralјevića Marka Street no. 1, there is Cafe-Gallery "Zavod" (Institute), so named because it overlooks the again glittering facade of "Geozavod". "Zavod" is a multi-conceptual space. During the day that you can work or study without anyone even looking at you because you only ordered a cup of coffee.
– Our customers are mostly students who come here to study for their exams. They order one drink and stay here for hours. It does not bother us, because we love to be in the company of young people – explains Zara Audielo, the owner of "Zavod".
In the evening, the café turns into a venue for educational workshops, fashion shows, exhibitions, promotions of young music label companies "and, of course, parties for which Belgrade is recognizable" – adds this Italian lady.
– I came to Belgrade with a friend, I liked the energy and I decided to stay. My brother Lorenzo and I opened "Zavod". He deals with financial management of the company, I am the artistic director, and my life companion Ljuba manages everything else. Since I am a curator of contemporary art, "Zavod" has given me the opportunity to do what I love, to play and explore the creative heritage of Belgrade liberated from academic clichés.
They settled in Savamala because they believe that this is a cultural hub of the city, with good prospects for further development, since it has an unusual aesthetics full of contrasts, and because it brings together young people.
"ŠTAB" GALLERY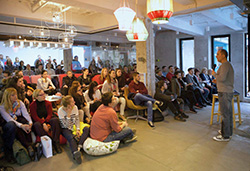 In addition to "Zavod", there is another place in Savamala that combines art and a good time. It is "Štab", beautiful town gallery located under the arches of the Branko's Bridge. "Štab" was opened at the time of reactivation of the entire industrial neighborhood of Savamala and its transformation into a district culture and art. It is a space for the promotion of young, emerging authors and discovering talents from Serbia and neighboring countries who are currently hidden from the public eye.
– The most important event in our organization is the Summer Salon of "Štab" Gallery. It is a group exhibition that brings together prominent artists of the younger generation. In addition to artists who express themselves in traditional media, painting and sculpture, the Summer Salon also present those who work in new media, such as audio-visual installations and experimental music. We are especially proud of the exhibitions within "Saturday under Brankica", which shows in the best possible light our idea of ​​a new way of presenting arts. The new concept shows that the arts and entertainment very much overlap and it is impossible not to bring them together. For people who come at the opening on Saturday we prepare good entertainment, with the best music from the 1970's and 1980's. In this way we try to promote love and culture, as well as some good old values ​​that have been, unfortunately, lost in these strange times – they say in "Štab".
In addition to the Summer Salon and "Saturday under Brankica", "Štab" also organizes "Art Dragstor", "Industrial Design Weekend", Wine "Štab", "Night of Museums", "Mixer Festival"...
"NOVA ISKRA"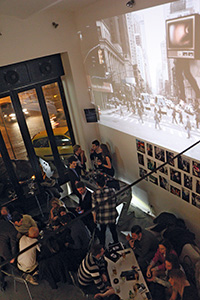 Savamala is also home to "Nova Iskra", the firstcoworking space in Serbia and one of the first in the South Slavic region.
– Coworking is one of the major sectors within "Nova Iskra" and we are really proud of the results over the last three years. Our members are freelancers, designers, architects, entrepreneurs, consultants, small companies and startups. All members separately rent the space and it is primarily their working space, but we have many examples of cooperation, which is one of the benefits of working in such a place – they explain in "Iskra".
In addition to the basic mission of "Iskra" – offering a quality workspace for creative professionals – since its establishment in 2012, until today, more than two hundred educational programs have taken place here, aimed at young designers and students from different areas of design, as well as logistical and educational support from idea to realization.
– Our main goal from the beginning was to strengthen this place as an educational and research platform. That is why we constantly organize lectures, workshops, study visits, residencies. Most of these programs were related to topics and lecturers in the field of design, architecture, startups, business, art direction, communication strategies, branding, legal and administrative issues, intellectual property rights, establishment of companies and other important topics. Programs have also been harmonized with topics and areas that are less or not at all represented in our education system, and this kind of lectures and workshops has the most numerous audience.
This is only a fraction of what a beautiful Sava slope of Belgrade is hiding behind their fences and windows, just an incentive to start discovering a part of town that is slowly awakening, a call to further reconstruct it through some new creative stories. Because, Savamala only exists when there is something going on in it.

***
Blend of Old and New City
Cultural Center "Grad" is located in an old warehouse building from 1884. The new owners have adapted it in the way to preserve the atmosphere of an old warehouse on the banks of the Sava, but also to achieve, with the necessary interventions, a modern multifunctional space. This is the first time in our country that a building of industrial heritage has become the center of various cultural events.