Examples
DRAGAN NIKOLIĆ (1943-2016), BELGRADE'S "LAST GREAT ONE" AND A BETTER WORLD THAT LEFT WITH HIM
To Be a Light
"Even today I don't know what that means. What is a star? How do you become one? It's probably in the awareness of other people. I've really never given myself the luxury to think I'm a star, that I'm the best or great in any way. I believe no one will be offended if I say this: I think it's a feature of fools – believing you're someone else"
By: Mišo Vujović
Photo: Željko Sinobad, Mile Jelesijević,
"National Review" Archive, "Merkur" Archive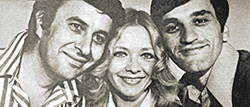 All this today was unreal and far away. Both the war and the things worse than it. After the war. The children of the guardians of communism and their offspring evolved from red bourgeoisie into newly-born elite and tycoons, powerful and arrogant. Everything changed except UDBA and the syndicate. They are still "agitating", but no one knows for whom?! We have never even thought that, stumbling on unpicked strawberries, we would become feather collectors on the dump of transition, into which truck drivers, singing "All I want in this moment...", drive us to the gray home, where sad musicians with Burduš without a homeland greet us, while in the corner, the written off are thinking of a new action against notorious Krieger... It was a time of more than a game, more than a careless childhood, a time of small sorrows and great joys, a time that gave birth to great people in sports, music, film, theater. A time that had role models of the street, kafana, movie, ring, microphone... It was a time of originals, genuine idols, smoothies, charming "rascals" in light blue jeans and Beatle haircut, built-up bombardiers with a soft heart, attractive chicks with the scent of intractable life, curvy housewives with deep necklines in colored gowns; it was a surreal time of the pavement with street palaces of justice and courthouses.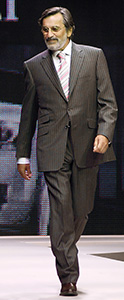 Even besides one TV station and one unified opinion (some murmured in low voice, following a directive, as bait for hidden enemies), we had meaningful extracurricular mischiefs...
From hiding the bicycle of the fourth floor neighbor's lover, to banknotes thrown on the pavement, tied with a thin fishing thread, which we pulled each time someone would bend down to pick them up. We loved to celebrate forbidden holidays with carbide in building lobbies, initiating huge detonations, tie two neighboring doors with a rope and then stick toothpicks in both doorbells, run away from school together when "Zvezda" was the guest team and to wriggle through the thin opening for selling tickets on the northern stand... And we were always unified and united, there were no snitches, although gloomy Kosta, as an older and more experienced man, always claimed that the yield of spies in our land was always high.
"Better than potato and beans together", he liked to say.
But we were united – until The Written Off appeared. They shook our unity, with a few broken noses. The stumbling block was Prle. Tihi, whom we considered our Bjelopavlić, was not. Finally, and it has been so until this very day, my best man Ratko became Prle, the best of all of us, fighter against the kleptomaniac privatization, who is still, in a Don Quixote manner, persistently trying to defend the remains not eaten by the Šojićs, as Dr. Pavle P., the best internist in Nikšić, calls the wasteland behind us.
The time of wonderful memories is merged in one Man – Dragan Gaga Nikolić. The story about Gaga Nikolić is a story of a time, which is, with a few remaining masters of life, slowly fading into the amnesic-transformational category called History.
IF I HADN'T ENROLLED IN ACTING SCHOOL...
With his masterful roles, Gaga not only became a pop icon of the time, as the press keeps stating these days, but much more than that. He was a rare phenomenon in his field: a magnificent actor, a modest and unimposing man, with a complete absence of self-marketing and narcissism (inseparable from his vocation), a great gentleman with a big heart and always open wallet, a refined bohemian, an emotional knight easily touched by the suffering of others, Zvezda fan, a boy from Crveni Krst, Belgradian, Serb and patriot. Gaga was an exemplar, one that doesn't exist anymore. He mostly played the roles of urban, tough guys, heroes of Belgrade streets, but, essentially, as a man, he was completely different.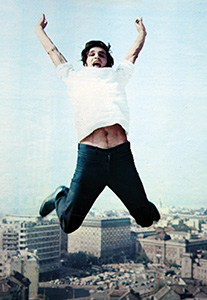 In his private life, he was nothing like Prle, Jimmy Barka, Floyd, Popeye, Urke, Steve... The unique feature of Gaga's acting transformation, as well as the mark of his essential being, was the fact that he managed to breathe soul into all those marginal guys, to refine and enlighten them by giving them a part of himself, thus creating characters of righteous rebels or proud rascals from the margins of life. As a fighter, who was engaged in boxing for a short time, he tasted the charms of the streets, however without delinquency periods, and took the best from everyone. The street had its own rules at the time – laws, principles, hierarchy... stronger and more effective than many contemporary institutions, today, unfortunately, deformed by the unspoken, but dominant side of transition.
"I was lucky to play in the movies everything I'd been deprived of in life. I had family and civil upbringing, but I felt the scents of the street and early challenges. If I hadn't enrolled in acting school, I would have gone to Paris and who knows what would have happened with me. I played the roles of urban types, desperadoes with a soul, yet antiheroes, except perhaps Prle, who could have been a bodyguard to some politician after the war..." – remembered Gaga, making an analogy that every time has its heroes:
"Even now I get goose bumps when I remember Joca Jovanović's film 'Young, Handsome as a Rose', the first to speak about the conjunction of the police with criminals, when I, as a criminal, say at the end of the movie: 'I'm your future'."
The character of this most charming Belgradian is illustrated by his life motto, written in the credits of the first movie he played in – for new generations, for the actual moment, probably absurd, only confirming his strong personality and postulates he had been brought up on:
"Even when I'm dead and gone, I'd still like to be some kind of a light."
Urban and modern, he was deeply traditional, following the motto of his ancestors, who lived for judgment day, not to disgrace their predecessors and not to dishonor their descendants, proven by another one of his attitudes towards life:
"Try to pass through life, if possible, without getting dirty. If it happens that you do get dirty, try not to disgrace yourself."
IN THE ECHO OF WARS
Dragan Nikolić did not only become a light; he grew into a huge lighthouse, shedding enlightening rays on the more beautiful and more refined path of art and life. The path more difficult to walk on, but lasting longer. There is almost nothing more to say about him as an actor, about his roles. Everything has been told and written already during his lifetime. Both experts and the audience, individuals and institutions, known and unknown, well-intended and cynics, were all united in their opinion that he was the best among the best in his work. Every role was "made" for him.
However, Dragan Nikolić never liked being in the spotlight. Even in kafanas. He kept his intimacy, his friends, and acquaintances from "Talija", "Potkovica" and other Belgrade kafanas.
I met my childhood idol for the first time, thanks to the doyen of Serbian photography, Mile Jelesijević, in the nineties, in Rose, where I had just arrived from the Herzegovinian front. Boro Glogovac, driver of Colonel Novica Gušić, drove me there, so that I could finally have a summer holiday with my family in Herceg Novi, and to drive back Mile, then stationed in Rose, to the Nevesinje front. I remember almost every detail. Gaga, tanned, in white Bermuda shorts and navy striped shirt, relaxed, with a few expressions on his face, carefully listened to the story about the preacher from the village of Dujmovići under Treskavica and his dedication to Islam, which was so strong that he even painted bean and tomato sticks in green, as well as his entire house and yard.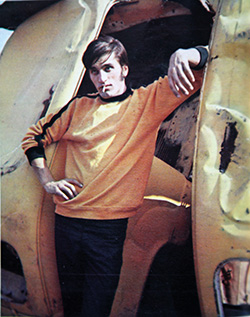 "Perhaps he just marked himself so that Allah could see him better from above", commented Gaga with a smile this picturesque detail about the village preacher and his vilayet.
We were drinking slowly, on the seashore, immediately under his house. Mile brought some exotic Italian vodka with orange, which we quenched with beer. Gaga was drinking grape brandy and listened to the idle chatter of two war reporters inspired by the beverage. He carefully followed the stories from the war, which is still lasting somewhere within us, as a famous director of partisan movies used to say. He was mostly silent, lighting one after another "Milboro" ("Marlboro" smuggled to Italy from Zelenika by speedboats at night). He almost shyly asked what was going on in Herzegovina? Is it true that the gap between Mladić and Karadžić is so deep and unbridgeable!? We also mentioned the commander of "Tigers", whom he appreciated as a patriot and brave man.
We said goodbye to Mile, wished him a nice trip over Luštica to Herzegovina, and took a boat towards Herceg Novi, to attend the opening of the film festival. Somewhere in the middle of the bay, the waves rose. A seven year-old boy in the boat began panicking. He started crying and his parents unsuccessfully attempted to calm him down. Gaga stood up and, with his unique wide smile, embraced the little boy, who happily put his head on his shoulder.
BOUND BY REFINEMENT
Mile today remembers Gaga's beginnings and one of his first interviews for Ilustrovana politika, the first cover page at the time of making When I'm Dead and Gone, hanging out in Ada Ciganlija, fishing in Rose, riding in Gaga's speedboat on the Sava, long and inspiring get-togethers:
"At the time of making When I'm Dead and Gone, we went to the Roma settlement in Karaburma. A collective hysteria started upon our arrival. Never in my life have I seen such adoration. As if the king of Roma came with Christmas gifts. A scene for Fellini! They ran to hug him, pulled him into their shacks. Children were screaming with joy, dogs jumping on him, licking his feet... He behaved as if he was born there, spontaneous, he raised and threw the boys into the air, caressed them, joked that he was one of them. And he really did love them."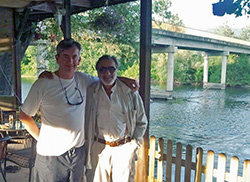 Mile Jelesijević, war reporter, photo reporter, writer, adventurer, passionate lover of Belgrade kafanas, although at the end of his seventh decade, still continues creating in his studio, bringing his turbulent and rich life on canvas, upgraded with his artistic imagination.
I was lucky to sit a few more times with Dragan Nikolić in "Potkovica". He radiated the elegance of Alain Delon, attitude of Robert de Niro, informality of Pavle Vujisić. Still, he was also himself, special, in style, physically, mentally and spiritually, elegant.
That morning, when Gaga was already in some heavenly tavern, drinking his first morning coffee with two people he unselfishly loved, his brother Miroslav and Bora Todorović, the famous Belgrade attorney Branislav Tapušković entered empty "Potkovica".
"Gaga was really a great gentleman. Cavalier, modest and unpretentious. Great friend. An outstanding person in every aspect", clearly shaken, humble and kind-hearted Tale remembers his friend, while we sip a drop of grape brandy for the soul of the man who loved people, ran away from glamour and glory, and suffered not only because the famous Belgrade kafanas, in which he grew up, were being forgotten and disappearing, but also because people were closing their hearts. Such alienation drove him away from Paris, where he had already become a film and theater star. He played with Maria Schneider, Erland Josephson, Alida Valli, Catherine Deneuve...
In her interview to Nedeljnik, which dedicated the entire edition to this great man, Milena Dravić remembers that one morning, without any warning, Gaga just decided:
"Let's go back, it's enough... And that 'enough' was not related to a missed role, disappointment, conflict with a director or crew... He missed his Belgrade friends. Crveni Krst. 'Atelje 212'. So we returned..."
A little known detail, testifying about Gaga's love for his city and homeland, is the offer of American producers to Milena Dravić to play in Hollywood. The amount offered was high, conditions fantastic, almost unreal for our circumstances. Milena, upon the suggestion of her husband, ignored the offer. In the next round, a green card for a permanent residence in America came with a higher offered amount. Milena was hesitating, but Gaga refused with such easiness, as if asking "three and one" late at night. Of course, Milena followed him.
A MAN IS NOT A STAR
In the last years, the favorite destination of Dragan Nikolić was Vrnjačka Banja. Four years ago, he became cover face of the "Merkur" Special Hospital in Vrnjačka Banja. The executive director of the institute, Dejan Stanojević, remembers the friendship and cooperation with the celebrated actor:
"If we had to state a synonym for a gentleman and professional, it would certainly be the name of Dragan Nikolić. He not only captivated with his charm and responsibility, but also had much patience for the mistakes and clumsiness of others. We were shooting, for our advertisement video, a collective scene with our staff and, of course, we had to repeat it many times. It was hot, the sun was burning, and while others were taking their positions, Gaga was leisurely reading the newspaper. I apologized to him because my associates' stage fright created such problems. He raised his head and, watching me through the glasses, said with a laugh: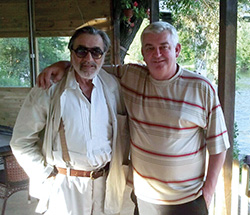 'It's nothing. Repeating is routine. Can you imagine a bridge being demolished by mistake, in the middle of shooting? A man wanted to demonstrate how it's enough for him to take off his hat, wave it and – the bridge is gone. The miners, thinking that the shooting of the scene is in progress, and the signal was taking off the hat, blew the bridge up. Then we waited for a month to have a new bridge model made.'"
Dragan Nikolić was one of the last refined Belgrade bohemians, a quiet unpretentious orator, witty interlocutor, patient listener; he discreetly asked about details he was interested in or touched him in a way.
"He was really a great cavalier. While staying here in Vrnjačka Banja, he used to sit in our restaurant almost every evening. Always gallant, unburdened with his greatness, completely atypical among his colleagues. Now these little actors shoot a few scenes, you reporters build them up and they immediately become stars. Gaga breathed with the greatness of a man leaning upon principles and character. He liked to gamble, and that is a huge passion. The passion for risk, the urge and adrenaline rush were brilliantly described by the great expert in human nature Fyodor Dostoyevsky. However, at one point, Gaga said No! And that was the end. Only people with a strong character are able to do that. He didn't even want to enter a casino, let alone to gamble. It's also incredible how fast he lived, what he left behind him, while, at the same time, knew how to enjoy and take pleasure in life. We often went to the Morava, sat for hours, drinking. He loved the river and showed me pictures of the boat he designed himself. Incredible construction! A boat resembling Noah's Ark. Unfortunately, he left before launching it into the river this summer", tells Dragan Stanojević, owner of restaurant "Sunce" in Vrnjačka Banja, also known for his bohemian life, about his friend, without hiding sorrow and sadness.
Dragan Nikolić, like all truly great people, never considered himself a star:
"Even today I don't know what that means. What is a star? How do you become one? It's probably in the awareness of other people. I've really never given myself the luxury to think I'm a star, that I'm the best or great in any way. I believe no one will be offended if I say this: I think it's a feature of fools – believing you're someone else."

***
Principles
An example of Dragan Nikolić's patriotism is his refusing an offered role in an anti-Serbian high-budget movie, where he was supposed to play a cruel villain. Despite attractive conditions, despite negotiations in Skopje and Vienna and the flexibility of producers to win him for an "affirmative" screening of Balkan Indians, Dragan Nikolić remained faithful to himself and his postulates.
***
Green Baize as a Polygraph
He rarely told about the outcomes of long games at tables covered with green baize. The human nature cannot be hidden and cannot act only at kafana and gambling tables. The green baize is the only polygraph that cannot be deceived. Bluffs are working, but that is where the character fails or is confirmed.