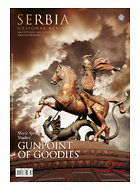 SERBIA - National review, No 54

Prologue
We do not succumb to the empty turmoil, blanks shot by various campaigns, especially electoral. I prefer to, in the morning, climb to a lookout point, from where the view extends to Mojkovac and beyond. Preparing the new edition, we consecrated the vineyards near Smederevo, hunted in Dragačevo, explored Savamala, spoke with some special people. We did not joined meetings or turned on the TV, even for weather forecasts. We did not read the newspapers from the cover page of which vulgarity and crime are screaming every day, spreading like a malignant dark epidemic. One feels purer that way and more dignified. See it for yourself, come with us. <


CONTENTS
Prologue
"NATIONAL REVIEW" SETTLES THE FIRST DECADE
Ten
Vitrage
NUMBERS, EVENTS, INTERESTING THINGS
Album
BELGRADE SPRING STUDIES
Falling in Love
Guide
A SKETCH FOR ART MAP OF SAVAMALA AND OTHER STIMULI
New Belgrade Creativity
Modern sensibility of the city and new artistic practice, new media and a new generations have been transforming the dilapidated and abandoned Sava slope, almost deserted, into the most creative neighborhood of the Serbian capital, and this part of Europe. Disheveled, rustic, imaginative and informal, Savamala excellently combines culture and entertainment, creativity and market, old and new. The emphasis is on expressly local artistic expression, Serbian and Balkan, which attracts to this "cultural district" a large number of foreigners, who desire originals and not provincial copies
By: Dragana Barjaktarević
Photo: Dragana Barjaktarević, Marija Piroški
Roads
WITH HUNTERS OF DRAGAČEVO, IN THE MIDST OF SPRING AWAKENING
Gunpoint of Goodness 
Already at the end of the last century, they hit their fist on the table: no more poaching and neglect. We don't want to empty, but to fill. We are not killers but collaborators with the nature. Their hunting grounds, larger than some countries, is now regulated and full. Deer, wild boars, pheasants, grouses... Even bears arrived somewhere from Tara. They tease the hunters that they are "walkers of rifles", but they are unhinged. There are about five hundred and fifty of them now. They know a lot about people and animals, brandy and hunter's stew. Only good stories are not subject to closed season
By: Miloš Lazić
Photo: Želјko Sinobad
Visit
IN SMEDEREVO VINEYARDS, ON THE DAY OF SAINT TRYPHON, PATRON SAINT OF WINEMAKERS
A Day Displaying Entire Year
When it snows r rains on the St. Tryphon's Day, people say that it will be a year of good harvest. People who live in the rhythm of a wine year are different. Patient, silent, seeing farther ahead. They hear how the earth breathes and the wine matures. And in Smederevo, the last capital of medieval Serbia, one cannot idle around without remembering the past times, better and more noble. For example, those when Gabriel M. Đorić, the famous winemaker from Smederevo, was collecting wards in Tokyo and London, Brussels and Liege
Text: Milosav Slavko Pešić and NR Press
Photo: Vladimir Gogić
Clock Hands
IN MALI RADINCI, IN SREM, THE TOWER CLOCK IS PUNCTUAL AS A STAR
Measuring Time in the Plains
Tower is always the first to be seen from a distance. As you approach, the village slowly emerges. The church tower remains a landmark for all. It is a clock tower. This clock in Mali Radinci works unmistakably. Golden Hands of Jovan Kovačević enabled the village to have what many cities do not, even the nearby Ruma. Parts for the clock were cast in bronze in Budapest, in the 18th century. The mechanism is driven by an engine for wind wipers for Yugo, purchased at a flea market. Now everyone knows what time it is. And that is not little, for the beginning
By: Katarina Filipović
Century
METROPOLITAN AMFILOHIJE: A SERMON MARKING THE HUNDREDTH ANNIVERSARY OF THE BATTLE OF MOJKOVAC (1916–2016)
For the Salvation of Montenegro and Entire Serbiandom
This is how famous sirdar Janko Vukotić called his warriors to battle, on Christmas Eve of 1916, in Mojkovac, saving the face of both his homeland and his king gone astray. "If you manage to keep off the enemy for 24 hours, you will pay your debt to Serbiandom", wrote regent Aleksandar Karađorđević to the sirdar a day earlier. And so it was, they sacrificed themselves to help their brothers and became an eternally shining immortal example. Today, at the time of a terrible disorder between Montenegro and Serbia, it is a spark we can all be warmed by
Century
THE BATTLE OF MOJKOVAC, IN THE LIGHT OF HEAVENLY AND FOLK TRUTH
By the Holy Vow of Kosovo
Just as the Lord did not go to Golgotha to be defeated but he won, and "The Empire of Glory" is inscribed on its cross, the heroes of Mojkovac, with their virtue and noble sacrifice overpowered the evil. They were led by the vow of the holy Lazar's vow and unconditional loyalty to one's nation. The official ideology in the communist Yugoslavia found this objectionable, and some still think like this today
By: Archpriest Stavrophor Savo B. Jović
Lighthouses
ST. SAVA IN THE RUSSIAN IMPERIAL CHRONICLE (2)
Permanently Rising the Deeds of Ancestors
There are several important Serbian threads embedded in the birth of the first Russian empire, from living blood to important laws. The Rurikovich dynasty has seeds of the Nemanjić, Dragaš, Jakšić, Belimužević families. Ivan III Vasilyevich built the Administrative Book of St. Sava and Dušan's Laws and Regulations into the legal foundations of Russia. Ana Glinska Jakšić brought up her grandson, Ivan IV the Mighty, the first Emperor of Russia, on the hagiographies of St. Sava and holy Prince Lazar. She used the Kosovo pledge to teach him about the heavenly kingdom and vertical of holiness. The brotherhood of Russians and Serbs is not a mere "lucky metaphor"
By: Milovan Vitezović
Photo: Aleksandar Ćosić
Palette
PAINTER DIMITRIJE AVRAMOVIĆ (1815-1855) AND TREASURES OF OLD SERBIAN ART
Glittering of Golden Seeds
He was educated in Vienna, but also studied on Mt. Athos, Thessaloniki, Constantinople, Belgrade. He was one of the pioneers of the renewal of national self-consciousness in culture. We have the Charter of Chilandar today thanks to his transcript. He made important portraits, introduced the subject of "St. Nicholas returns sight to Stefan of Dečani" into Serbian icon painting, was founder of Serbian caricature. His "Apotheosis of Lukijan Mušicki" is a masterpiece. A romanticist formed on classical experience, close to Nazarenes and symbolists, perhaps the forerunner of surrealists. We have seventy-seven of his works in the Residence of Princess Ljubica in Belgrade, open until May 3
By: Dejan Đorić
Examples
DRAGAN NIKOLIĆ (1943-2016), BELGRADE'S "LAST GREAT ONE" AND A BETTER WORLD THAT LEFT WITH HIM
To Be a Light
"Even today I don't know what that means. What is a star? How do you become one? It's probably in the awareness of other people. I've really never given myself the luxury to think I'm a star, that I'm the best or great in any way. I believe no one will be offended if I say this: I think it's a feature of fools – believing you're someone else"
By: Mišo Vujović
Photo: Željko Sinobad, Mile Jelesijević,
"National Review" Archive, "Merkur" Archive
Belvederes
MILOVAN DANOJLIĆ, WRITER, ABOUT THE SOIL, LANGUAGE AND WORLDS VISITING A POET
Condemned to Waiting and Faithfulness
The soil has nowhere to go from itself, nor do I from it. It gave me, it will take me back. The most difficult slavery is the one we unconsciously carry. Danger begins where the path of self-denial starts, the trap of the "Stockholm syndrome". Those in power used to keep their subjects in illiteracy, while the present ones understood that semi-literacy gives better results. Pop culture is a spice of the consumer view of the world. Intellectual servants constantly rush to the one who is currently strongest. Our basis is beyond time, in the invisible, in the beyond-historical
Text: Vesna Kapor and NR Press
Scene
JADRANKA JOVANOVIĆ, INTERNATIONAL OPERA DIVA, EXCLUSIVELY FOR "NATIONAL REVIEW"
Divine Announcement in the Human Heart
She sang in one hundred twenty prestigious world theaters, played over seventy roles in operas. She was partner to Placido Domingo, Jose Carreras, Jose Cura... She won numerous awards and recognitions in all parts of the world. However, she says she knows that the meaning of her life is to embed the gifts she carries within into the genuine cultural advancement of Serbian people and its lands
By: Danijela Knežević Stevanović
Centers
"KARADŽIĆ" FROM LOZNICA, ONE OF THE OLDEST CULTURAL AND ARTISTIC SOCIETIES IN THE BALKANS
Forever Young
From 1850 until today, the best that Jadar has had has been woven in this village and around it. Vuk Karadžić himself also helped. The flag of this Society has been decorated with the Order of St. Sava, and it was brought before the court by Austro-Hungarians in 1915 in Banjaluka. In Vuk's cultural center it is still boiling, "Karadžić" gathers around five hundred members. They perform around the world, brilliantly. They dance, chant, paint, write. They know that we must always return back to tradition in a creative way. And that we are alive as much as it is
Text and photo: Nenad Marković
Fairytale
TURBULENT EVENTS DURING A SUMMER IN ALEKSINAC
Wedding of Goldy the Tomcat
All sorts of things twisted and entwined there, one can hardly see the beginning and the end. Three swings on one rope, a birch resembling a green and white merry-go-round, saving a wounded dove. Unexpectedly, Goldy got married and his mom Kitty became mother-in-law. Then Ika remembered Joca the dolphin and thought of a way to save him. At least in the story. Perhaps fairytales exist to save us from evil fishermen?
By: Nebojša Jevrić
Illustrated by: Mihail Kulačić
Winner
ZORAN TERZIĆ, HEAD COACH OF THE SERBIAN FEMALE VOLLEYBALL NATIONAL TEAM
Gazing towards Rio
We have remarkable people in various areas, but the truth is that no one has contributed more to the affirmation of Serbia than our sportsmen. Our supreme results are often a mystery to us as well. We don't have any money, strong leagues or good infrastructure. It seems, however, that the excellent work of experts and sportsmen is behind it all. If we emphasize and exaggerate our shortcomings so often, we must also be aware of our extraordinary virtues. We should not give up on our unique features and values, because that is what makes us a nation among nations
By: Dejan Bulajić
Jubilee
INSTITUTE FOR SPORT AND SPORTS MEDICINE CELEBRATES 60th ANNIVERSARY
The Pillar of Serbian Sport
One of the few such institutions in the world and the only one in the Balkans, this institution combines sport and medicine at the highest level, by applying the highest professional and technological standards. It has embedded itself in many gold medals of which we are proud. Its contribution to the mass sport, and therefore the health of the nation, it is also huge. The ceremony marking the jubilee was attended by many distinguished guests, including former and current sports champions
Introducing
SLOBODAN BRANKOVIĆ, GENERAL SECRETARY OF THE ATHLETIC ASSOCIATION OF SERBIA, ON GREAT UPSWING OF SERBIAN ATHLETICS
On the Wings of Results
For the breakthrough, it was necessary to reach the top results and medals at the major senior competitions. Ivana Španović, Emir Bekrić, Asmir Kolašinac, Amela Terzić, Mihail Dudaš, Tatjana Jelača... That is how attention of the state and the public was drawn, and the will collected for building and restoration of infrastructure. This has been recognized in the European and World Federation, major competitions are in sight, everything is continuing upward
By: Aleksa Komet
Arena
ECHOES OF THE FIFTH NATIONS WOMEN'S BOXING CUP, HELD IN RUMA
Boxing Center of the World
Those days, over 250 world's best boxers from 27 national teams, from all continents gathered in Ruma. World boxing superpowers arrived in the strongest teams. All facilities in the town and surroundings were occupied. The overall winner was Russia, the best in senior competition was India. Besides gold of Milena Matović, Serbia won seven bronze medals. Great encouragements for the organizers and for competitors
Connections
"TELEKOM SRBIJA" SUPPORTED AN IMPORTANT EXHIBITION IN THE HISTORICAL MUSEUM
Pupin in Full Light
Exhibition "Pupin – From the Physical to the Spiritual Reality" has truly brought the abundance of its contents to the visitors, in a vivid and unusual manner. The visitors can hear Pupin, stand next to his mother who accompanies him on the path of knowledge, pass by Idvor meadow full of cattle, discover Pupin's work in "augmented reality"... The great interest in the country and abroad is the logical result
Recommendation
VRNЈAČKA BANЈA FOLLOWING GLOBAL TRENDS WITH ITS HOTEL OFFER
Uncompromised Quality
There is a long tradition of hospitality and hotel industry in Vrnjačka Banja. In accordance with the high standards in this field, the offer was supplemented with modern resorts with excellent facilities and service. One of these is certainly "Solaris Risort", recommended by the Municipality of Vrnjačka Banja
Health
SPA CENTER "ROMAN SPRING" AND OTHER IMPROVEMENTS IN "MERKUR"
New Concept, Old Benefits
All major European spa resorts have individual facilities only providing accommodation and food, while everything else is being implemented in the central spa facilities. "Merkur's" Spa Center "Roman Spring" is based on this idea. Since last summer, it has been consolidated the former five centers and is available to all guests of Vrnjačka Banja