Heights
IN THE MOUNTAINS ABOVE FOČA, IN SRPSKA, THEY MAKE THE FAMOUS CHEESE ACCORDING TO OLD ALPINE RECIPE
Golden Wheel from Golden Pine
A Belgradian educated in Denmark and Switzerland, an expert in animal husbandry, came here two years ago for rafting down the Tara River. And he was enchanted by this height. He returned to Switzerland to get permits, a project for a farm and cheese factory, and licenses. He also imported about fifteen cows of Brown variety. He is now making the famous "Gruyeres", and getting ready to conquer the production of soft cheese with wild berries, such as blueberry, and porcini. Of course, there are problems, but these are fulfilled and happy people
Text and photo: Saša Savović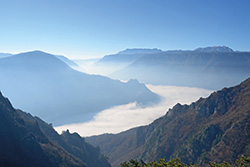 This is also possible: born in Belgrade, after studying in Western Europe he comes into the mountain, above Foča, and falls in love with a surreal landscape. To make the passion last long, he brought alpine cows and started manufacturing golden cheese, which it really is. Both golden and cheese.
The entire Foča has heard of this Belgradian. Whomever you ask, they will guide you in the right direction. From the city, the road winds for over thirty five kilometers, furrowed by heavy trucks pulling timber from the above. In the village of Zavait one needs to slow down or rest. A large plateau, filled with ozone and greenery. After about ten kilometers of bumpy ride, a wooden signpost points directs you to the right place: Golden Pine, "Golden Pine" Farm.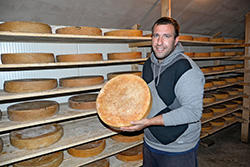 An unsuspecting traveler may be surprised by the sight: at a large unfenced area cattle graze freely, peacefully, obviously enjoying themselves. They will benevolently raise their heads, wave a little, as if to say, feel free to enter. There are no dogs. The landmark of the whole scenery is the magnificent canyon of Tara, "The Tear of Europe" for thirty-eight years under the protection of UNESCO.
We entered the yard. A tall young man approaches, smiling, with healthy teeth and mind, shakes hands warmly.
– Predrag Džokić, may I help you?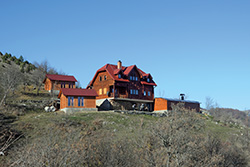 The story is easy to start straight and keeps flowing.
– Well, yes, I spent five years in Denmark studying animal husbandry, and specialized in beef cattle raising in Zurich. I am not from here originally, but my friend Tatomir Jovičić is. He brought me here two summers ago for Tara rafting. Zlatni Bor (Golden Pine) is his ancestral village. P To be honest, I was completely captivated by this height. Like Serbian Alps. We made a decision immediately.
They returned to Switzerland to get the permits, obtained the project for a farm, cheese factory and imported fifteen dairy cows of brown variety.
– These are mountain cattle, by appearance they resemble the Balkan bush, resistant to wind and low temperatures. They give little milk but high in fat, with the percentage of casein type B, which is rare. In order to ensure that everything is natural and successful, two bulls also got their passports. Now we have fifteen heifers. You know, it is not easy to get a license for cheese production from the Swiss. We took samples of cheese. These meadows are rich in calendula, St. John's Wort, dandelions, yarrow, mint, mallow and comfrey. Every liter of our milk has the percentage of fat from 4.2 to 5.
VIVALDI IN BARNS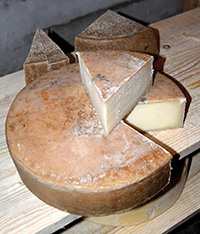 And while the host leads us through the estate, we hear music. Vivaldi, The Four Seasons. Three employees are responsible for milking and cheese-making. Cows are milked with milking machines. Music is played in the barn, there is no metal, all the boxes for cattle are made of oak. The cows are not chained. They go in and out the barn on their own.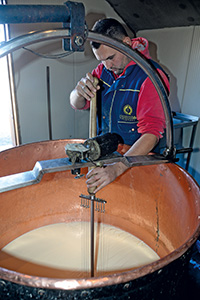 – The Swiss were here and they checked on us. They are thrilled. Diplomats also come here. Our cows produce 220 liters of milk a day. That is how much it takes to make a wheel of cheese from 17 to 19 kilograms. How is it made? The milk from our cows is not cooked, just warmed up on oak wood at 30 degrees and then we add rennet. The fermentation lasts more than half an hour. The coagulated curd is cut with a special instrument the size of small marbles. We return this mass into the cauldron and warm it up to 50 degrees. Then we put it into the mold, stamp the date, tie and keep it like that for 24 hours. We take the wheel out of the mold, insert the brine and put on the wooden shelves... Such a wheel is coated by the secret Swiss recipe twice a week and it matures for one year. Edibility is unlimited.
The recipe for this cheese, the famous "Gruyeres" is two centuries old. They call it hard, but it melts under the palate. Tatomir and Predrag invested in their own joint farm 150,000 Swiss francs. Their intention is to conquer the manufacture of soft cheese, with additions of forest fruits, blueberry, porcini... And what they have accomplished so far have caused great interest of the elite restaurants in this part of the Balkans.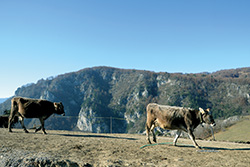 This small mountainous town continues to grow. Apartments made of hewn logs, a cheese tasting house. Unique. When asked about the neighbors, Predrag Džokić says:
– People in the village found it strange that someone from the city, from the white world, would come to this remote place. They thought we were making a drug factory! (Laughs...) They were thrilled with the cows, their gentleness and resistance. We also involve and surrounding hosts to produce as much grass as possible for the winter season. We need that. When I walked through the village to get to know them and tell them who I am, they're looking at my shoes and woolen socks. They cannot believe it. (Laughs again...)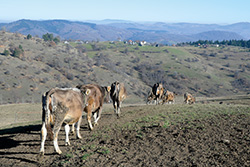 Apartments of the hosts in the complex "Golden Cheese" are completely organic. The flag of Switzerland is on the roof. This is "the earth at the height", as the Alps. There are problems, of course. To reach the village of Zlatni Bor you need an off-road vehicle. As a rule, before the elections and before running cameras everybody keeps promising to repair the road. They sugar-coat the story, taste the cheese and leave. In Zlatni Bor, people are already used to empty promises, rarely speak about it. They see that the area of Foča is exposed to relentless deforestation. There are few new plants, the responsible recovery of natural resources. They cut and take away, the road through the village of Zavait completely destroyed by heavy trucks.
To dispel difficult topics, we ask the host: are there in Zlatni Bor, along with other forms of natural beauty, young shepherdess as well? He laughs.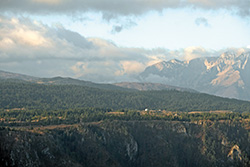 – In Foča, yes, it is a city of students. When they ask me there if I have, besides cows, another love, I say: yes, pigs. We feed Mangulica with whey, which is a byproduct, it is pure vitamin bomb. The students giggle. If they feel the prosciutto and cheese, they shake their heads. An honest soul must appear as well. If she stays, we will get married over the Tara Canyon. Cows will be adorned with garlands of wild flowers and the whole village will be the wedding guests.
From the mountains one can see further. Who can refuse such an offer?
***
Cheese Mountain
The dedication of these young people to every detail is impressive. The logo of "Golden Cheese" from the Golden Pine was designed by a young designer from Foča. Stylized Tara canyon, with a mountain of cheese.
***
The Breathing Stone
While we take a tour of the warehouse of finished products in the "Golden cheese", under our feet, the stone floor breathes. The dairy has a capacity of 1,000 liters of milk a day, and the copper cauldron has volume of 500 liters.