Games
AWAITING RIO 2016: SHORT OLYMPIC CHRONICLE OF SERBIAN AND YUGOSLAVIAN SPORTS
What Medals are Minted from
For ninety-six years, from Stockholm 1912 to Beijing 2008, Serbia waited to compete in the Olympics under its real name and symbols. The Serbian Olympic Movement has 101 medals in its collection. The most successful is the wrestling team, with a total of sixteen medals. Most medals were won in Los Angeles in 1984, eighteen, thereof seven golden. Prominent in different periods were gymnasts, shooters, water polo players, judo athletes, boxers, basketball, volleyball, handball, even football players… The future will largely depend on a long-term strategy in sports and healthy systematic solutions
By: Dejan Bulajić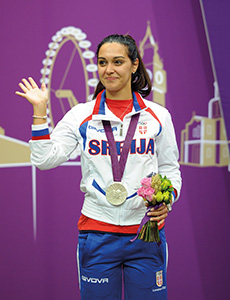 Serbian sportsmen competed at the Olympic Games under different flags. They competed for the first time as representatives of Serbia in Stockholm 1912, then under the names Kingdom of SHS, Kingdom of Yugoslavia, FNRY, SFRY, SRY, SCG and finally, in Beijing 2008, again as representatives of Serbia.
The Serbian Olympic Movement, through more than a hundred years of existence in different forms, has a collection of 101 won medals.
The first medals were won in Paris 1924, when gymnast Leon Štukelj shone with two golds. In the pre-war period, only gymnasts won Olympic medals, and Štukelj's long and successful career, in the period from 1924 to 1936, was ornamented with three golden medals, one silver and two bronze. Writing about him, the magazine Slovenske novice published the following: "The great gymnast and most successful sportsman of all times was deleted by the socialist authorities, because he publicly spoke that the medal closest to his heart is the Medal of St. Sava, pinned to his chest by King Aleksandar Karađorđević..."
In the period after World War II, gymnastics lost its prestige. Only in Tokyo 1964 and four years later in Mexico City, Miroslav Cerar reminded of the glorious days of our gymnastics, by winning two golden and one bronze medal.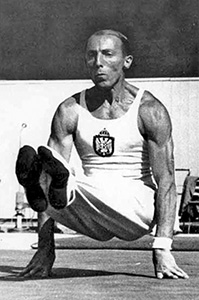 Team sports and martial arts became growingly popular. The first medals, both silver, at the first post-war Games in London 1948, were won by hammer thrower Ivan Gubijan and our football players. Charming Gubijan had a complete program. First he had a heatstroke, and doctors advised him to give up competing. He threw the hammer after four turns, which was later accepted by all throwers. Once he swung the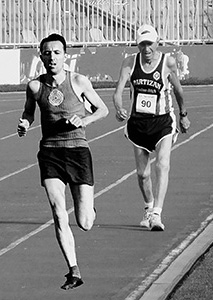 hammer so strongly, that it penetrated the protective fence and flew straight above the judge's head. The unfortunate man collapsed and everyone thought the worst had happened, but it turned out that he only fainted from fear. He finally won silver medal, and was consequently given an apartment in his homeland, as well as a "Kosmaj" radio, which was especially important to him. He carefully took the radio home, fearing not to drop it from excitement.
Football players won medals four times in a row, from 1948 to 1960. After three silvers, gold finally shone in Rome 1960 for the generation including: Šoškić, Jusufi, Maravić, Galić, Kostić, Takač, Vidinić… They won Denmark in the finals, and captain Milan Galić vividly remembers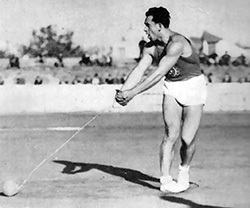 the match: "I carefully watched the Danish goalkeeper. He had great reflexes, but it seemed that he reacted more slowly to shots from the distance. I knew what I had to do. As soon as the game started, I received the ball more than 20 meters from the goal. I kicked it while running. He obviously didn't expect it, so it flew almost through his ears." We will not be mistaken, however, if we say that the football silver in Helsinki, in 1952, was even more important than the gold in Rome. It was the famous, unrepeatable team: Beara, Stanković, Crnković, Čajkovski, Horvat, Boškov, Ognjanov, Mitić, Vukas, Bobek, Zebec. They were defeated in the finals by the equally famous Hungarian "light cavalry", but before it, in the double match for all times, with the Soviet Union, they were engraved in the annals of Yugoslavian sports. Due to their triumph, Josip Broz awarded them with 100 dollars each upon their return, but still blamed them for the defeat in the finals. After that, football players only won one bronze in Los Angeles 1984.
THE RISE OF WATER POLO PLAYERS, WRESTLERS, BOXERS...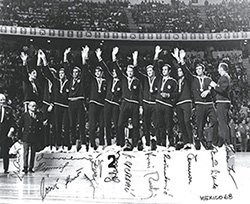 From Helsinki 1952 on, water polo players, today mainstay of Serbian sports at each Olympic Games, gradually created a firm position on the big scene. They won 11 medals up to now, thereof three golden, five silver and three bronze. Gold was won in Mexico City (1968), Los Angeles (1984) and Seoul (1988). For the Games in Korea, Ratko Rudić selected perhaps one of the highest quality teams of all times, defeated only twice in five years and six big competitions. The team was made of: Šoštar, Lušić, Šimenc, Bukić, Đuho, Andrić, Vičević, Gočanin, Bezmalinović, Paškvalin, Milanović, Rađenović, Posinković. It was hard to break the resistance of the Americans, who won at the beginning, but were defeated in the finals after extra time. Aleksandar Šoštar remembers: "Sometimes it seems to me that there was something in that American generation which did not fit us. It's hard to describe it, but that is how it was. I'm convinced that we were a better team, but they simply did not fit us, it was hard to play against them. The finals requested us to overcome ourselves first and then them."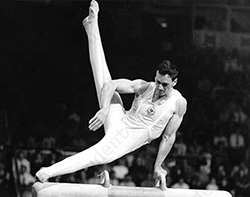 Many expected the fall of Serbian water polo after the breakdown of the previous country, but it has remained the synonym for top results.
Still, our most successful Olympic team are the wrestlers. The first medal was won by Branko Martinović in Rome 1960, and the last, in Seoul 1988, by Šaban Trstena. A total of 16 medals, thereof four golden, six silver and six bronze. Branislav Simić won the first gold in Tokyo 1964: "Many difficult life stories are woven into the sports statistics. No one even anticipates how much suffering, pain, sweat and tears hides among names and numbers. It is the price of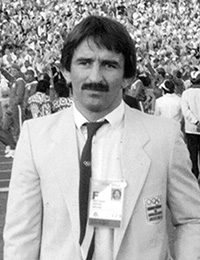 medals, which can only be minted from such material. That is why they are so valuable and why so much is sacrificed for them." In those Games, Branko Martinović won bronze medal with a broken rib. Besides Simić, Momir Petković, Vlado Lisjak and Šaban Trstena also won gold medals, while Stevan Horvat, Josip Čorak, Milan Nenadić, Ivica Frgić, Šaban Sejdiu, Refik Memišević and Jozef Tertei won silver and bronze.
Our boxers were also remarkable for a long period in the Olympic rings. They won 11 medals – three golden, two silver and six bronze. The first who won gold was Mate Parlov, in Munich 1972. Then followed champion titles of Slobodan Kačar in Moscow 1980 and Ante Josipović, four years later in Los Angeles. Slobodan Kačar became champion in light heavyweight category: "The final duel was mentally the most difficult. Everyone was saying that I will certainly win the title, but for me it was very hard to bear. I didn't sleep a wink the night before the finals. I thought about what would happen if I lose, will I be criticized, will I ever have such an opportunity, and many more things. All this is in your head and such things can break even the greatest champions." Other winners of Olympic medals include: Zvonko Vujin, Tadija Kačar, Ace Rusevski, Redžep Redžepovski, Mirko Puzović, Aziz Salihu and Damir Škaro. Unfortunately, our boxers have disappeared from the big scene for a long time already, so they will not compete in Rio either.
SHOTS FOR HISTORY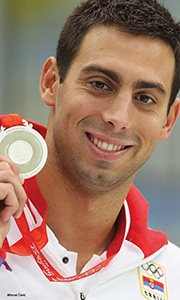 Shooting is one of our biggest hopes, but the saga about their successes does not reach into the deep past of the Olympics. The first medals (golden and bronze) among shooters were won by legendary Jasna Šekarić, in Seoul 1988, who was soon accompanied by Goran Maksimović with a gold. Since then, shooters did not climb the victory stand only in the Games in Beijing, while in Barcelona they were the only ones who won medals. Besides Jasna and Goran, Aleksandra Ivošev also won the Olympic title in 1996 in Atlanta, with a previously won bronze medal: "I went to Atlanta without big expectations. The most I could hope for was to enter the finals and, already at my first performance, that happened. I won bronze with an air gun. After that, everything was easy for me. I felt so relaxed and secure, that it seemed to me that I could shoot whatever I want, whenever I want and as much as necessary. I came to the small-caliber rifle competition in such a mood and won gold. I think this is the mo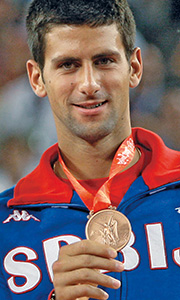 st easily won medal for me. I was so self-assured that it couldn't be any other way." Aranka Binder, Stevan Pletikosić, Ivana Maksimović and Andrija Zlatić also won medals at Olympic tournaments. However, Jasna Šekarić is an incomparable phenomenon in this sport. She participated in seven Olympic Games, which is a record itself, competed in nine finals and won five medals – one golden, three silver and a bronze. Luck has often been abandoning her, so she often did not win any titles, although she had the same number of points as the first-ranked.
Basketball, handball and volleyball players were remarkable in team sports, as well as their female colleagues. Basketball players won the first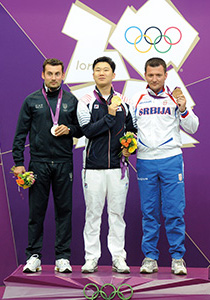 medal (bronze) in Mexico City, 1968, and later another three silver and a gold medal at the Games in Moscow. One of the members of the victorious generation, which included Kićanović, Slavnić, Delibašić, Ćosić, was Dražen Dalipagić: "We gained certain self-confidence, we believed in ourselves, but it is important to say that we weren't pretentious. On the contrary, it was a group of normal, correct people, who don't have a problem with their ego, and as such, without any false modesty, we expected to be among the best in any competition. It was so three times at the Olympic Games, especially in Moscow." The female basketball team won medals twice – bronze in Moscow and silver in Seoul.
Handball players shined in gold in Munich 1972, when this sport became part of the Olympic program. That generation, made of Horvat, Miljak, Arslanagić, Lavrnić, Lazarević, Mišković, Karalić, Pokrajac, Popović, Fajfrić, Živković, Pribanić, Vidović, Selec and Bugarski, even today deserves the label of the best Yugoslavian team. After that, handball players won only two more medals – gold in Moscow and bronze in Seoul, while their female colleagues won a champion title in Los Angeles and silver in Moscow.
CRUCIAL QUESTION STILL OPEN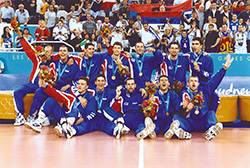 Volleyball players matured for the big scene only after the breakdown of the old country. They won their first medal (bronze) in Atlanta 1996. Already four years later, in Sydney, they were golden, with a generation people still talk about: Batez, Kovač, Boškan, Mešter, Mijić, N. Grbić, V. Grbić, Gerić, Vujević, Miljković, Petković and Vušurović.
Among other high achievements of the Olympic sportsmen, we should remind of swimmer Đurđa Bjedov, who shone with gold and silver at the Games in Mexico 1968, as well as Milorad Čavić, who won Felps in Beijing before the eyes of the entire world, but not the measurers of time. Canoeist Matija Ljubek, first in skulling and then in two-seater with Mirko Nišović, won all three medals at the Games in Montreal and Los Angeles, while their rowing colleagues – Stanulov and Pančić, won silver and bronze twice. Marathoner Franjo Mihalić had a silver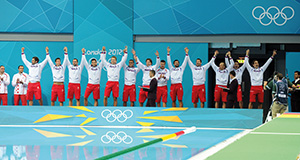 sheen in Melbourne 1956. Slavko Obadov and Radomir Kovačević enlisted judo players among medal winners with two bronzes, in Montreal and in Moscow. We certainly must not forget the golden four-oar from Helsinki, the bronze coxed pair from Moscow, silver canoeist Milan Janić from Los Angeles and bronze rowing pair from Seoul. Let us also add the table tennis doubles Lupulesku/Primorac (silver) and Perkučin/Fazlić (bronze) from Seoul 1988.
Milica Mandić, taekwondo champion from London 2012 and Novak Đoković, who won bronze at the tennis tournament in Beijing, give us reason for satisfaction and new hope in the recent times.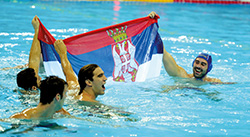 Our sportsmen won 101 Olympic medal up to the Games in Rio. Our most successful performance was in Los Angeles in 1984 – 18 medals, thereof seven golden. The list of medals would probably be longer, if the will of political maliciousness did not forbid performances in team competitions in Barcelona. However, even besides that, the crucial question, which unfortunately no one in Serbia is seriously dealing with, remains open. It is the long-term strategy of sports and setting a realistic objective – what we want and what we can do. The recent systematic changes in the realm of sports in Serbia leave us in a dilemma whether we are on the right track, or is it just another attempt to delay the encounter with necessary solutions.
***
Give Your Best for Your Country
"Being a national team member is strongly related with the feeling of belonging and dedication. The sportsmen get such a feeling from the jersey with a state coat of arms, from the flag, the anthem. It gives birth to pride and wish to represent your country through sports and to, without being pathetic, be ready to give your best for it." (Branislav Pokrajac, one of the golden handball players from Munich 1972)
***
Self-Confidence Determines Ranges
"There is only one rule for the Games: 'The one who wants most and believes most reaches furthest.' Mainly because it is a competition of emotions and self-confidence. Therefore, the medals won at the Games are simply not a measure of the current competitive quality. They are a symbol of wholeness and consequently a symbol of power." (Vanja Grbić, one of the biggest stars of the golden generation of Serbian volleyball)