Voice
NEBOJŠA MASTILOVIĆ AND "PIRG", IMPORTANT NAMES OF SERBIAN SPIRITUAL MUSIC TODAY
Chanting as a Way of Seeking God
A "pirg" is a monastery tower, its symbolic defense, guardian, belvedere. All these are important entries of this music. The group wants to express what their generation feels as its cross, its temptation. To point out life looking into eternity, the liturgical community and God-man, to connect us with high spiritual principles of our ancestors, without which we are only "straws in the winds", "poor ones without anyone around"
By: Danijela Knežević Stevanović
Photo: "Pirg" archive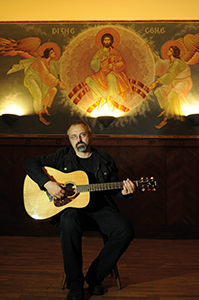 In the embrace of the Belgrade Ascension Church, we talk to cantor Nebojša Mastilović. His name has been "inscribed in the hearts" of experts and fans of orthodox spiritual music a long time ago. We met him at the beginning of this millennium as one of the chanters of "Pirg", a music group consisting of Nebojša and priest Arsenije Arsenijević, now chief priest of the mentioned Ascension Church. In a short time, "Pirg" was confirmed as one of the most reputable Serbian Orthodox music groups, popular in other Orthodox countries as well. With their interpretation of spiritual music, they succeeded in reaching the true sublimity of the God-seeking artistic expression.
– Many people asked us what "pirg", the name of our group, means – says Nebojša Mastilović. – The root of the word, pirgos, originates from Greek and has several meanings. It is a monastery tower, its symbolic defense, guardian, as well as a belvedere and something sublime. We wanted the subjects we initiated to lean upon tradition and the personality of holy bishop Nikolaj, to have the sound of chants from the Worshipper Movement, as well as to be connected with our generation and marked with what our generation feels as its cross and its temptation. Besides several texts of holy bishop Nikolaj, most chants are our own opinion about what has been troubling us.
Living in a time characterized by the "existence of two parallel worlds", and the possibility of connecting those worlds, is the main idea in the artistic expression of Nebojša Mastilović. According to his words, one world is living only for today, without thinking about tomorrow, hedonistically, individualistically, consumer-like, selfishly. All the megaphones of that big loud world keep repeating: "Relax, watch yourself, don't think, satisfy your passion…" And life, he says, are not commercials, not propaganda, but something completely different. He attempts to live that other life, the life looking into eternity.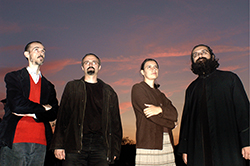 – Regardless of the number of repetitions of those ideological and propaganda sentences, and how much our brain is washed, there will be a moment when each of us will have to confront real life. That is why it's very important to have people in the world of art, who shine brightly and have strong gifts, such as Novak Đoković in the world of sports. It's important that he attracts attention with gifts uncommon for today's world, including self-discipline, self-control, thinking about others and fighting for his convictions. He is a living testimony how gates, which seem to be locked with seven keys, open to those who work hard and are not ashamed of their origins. Behind all that is God's providence, as well as the fact that fortune favors the bold, that it is only up to us to discover the meaning of our battle and know under whose flag we're fighting. If we fight under the flag of life and the one who is both life and truth, we will be glorified and alive, while everything else is a failure – continues Mastilović.
FOLLOWING HIS TRUE VOICE
In his teenage days, he was member of several terrene music bands, but he always longed to give an important message to his listeners. After the army and baptizing, at the time of the embargo and great injustice of the world towards his nation, he began changing himself and his life.
– Searching for the truth, I came to the church, and started singing in the chorus of the Church of St. Aleksandar Nevski. It was a nice community of people of different vocations, led by priest Ljuba Petrović. A real busy beehive, a completely new world, new subjects, new energy, which recuperated me. I felt myself change, grow, new horizons opening before me, getting answers to questions which I couldn't answer until then. I slowly got used to those harmonies, the church texts entered me, I absorbed them. After several years, I stopped playing with terrene bands, it just didn't satisfy me anymore. At the same time, listening to church chants and songs, I felt that I should put the gifts I have within me into the context of what is satisfying me: church subjects colored with the spirit of church music.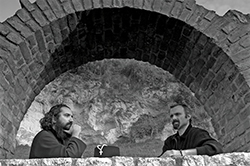 From the first, "Prayer", which made the "Pirg" famous, chants appeared with ease and joy. Soon afterwards, in 2002, they recorded their first CD, entitled Land of St. Simeon, published by Studenica monastery. The interest of wider public simply exploded. "Pirg" had numerous performances, concerts in interesting places, and became popular and respected in the world of Orthodox creative artwork. They joined the endeavor for the renewal of Đurđevi Stupovi monastery, made their first video clips, held remarkable concerts abroad.
– Especially important for us were our performances in the theater in Montmartre and in Reims, with impressive reactions of the French audience – tells Mastilović. – The concert was broadcasted on the French and Belgian radio. I realized then that spiritual music overcomes all borders and that people who react positively to it are everywhere. Only when the lights turned on, I saw that the audience included black people, Japanese and Chinese, a mixture of different nations, with only about fifteen Serbs. Orthodox music has great strength, which everyone feels. We were also wonderfully welcomed in Belarus. We had our first concert in Minsk a few years ago, within the spiritual music festival in the St. Elizabeth monastery. The second concert was called "Heart of Serbia" and we held it in the prestigious Philharmonic Hall in Minsk. We exchanged an abundance of incredible emotions with the audience both times. Our wish is to present our chants at a festival in Russia as well.
COMMUNITY LIKE A BEEHIVE
– "Pirg" consists of father Arsenije and me, with guest performances of Jelisaveta Arsenijević, wife of father Arsenije, and Aca Saračević. They were also part of the beehive of people I talked about, gathered in the Church of St. Aleksandar Nevski. Aca wrote one more verse for the song "Not of This World", giving his contribution to the entire album – explains Mastilović.
In time, he says, he realized that some songs went beyond the church frame. He wanted to go a few steps further and deal with general subjects through the view of the church. He thought it could be close to people who are not traditionally related to church, who are not liturgical, but have sympathy for the church and feel as part of the Serbian community being. He wanted to attract those not interested in the church.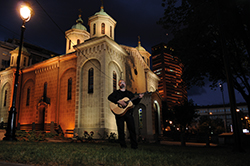 – With the support of publishing house "Čuvari", we made a CD Shiny Serbian Stars in 2013, in "Vitas" studio, cooperating with good musicians: Miloš Nikolić, kaval, Vladimir Nikolić, violin, Predrag Nedeljković, fife, Aleksandar Andrejević, percussions. Vladimir Antić and Dejan Pavlović were in charge of sound. During our promotion in Serbia, Montenegro and Srpska, people accepted the songs with enthrallment and reacted when first listening to them, which made me very happy. (...) On the inner side of the cover, we put a collage of the most remarkable people of our nation. Watching the pictures, we see how many important people were given to the Serbian nation. They are people who lived according to the code of the national being, the idea of eternal life, heavenly kingdom. The songs tell that Serbs, as an Orthodox nation, are oriented towards the heavenly kingdom. And that our life gets true meaning only if we are founded on deeply rooted principles, those tempered and carved by our remarkable ancestors through many centuries, for us and for the soul of the Serbian nation.
***
Not of This World
The second CD of "Pirg", entitled "Not of This World" was published by the Friends of Đurđevi Stupovi Monastery Association in Ras. Several video clips accompanied it. The video clip for the main song actually shows a visit to the Serbian enclaves in Kosovo and Metohija and delivering humanitarian aid. At the end, or in the beginning, is the magnificent Patriarchate of Peć.
***
Shiny Serbian Stars
– The essence of the "Shiny Serbian Stars" album is a symbolic picture of remarkable people who make our history, those who left a spiritual mark, starting with the holy Nemanjićs, Sava and Simeon, through an entire constellation of church people, ascetics, martyrs, holy kings, emperors, princes, to people involved in art, science, technology and politics.