Champions
DEJAN SAVIĆ, STRATEGIST OF THE WONDROUS SERBIAN WATER POLO NATIONAL TEAM
Creating a Winner within Yourself
Rio connected all those who built themselves in the history of Serbian water polo with golden threads. It unloaded the burden from many generations. I'm not the selector, my colleagues among pioneers and juniors are. The cult of the national team, based on strong personalities and genuine patriotism, brings us these results, in spite of everything we don't have. A road full of traps and challenges is in front of the young generation, the generation with the sixth finger. The sobering of mankind could be very painful and tragic
By: Dejan Bulajić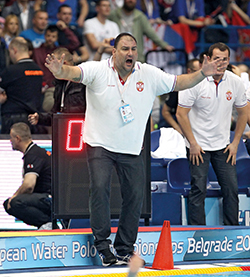 Rare are people who replaced their brilliant playing career with an equally successful coaching job. As a national team coach, Dejan Savić was under the eye of the public from the very beginning, which gave him additional motivation to replace triumphs with new triumphs, until he finally climbed to the top, at the Olympics in Rio.
– Preparations for the Olympic Games begin at the moment boys become engaged in sports. From that instant, the significance of the Olympic Games becomes incomparable. It is a crown of all their wishes and invested efforts, the highest aim, which only rare ones achieve. Thus our satisfaction for being worthy of that aim is greater. However, the winning tradition of Serbian water polo was never based on resting on laurels. Proud and emotionally discharged, already three days later we set new aims and think about them seriously, which means that the flattering memories from Rio already gave way to preparations for Tokyo.
Member of the national team for many years and member of the trophy generation of Serbian water polo, Dejan was deprived of the Olympic gold, so the triumph in Rio becomes a certain satisfaction for some of the missed opportunities.
– I think this success took off the burden from previous generations, because the fact that, besides all won titles, we missed the Olympic triumph, always floated over our heads. This gold medal also belongs to them in a way, because they prepared the grounds for a long time, on which we built the champion edifice. Rio connected all those who built themselves in the history of Serbian water polo with golden threads.
What determines the characterology of a champion?
– Champions are born and separated as such. However, we must always emphasize the tradition of our water polo, with a strong cult of the national team, which is then transferred to all categories. The individual career of each player is very important, but it also contributes to that cult. The set objectives are to move from pioneers to cadets, from cadets to juniors, from juniors to seniors, always seeking satisfaction in victories and medals. And the medals won with the national team cannot be compared with anything else. I divide people into three categories – those born with a brave heart, those who don't have it, but are aware of it, and those, unfortunately in the majority, who don't have courage, but present themselves as brave. I have the luck and unbelievable pleasure to spent time with mature and worthy people, and I feel privileged because of it.
BRAVE HEART AND SIXTH FINGER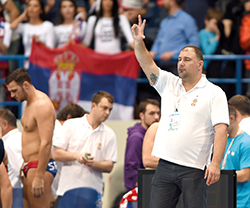 Each coach, with a feeling for the maturing of his team, is also aware of the transformation of not only sports careers of the players, but also their personalities. It is especially expressed in their readiness to overcome themselves.
– A champion is not only a successful sports phenomenon. It is, before all, a person with character, who succeeds in overcoming the greatest moments of crisis in his life, which is the battle with himself. This is the only way to create a winner within you. This generation, consisting of such people, grew up and matured together. They became very close and created an atmosphere they cherish. That atmosphere is the recipe for successes they achieve, and I just fit into that system. Of course knowledge has to be transferred in the right way and I stand behind what I do. Still, it is only part of the puzzle including mutual respect and understanding, with the awareness of who needs to do what. I am convinced that years will pass before some future team achieves something similar.
In that aspect, water polo is an exception among many other sports.
– Yes, but we shouldn't forget that a successful selection through younger categories stands behind all this. My vocation is selector, which I don't really agree with, because I believe that real selectors are my colleagues who recognized and created future aces among pioneers, cadets and juniors, who I today prepare and fit into a harmonious whole. Great work has been done on many levels in order to come to what we today call the champion team. Through years of maturing, those boys were taught to respect and believe the team, to grow with it and give themselves completely, which finally determined the victorious atmosphere when they matured for the big scene.
The appearance of superior teams and individuals pushes aside the fact that contemporary generations do not dedicate themselves to sports with such vigor and passion, necessary for supreme results.
– It is so everywhere. New generations are born with the sixth finger, used for video games and mobile phones. It undoubtedly influences the visible changes of motoric functions, as well as the sports intelligence of young generations, although I believe it is not as expressed in water polo as it is in some other sports. Still, deviance from some earlier systems is noticeable, because the sense of the game is lost, so players, even national team members, look like each other. Of course discipline must exist, but there is a growing lack of skill. Talent will always be necessary, as well as frequent training repetitions, which is the foundation of learning, but creativeness is lost, so contemporary sportsmen are gradually growing into serious terminators. Furthermore, the period of maturing of top athletes is, unfortunately, moving upwards, which undoubtedly disturbs their development. These things need to be taken into consideration.
POWER AND WEAKNESS OF MONEY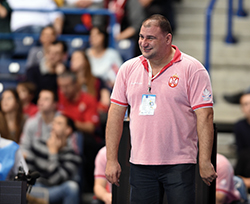 Growing with sports can impose a heavy burden of responsibility and discipline, which young generations find hard to bear.
– Of course it is accompanied with various difficulties, which can waver many. Discipline is most important, as well as self-consciousness, but there is also something else – accepting responsibility on the level of courage. And, courage is always accompanied with madness.
How does Dejan, with all these impressions, see the possibility of his children becoming involved in sports?
– To be honest, I'd like that. If I feel the talent and wish in them to be involved in sports, I'll do everything to support them, although I know how difficult it is to fulfill contemporary parameters for being engaged in professional sports. They will have full support in their family, just like I did, which gave me strength to endure.
There is an impression that sports are not as accessible to children as it used to be.
– It is accessible to children whose parents have money. I grew up in a time when selection among talented children was made already in elementary schools, by their teachers. It opened real possibilities to all who wished to try themselves in sports. Unfortunately, it is not so today, because the power of money is dominant already on the beginners' levels. I am sure something must change in that respect, because we are risking loosing many talented children. The problem is not only in the system of investing into sports, because the state is investing a lot into national teams. However, there should be a categorization of sports of national importance, and solutions found for maintaining the system of club sports, because our clubs are collapsing. We are witnessing the paradox that our female basketball players are champions of Europe and won bronze medal at the Olympics in Rio, yet we don't have the female basketball premier league in Serbia. Whether and how long the water polo league will exist is also questionable, even besides the results achieved by the national team. Serbian sports are sinking into contradictoriness called massiveness, but amateur massiveness.
How much are top athletes ready to learn in other fields except sports?
– Mediocrity is the worst human feature. In order to overcome it, one should continue learning his entire life. It is the same in sports. You can be a champion and better than others, but there must always be an upgrade, not only in terms of sports values, but also in general human, cultural and all other values that describe the time we live in. I have the pleasure to have a group of such young men with me, whose character is open for different interests and knowledge, which actually helps them grow into complete personalities, ready to resist the most difficult sports and life challenges.
DIGNITY, PERSISTENCE, HUMOR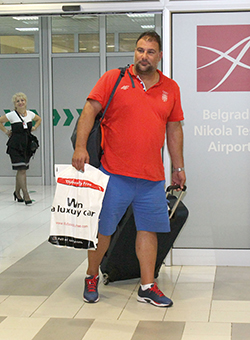 Are sportsmen aware that, for a long time now, they have been the only true pleasure for the people, who have been betrayed and disappointed so many times?
– We are aware of that and honored to bring joy, if only for a moment, to people who have been living under the burden of great crisis for a long time. We know the pressure people are suffering and that only they know how they get along. We are therefore proud when they recognize the strong will we represent them with and fight. I'm especially glad that they identify with us as personalities without false patriotism, which has become very frequent in the public scene today, so much that it became the favorite activity of many.
In a time when, unfortunately on many levels, there is a readiness for submission and servitude as a way of "getting closer to the world", sportsmen are the only ones showing decisiveness and readiness to fight and win the battle.
– I will mention only two things: persistence and dignity. When a human is deprived of dignity, he becomes a rag. We, as a nation, can feel and recognize it. It's not what we call Serbian pride and spite, because the wrong understanding of these features has brought us to where we are today. There are no compromises with real values, and it's not possible to give them significance other than what they actually have. It's a way we grew up next to our parents, family, friends, neighbors, in a time when it was important and according to which people recognized each other.
If we recognize what we don't like in ourselves on the opposite side, will we have the strength to change it?
– We'll then see something bordering with cowardice and wrong awareness about ourselves. We cannot change history, but we can gain useful experience, so that some things don't repeat in the future. Each Serb should look at himself in the mirror and understand what needs to be changed. However, we must start from ourselves, without forgetting to preserve and develop what is worthy. For example, I appreciate Serbian humor very much and believe that it has kept us alive. However, we rarely succeed in making ourselves laugh. I think that the one who achieves it is very lucky.
CULTURE MAKES A NATION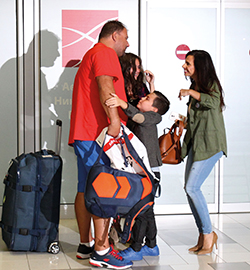 If you had more free time, how would you spend it?
– With my family. That's my generator and my strong foundation. Besides that, I would also watch movies, read books and sleep. Depending on the mood, movies have taken me from Japanese and South Korean horror films, later copied by the Americans, through Russian classics, to contemporary serious and modern Russian movies. I also think Scandinavians have a serious production. I have never seen a bad French movie. In literature, I like belletristic, but lately also read biographies of famous people.
How do we describe the actual moment in Serbian culture?
– Same as in sports. We have great talent and undoubted dignity, but no real possibilities. Culture makes a nation, and it has to be preserved. It's a fact that it's easier to identify with sports in this time, but culture is what determines the essence of nations and personalities. Just think of how our culture developed through history and how big its contribution was to our maturing. Therefore we must be engaged in it more seriously and invest great efforts to help it overcome all challenges.
Did contemporary Serbian culture give its best to promote the Serbian nation as sports have?
– Unfortunately, no. However, it could have if it had more real possibilities. I don't want to be excessively critical and comment what is dominating the public scene, the reality-show populism, various series and everything offered in instant form. However, it is turning into a dominating model, imposing trash as a real choice. Serbian culture has potential for much higher achievements. If we cannot change it, at least we don't have to be silent. Perhaps that is how changes will come, at least from the underground, or the so-called new black wave.
Do the media really understand the Serbian supreme sports results?
– There is no doubt that the media have lost the skill of writing and speaking, let alone the possibility of understanding and the gentlemanly attitude towards the observed. The persistent aspiration for sensationalism is in line with today's time, but at the expense of journalism ethics and ability to realistically estimate the course of certain events. Finally, the wording in the media is the mirror of everything and, unfortunately, there is a growing lack of authority in them.
At the end, is there anything sensational in supreme human achievements?
– Yes! Humor, happiness, love, which can be results of small things. It's not necessary to be a champion to feel good, but if we feel good, we will be ready to overcome ourselves. We should start feeling satisfied with small things, not watch everything as a sum of expensive bills.
***
Cage and Key
– Fear can show you how much you're worth and how much you can do. However, artificially induced fear, imposed from aside, from some media and through certain pressures, is unacceptable. My team can recognize that. Through such pressures, unfortunately, we became afraid of ourselves, so we put ourselves in a cage and lost the key. We didn't look like ourselves until we found a way out of it. This is a summary analysis of the entire performance of the Serbian water polo team at the Olympics.
***
Sobering
– The course of contemporary civilization is rapidly accelerating. Changes, most of all technological, then scientific and cultural, are hard to follow and understand. Achievements in certain areas are undeniable, but the fact is that the courses of development cause the loss of some elementary values, upon which the world has rested for a long time. It doesn't bring good and I'm afraid there won't be any transformations before some great wars take place. History teaches us that big misfortunes sober up people and remind them of humaneness.