Oases
THE RIVER ISLAND OF KRČEDIN, A UNIQUE PLACE ON THE DANUBE
The Island of Horses and Freedom
It started, they say, when the old farmers in Krčedin replaced horses with tractors. It is known that the relationship between horse and man is strong, deep. So the farmers decided not to use their horses to make sausages but to send them to freedom. Transported them to a nearby river island and set them free. The herd has grown bigger, of course. No one knows how donkeys, cows, pigs and occasional sheep got there. But there they are, in this unusual community of semi-wild domestic animals, on this island of almost nine square kilometers. In winter In winter, when everything is casz in frost and wind, people cross on boats and bring food and salt
By: Vladimir Janković
Photo: Želјko Sinobad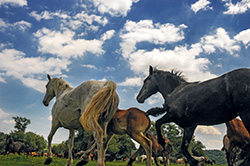 When, some time ago, a wise man came up with an idea to plant Canadian poplars in our country, along the banks of the Danube and Sava, his intention was that this tree would be a raw material for a paper mill. Indeed, willows were fell, and poplars were planted in their place. The factory, a minion of our printers and publishers, has meanwhile ceased to work, and the equipment ended up as scrap and sold for peanuts. Only the Canadian poplars still reminded people on it. And only then Misha Đonić from the fish farm "Beograd" said out loud that this tree is the worst pest and an unforgivable crime against fresh water fish, because its bark secretes taine that is disastrous for young fish. So we lost both the fish and willows, with Canadian poplars with which no one knows what to do. Because this tree is so brittle that it cannot be used as firewood, let alone something more serious or entrepreneurial. Every spring,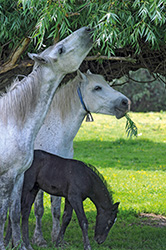 residents of towns along the coast struggle with the so-called "fluffs", fluffy poplar seeds blown by lowland winds around the town street, to the dismay of those suffering from asthma and allergy, whose number is increasing, as well as their doctors, whose number is decreasing.
The rare true, indigenous willow trees have been preserved in the Danube marshes and on the Island of Krčedin, which has been placed under protection in time as a unique nature reserve, although not because of willows, or at least not only because of them. This river island that has settled below the slopes of Fruška Gora, only thirty kilometers downstream from Novi Sad, has become famous beyond the borders of Serbia for its unusual residents. It is a reliable shelter for (semi-wild) domestic animals – horses, donkeys, cows and pigs, and an occasional sheep. And the feathered residents, aquatic migratory birds and resident birds, are there like at home.
THE HOME OF RETIRED HORSES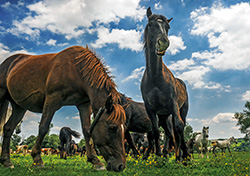 Branko Smuđa is a farmer from Surduk. In addition to everything else, on his estate he fattens about ten pigs every year: some for himself and his folk, and the rest for sale. He serves his own corn and factory made feed to the pigs. Half and half. But the experience taught him not to feed the fattened pigs anything in the last month?!
– I don't starve them, of course not – he laughed at his quest's concerned question. – I take them to the Island and let them run into the wilderness, and they find their way there somehow. They furrow around as God commands, and always found something, and we have not lost a single one. I take them back in early December, in the eve of the pig slaughter, and their meat is better and considerably tastier after that. People know for this, many farmers from Krčedin and the surrounding villages Krčedin have done the same for a long time.
It all started with horses, at a time when when the old farmers replaced them with tractors. As we know, the horse is the biggest "pet": if someone keeps horses in the barn today, they do this because they respect and love animals, and not to use them for work. They harness them on rare occasions, only to show off and brag. The greatest reward to such a pet, along with friendship with a man (if any), is the unbridled freedom.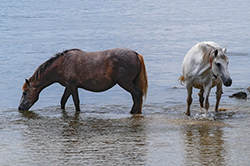 – These horses are free, because there are no people to preach to them, but it is not true that no one takes care of them – Branko got serious. – Especially in winter, when frost and snow cover everything, and all the food they have are willow twigs. The owners cross on the boat and bring them some food and salt, and they always go there when a horse gives birth, to help and watch out. And, as far as I know, it has not yet happened that a horse has died. They run in herds, but when people come, it is fascinating how they recognize them and gather, each with his own mate. Like children. Wonderful. It is similar with donkeys, only there are fewer of them. This friendship between humans and animals, and particularly humans and horses, is so pure, devoid of any calculation, not like the one among neighbors.
He only does not know how cows and sheep got to the Island of Krčedin?
– It has been known from time immemorial: if you want a good lamb or veal, you have to go to the mountain; if feel like having pork, only in the plain. I don't know who has reversed this, when and why? This only does not apply to horses... although they are from the mountain, still, the yare a little different.
Afterwards he lamented on the Island of Krčedin as the last resort, as some sort of home for retired horses, with special emphasis on the fact that, unfortunately, the man was and has remained one the most vicious animal among the prey animals, that humans are the only species that kills not only out of necessity, but also for pleasure. But that is another story.
A DREARY CLOUD AND A FEAR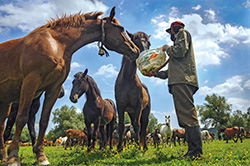 The Island of Krčedin is perfect for what people have intended for it. In addition to being the largest Danube island from the confluence of the Tisa to the Black Sea, and it stretches over nine square kilometers, its soil is mainly swampy and unsuitable for farming. If it were different, there would be no animals there, or this story. But, however, a gloomy encroached cloud over it. As usually happens, tourist entrepreneurs from Inđija are looking for ways to make use of this pearl of unspoiled nature for their own work, and bring guests from the country and the world to the Island. If they rush here, and they will, it is obvious what would happen to the unfortunate animals, no matter how we took care of them. It is not for nothing that the farmers above the port fastened a board sign saying "The Last Oasis", probably after that wonderful documentary by Petar Lalovićabout Kopački rit, which made him famous in the world and crowned him with awards.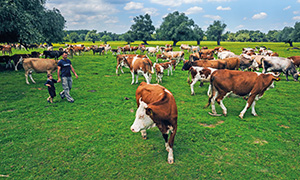 True, the wiser ones are aready bringing tourists, but they do it by having them make a circle in a boat around the Island of Krcedin, without landing without the attack on the solid ground and residents of the island, so as not to disturb them in their won freedom. This tour is actually a kind of photo-safari. Only a few professionals were allowed to shoot on the island, and they earned this privilege because of the needs of the Vojvodina Institute for Nature Conservation, which takes care of this unusual Island and its fauna.
Back then there were proposals to make a similar oasis on the Great War Island in Belgrade, at the confluence of the Sava, but the vicinity of such a large megapolis and so many people placed this idea among fantastic and unrealizable projects. A pity.

***
In the Pockets of the Danube
With the slopes of Fruška Gora, under his right and great plains under his left armpit, the Danube makes several turns, backwaters, meanders and islands. One of the biggest islands is the one in Krčedin: the Danube moved to the south, cut its own meander, which created an island with an area of 8.8 square kilometers. From the south it is surrounded by the "live Danube", the main stream, and from the north the old riverbed called Dunavac or Gardinovački branch. This branch leads to a whole network of other branches and ponds, a small swampy maze. In addition to the colonies of many bird species, the island (as we have described), is home to horses, cattle, donkeys and pigs, who live here freely. According to scientific classifications, on the island (as we described), a free, live horses, cattle, donkeys, pigs. According to scientific classifications, they are semi-wild, but when you go there you are enchanted with their beauty and tameness.
***
Fishermen
The animals on the Island are also looked by fishermen, the old Danube wolves. When they have surplus of white fish, they unload it near the bank, for a sow to feast on if one comes by. They, fishermen, have also grown forn of this ISland. They say that the Dunavac, this branch of the Danube, is the right address for real fishermen.