Introducing
MIRJANA KUSMUK: "WAR AND PEACE IN BOSNIA"
Reminder and Warning
"War as a testimony, peace as a message". "Young people deserve peace". "People's destinies between the covers". "Told the most horrible stories in peacetime language". "Anti-war message for the future and coexistence"... These are just some of the headlines in Bosnia and Herzegovina and the Republic of Srpska that accompanied the release of the book "War and Peace in Bosnia" by Mirjana Gojak, published in September 2016
By: Mišo Vujović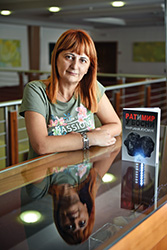 Publishing house "Besjeda" from Banjaluka published a book by Mirjana Gojak, a prominent journalist, columnist and editor of several high circulation daily newspapers in B&H, entitled War and Peace in Bosnia. This book, document or testimony, sheds light on the many unspoken or "misplaced" events in the war turmoil in Bosnia in which Serbs, in advance declared the aggressors on their own land, were killed as victims of the very same weapons as during World War Two.
With a routine of an experienced documentarian, chronicler – a war reporter, in the first part of this small archive of the war in Bosnia, Mirjana Gojak mentions a lot of unmentioned events, starting from the completely unknown fate of Serbian village of Žeravica near Han Pijesak burned down at the dawn of Ilindan in 1993. Who knows today of the brutally murdered Jovan, Zorka, Danica Sokanović, Aleksa Golijan and Rajka Todorović, who now knows that Milovan and Dobrivoje Golijan and Marko Mirović were burned alive?
That morning, cries "Allahu Akbar" and "Catch the women alive" were heard in Žeravica. Who could believe? Then and today, they disregard the fact that this cry, which now chills the blood of people from America to the European capitals, started in Bosnia where it raged, as evidenced by this book, not only civil but also a religious conflict.
Mirjana Kusmuk ends this touching testimony as follows: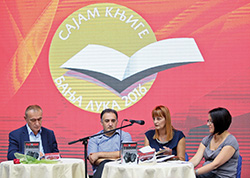 "Žeravica was home to families Sokanović, Golijan, Mirović, Todorović, Vasković, Batović, Vasilјević, Janjušević – 120 of them. Now there is no one, not even a dog to bark..."
In this chronicle of suffering, Mirjana Gojak does not distinguish people by religion and ethnicity, but by their actions, proving that a nation at war has no religion nor nation. To the poor in war have no nationality, no matter to which God they pray to or worship. She does not separate victims but, with her talented eye of a war reporter she also records the suffering of Croats who were fleeing Vareš, searching for shelter and evacuating through the territory of the Republic of Srpska. She writes of Grbavica, about the bombing, offensive, war luck, the latest migration under Slobodan Milošević, but also about important historical facts, removing stains from the names of some people and events. The suffering pours out of each chapter, uncertainty, tension and anxiety are fluttering in every sentence. The author convincingly describes the devastated villages, streets, cities, people's emotions, their inner struggle, watching death in the face, the victory of determination. She writes about the guest house on the first line in a deserted city, about the state when one goes numb and about no fear, about a wounded hero who refuses to step down, about desertion of the president of the War Presidency of Novi Grad, games and different interpretations of Dayton, "pragmatism" of Milošević that who was at the time treated as treason and today as a great achievement, about the migration of Serbian Sarajevo, about the forgotten wounded people in Slankamen in the chapter entitled "Beyond the Sorrow"...
VICTORY OF LIFE, DESPITE ALL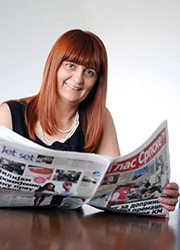 All this war chronicle of the horrors and suffering sends a strong anti-war message. This testimony confirms the evangelical saying that every truth spoken on earth is heard in the heaven. The first chapter, full of dramatic and tragic scenes, the author ends with the victory of life, "Dučić's Poetry Evenings", listing the giants of the written word who entered the city under Leotard to once again submit a report to the "Prince of Poetry" from Herzegovina, a poet, philosopher, philanthropist, patriot, optimist, don Juan... Jovan Dučić.
In the second part of the book, entitled "Peace in Bosnia", Mirjana Gojak continues with memory of the tragic poet and writer Branko Čučak, whose fate asks the "painful question of morals and values of society". This sad story intertwines destinies of many marginalized and rejected talented people, it testifies to our tendency to throw pearls under our feet and raises the question of heroes who today live on charity. At the end of this column, the author asks anxiously: "Does this nation really have so many talented nation and great people? Does it have so much luxury to reject those who live forever? (...)But only the society that, in its immaturity, is trying to equalize everything and everyone can treat the pearls of its own culture inhumanly and disrespectfully, until it goes extinct itself."
M. K. also speaks of the breath of decay in the column about Professor Momir Đelić who publicly spoke about the fabrication of academic mediocrities, devaluation of education, about the pseudo-intellectual elite, about rubber stamping of diplomas and academic titles... in short, about systematic and in-depth killing of a nation.
The author concludes that the silence of the academic community and his colleagues "gave to prof. Đelić the significance of a moral and intellectual hero, but also showed what kind of swamp we live in".
SPEAKING ONE'S MIND
Rhetorical wealth and vivacity of the spirit that does not lack the most important spices of irony and satire, is testified in the column "I wish I was a bull", which reminded the author of this article about the long-forgotten Stanoje Ćebić who had been selling for years around the "Bermuda Triangle", the bohemian quarter of Belgrade, his first novel, How I became an Ox. His autobiographical hit of the 1980's, published in about twenty revised editions, adding to each one an authentic chapter of life, sparing neither himself nor others. As a blacksmith and fighter for workers' rights, Stanoje changed 150 companies, squandered two necessary accommodations and an apartment in Voždovac, was arrested 500 and jailed 90 times. He wrote once to Josip Broz and the Secretary General of the UN, after the second book "There Is God and There Are Oxen" he was admitted to the Association of Writers of Serbia. He will be remembered also for proposing to Jovanka Broz, when he wrote to her that her husband would have similar characteristics as the late president:
"He had many women, I had many women, he worked in many factories, I worked in many factories, he changed cities and states, I changed cities and states...."
Motives of Đuro Damjanović to become a bull were also of material nature, because Damjanović, as the winner of "Kočić Award" received 1,000 Deutsche Marks, and the winning bull 1,500 Marks. With a cynical reference to the content of the "Kočić's Assembly", which was dominated by laying a wreath at a dozen locations, the author reflects on the provincial degradation of also other events in which "the provincial writers organize the days in which they celebrate them, and glorify themselves", from the "Days of Višnjić", "Andrić's Paths" to the "Dučić Poetry Evenings", depicted in the last chapter, reduced to a local character:
"And the "Dučić Poetry Evenings" used to be a great event, in the war years and for some years after the war, when we were really broke", Mirjana Gojak recalls in his column with nostalgia.
The other chapters are also filled with all those unrests carried with what comes after the war. Today, it is packaged in a variety of forms of transition, kleptomaniac privatizations, alienation of public property the creation of new elites (...), about which this book of reminders and warnings speaks openly.

***
To Vida and the Future Generations
"The book is dedicated to my daughter Vida and the generations to come, and to whom we should have left a little better world. Because, when we look at war, suffering and what we live in today, the completely collapsed system of values, the question is what it was good for!? And what is it that we got from our struggle!"
***
Biography
Although working in journalism for more than 25 years, Mirjana Gojak for the first time, as she says, found time to encapsulate in one place some of what she had published in her rich career as a journalist and editor. In her career as a journalist she has passed through all the steps, from reporter, parliamentary reporter, war reporter, desk manager to the editor-in-chief. Since June 1992, she worked at the Srna Agency, first as a reporter, then as the desk manager. She followed the work of the first session of the National Assembly, as well as the Government of Srpska. She reported from the front lines from Trebinje to Grmeč. She wrote for "Frankfurt News" and "Javnost".
Covered the front lines from Trebinje to Grmeč. She wrote for "Frankfurt News" and "public".
From 2001 to 2008 she was deputy editor-in-chief of "Nezavisne Novine", and from 2008 to 2013, the editor-in-chief of "Glas Srpske". At the same time she was a correspondent of news agency Fonet from B&H. She has been a member of the Management Board of the Association of B&H Journalists since its foundation.
From 2013 to February 1, 2016, she was a columnist of "Glas Srpske". She is currently employed as head of the Department of Public Relations of the National Assembly of Srpska.