Winner
ALEKSANDAR ĐORĐEVIĆ, BASKETBALL GIANT AND SERBIAN NATIONAL TEAM COACH
New Challenges Await Us
He burned in many fires and showed very early that there is something of a samurai, something of a hayduk in him. Something so Belgrade-like. Son of famous coach Bratislav Đorđević, he crushed "Zvezda", the club he started in and which declared him untalented, at the age of seventeen, with a three-point shot in the last seconds. That is how he also sunk "Juventud" in 1992, in the Champions Cup finals in Istanbul; Croatia at the European Championship in Barcelona. He threw in 41 points against Lithuania in the Athens finals in 1995, with nine three-points, and made his team golden. (…) We call him Sale Nacionale. Since the end of 2013, as the national team coach, he returned the national team of Serbia to the world top and renewed its cult in the Serbian public
By: Dejan Bulajić
Photo: Basketball Association of Serbia, Personal archive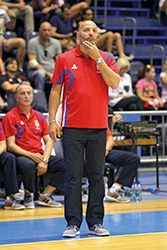 Sleeping on laurels is not characteristic for champion sportsmen, because they simply don't have time for such things. It could be said that the quickly replacing challenges are a handicap for their careers, so real opportunities for enjoying achieved successes pass easily and quickly. Coaches are no exception either. Especially not those who simultaneously develop careers both in coaching clubs and the national team.
Saša Đorđević (Belgrade, 1967) knows the taste of glory already since his playing days, when he wore the jerseys of "Partizan", Italian "Milan", "Fortitude", "Scavolini", Spanish giants "Barcelona" and "Real", as well as NBA team "Portland", all with success, with the addition of unforgettable performances for the national team. All this is now a series of imposing memories of an exceptional career, which give way to actual events, changing with the same frequency as in his playing career.
Just as he used to be leader on the court, Saša is now leader next to the court, since he shifted his basketball master skills into the work of an exceptional strategist, who didn't need much time to excel in that role as well.
He achieved his greatest coaching successes on the bench of the Serbian national team – silver at the World Championship 2014 and same medal at the Olympics in Rio last summer. The last result initiated us to ask him to take another look at what he had achieved up to now with our national team. However...
– I hardly have time to draw a line, because I'm used to always look and think ahead. After the finals in Rio, we immediately turned to our next action, the European Championship in 2017. We certainly achieved an important result in Brazil, which some consider the most valuable up to now, and we can easily agree on it. However, we don't have the right to remain on this, because new challenges await us. I believe the public knows my philosophy, both sports and personal. It is visible in both of my careers, playing and coaching, and I'm the same outside of the court. The fact that I'm very ambitious is the starting point of my life and everything begins there.
Those who succeeded in winning medals and titles know how difficult it is to remain on top, mainly due to the constantly growing pressure.
– Not a single external pressure can be bigger than the demands I set for myself, although I can't deny that such demands do bring certain pressure. I'm very calm regarding everything that happens around me. I believe that my strong competitive character contributes to it, deeply rooted in the nature of my personality and additionally consolidated through my career. In time, it helped me strengthen my faith in me, so now I confront any challenge without any particular burden.
RESULT AS A MEASURE AND CATALYST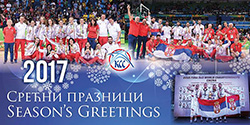 Clearly expressed optimism is one of the features of his character. The question is, however, whether the players are ready to follow him, with such determination as his?
– There is no special recipe for optimism. One of the most important things I manage to pass on to my team is actually the consequence of my character. It is my view of tasks and ways of handling them. It is a system of working and obligations, with a real approach and, what's especially important, with a lot of positive energy, creating a good atmosphere and imposing a feeling of self-assurance.
Many agree that one of Saša Đorđević's greatest successes is reviving the cult of the national team.
– The cult comes with results. When successes come in series, everything is seen with warm eyes. Results are crucial in sports. They are the only reliable measure of value. Everything that happened during the previous years contributed to making Serbian basketball appreciated again, people began bonding to our players, supporting them, even when they are not doing well, which creates a positive ambient. I must emphasize that the excellent results of our female basketball team, which we are all very proud of, has contributed greatly.
When did he become convinced that the players trust him and are ready to unconditionally follow his requests?
– Watching the statements of players in the media, there is an impression that not everyone believed in our strength. I don't know what date it was, what moment it was for them, but I think it was the defeat against Spain, in the 2014 World Championship group phase, partly also because of one of my reactions in the court. As far as I'm concerned, I had a clear picture a month earlier, at the tournament in Trieste. During one of the time-outs, in the second game against Canada, ten minutes before the end, at the moment we were leading by 20 points, I told my players: "I've seen everything I need!" Many didn't understand what I wanted to say then. Even my associates asked whether I was crazy?! Seven days later, at the tournament in France, Miloš Teodosić, who was injured, told me: "You'll have a big problem whom to cut!" He said it because of the way the players played on both tournaments, because of the passion and sportsmanship they exhibited. I replied "You and me will have a problem. You're responsible for it as well."
THE TEAM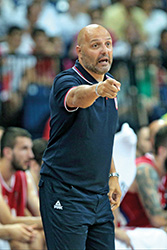 If we ask what the greatest quality of our team is, the coach will say, without hesitation...
– Fellowship! We are the team! I'm very proud of that slogan, not only because I launched it, but because I believe that a large part of me is woven into it. As a former player, I know how important it is to have a team breathing like one on the court. It is a bundle hard to break, defending itself even when things are going badly. It is the bloodstream of the team, its strength.
As a player, he was part of a trophy winning generation, which destroyed all obstacles, not only with its talent, but also with the strength of its character, and the playing style of talented boys. Can a similar pattern become a key to sports success today?
– The relationship with the national team is built and strengthened whenever possible. It is a process developing not only in big competitions, but also between them. We should all try to emphasize it in the right way. It's not just a feature of my generation. It was such before as well, there was always someone you could look up to. It's something derived from the personal. For example, a few days ago, Mladen Mihajlović, fitness trainer of our national team, who works with me in "Bayern", told me that there is nothing bigger than the emotion for the national team, nothing stronger than what it offers you.
That feeling, unfortunately, is not so strongly expressed among boys and girls, since a decreasing number of them are actively involved in sports.
– The challenges they are exposed to are incomparable to previous times. For us, it was natural to spend our free time playing, while they have other possibilities as well – an abundance of TV broadcasts of different contents, the internet, video games, unfortunately bookmakers as well. All this makes them significantly different persons, which don't easily accept discipline, sacrifice and responsibility. And without them, there is no serious engagement in sports. To put it simply, there are no shortcuts in sports.
SPORTS HUNGER AND DEDICATION OF THE PROFESSION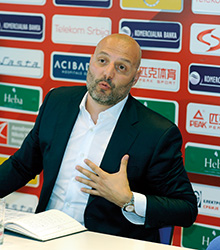 What is there to be systematically done so that Serbian basketball doesn't lose its swing?
– It's a complicated question and I could speak about it for days. We mustn't stay on plain speech-making. We should move from words to deeds. Think thoroughly about useful projects, design them, stand behind them and continue with them to the end, without hesitation or second thoughts when things already begin developing. It is necessary to connect with the profession, to develop infrastructure, improve working conditions, insist on educating young players, frenetically work with them. The basketball knowledge should constantly be inserted into their heads and they should be taught that basketball is the objective, not the means. We should do our best to make them fall in love with basketball, to approach it, to appreciate and love it.
Phenomenon of Serbian sports?
– Sports hunger explains the phenomenon of our sports. It is something that depicts the general features of our nation – the wish to succeed, to be the best and invest maximum efforts, without restraints, sometimes with fanatic devotion. However, all this is only a part of the story, because on the other side are experts who lead sportsmen, without which there wouldn't be such results. Most people don't know much about them, especially not about their devotion and working to the smallest details in every sport. The foundations of Serbian sports lay on them. Thanks to such people, new talents, new champions, are growing every year.
Are sportsmen aware how much unspoken pain, even rage of an entire nation lays in their victories?
– I have always been aware of that. That is where part of my strength comes from. My players' generation had a very clear attitude towards it, while a similar attitude is cherished by the players of the present national team. Sportsmen are very aware that their performances represent a great satisfaction and thus try hard to reach the highest results especially in the national team. Unfortunately, you cannot always win medals, but I'm sure that our sportsmen have in mind the passion of people watching our games and how much every victory of ours means to the entire nation.


***
Kinds of Criticism
– It is related to general culture, the situation we are in, the state of the society. Depends on who the criticism comes from. We very often confront malicious criticism. Instead of being initiated by a wish to push something forward, you can clearly see that it is stated out of pure envy. After all, people easily identify themselves with sportsmen and follow each of their performances with many emotions and emphasized passion. It is generally known that the hardships become heavier when sports failures come. That is why sportsmen experience failures much harder, because they are deeply aware of how our public reacts to them.
***
Next Year in...
– I believe that the next European Championship is the continuation of what we have begun, but it definitely must be related to the beginning as well. We cannot stop. We have two excellent results behind us, which showed what we are worthy of. It is enough for encouragement, as well as constant hunger for new victories. This team still hasn't said everything and I'm deeply convinced that there is still much space for advancement and improvement. We will go to every following competition with new, fresh strength, and wish to fight and win. It will be the same in Turkey next year.