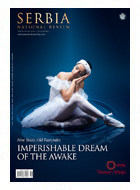 SERBIA - National review, No 59


Prologue
Nothing here is entirely new. Neither the year, nor the emperor's clothes, nor the ludicrous performance around with us with a pathetic ending. Neither the introduction, nor development, nor the conclusions. As early as 1987, an aphorist wrote: "I am optimistic because it cannot be any worse." And you know already all the dark wonders that have ran over us meanwhile, the tragedies, farces. That is why many people only wished that in 2017 it does not get any worse, and that the insane self-deprecations stopped. It may sound tedious, just like the politics in the protectorates, but it is a wise wish of experienced people. Very experienced. <


CONTENTS
Prologue
LET US BE LIKE CHILDREN, PURE AND JOYFUL
Holiday
Vitrage
NUMBERS, EVENTS, INTERESTING THINGS
Album
THE POWER OF WINTER IN SERBIA
The Healing Whiteness
Capital
BELGRADE BECOMES A MUST-SEE SIGHT ON THE WORLD TOURIST MAP
The Next Big Destination
Important international media, from "New York Times" to "Corriere della Sera", from "Travel Channel" to "Sky", describe Belgrade as "the most promising tourist destination in Europe", "the city you must have in your travel itinerary". The number of overnight stays increased by 12 percent in one year, and Belgrade is third on the list of top 10 congress destinations in Europe. Many factors contributed to it, including investing into infrastructure and expanding the tourism offer, direct flights of "Air Serbia", and safety and improving of the country's image. The creative campaigns of the Tourist Organization of Belgrade have also done their part
By: Miodrag Popović
Oases
THE RIVER ISLAND OF KRČEDIN, A UNIQUE PLACE ON THE DANUBE
The Island of Horses and Freedom
It started, they say, when the old farmers in Krčedin replaced horses with tractors. It is known that the relationship between horse and man is strong, deep. So the farmers decided not to use their horses to make sausages but to send them to freedom. Transported them to a nearby river island and set them free. The herd has grown bigger, of course. No one knows how donkeys, cows, pigs and occasional sheep got there. But there they are, in this unusual community of semi-wild domestic animals, on this island of almost nine square kilometers. In winter In winter, when everything is casz in frost and wind, people cross on boats and bring food and salt
By: Vladimir Janković
Photo: Želјko Sinobad
On the Fire
IN LOWER VRBAVA, NEAR GORNJI MILANOVAC, WITH A COOL HEAD ON HOT RAKIA
The Holiday of Šumadija Tea
The festival in honor of rakia, both cold and hot, lasts forever here. But, here, it has been organized for the eighth year in a row, already a tradition. They call it "Vrućijada" (Hot Festival). They compete both individually and by hamlets, young and old, both for real and make-believe. They taste both standing up and sitting down, only lying down is forbidden. There is everything, except for bad rakia. One must also have a good bite to eat, one does not even drink water on empty stomach. Those who forget this, afterwards do not remember how they climbed up to Donja (Lower) Vrbava. That day, around five hundred liters of hot rakia is drunk. Everything is free, therefore priceless
By: Miloš Lazić
Photo: Saša Savović
Traces
EXHIBITION OF MEDIEVAL KUPINIK IN THE HERITAGE MUSEUM IN RUMA
The Last Capital of Serbian Despots
The fortress in Obedska Bara, on the edge of present village of Kupinovo, a kilometer from the Sava, was an important medieval stronghold. Despot Stefan Lazarević received it in early XV century, at the same time he received Belgrade. It was later a seat of Srem despots from the Branković family. It was announced in Ruma that Kupinik will be archeologically studied and renewed by the year 2021, five centuries after Suleiman destroyed the fortress
By: Mile Vajagić
Pilgrimages
HOPE HAS RETURNED TO THE SUFFERING SERBIAN VILLAGE IN THE SOUTH OF HERZEGOVINA
Prebilovci Are Alive Again
Of the thousand inhabitants of this village, in August 1941, the Croatian army, known as the Ustashe, brutally killed more than eight hundred. It took decades for the village to recover. In the 1990's, at the beginning of a new war, to prevent new atrocities, the inhabitants of Prebilovci went into exile. In 1992, descendants of the executioners blew up the memorial-ossuary of the martyrs of 1941. (...)In the past few years, with the restoration of the temple, a number of Prebilovci residents have returned home. Now, the parish has more than fifteen baptisms a year. They have been renewing their library, working the land, preparing to open the institute to collect materials about the history of Serbian Herzegovina
By: Aleksandra Glišić
Photo: Radovan Dangubić
Introducing
MIRJANA KUSMUK: "WAR AND PEACE IN BOSNIA"
Reminder and Warning
"War as a testimony, peace as a message". "Young people deserve peace". "People's destinies between the covers". "Told the most horrible stories in peacetime language". "Anti-war message for the future and coexistence"... These are just some of the headlines in Bosnia and Herzegovina and the Republic of Srpska that accompanied the release of the book "War and Peace in Bosnia" by Mirjana Gojak, published in September 2016
By: Mišo Vujović
Homage
ACADEMICIAN BORISLAV JOVANOVIĆ (1930-2015), GREAT SERBIAN AND WORLD ARCHEOLOGIST
Discovering the Deepest Foundations of Europe
War orphan from Southern Serbia, he had a difficult journey to the heights of knowledge. He was the first to indicate that the oldest metallurgy in the world appeared on the soil of present Serbia. He became one of the leading world experts in archeometallurgy and made huge steps forward in the research of Lepenski Vir, culture of Vinča, Illyrian layer, the Celts. More than three hundred scientific works were left behind him. However, all that is little known outside of scientific circles. A true devotee, he never played superficial social games, public and secret, never advertised in the media, never boasted with his own, let alone others' achievements. The fact that we don't know enough about him is our loss, not his
By: Dragana Antonović
Lyre
APPROACHING THE 30TH ANNIVERSARY OF "ŠUMADIJA METAPHORS" OF MLADENOVAC
What Illuminates Life
In such a world and time, fast and shallow, nervous and vulgarized, marked by the "senile barbarism" and base materialism, to preserve a poetic event for three decades is a feat. Coping with the anti-culture programmed from the above, with scarce resources and the psychology of a "small community" from below. But it can be done. Mladenovac has thus become a true poetic city. More than two hundred books have been created within this festival, which has twelve of its anthologies, catalogs and studies. And it has become a good example to many other towns
By: Igor Davidović
Etudes
NOVO MILOŠEVO, BANAT, A LITTLE NIGHT GALLERY
The Solstice Ritual
Despite the heavy shroud of winter and darkness, the Cultural Center of Banat Gallery shone that night in the village near Novi Bečej, filled with "small formats" of Dragoš Kalajić and a classical music concert. Joyful people, completely ordinary ones, were able to directly feel the power of real music and live culture, and how little it takes to have the heart of ancientness start ticking in us again. On such journeys, with such thoughts, one can reach endless distances. One can reach their own center
By: Dragan M. Ćirjanić
Photo: NR Press and Cultural Center of Banat
Palette
MIĆA POPOVIĆ (1923-1996), MULTILATERAL ARTIST, TWENTY YEARS LATER
Paintings in the Shadow Theater
He was the first Serbian painter to sign a contract with a Parisian gallery. He had solo exhibitions in Paris (1952, 1953, 1958), London (1954), the Hague (1956)... In 1982, he was guest professor at the New York State University. With the reputation of a prosecuted artist in Tito's time, just like everyone else from Simina Street 9а, he got on astonishingly well at home. He exhibited, made films, theatrical shows, published books. Awarded, accepted to the SANU. His work remains above all controversies and interpretations of the marginal
By: Dejan Đorić
Bridges
"CONNECTION", AN EXHIBITION ABOUT SERBIAN-RUSSIAN TIES IN ARCHITECTURE
A Century of Creative Influences
It began with the work of Russian architects, white immigrants in Serbia between the world wars. It continued with the influence of Russian constructivism in post-war Yugoslavia, actually with echoes and reflections. Today, however, many Serbian design offices and construction companies work in Russia and Belarus
By: Elvira Ibragimova, Marko Stojanović
Photo: Jovana Miletić
Belvederes
MIODRAG RADOVANOVIĆ, PRINCIPLE DRAMA ARTIST, ABOUT THEATER, PEOPLE AND TIMES
Acting Is a Way of Thinking
Theater was more beautiful, more responsible and more serious than real life. However, under the pressure of time, which kills the spirit, it crumbled as well. We are chained in finished moves and final outcomes, already prepared opinions. All this is far away from me. I am still a slave to classics and I feel wonderful in it. The lie that we are self-sufficient pushes us into the iron cocoon of solitude. I don't have internet, I read a lot and share my time with close people. I believe art will overcome all these horrors, because it makes the spirit and soul of the world
By: Aleksa Komet
Winner
ALEKSANDAR ĐORĐEVIĆ, BASKETBALL GIANT AND SERBIAN NATIONAL TEAM COACH
New Challenges Await Us
He burned in many fires and showed very early that there is something of a samurai, something of a hayduk in him. Something so Belgrade-like. Son of famous coach Bratislav Đorđević, he crushed "Zvezda", the club he started in and which declared him untalented, at the age of seventeen, with a three-point shot in the last seconds. That is how he also sunk "Juventud" in 1992, in the Champions Cup finals in Istanbul; Croatia at the European Championship in Barcelona. He threw in 41 points against Lithuania in the Athens finals in 1995, with nine three-points, and made his team golden. (…) We call him Sale Nacionale. Since the end of 2013, as the national team coach, he returned the national team of Serbia to the world top and renewed its cult in the Serbian public
By: Dejan Bulajić
Examples
BELGRADE BUSINESS SCHOOL INTENSIVELY DEVELOPING INTERNATIONAL COOPERATION
Successful Academic Diplomacy
Long-term cooperation with the University of Cooperative Studies "Baden-Württemberg" in Stuttgart has continued and was raised to an even higher level. It started as cooperation with the Ministry of Education of the Chinese province of Hebei. The recent cooperation agreement with the State University "Sophia Antipolis" in Nice, a range of excellent opportunities was opened for students. In the spring, a delegation of Belgrade Business School will be hosted in Washington, DC, at "Daniel Morgan" Academy and "George Town" University...
Connections
END OF THE SIXTH "MTS APP COMPETITION"
Awards for the Best
Creation of original applications for mobile devices stimulates creativity among high school students, develops social responsibility and entrepreneurial spirit. In six years, 86 teams presented 90 applications, and the best were put on Google Play. This year, 12 schools from Serbia participated, which implement a special school program for math and computer high schools
Recommendation
"MERKUR'S" SPECIAL WINTER PROGRAM IN VRNЈAČKA BANЈA
For Complete Refreshment
A special package of services enables checking and improving health, but also relaxation, as well as a number of treatments for regeneration of the body. "Merkur" also gives away excursions to the ski slopes on the mountain Goč. The program lasts from 8 January to the end of March