Reminder
BRANKO PEŠIĆ (1922-1986), MORE THAN A MAYOR
Good Nature of Belgrade
When on one scale pan we put all seventeen mayors of Belgrade after him, and Branko on the other, the true Belgraders know which side would prevail. During his two terms, from 1966 to 1973, 81,387 apartments were built in Belgrade. Sixty six elementary and nine secondary schools were built. "Gazelle" Bridge, Terazije Tunnel, National Library, "Pinki" and "Pioneer", "Beograđanka", five sports center with swimming pools, Skadarlija and Ada rere refurbished, Bitef, Bemus, and Fest were establihed. During all this time, the mayor lived in an old house of his parents in Zemun's Upper Town and never awarded an apartment to himself
By: Miloš Lazić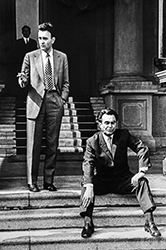 Certainly, some do not think so today, but if we put Branko Pešićon one scale pan, and all those who were at the helm of city capital city on the other, all seventeen of them – Živorad Kovačević, Bogdan Bogdanović, Aleksandar Bakočević, Milorad Unković, Dr. Slobodanka Gruden, Nebojša Čović, Zoran Đinđić, Milan Božić, Vojislav Mihailović, Milan Protić, Dragan Jočić, Radmila Hrustanović, Nenad Bogdanović, Zoran Alimpić, Branislav Belić, Dragan Đilas and still current Siniša Mali – we can guess which side would prevail.
From Ilija Čarapić, the first president of the Belgrade municipality, who took the office on 7 May 1839, to Siniša Mali, the last in this series, seventy-six more or less successful people were at the helm of the city, and Branko Pešić has left th emost profound mark in its turbulent history.
When members of Branko's family a few surviving friends, as well as two hundred admirers gathered on Thursday, February 4th last year, at the Zemun Cemetery, on Gardoš,, to mark the thirtieth anniversary of his departure, it was an opportunity to remember him and his work, the anecdotes and events that had inevitably grew into urban myths.
So we found out that he, and not the current city government, laid the foundations of "Belgrade Waterfront", but in his time it was called "Belgrade on the Sava". New Belgrade blocks strung along the river banks represent the monument to both that venture, and Branko Pešić, and were built with our own funds, mostly from the forgotten Solidarity Fund. At the time of Branko's mandate, more apartments were built in Belgrade is every year than in the whole of Serbia today. In this regard, someone revealed the fact that in two of his mandates as many as 41,000 "residential units" emerged in the capital.
– No –Lazar Pešić, Branko's son corrects them. – Official data say that from 1965 to the end of 1973, 81,387 apartments were built! Most of them in 1970. Also, 66 elementary and nine secondary schools were built in his time, "Gazelle" Bridge, Terazije Tunnel, National Library, "Pinki" and "Pioneer", "Beograđanka five sports center with swimming pools, Ada Ciganlija was refurbished, so many wonderful things. Bitef, Bemus, and Fest were establihed during his mandate. My favorite thing, which is rarely mentioned: he provided a decent little flat for Milunka Savić, a deliberately forgotten heroine of the Great War, so at least she lived with some dignity in her old age.
TRADITIONAL PRINCIPLES, NEW IMAGE OF BELGRADE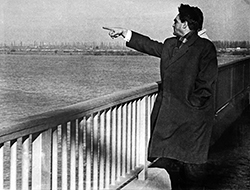 We sat in the house of the Pešić family in Zemun, in Cara Dušana Street in the Upper Town, sipping homemade rakia. We waited for sarma – stuffed cabbage leaves, prepared according to the recipe of grandmother Anka to get ready, made of cabbage grown in her old garden, where Laza still grows all sorts of organic vegetables for family and friends. We talked about what newspapers and official the biography do not record.
– This is the house of my grandfather Dimitrije – Laza answered the unasked question. – It is adapted to the modern times to some extent, but is still same as before the war. My grandpa had three brothers, and there are more members of the Pešić family in this part of Zemun; here they are, together, within a hundred meters. Yes, dad could probably give an apartment to himself, but it never crossed his mind.
In this strange time travel, we were assisted by a huge, hand-bound book, a masterpiece of bookbinding art made in only one copy. It was conceived, written and illustrated by Branko's friends in 1972, on the occasion of his 50th birthday. It contains paintings, sketches and vignettes, beautiful texts written by hand of the author, as well as unique photos, collages...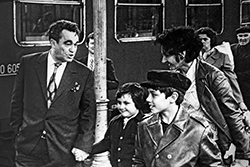 On the faded photo of Zemun high school students, taken in the late 1930's, members of SKOJ – Branko and Janko Abafi, Marko Nikezić, Mirko Tepavac and Branko Pešić – are smiling. Nothing is written on the back, but chronicles say that all five of them, as proven leftists and rebels, were expelled from the school and that they graduated in cities across Serbia. Branko enrolled at the Faculty of Law and had he not been distracted by the war, and many of his peers were killed in it, he would have graduated in mid-1940's.
He almost remained in th emilitary after the war, because he was a senior officer of the Division (a sniper bullet and few shrapnels wondered through his body for the rest of his life as a memory of that time). He was demobilized only when he was called by the City Committee invited to be the president of the Zemun branch of the League of Communist Youth of Yugoslavia. He accepted the new position, but not the salary: he thought that such work should not be charged. It was only when they threatened him that he agreed to take the salary, which was half of what he would have earned in the military. Afterwards he held various positions, all the way to the mayor of Zemun, and was elected the first man of the Belgrade Assembly in late 1964, and in the next nine years he changed the face of this city.
– Not only its face, but also the spirit – says. – Maybe it was not his merit, maybe it was a consequence of the raising standard, but tremendous changes occurred in the habits of the old and new of Belgraders. I was too young to notice, but I listened to the stories of elderly.
UNBEATEN PATHS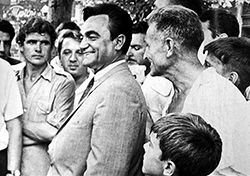 There were rumors that Branko and Đoka Lazić, due to expropriation of parcels between Smutekovac and Guberevac, before the beginning of construction of "Gazelle" Bridge and the access loop, went to Konstantin Popović for "friendly negotiations". Namely, it turned out that a land parcel on that stretch was still owned by the Popović family, and it was not really advisable to expropriate land from a high ranking politician with good reputation among the people. Koča received them and listened carefully, and then he explained that, as a person born in Belgrade, he would not think of asking for something in return, but that he gladly donates the said land parcels. There is, he said, only one condition, to record in the title document of that land that it was a donation of his family (architect Brana Jovin, who designed the Mostar loop, should know something more about this).
– There is something lofty in this – says Laza. – When grandma Anka in the early 1980's intended to build a new summer kitchen here, in the yard, no bigger than a street kiosk, my dad insisted that it is necessary first to do a study, as regulations require. It was a huge book with designs, plans, applications, permits... its preparation was more expensive than the kitchen itself. I still have it. It is a different mindset, today incomprehensible to many. Well, it was inconceivable for him not to be at work before seven in the morning! Or not not to help someone, even a stranger, if he can.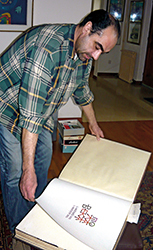 It is therefore not surprising that once he admitted to a journalist that the most difficult thing for him during the nine years of managing the city – was June 1968. Those with longer memory will recall that it was the time of the first, and probably the biggest student demonstrations. Not because he considered himself responsible for anything, but because of the conflicts that had to be avoided. He went with Veljko Vlahović and Miloš to the students entrenched at the underpass of New Belgrade and then he said something that is today interpreted maliciously, so some believe that it is, at the very least, he was personally responsible for the clashes with the police. On the contrary, he told them, literally: "Oh, I have nothing against it, you just demonstrate, but stay behind the underpass".
At the time of "the conflicts with liberals" in the early 1970's, he uttered a blasphemous thought. To paraphrase it: I am neither for this nor for that side, but for reconciliation, so that we continue to work for the good of the country and nation.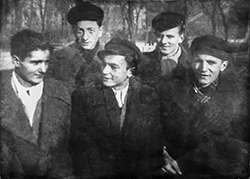 – He has remained like that forever – says Laza. – In addition, dad never forgot his friends, regardless of possible ideological or party differences, which is nowadays a forgotten virtue for many. Thus, for example, went to the funeral of Leka Ranković despite many had advised him not to do so. I think that because of such "sins" remained the vice-president of the Presidency of Serbia for life?
Although, they thought that he was a protage of Josip Broz, thet the president for life was very fond of him.
– I do not believe it. Several times he helped him with his authority, but not out of any particular affection. For example, when the highway had to pass near Autokomanda, it was discovered that the land belonged to the Army. It was considered "a done deal", but general Gošnjak expected to cash out millions and millions of dinars, although only some abandoned sheds were there. Dad wrote a letter to Tito about it, and he answered the very next day. Both him, and Gošnjak. The works continued and that the Yugoslav Army, as far as I know, did not receive a penny.
SUNDAY IS ALWAYS FOR THE FAMILY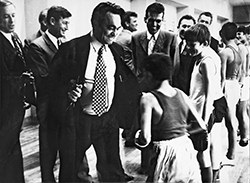 To mark the anniversary of Branko's death many athletes came on Gardos, among them Jovan Džakula, legendary boxing national team member, a multiple state champion from the time when Yugoslavia was in the top of the world in this sport, then still at amateur level, shoulder to shoulder with the Soviet Union.
– I was glad that he came, I know that dad respected him greatly as a top athlete and a good man – Lazar got emotional. – Although many believe that my father was a boxer, that is not true. The story about boxing is, however, somewhat different.
In this same house, until after the war, Laza's grandfather Dimitrije run the famous tavern "Kod Mite Pešića", with live music. The tavern was opened only only on Saturdays and Sundays, while on weekdays students of boxing school "Dempsey" trained there, and so Branko fell in love with boxing.
– And he hated bowling – adds Laza. – Because, behind the tavern was a bowling alley, where the dad was positioning the pins. He did that to earn some pocketmoney, but also under compulsion, so he hated it. And, as far as other sports are concerned, he regularly visited the Sports Center "Tašmajdan", where he had his victims for table tennis. Milan Rajačić, first of all, although he often found your colleague from Politika, Borko Gvozdenović, an editor, later a correspondent from Moscow and Beijing. My father also went swimming there, although he still preferred the Danube.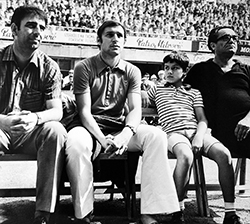 Laza talked melancholically about weekly family outings to Fruška Gora and the entire Srem, where Branko felt at home.
– He persuaded the farmers from the nearby village of Lower Srem to join the city so that their roads would be paved – he confided. – Some accepted it and others did not, only to regret it later. And, when I already mentioned our excursions, I read somewhere that he worked even on Sundays, that he spent the most time in the city assembly, along with the receptionist. This is not true. Sometimes he would stop by there on Sunday, but tht day was reserved for us, and for mandatory family lunch. I took oover that tradition and continued it...
To prove it, he brought a bundle of photographs taken at various beaches of the Danube where they spent time on Sundays. On one of them smiled Serafim, less known as Žika Živulović, our famous colleague?
– Ah, Žika –Laza himself was surprised. – Well, he is our uncle, brother of our mother Desa.
So we started climbing on the branches of their family tree. Lazar, after the customs of Vojvodina, should inherit the name of his grandfather Dimitrije, but was baptized after his uncle who was killed on the Srem Front, while his sister Sofia was named after their aunt who was killed in Jasenovac.
– So we disturbed the order, but that is why my son was named Dimitrije, after his great-grandfather He is a high school student, and daughter Tessa is a senior year university student. They are children, grandfather would have been proud of them.
***
Resourcefulness
– They were going to build a large transformer station, but there was not enough money – says Laza Pešić. – Dad agreed with several close associates to turn off the power in Dedinje every other day for an hour or two. After a while Pepca Kardelј called and asked: "Branko, what is this? We can not go on like this, we are constantly without electricity". He told her: "I know, here, we are struggling, I called the director of the Electric Power Distribution, but it is in vain. We turn it on, but voltage is low, and it geeps going off. We have been planing to build this substation, but in vain. We can not make it, we don't have enough money". The next day Crvenkovski called and said: "Come on, tell me how much you need?"
***
One and Many
In that unique book, the birthday present to Branko Pešić from 1972, our attention is drawn by a page with numerous portraits of Milena Dravić, and Branko's portrait among them. Above this collage, the actress wrote:
"Dear Branko, we are many, and you are only one!"
***
Almost
Once he almost fell out of favor. It happened in 1971, while giuded Josip Broz on a tour around Belgrade, showing him everything that had been done during his mandate. At one moment, Tito said: "Maybe you should include some self-criticism there?" Another person would probably get paralyzed by this, but not Branko. On the contrary, he calmly replied: "Maybe, but we look up to our older colleagues". There was silence, but then somehow it passed and was covered by laugher. It remained at that.