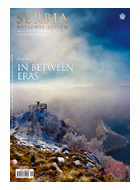 SERBIA - National review, No 60

Prologue
Ten years, sixty releases, one hundred eighty three magazine editions, over four thousand articles of different genres, about twenty thousand photographs. Many names, faces, cities, landscapes. Many discoveries, important references and reminders, "documents on beauty". We are entering the eleventh year and we will not stop taking you on journeys. This time, to Serbian holy shrines in Kosovo and Metohija, to Mount Athos under snow, to the Danube marshes on the outskirts of the capital, to Belgrade to meet Branko Pešić, to the exciting worlds of art and sport... Do not ask much, feel free and get started. <


CONTENTS
Prologue
APPROACHING THE SECOND DECADE OF THE "NATIONAL REVIEW"
The Sixtieth Time
Vitrage
NUMBERS, EVENTS, INTERESTING THINGS
Album
SERBIAN SANCTUARIES IN KOSOVO AND METOHIJA IN THE LENS OF ALEKSANDAR RADOŠ
Light and Sanctity
Heart
ON THE OLD MOUNTAIN, WITH MEMBERS OF SERBIAN MOUNTAIN RESCUE SERVICE
Trouble Has no Working Hours
The voluntary and non-profit organization, founded sixty five years as a branch of the Mountaineering Association of Serbia. A potential member must have a number of important psycho-physical and character traits, then undergo a complex training and then train continuously. The Mountain Rescue Service helps hikers and skiers in distress, as well as residents in inaccessible areas. It was the first to enter the bombed buildings of RTS and the Chinese Embassy. It helped the flooded Obrenovac, miners in the collapsed Mine "Ibar", speleologists in the Ravanica Cave... This winter, it watches again over Serbian ski centers
Text and photo: Dragan Bosnić
Record
ON MOUNT ATHOS, THIS WINTER, IT SNOWED LIKE NEVER BEFORE
Monks in White
A branch of an orange tree grew heavy with fruit and snow. Olive and cypress trees were blooming white. Hermitages and chapels covered with snow and cut off. An off-road vehicle and a tractor are making their way over the hill to the monastery Hilandar. From Gregorijat, on Christmas Day, Daphne Harbor is barely visible through the veil of snow, and is also abandoned. For three days, old Nikodim could not come out of the Hermitage of Saint Sava and make a path through drifts of snow as much as three meters high. People from the Holy Mountain have never seen this much snow, but they rejoice the whiteness that reminds us of the original purity of the world and man. They thanks the Lord for everything, including this
Photo: monks Milutin
Adventures
OVER THE BIG RIVER, ON THE OUTSKIRTS OF BELGRADE
Magical Worlds of the Danube Marsh
Many people spend their lives in a nearby town, two or three kilometers away, and for them this forever remain an unknown land. They never learn that in their neighborhood live wild boars, wild cats, foxes, jackals, rabbits, deer, nutria, otters, gray and white herons, night herons, black storks, pheasants, white-tailed eagles, owls, wild ducks, cuckoos, coots, cormorants... To discover these beautiful and exciting worlds one does not need expensive tour packages and long preparation. All they need is a beautiful day, good will, and comfortable shoes, then straight to the Pupin's Bridge
Text and photo: Josip Šarić
Symbols
ORIGIN AND REAL MEANING OF THE FLAG WITH THE "DEATH'S HEAD"
For the Homeland, until Death
Identified with the slandered Ravna Gora movement for decades and its caricaturized depiction in "partisan movies", this famous war flag actually originates from the XIX century. It was brought to Serbia by Russian volunteers in the Serbian-Turkish war in 1876. It was the flag of Serbian komitas and chetnik organizations in Macedonia, the "Unity or Death" organization, the Serbian strike units in the Balkan wars and World War I, and the flag of the chetnik command, belatedly established in the Kingdom of Yugoslavia Army in 1940. Sworn to the Homeland to fight until death, those marching under this flag say: "We shall win! We don't fear death, since we're already dead"
By: Vladimir Matevski
Reminder
BRANKO PEŠIĆ (1922-1986), MORE THAN A MAYOR
Good Nature of Belgrade
When on one scale pan we put all seventeen mayors of Belgrade after him, and Branko on the other, the true Belgraders know which side would prevail. During his two terms, from 1966 to 1973, 81,387 apartments were built in Belgrade. Sixty six elementary and nine secondary schools were built. "Gazelle" Bridge, Terazije Tunnel, National Library, "Pinki" and "Pioneer", "Beograđanka", five sports center with swimming pools, Skadarlija and Ada rere refurbished, Bitef, Bemus, and Fest were establihed. During all this time, the mayor lived in an old house of his parents in Zemun's Upper Town and never awarded an apartment to himself
By: Miloš Lazić
Palette
MALIŠA GLIŠIĆ (1886-1916), GREAT, YET FORGOTTEN PAINTER OF EARLY SERBIAN MODERNISM
Fallen Warrior of Art
Although his paintings are exhibited in some of the most important Serbian museums, no one found it convenient to organize at least one solo exhibition to mark a hundred years since his death. It's the same as if the French completely forgot Claude Monet. He was a Serbian war painter from 1912 till his death. He found his light and the phenomenon of radiating color. He freed the palette and technical procedure, introduced bold coloring, new emotion, tactile value of a painting. He was one of the most vivid Serbian landscape painters and remained joyful in his death. But, did we deserve him?
By: Dejan Đorić
Fairytale
MANDREL THE DWARF AT THE END OF HIS JOURNEY
Tears on Top of a Skyscraper
He overcame many horrible obstacles, he was wounded and healed his wounds. He saved children in the White City, on which villains poured flaming eggs. And finally found the one all this was worthwhile for. He wanted to tell her the most beautiful fairytales of the world, to light her up with beauty, protect her with love. But she didn't listen to him. She had to answer her phone, answer an SMS, play a game. She wasn't interested in fairytales. Immersed into the abyss of her screen, Little Princess didn't see his tears. So Mandrel embraced his eagle and flew towards a little planet, where a boy cleans three volcanoes with a toothbrush, to stay there forever
By: Nebojša Jevrić
Illustrations: Mihail Kulačić
Oration
THE TWENTY THIRD ORATORICAL COMPETITION AT THE FACULTY OF LAW IN BELGRADE
On Works and Generations
On St. Sava Day, in a packed amphitheater "Academician Radomir D. Lukić", young orator, law students, once again contested their qualities. The overall winner is Sandra Krstajić, the audience award went to Nikola Masal, both fourth year students. Supporting the nurturing of high linguistic culture and restoring the dignity of spoken word, we bring the entire winning oration of Sandra Krstajić. It deals with the difficult position of the autochthonous Serbian people in the converted Montenegro
Perspectives
NEBOJŠA DUGALIĆ, ACTOR AND FILM DIRECTOR, THOUGHTS ABOUT HUMANS, THE WORLD, ART
Being Worthy of the Eternal Measure
Hamvas said that human life has meaning only if it has something worth sacrificing. Our nation has understood and felt it for centuries, and thus lived in such a manner. Today, in the chains of devaluated taste, piled with a loud cacophony given as anesthesia, many landmarks have been lost. As some earlier generations have already done so, it is time to impose the audience a higher criteria of observing things. Perhaps this sounds anachronous and as pamphleteering to some today, but things can be reduced to one simple question: is the vow my ancestors defended with their lives significant for me or not? Based on the answer, each one of us can measure their own self
By: Dejan Bulajić
Photo: Dragan Bosnić and guest's archive
Champions
MARKO TOMIĆEVIĆ, MEMBER OF SERBIAN NATIONAL KAYAK TEAM
There's Something Keeping Me Here
He won bronze at the 2015 World Championship in Milan in tandem kayak with Milenko Zorić, and silver at the 2016 Olympics in Rio. Those not involved in professional sports can hardly understand the efforts and sacrifice necessary for the highest achievements, the power of will and number of victories over oneself. It's not for the fainthearted and calculating. However, if you endure until the end, if you overcome the crises and your own weaknesses, sport repays you in the most beautiful ways
By: Aleksa Komet
Examples
RUMA MUNICIPALITY PARTICIPATES IN SEVERAL DEMANDING PROJECTS OF THE EUROPEAN UNION
In the Network of the European Cities
One project deals with the realization of seventeen global objectives of sustainable development at the local level. Ruma will devote particular attention to economic development and environmental protection. In another project, dedicated to the protection of water resources in Europe, Ruma is entrusted to be the holder. Cities from five EU countries participate, and Ruma is the only one from Serbia... Of course, for something like this it is necessary to fulfill the criteria and meet the standards
Studies
PROF. DR. ĐURO ĐUROVIĆ REELECTED DIRECTOR OF BELGRADE BUSINESS SCHOOL
Toward a Society of Knowledge and Employment
We must strictly and consistently insist on quality. On academic integrity and conscience. The have been anomalies, but they must not happen again. Raising the quality of teachers is one of the most effective ways to truly improve education. Through dual education, in line with the national strategy, we will create professionals able to tackle the real challenges of business and market. In this way, BBS will strengthen its leadership position and continue the development trends
Footholds
THE INSTITUTE FOR SPORT AND SPORTS MEDICINE OF SERBIA, UNIQUE INSTITUTION IN THIS PART OF EUROPE
The Fundamental Support to Athletes
In a wide range from sports-medical examinations, through treatment, rehabilitation and training processes, to expert supervision and databases – this Institute is characterized by high standards and decades-long continuity. According to the Law on Sport from 2016, it has the status of a national training center. It has modern medical equipment, excellent sports and accommodation facilities. It takes care not only of top athletes, but also of recreationalists, especially young people, and of the health of the nation
Links
"TELEKOM SRBIJA" IS THE WINNER OF THE "VIRTUS" AWARD FOR LONG-TERM PARTNERSHIP WITH NON-PROFIT SECTOR
To Hear Children's Voice
It has been eleven years that the company is supporting the project the "National Children's Line", a telephone counseling for children to protect them against the numerous risks and allows for safer growing up. Another good example of corporate social responsibility, which is a permanent commitment of "Telekom Serbia"
Health
JUBILEE OF "MERKUR" FROM VRNЈAČKA BANЈA
Seven Decades of Healing
From 1947, when the Government of the People's Republic of Serbia established the National Health Company "Vrnjačka Banja", a long way has been travelled. Years have passed, the names and organizational forms have changed, but the objectives and beneficial effects have remained the same. "Merkur" today is a modern medical and spa complex. It combines high expertise, new technologies and exceptional gifts of nature. It erases the borders between treatment and enjoyment. It awakens health, preserves beauty