Across the Border
IN "SAMOSH MARZIPAN", FAMOUS HUNGARIAN CAKE SHOP CHAIN
Long Blossoming of the Serbian Rose
This sweet made of marzipan, the Szentendre "Serbian rose", is very popular in Hungary and Central Europe. However, only a few know that the history of the Serbian Savić family and the life story of a poor boy from Szentendre stand behind that sweet and that cake shop chain. The story consists of the whirlpools of history, the drama of perfidious assimilation, a great lifelong struggle and a dream, realized but painful
By: Mirko Nađ and NR Press
Photo: Family archive and archive of "National Review"

A stormy night in Buda. In a narrow little room next to the workshop of the large "August" cake shop, Mladen Savić, master August's young apprentice, couldn't sleep a wink. He turned in bed and kept his eyes closed, but all in vain. And dawn was still far away.
He got up, got dressed, quietly opened the door of his small room and stepped into the spacious workshop on his fingers. He walked by the enormous bowls and ladles and stopped next to the big blue dish with a mixture of almonds and sugar prepared by the "guest master" from Belgium the previous day. He immediately liked that Belgian man, unexpectedly nice to him, who was just a boy at the beginning of his career. The "tall Belgian with moustache" – as the young man called him – even taught him some confectionary skills.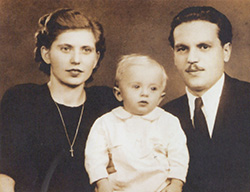 The boy stared at the prepared mixture for a while, took handfuls of it and began kneading. The mass under his hands was becoming smoother and firmer, yet elastic enough to be shaped. He approached the working table, timidly turned to check whether anyone was watching him, and sat into the Belgian master's chair. There was an unwritten rule that such things are not allowed before passing the master exam, but it was nighttime, no one around, so he couldn't resist. He got carried away and kneaded the mixture with real enjoyment. Then he took the rolling pin. The mass under it flattened, luring him to continue shaping it. Rose petals began appearing in his hands, and only a few minutes later, he saw a flower.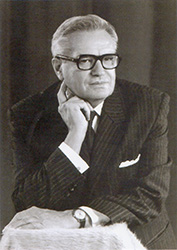 He liked it. Driven by his sparkling obsession, he kneaded the mass with red confectionary color and repeated the same thing again. A red rose blossomed in his hands. He got more and more immersed into details and lost track of time. He didn't realize it was already dawn. When he became aware of it, he saw the "tall Belgian with moustache" standing behind him. How long had he been watching him work? He jumped from the forbidden chair and just as he started apologizing, the Belgian gently patted him on the shoulder and said in a fatherly voice:
– Young man, your rose is wonderful. It is your graduation work. You will be a supreme master pastry chef one day! From now on, your place is here, next to my desk. He felt warmth around his heart: it was the first praise he got in his short apprenticeship, and coming from the greatest master! He, a Serbian orphan from Szentendre, born on October 1, 1918, lost his father in the war. He didn't even remember him. He was raised by his mother, a poor woman who worked hard and burned so that the boy could grow up and "reach his path". Of course, little Mladen Savić couldn't even anticipate that that stormy night was the turning point in his life, or that the first "Serbian rose of Szentendre" was born in marzipan, the future great pride of Serbian confectionary skills and Hungarian confectionary industry. Or that it was the beginning of the "Savić dynasty", the first step into the world of "Samosh Marzipan", stylish pastry shops, one of the most famous in Hungary and beyond its borders.
THE PRICE OF THE RISE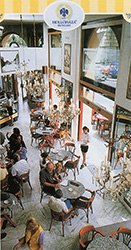 This time machine further takes us to the early 1950s. Hungary lives with Stalinism in politics, Zhdanovism in culture, "black years of fear", "people's democracy". Mladen has grown into an experienced and recognized master of his craft. He got married and children came. The growing family needed to be fed, dressed, educated… It was a continuous struggle to survive every day. Contrary to the spirit of time and "people's democracy", he began constantly thinking about opening a private cake shop! He was persistent, ready for craftiness and trickeries. According to the unwritten rules of silent assimilation carried out at the time, he accepted to play the game under a false identity, and covered himself with a veil of mimicry. Mladen Savić became Samosh Machash overnight. Only then did he receive approval for a cake shop, so an extraordinary little shop appeared on the Szentendre promenade in mid-1960s. The first one!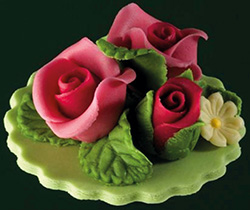 He rolled his sleeves and began making his marzipan roses. Each more beautiful than the other. Luckily, they sold well. Bit by bit, the Savić family became rich. The children finished schools, but they all found themselves and worked in "Samosh Marzipan". Cake shops began opening throughout Budapest and Hungary. Classy, full of delicious masterpieces, they were very attractive and worth of respect. A chocolate factory was erected in Palishvaroshvar, a small town near the Hungarian capital city, a modern industrial giant today. High technology, more than five hundred workers.
IN THE INTERNAL CIRCLE
We were sitting in Buda and Pest "Samosh Marzipan" cake shops many times, but we didn't know that the history of the Serbian Savić family and a life story of a poor boy from Szentendre was standing behind that famous chain. We learned it by chance (for those who believe in chance). It happened like this.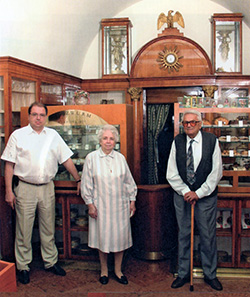 Some people from Kruševac called us asking our help in presenting and selling toppings for the confectionary industry in Hungary. We always respond to such requests and prepare well, so we wouldn't wander around or waste time. We immediately thought of "Samosh Marzipan", one of the most beautiful and oldest cake shops in Szentendre. Our cousin, who worked in the local tourist bureau, scheduled us a meeting in "Samosh". We were welcomed by the owner, Ladislav Samosh himself. The negotiations lasted for a few days, and at the end, Mr. Samosh offered to take the guests sightseeing, to show them Serbian landmarks.
– You have to see the Museum of Szentendre Serbs, the house where Jakov Ignjatović was born and all seven Orthodox churches in the city: Požarevac, Transfiguration, Belgrade (Cathedral), Annunciation, Ćiprovac, Zbeg and Opovac churches – he said, without making a single pause in listing the names.
He was an excellent guide, obviously a great expert in Serbian history, customs, culture. We translated his stories from Hungarian to our guests from Kruševac, who were absolutely thrilled. When the program reached its end, the guests from Kruševac thanked him for the hospitality and especially the effort to learn all the details from Serbian history.
– I took it from my family home – he replied. – My father's name was Mladen Savić. He created the "Serbian marzipan rose" and directed the paths of our lives towards pastry. He became one of the supreme masters of that art in this country.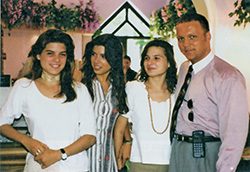 Confused with what we'd heard, we were speechless and very impressed.
– But, why didn't you describe all the landmarks of our wonderful Szentendre in Serbian?
– Because, unfortunately, I can't speak Serbian. I understand only a few words.
We were quiet for a while. Then, ceremonially, fearing that we might insult him unintentionally, we said:
– All right, then, Mr. Ladislav Samosh, we don't know who gave you that name, but from this moment on, you are Vladislav Savić for us.
– Let it be so – he replied solemnly.
And indeed, we still keep him in our phone contacts as Vlada Savić. During that strange meeting, we made a real friend. He didn't know that the Serbian community in Hungary organized cultural programs, literary evenings, that it has its own theater… He started coming to such events. We celebrated the first following Serbian New Year in Pomaz, he was present at all literary evenings, even came to the celebration of St. Vid's Day in Lovra. He tried to be in Serbian company as often as he could and the "Serbian rose" blossomed more beautifully in his language.
DISCOVERING ANICA SAVIĆ
One time in Pest, at the horses gallop within the "Drina Fest" at Heroes' Square, we were strolling through the crowds in Varoshliget Park. We noticed a nice wooden stand with an impressive inscription: "Samosh Marzipan" and jokingly asked the charming girl at the counter: how come you brought an elite cake shop to the fair? She laughed and returned the joke in Hungarian. So we started talking. We asked what her name was and how long she had been working for Samosh. She said she couldn't exactly say when she started and that she was a Samosh too, Bela Samosh, the youngest among the company owners.
– How come? We know both daughters of Lacika Samosh, whom we call Vlada. And you're not one of them – we say.
– I'm the daughter of his brother Nikola – she explains with a smile. – Lacika is my uncle.
We continued the conversation easily, as if we were old friends. We asked about her name, assuming it was Italian.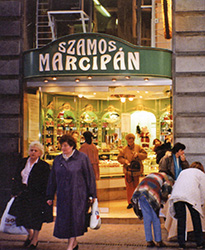 – It's not Italian, it's ours. My grandfather Mladen gave it to me, so that I would have something Serbian – she says. – My first name is Ana.
– Well then, dear young lady, you are not Ana-Bela Samosh, you're Anica Savić. We had a great Anica Savić in our Serbian culture, perhaps you will be the second.
A great friendship between an old man and a girl was born from that encounter. She often asked us to tell her "everything about Serbs", from Čarnojević to the present times.
– We tell you, a Serbian girl, about Serbs?!
Of course, we do tell her. Often, persistently, as interesting as possible.
– No one has ever told me such stories before. My grandfather spoke a lot about things from the past, but I was very little and couldn't understand.
– There, see, that's the substance of "silent assimilation", "unforced assimilation": children forgetting their roots, not speaking their nation's language. Schools are imperceptibly canceled, with the excuse that there are "not enough students", that it is "unprofitable". There are no teachers, the parents don't have time to deal with it in their everyday struggle to survive. The children lose their bonds with their mother tongue and culture. Anabela becomes the only reality. Anica is just "a myth and fairytale, who wants to get involved in such things"…
We remember she often gazed into the distance that day. She was somehow quiet and immersed in her thoughts. She suddenly said:
– Will you teach me Serbian?
Then we started gazing into the distance.
– Yes, if you're serious about it. If such a decision isn't just a spark from slightly burning hay.
– I'm very serious.
Since then, our friendship has become deeper and lessons repeated one after another.
We will have guardians of the Szentendre Serbian rose.
***
Souls from the Long-Gone Line
Anica Savić, officially Anabela Samosh, remembers that her grandfather Mladen held a painting above his desk, showing people with fur hats, wrapped in fur capes. According to the description, it could be one of the replicas of the famous Paja Jovanović's painting "Migration of Serbs under Čarnojević"? The girl didn't realize then that it is an important legacy of her grandfather to his grandchildren, a pre-beginning of a road, which he, in his own way, had to take to its end.
– I know he dreamed about becoming first an apprentice and then a master with famous Emil Gerbeaud – says Anica. – However, fate had something else in mind.
***
Ruszwurm
It is probably the oldest pastry shop in Budapest and also originates from a famous family. Bela Ruszwurm was the last in line and there was no one to inherit him, so the Savić family took over. It still works today, located in the Holy Trinity Street, in the royal fortress in Buda, near Mathias' Church.