Memory
GRANDFATHER STANIŠA BOGOJEVIĆ ABOUT HIS TWO YEARS IN SERVICE OF BISHOP NIKOLAJ VELIMIROVIĆ
To Live Next to a Saint
While he was still alive, people considered him golden-mouthed and holy, welcomed him on their knees, wiped their cheeks with the rims of his cassock. And he lived an austere monk's life, ate scarcely and slept little, never missing religious services. He often spent nights traveling, on a pile of hay on wooden planks. But he had abundance of books and knowledge, wisdom before all, and spiritual eyes. People felt this and compared him with Saint Sava for a good reason
By: Mišo Vujović
Photo: Nebojša Petrović and archive of the interlocutor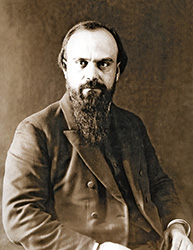 He walks racily though the tenth decade of his life. With bright thoughts embedded in the Gospel he disperses the daily darkness of solitude, cleansing his spirit with prayer, heart with a flute, enlightening his mind with gusle, while harmonium brings joy to his soul in long winter nights in which the snowdrifts of life are piling up memories from his childhood, from war, peace, service to the state and the Creator. He remembers everything, vividly and energetically testifies about people and time that are slowly disappearing in the mist of collective oblivion.
His name contains stamina, endurance, perseverance, his last name closeness to God. And the Bogojevićs, as legend says, and as Jovan Erdelјanović confirms, are descendants of the Kosovo hero Ivan Kosančić, so grandfather Staniša Bogojević carries in him also the knightly genes of the famous ancestor from the Battle of Kosovo. And he himself, as a young boy, participated in the liberation of his fatherland.
He welcomes us with an open heart, jumps with joy like a young boy, with a desire to accommodate us as soon as possible. So that we toast with rakia with which one is getting born, with which one travels, sings and mourns.
In addition to vitality, sharpness and clarity of mind, what makes grandfather Staniša stand out from his few contemporaries is closeness and acquaintance with one of the most colossal Serbia of the 20th century, bishop Nikolaj Velimirović, a poet, writer, spiritual leader, preacher and teacher, a polyglot, missionary, tribune and saint. Gandfather Staniša Bogojević, as a young novice in Studenica Monastery, Imperial lavra of the Nemanjić, spent almost two years in the service to Holy Bishop of Žiča, of Ohrid and Chrysostom. Grandfather Staniša evokes memories enthusiastically, emphasizing that "centuries will go by and such a man would not be born among the Serba".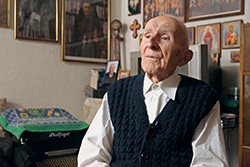 – Bishop Nikolaj is the second Saint Sava or Holy John Chrysostom. While he was still alive, people considered him to be holy. In 1940, he stayed in Sarajevo with patriarch Gavrilo, surrounded by crowds of people, some kissing his right hand, others kneeling down holding his cassock, wiping their cheeks with it. People were so enchanted with him that the patriarch was almost forgotten and at one point the crowds pushed him out, surrounding only Bishop Nikolaj – grandfather Staniša recalls.
CHARISMA STRONGER THAN PROPAGANDA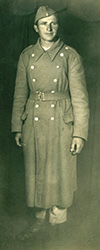 Despite strong post-war propaganda aimed at marginalizing his work, and to classify resistance to the occupiers, imprisonment in Vojlovica Monastery and confinement in Dachau as collaboration with the enemy, Bishop Nikolaj Velimirović, has remained one of the most colossal personalities in Serbia in the 20th century. Even today certain passionate historians, by compiling and combining fragments taken from certain events, such as manipulation with the medal of the Red Cross of Germany for humane treatment of German soldiers killed in Bitola during World War One, have been trying unsuccessfully to pronounce this colossal personality of Serbian history, one of the greatest thinkers and orators of his time as anti-European and extremely clerical member of the Serbian Orthodox Church.
However, despite the campaign lasting several decades, invasion of various forged documents, spreading lies among the people about Bishop Nikolaj, he has been declared saint, and his relics, after half a century of exile, have found peace in his birth place, Lelić near Valјevo, where believers still come in large numbers to pray and find encouragement over the reliquary of the golden-mouthed saint, born in 1881 in this village, passes away in exile in America in 1965.
As Serbs are the people of frequently delayed regret, (better ever than never, our people say), we should certainly look at the authentic testimonies about the Bishop's modest – ascetic life, and the lavish interior structure of his personality.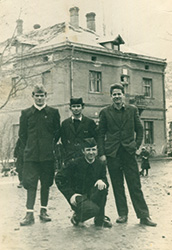 – My first encounter with the Bishop occurred in 1939, when he visited Studenica Monastery where I stayed as a novice. I was studying to become a monk, as they used to say then. The abbot ordered me to follow the Bishop to the Hermitage o Saint Sava, where, at the time, an old monk Teokist lived an ascetic life, and he greeted Bishop Nikolaj on his knees. Bishop Nikolaj first helped him stand up, then bowed to him with the words: "Teoksist of the pure soul". After staying in the hermitage, Bishop Nikolaj asked from my abbot Spiridon to let me come to the Bishop's Palace in Kralјevo. The abbot tried to keep me, with an explanation that I was necessary for the monastery, but the Bishop was unfaltering. That summer, with the Bishop, I met one completely new world. Gentlemen, politicians, officers used to come..., but also poor people, beggar. Bishop's doors were always open for everyone, he helped everybody with charity and consolation. After the St. Nicholas Day in 1939, I received a call to return to Studenica, since during the winter there was not much work in his Bishop's home. In the spring of next year, I found myself in Kralјevu again in service of the bishop, who greeted me with verses: "Welcome, brother Staniša, is it raining at the confluence, is it rain, is it draught, is your soul cheerful!?"
POWER OF THE SPIRITUAL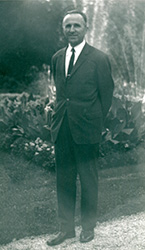 Milan Jovanović Stojimirović in his book Portraits after Live Models, in a very illustrative manner, through numerous examples, paints the personality of Nikolaj, and this is particularly striking with Stanislav Vinaver, who visited Bishop Nikolaj in early 1930's in Ohrid inthe company of a renowned German architect.
Vinaver and his guest were surprised and defeated by Nikolaj's knowledge of German language. Vinaver, testifies the present Stojimirović, started the conversation with high tone, but the Bishop bought him back to the limits of the reality twice. From high politics, through philosophy and literature, Vinaver reached Dostoevsky. Bishop Nikolai with his earnest and thorough analysis of Dostoevsky and his work simply "defeated" Vinaver and then turned to the German. It was evident that he was perfectly familiar with German philosophy and cultural history as well as contemporary crises of the German Reich and the German society.
– Moving away from God, the Germans are going toward a great national risk – Bishop Nikolaj was convinced. The German began to ask questions, but intellectual superiority was on Nikolaj's side. The German grew more earnest and submissive. Vinaver was silent. Fascinated by his interlocutor, the German summed up this meeting and the experience with the statement that everything he saw and heard one "incomparable unpretentiousness", and it referred to the house, the furniture, the host, his clothing, posture, as well as those emanations, which are radiated from him through his word, unobtrusively, but in such a manner that they adhered to the heart.
In Ohrid, as testified by Stojimirović, he lived in a two story house that had extraordinarily modest furniture. In the ground floor was an old-fashioned oom with a chimney and Nikolaj's office. One corner of this cabinet was full of bats and herding sticks, that people in the south called krljuk. Sometimes, when he would go for an evening service or for a walk, he would take one of these simple canes that peasants and peasants had carved and given to him, and he used one to go to Ohrid. He usually had US Army boots on his feet and rarely more comfortable shoes... His cassock was made of wool and simple, he wore kalimavkion – headgear for Orthodox priests, with veil already faded from the sun...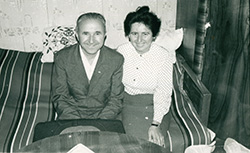 He lived an austere monastic life, ate sparingly and usually the same food, more hungry than full, slept on an uncomfortable bed, wrote, read or talked all day long, performed all religious services conscientiously, without abbreviations, visited his parish by car, on a horse or ass, often on foot, slept in his travels even on bare planks, with some hay scattered over them, covered with a blanket that he would find around, never taking care of himself o his body.
– One summer night, a monk burst in the churchyard of Holy Salvation in Skopje, asking to stay the night. He entered the church to pray, and in the meantime I was preparing a salad, to have something to offer to him as I did not have anything better – the sexton uncle Dimitrije was telling us. – We ate what God gave us and I gave him my little room and my bed, but he did not want to accept. He took the mat and lay down almost on the very grave of Bishop Firmilijan, placed a stone under his head, put the cassock over it, covered himself with his coat and said good night. However, around midnight, he woke up, served midnight and morning liturgy, and at dawn he thanked me and left.
When asked what the monk looked like, the old sexton said that he was black as an Arab, and had an old belt over the bottom of his robe...
– A good man, he even shook his mat after sleeping and helped me clean the yard. He washed his face, combed, re-entered the church, kissed the icons and left.
He came, passed through and went like a ghost. And uncle Dimitrije, not knowing that it was Bishop Nikolaj, repeated:
– Holy man!
IN DEEP CALMNESS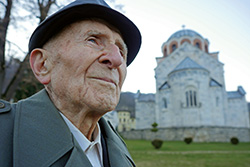 Grandfather Staniša with unconcealed emotion vividly evokes memories of his childhood, youth and spending time with one of the most illustrious Serbs. His voice sometimes trembled, his eyes get filled with tears, but the thought does not overthink. He speaks fluently, clearly as if arranging photos from an old album.
– I remember the signing of the Tripartite Pact and reactions of Bishop Nikolaj who immediately packed and left for Belgrade. After the demonstrations and overthrowing of that shameful agreement, the people cheered to King Petar and Bishop Nikolaj. They were convinced that it was his doing. They even sent to him telegram from Kraljevo to which he replied the following: "God rewards without the seal of shame"! The German attack on the Kingdom of Yugoslavia on the 6th of April found us in Kraljevo. Bishop was calm and composed. We went out from the palace and walked to the church for the evening litugy, while the air raid siren reverberated in the air. Bishop stood in the middle of the street and began to make a cross in the air with his hand above him. At one point he turned to me and asked me worriedly: "Brother Staniša, is this fear?" "If you, Reverend, are not afraid, why should I be afraid!? What am I worth in relation to you!?" I replied straight out. He looked at me and asked gently: "Brother Staniša, would you go everywhere where I go?" "Everywhere, the holy bishop", I nodded vigorously. However, Međutim, after two days has called abbot Spiridon and told him to take me home, sensing what was coming and what his future fate would be like – The lucid old man remembers the just and strict priest after more than half a century, whom he used to help rest his thoughts in late evening hours with his flute, in the breaks from writing essays, poetry, sermons...
On 10 July 1941, a day before Bishop's internment in Ljubostinja Monastery, grandfather Staniša met with him for the last time:
– He told me that he was going to Ljubostinja in the morning. I don't know if he knew it was his last day of freedom until the end of the war, but he seemed calm.
Part of memories forever disappeared on the ashes of the home that was burned down by the Bulgarian occupiers during World War Two, but grandfather Staniša encourages and supports his memory with gusle, flute and accordion.
In his modest apartment that looks like a monastic cell, surrounded by icons, akathistos, prayer books and other spiritual literature, grandfather Staniša Summed up an entire century of memories, crossing by no means no easy path from novice at Studenica Monastery, friendship and cooperation with the saint, beardless warrior on the Srem Front to the exemplary postal clerk – postmaster, where he finished his working life. Even today he does not slow down, he is regular during services, as confirmed by the abbot of Studenica Monastery, Archimandrite Tikhon.
***
With Loads of Books
There were always a lot of books around him, and these were petty messy, stacked one upon the other, and I don't know how he was fining his way through those piles, observes Stojimirović. From America, England and all over the world every day he received in Ohrid a lot of mail, so the postman was bringing only letters, and he was sending his his monk with an ass or a cart to fetch the newspaper, magazines and books.
***
Ascetic
The Bishop was obviously healthy, because only a man with health of steel could have lived life like that, to be exposed to such physical and mental strain with such a high degree of fasting. Those who lived next to him wondered when that man slept and how he could go on by depriving himself of sleep.