Champions
ALEKSANDAR ŠOŠTAR, THE LIVING LEGEND OF SERBIAN WATER POLO AND PRESIDENT OF THE SPORTS ASSOCIATION OF SERBIA
Approaching Better Times
The system of value is the foundation of a society. If we allowed it to collapse completely, we will collapse with it as a nation. We must relearn that there are limits below which one does not go. I cannot say we are fainthearted. If we were, if we did not have that something I us, after everything that has been happening to us, there would be no us today. Yes, sometimes it is easy to raise and give directions to children, because the total social values overlapped with what one would learn in the family. Temptations now are greater, greater are the possibilities for one to stray, and so the responsibilities are different
By: Dejan Bulajić
Photo: Archive of Aleksandar Šostar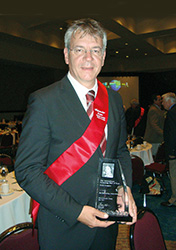 In his career, he has won almost everything there was to win. Crowned with titles and medals, he has remained enlisted among the greatest asses of Serbian sports, and as a water polo goal keeper, he is still the parameter of success. In parallel with his golden career, he has had time to graduate from the Faculty of Mechanical Engineer, make a family, and to finally remain in sport, so that, with his rich experience, he would help in overcoming difficult times, which are more a threat than a promise. Aleksandar Šoštar, in every aspect an accomplished man, knows what the foundations of his life feats are.
– What we take from our home is the foundation of everything that we do in life. What kind of attitude toward education we would have, toward work, other people, more or less important things in life, all this is a product of we have gained in our family. Of course, this is compounded by the circumstances that we encounter while growing up. I started practicing water polo in "Partizan" in 1975. I remember that the coach Aleksandar Maksimović had a decisive influence on me and my entire generation, as he planted in us the strong will and inspired the increasing desire to persevere. Together with him, must mention the father of the Yugoslav water polo, Vlaho Orlić, whose contribution to the maturation of many generations is immeasurable. Therefore, when you have a good foundation in the family, when you add to this good attitude at the place where you work, and at the same time you have enough talent, the main requirements for achieving excellent results are fulfilled.
It is obvious that he knew how to set clear goals I his life.
– I have good reason to consider myself an accomplished man. I am very happy with my sports career, I am satisfied with what I have achieved after it, and since I am still in active age, I think that I can accomplish a lot more. My wish is to give my contribution so that some new generations that are growing before our eyes get a chance that we used to have when we were kids. I think that it must be the goal of each of us. Only if we manage to achieve this, we will have the right to consider our mission accomplished.
Did the time in which he matured provide better opportunity for ambitious boys than what is the case today?
– Times have changed a lot and the entire social environment, not only in Serbia, but also in the entire world. It seems to me that today it is more difficult to come to the fore. Children are exposed to much greater challenges than we were young, simply because they have many more options to choose what they would do, and thus also to stray. Instead of focusing on a smaller number of opportunities, their attention is now scattered in different directions and it is difficult for them to decide. That is why I believe that kids today who have succeeded in sports or something else deserve even greater recognition.
FOR HARMONY BETWEEN FAMILY AND SOCIETY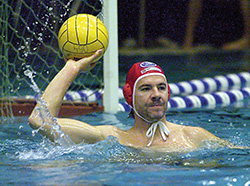 What are the challenges that today's parenting is facing?
– Parenting should always be the same, only the social circumstances are changing. My parents – mother who was a dentist and father a military musician – had serious daily obligations. However, they tried not to neglect their family. It seems to me, however, that it was easier for them to deal with me because the overall social conditions overlapped with what I learned in the family. People today live faster, and every parent lives faster, to provide their families with the conditions for a normal life, it is much harder for them to fulfill their other obligations. In addition, they also have to fight with what is go toga attractive but perhaps harmful to their children, and our parents didn't face that. Being a parent has never been easy, and today it is even more difficult.
What have you encouraged in the lives of your children?
– I have always pointed out to them that nothing can be achieved without work. Whatever they do, serious work is the necessity to achieve a possibly significant result. Another thing is the awareness that a real man must respect the truth, which will help them to determine what is good and what is not. I think I'm in my own way I have managed to help them to establish a value system that does not deviate from these fundamentals.
What have you tried to protect them from?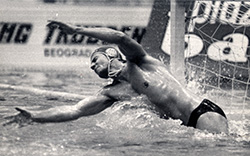 – First of all, from injustice, which we have always been exposed, according to some unwritten rules of life. Injustice is typically accompanied by lies, and I think that much can be overcome with honesty. That is why I insisted that my daughters adopt the right attitude towards it, to be honest about no matter what the subject is, because without this, there is also no right solution for any challenge.
There is a belief among many parents in sport today is not as available to children as it once was?
– I do not think so. It is true that in the new circumstances clubs also behave commercially, charging membership fees, but they could not survive without it. It is important that the child is engaged in any sport, without premeditation, for their own health and for growing up healthy. Do not look for a champion in a child of eleven, because at that age what they cannot show this. If it turns out that the child has talent, wants to continue playing sports, and finally has the conditions for it, then they have the real sports career before themselves. However, a small number of children at the end of the stay in sport and that is normal. We should not blame the general conditions or the lack of money for this. It is important that our children are involved in sports for general health, and whether and how many of them will grow into champions, it depends largely on their talent, willingness to make sacrifice, family support, and finally on the society, which must favor the promising children in all areas.
WAITING FOR THE SYSTEM TO RECOVER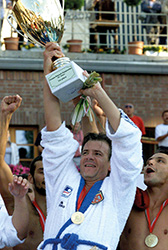 Where is the Serbian sport heading to?
– Professional sport is moving in the right direction, as evidenced by the many medals won at major competitions. The strategy is being introduced in the legal framework (the new Law on Sports was adopted last year). There is a good system, good strategy, good cooperation of the state with sports federations. In this chain, local self-governments are of great importance, and they should recognize what they want and what they can support in the field of sport. There are areas in which it works great. Unfortunately, there are those where this is not the case, for personal or other reasons. We talk primarily about football, and also basketball to some extent. These sports, especially football, are a kind of industry that works in its own way, and other sports cannot compare with this, and cannot be called professional, not only in our country, but also around the world. It is necessary to define some things so that they would be fully clarified.
How to save the clubs, who are burdened with great debts and lack of money?
– This is a really big problem that seeks an appropriate solution. However, financial problems have shaken all segments of our society. When the economy is stumbling, it is felt in sports, culture and arts. Had the economy been spared the crisis, which shook the entire world, there would be more money in every layer of society. Our clubs, the nurseries of talents, are really faced with great difficulties, and together with all of us they are waiting for the recovery of the entire system. Many no longer have the patience, but the only thing the system can do is to try to influence local governments and their attitude towards the clubs. In order to solve the problems that can be solved at that level.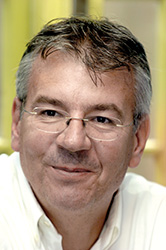 What is the image of our society from the perspective of a successful athlete?
– It seems to me that we are becoming worn out. I cannot say that we are fainthearted, because if we were, after all that happened to us, we would not come to the level where we are. If we did not have that something in ourselves, we probably would not even live to see this day. There is still a strong motive inside us, desire to be better, to compete, and therefore we are so much noticed in sport. However, exposed to the long-term hardship, this has been getting worn out. I believe, though, that we are heading toward better times, when the burden of hardship will fall from our shoulders and when we will be able to, as a relieved nation, show how talented and ambitious we are.
What should we do to not allow the collapse of the general system of values?
– The system of values is the basis of society. If we let it collapse completely, we will collapse with it as a whole. Times are changing and impose some other models of behavior, however, we have to learn that there are limits below which one does not go. It is necessary to find at least five basic things on which we can agree and be willing to represent them jointly. We who are working in sport know what the system of values is, because we have gone through many controls. We know how to really become the best. This recipe would be salutary for the entire society, because in that case we would not be losing people and their ideas worthy of attention, and we would not have been a victim of vulgarity and lowest impulses. For such people, it is much harder today, and the harder it is also harder to those who should recognize them.
***
Giving Directions
– I do not think today's generations lacks the heart and readiness to fight – says Aleksandar Šoštar. – The only question is to what extent they manage to focus on certain things that are important. Therefore, our obligation to direct them in the right way is even greater, in the way we have been directed. As in many other situations, the question is how to draw out the best from them.
***
For as Long as We Endure
– Serbian sport is going in the right direction, although there are many things that have to be improved. We have to be aware that it is not by chance that we won so many medals at the Olympics in Rio. This was the real result of long-term systemic work. I think that the Serbian sport will continue to grow and that we will have the continuity of winning medals at all major competitions. As for the water polo, I think we stay in the battle for the very top, but unless something changes in the attitude of the local self-governments toward the clubs, there is a real risk that we would run out of talent. Honestly, it scares me. We are here to fight, as long we endure.