Roads
IN TKAČKI DVORI IN RAKARI NEAR MIONICA, WITH ARTIST ZAGORKA STOJANOVIĆ
By the Codes of Tradition
Weaving is for her like a creative activity, true traditional record, the flow of the deepest essence of the nation. She takes over, she says, the beauty and spirit of old nameless weavers. She knows that all weavers, at all times, weave on the same thread and invoke the same light. She is happy for belonging to it. She sold an apartment in the center of Belgrade and bought a neglected farm on the hill in the village of Rakari. There, finally, she has won her freedom. She has built her own world centered on an old linden tree. Her viewpoint. And she showed us that there is a choice, thank God
By: Dušica Milanović
Photo: Dragan Bosnić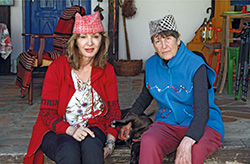 She guards weaving from oblivion. In the artistic life of Serbia, she occupies a unique place in the fine art technique of tapestry and sculptures done by weaving. She graduated from the Academy of Applied Arts in Belgrade, Department of Textile and dedicated herself to weaving of tapestry and garments. She has exhibited her works at sixty collective and over forty solo exhibitions in the country and abroad. In Belgrade, Paris, Bucharest, London, New York, Dubrovnik, St. Stefan, in Zagreb... She attended advance education in Italy, Poland. She was a visiting professor in Bucharest, Poznan, Zagreb.
Born in in a middle class family, in search of spiritual peace, five years ago Zagorka Stojanović embarked on a new life environment. On an idyllic estate in the village of Rakari near Mionica, which she called "Tkački dvor" (Weavers' Palace), she shares her weaving skills and experience at numerous courses, summer schools and workshops. She has felt the need to change her life and had the courage to do so. She sold an apartment in the center of Belgrade and came to this property on a hill in Rakari, which was "waiting just for her". She invested money in restoration. In the backyard she set up the "Stage under the Linden Tree", next to a linden tree that is more than a hundred and fifty years old. Numerous artists from Belgrade stayed here for the past five years.
– I bought the village estate of the Stojanović family in Rakari, which had been abandoned for almost fifty years. Among the members of that Stojanović family were sisters Milka and Zagorka, and these are names of my sister and me, which was a true sign. All this had been waiting for me – says Zagorka Stojanović, an icon weaver. – Now it is the center of my meaningful artistic life and nursery of culture. When people ask me why I live here, I say: because I am better here. I feel better. The time runs completely differently here. I have time! I work and live the way I want, as my thoughts flow. It is an indispensable quality.
CULTURE UNDER A LINDEN TREE
Working with weaving, you are at the source itself?
Sometimes people in the countryside knew: when winter comes, the loom is taken from the attic, the yarn is already prepared. The basis is made in the backyard, placed on the loom and the entire house is filled with warmth of tradition. The house is filled with colors matched by skilled hands of women, row after row, into the beauty of carpets, towels, blankets, purses. Today we call it creation, and then every woman, through weaving, manifested her soul. Today only a rare artist weaves and tries to convey to the few the messages of our grandmothers.
Have the locals recognized your art and are young people interested in weaving?
I weave at my exhibitions. I relocate the studio to the showroom, and there I also hold weaving workshops, very much visited. I will continue to do this in Rakari. The villagers, to my delight, have recognized my commitment to culture in this area. As I am also a theatre person, I have discovered the possibility of cultural events under the ancient linden tree in my yard. Many of my friends have helped to put shows on the "Stage under the Linden Tree", literary evenings, opera evening dedicated to Živan Saramandić... Many artists came as guests here: Ljubivoje Ršumović, Rada Đuričin, Petar Božović, Ivan Tomić, Marijana Aranđelović, Zlata Numanagić, "Clear Brooks Family", Nela Mihailović, Nele Karajlić. Programs attract local people, people from Mionica, Ljig, Banja Vrujci, Valjevo, some from Belgrade. Afterwards, these people naturally talk with artists, and the exchange of emotions is mutual. Everyone wins and everyone goes home beaming. There are people who need culture.
What is the difference between the weaving and icon weaving?
The word icon weaving came to me when icon weaving joined as a tributary in the expansion of my weaving. It was my attempt to weave an icon. Can I do it? Icon is a small liturgy. Icon is a prayer. I was supposed to use a thread to attract the image and vibration of a saint. I await, while I weave the eyes, whether the character will appear, which makes weaving even more exciting. The icon still has a gold background. Weaving this entire background with golden threads would make this surface heavy, and would certainly compete with the image of the person woven with ordinary yarn. As in the weaving everything is visible, I came up with the idea to add with each basic thread, a thin metalized gold thread. In this way I have achieved shimmering of the entire tapestry, because I think that the artist will attract the saint who is vibrating with his light somewhere in the universe...
CONTINUOUS THREAD OF ANCIENT SKILLS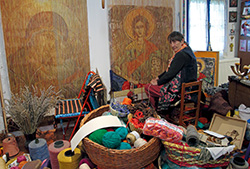 Apparently, tradition is an inexhaustible source of your art?
I live the energy of tradition. It is the flow is the essence and the soul of a nation. And weaving is like geography of the national soul. This should be saved from oblivion. I take over the beauty of the spirit of nameless weavers. All weavers weave on the same thread because it is an ancient art of releasing the beauty and wisdom. I am happy to belong to it.
It seems that you are never alone on this hill where you live alone?
I live alone but I am not lonely, because I want to share the beauty I feel with others. I love the people in all their manifestations, I exchange good energy with a lot of friends. I have taken root here. I like to have people come, I like to cook for my friends. When everybody is enjoying lunch, I have the impression that I have given something important of myself, by cooking with joy and good energy. Of course, my guests are attracted by my way of life, including food, of course.
You have Banja Vrujci in the immediate vicinity?
Yes, friendship has happened somehow. And I imagined vests for waiters, related to tradition obviously, and become in a way an artistic advisor to the Hotel "Vrujci". In return I can swim in the indoor pool as much as I like. I swim about six hundred meters daily, in medicinal water. It gives me extra energy, and the perseverance cheers my spirit.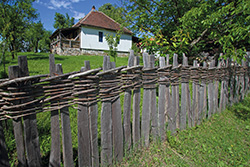 Is Belgrade for you across the world?
No. As soon as I get there, Belgrade is my bloodstream. But all day long I carry in my mind images of my estate, my animals that I have left that day.
Now, after four years of being here, what do you think the Serbs who do not know Rakari and your way of life are missing?
They fail to see and feel a jewel of nature. At the estate they can visit my studio, feel the surroundings in which an artist creates, a mess of different colored yarns ready for weaving. The basement which with its heat-cold keep the jams that I cook, pickled cabbage in the winter, onions from my garden, they can taste rakia. I always welcome guests with fruit preserve and water from my wells (eighty meters deep) and homemade rakia that I receive as gift from everyone who produce it here. The guest house is adapted to receive friends, the storeroom is converted into a showroom, with a chic šajkača hats in different colors, made of different materials. That is what those who do not visit the Weavers' Palace "Rakari" are missing.
LUCKILY, THERE IS A CHOICE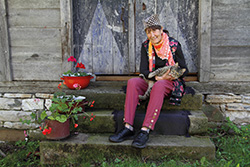 In addition to all kinds of art that you do (weaving, costume design, set design, fashion), you have undeniable talent for friendship?
People are love. And people who are involved art need a long time and solitude to dedicate themselves to what they do. As for me, I live in myself and can always be alone as much as I need. I have come to the fact that I can live as I please. This conquest of freedom has lasted my whole life. You must have the courage to follow your desires and needs. Everybody who comes to me writes their wish and put it into the Chest of Wishes in the storeroom. I think that wish is the purest energy. Hidden thought manifests itself in an instant when a man believes in the possibility of achievement. And I pray every morning under the linden tree.
You have traveled around the world. How do you see Serbia today?
As endless beauty and love which can be reached in the most difficult way.
What else do you want and plan?
I would like to have another house for guests, to make room for artists who would fulfill their needs and fantasies here. We shall see.
To what extent the government recognizes your mission in Rakari?
Everything I do here is from my deep need to irradiated people with the beauty of creation and inspire them to start creating themselves. And when has the government recognized the true values? The artist makes influence on the awareness with beauty and through engagement, and the government through manipulation. In life, fortunately, you have a choice.
***
Solitude
Zagorka has been, she says, mostly influence by solitude, the liveliest part of her soul. "This is where miracles and discoveries happen, undiluted joy of life and existence. In solitude one sees better and more. In these times of evil and injustice, ugliness and nonsense, in solitude one recognizes the saving vibration of creativity and culture, valuable for the development of man".
***
Contributions
Zagorka Stojanović has created costumes for numerous theater productions, among others, those directed by Egon Savin, Filip Grinvald... She also put costumes on the character of the TV series "The Farm in Small Marsh". She has received many valuable awards including, this year, the prestigious "Vuk Award" for his contribution to culture.