Palette
OLJA IVANJICKI (1931–2009), RUSSIAN-SERBIAN ART FAIRY, WITH THE PLAYFULNESS OF RENAISSANCE GENIUSES
A Visionary from the Time of High Modernism
After the shallow media games about her picturesque personality settle, her painting and her poetic and philosophical thought remain, which made her considerably beyond her time. She left an impassable trace in many fields, including architecture, fashion, design, literature. Her imagination created elegant and mystical worlds, she lived in a magic shell, in cosmic and archeo-futuristic settlements. She was in active communication with ancestors and descendants. Her work is a report from that extrasensory journey, a hidden guide through touching utopian realities
By: Dejan Đorić
Photo: Željko Sinobad and Olja Ivanjicki Foundation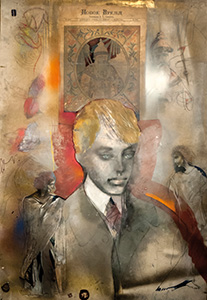 Many artists already at younger age, especially in the years Olga Olja Ivanjicki (Pančevo, 1931 – Belgrade, 2009) lived, expressed creative tiredness and stained their names with bad works, relativizing their place in the art system. The last big exhibition of this painter in 2017 in the Historical Museum of Serbia in Belgrade, presenting her legacy, and the previous one in the National Bank at Belgrade Slavija Square in 2006, artistically even more successful, indicate an artist who, even at older age, successfully painted large format oils, thoughtful and large compositions. After the media hubbub around her settles and after qualifications such as "Leonardo's daughter" or "female Dali from Belgrade" stop, which bring her more harm than benefit, her painting and poetic and philosophical thought of one of the last European visionaries from the time of high modernism remain.
Olja showed readiness to respond to challenges of time and be ahead of her époque. At the time of various newly arriving pop singers, porno entertainers, who are even engaged in fashion, she showed that she rules the laws of haute couture as well. Her collection for "Mona" fashion house wasn't only homage to Njegoš and view of the nineteenth century. She managed to transfer the beautiful, old-fashioned, dignified style from the past into a new, future stylishness, expressing herself as a fashion designer. It was also her personal style of dressing. Similar was with architectural projects and designs.
Now that she's gone, we understand that she personified the idea of Leonid Šejka and other co-fighters from "Mediala" group about the possibility of founding a new renaissance, traditional and modern, called "magic of extremes" and "unity of opposites". Near the end of her life, she attended weekly philosophy lectures, where she studied Plato and Hegel, as well as postmodern philosopher Sloterdijk. She was an ultimately open spirit, without any prejudice. She founded "Mediala" in 1958 with Šejka, Miro Glavurtić and Vladan Radovanović and was its only female member. She introduced great charm, mysterious physical beauty and mystique into her half a century long artistic project. Everyone in "Mediala" was in love with her, as Miro Glavurtić admitted, and she was worshipped by many others, from composer Dušan Radić and art photographer Miodrag Đorđević, PhD, to younger painters. Replying to the question who was the most beautiful girl in Belgrade, asked in the late sixties in the editorial desk of Delo magazine, drawer Dragan Lubarda said: "Olja Ivanjicki when watching Olja Ivanjicki in the mirror."
RESEARCHING DISTANT BORDERS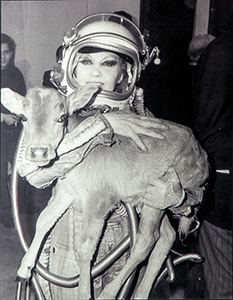 Even though, as a painter, she was far below her role model Leonardo da Vinci (her best early oils, such as Teuta II from 1957, are on the trace of Mona Lisa), she really did, aspiring towards universality, have something of the renaissance geniuses spirit. She deeply penetrated many fields and left a trace in each of them. The audience knows her as a painter most often seen in the media, accepted and loved, which brought her glory of the most successful twentieth century female painter. There are only several such popular artists in our newer history: Mića Popović, Milić of Mačva and Dragan Malešević Tapi. It would be naive to interpret her success with her presence in the media. She was invited because of her charisma and magnetically attractive personality, which had the power to transform. We had better female painters in the twentieth century, starting from Nadežda Petrović and Milena Pavlović Barili to Ljubica Cuca Sokić and Ljubica Mrkalj, who also united the magic of their spiritual and physical beauty with their painting knowledge. Olja, however, was the only one who had something mysterious, which won over even when she was silent or spoke little. She was engaged in different forms of esotery; she established psychic research together with Šejka in mid-fifties, comprising of telepathy, precognition and altered states of consciousness. She showed him the magical photograph of the castle and actively participated in forming the extraordinary idea about the City, Dump and Castle. Like him, she had her own actions at the dump, she revived rejected objects, dealt with the idea of the doll or researched the appearance of a dual. She tried to get in contact with extraterrestrial intelligence and her best paintings show angels. There are indications that she was also involved in magic and spiritism and that all kinds of erotic adventures were not unfamiliar to her. Furthermore, she was a kind of Serbian Madam Blavatsky, passionately living on the poles of honey (Serbian: "med") and dragon (Serbian: "ala") ("Mediala"), never deciding only for esotery or only for painting. Spiritual sciences began where art ended and vice versa.
Educated as a sculptor at the Belgrade Academy of Arts, she left that more material form of art and, under the influence of Šejka, her first great love, began painting. She later published several books of philosophical prose and poetry and kept one of the biggest archives on the history of "Mediala", hundreds of photographs and documents. She never revealed most of what she knew to anyone, she took with her the secrets about personalities that formed "Mediala", from Ilija Savić, Dolores Chache, Mišel Kontić to Šejka and mythical Baltazar. It seems that she was the one who discovered that forest man, herald of the Apocalypse, and Dragoš Kalajić pointed out that the name Baltazar was written in black on the wall of the room where the Romanovs were assassinated.
IN ALCHEMIC GOLD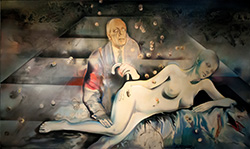 Olja's entire life and work are a series of lucky coincidences, fortuities, visions and premonitions. A genuine Russian from both her mother's and father's side, she didn't have a single relative or heir, but she introduced something imperial and wide into our environment, which we can, when speaking about her, relate to holy Russia, Salvador Dali from his Catholic phase, in which he prophets appearance of new monarchies, and to ancient Egypt. Gold is dominant in all three cultural models, the alchemic matter of glory and spiritual illumination. She was surrounded with it on material level as well, in the form of omnipresent gold and silver color of her luxurious armchairs and slipcovers, covers of her first monograph, jewelry, clothes, footwear, picture frames and backgrounds of many of her compositions.
From a poor girl, left without both parents very early, without an apartment or any income, she ascended to richness with the magic of the creative sun in her. She owned paintings of Picasso, Dali and Van Gogh, but the real jewel was her apartment in Kosančićev Venac. That is where she brought friends and admirers, to a place where it seems Roman Emperor Aurelian, devotee of the Sun cult, raised a palace. Olja would sit in a gilded armchair resembling a throne in Louis' style, surrounded with golden pillows, crystal mirrors, silver candlesticks, old paintings, books bound especially to her honor by the best (Tito's)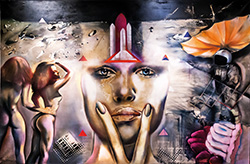 postwar bookbinder Paštrmac free of charge. She also painted in that ceremonial atmosphere. The sparkling atmosphere of glamour and jewelry store appeared to a lesser degree in her paintings. She created the way she lived, in a real treasury, packed with magically chosen and somewhere in series arranged valuable objects. Her apartments was one of the most successful assemblages in the history of our art, a kind of a chest, magic box, what is called wunderkammer in the history of curiosities. A similar, but completely differently magically organized space, which impressed both visitors and the owner, was the edifice of Milić of Mačva in Zvezdara.
Olja's way of dressing was fantastic. She even attended funerals in extravagant clothes, which didn't insult anyone. People said that she never said anything bad about anyone. Her closest friends know her as cuddly and catty, mysterious and secretive. It seemed that she slept long, but she actually worked passionately. In 2003, a team of associates realized her architectural design for the renewal of destroyed World Trade Center Twin Towers in New York. The project wasn't adopted, but it was considered the best, and she continued suggesting designs for futuristic clothes, cars and settlements on Mars. Of all the members of Mediala, she was the most creative, and her art was followed by an extremely serious theoretical thought. She started from the roles and significance of objects and reached poetic visions of the cosmic future.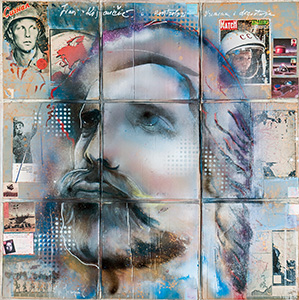 Above the banal, just like most fantasts, she didn't attempt to distance herself from reality as much as she wanted to make herself interesting and meaningful to the public. She was one of the last idealists in the world of art (with her we were definitely part of Europe and the world), without any contemporary cynicism and aesthetic poverty, with full confidence in a human as a complete being. She created elegant worlds from her imagination.
Andy Warhol, whom she admired, just like she did Leonardo, Vermeer and Pierre de la Francesca, claimed that everyone in the future will be famous for fifteen minutes. Olja's painting, philosophical prose, poetry, architecture, design and fashion ascend the man of the past, present and future. "I don't mind anyone", she said, the valuable is there forever. Beyond ugliness, illness and suffering, her solar work, aesthetical extension of her painting, gave a kind of hope, indicated truce and self-consciousness, opening to children, housekeepers, as well as spiritual counselors. After the stage lights turn off and the media stop exploiting her charisma, some good books will remain, projects, paintings and even better drawings, and, what's perhaps more important, anticipation of what Olga Olja Ivanjicki was, altogether and timeless.
***
Life
Olga Ivanjicki was born in Pančevo on May 10, 1931, in a Russian hospital. Her father Vasily Ivanjicki and mother Veronika Pyotrovska emigrated to Serbia after the October Revolution in Russia. Before her arrival to Belgrade to study sculpting, Olja lived in Kragujevac with her family. Although sculpting was her major subject, she was mostly involved in painting. She graduated in 1957, in the class of Professor Sreten Stojanović. She completed her postgraduate studies in 1962 and then, as a special recognition, received a scholarship from Ford's Foundation to continue her studies in the USA. She also participated in the program of Fulbright's Foundation in 1978. She had about a hundred solo exhibitions in the country and abroad, from Belgrade to New York. Her paintings are in many world museums and galleries. In 2006, she worked on the opening of the "Mediala" Salon Museum (within the Historical Museum of Serbia), and in 2007 established the Foundation of Olga Olja Ivanjicki, as preparation for founding her own museum.
She passed away in Belgrade, on June 24, 2009, after a heart surgery and was buried in the Alley of Deserved Citizens at the New Cemetery in Belgrade.
***
Doll
In 1965, she burned her perfect doll-duel in our most famous happening. She was sorry for it, because, although she was very skilled, she could never make such a good self-portrait of the entire figure again.
***
Project of Utopian Reality
Her great wish was fulfilled at the very end of her life. "Službeni Glasnik" and foreign publishers published a big monograph in three languages: Serbian, Russian and English, about her work. British art historian Sue Hubbard understood well what it was all about. Olja Ivanjicki was looking to the future, a large project of utopian reality, in which illusion gives life enthusiasm and meaning, faith and strength.