Departure
DRAGAN LUBARDA (1933–2017), A MAGICAL DRAWER
A Dot on the Horizon
"Drawing a line is when my father on Romanija sharpens his scythe at dawn, turns it towards the sun and runs his thumb over it." The magic of drawing, he said, often dragged him into the abyss of silence. He drew constantly, until the paw of everyday life scratched the magic mirror in which he perceived the world. He knew that life sometimes hangs on a line. He also knew how to live on the line. Finally, he left down the middle of the line, turning into a dot on the horizon. Until it also disappeared and a drop of blood in the corner of the sky appeared
By: Nebojša Jevrić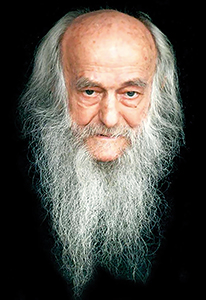 Feary the Fearsome, as my daughter Ikonija called him, departed.
Dragan Lubarda departed.
If we are to believe his documents, he was born in 1933. He came to Singidunum on the Sava from the village of Sijerci on Romania. Graduated from the Academy of Arts in 1962, followed by postgraduate studies. He began working at the Academy in 1969, and, among other subjects, taught Evening Nude. Retired in 1998.
Here's what he said about himself in the catalogue for his last exhibition:
– Where are you from?
– My village.
– What's your name?
– The same.
– When were you born?
– The first time.
– How old are you?
– Count.
– What's your profession?
– Line in a drawing.
2.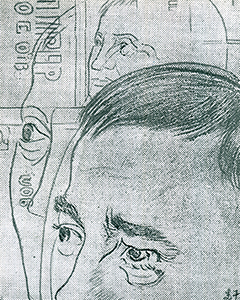 Summer of 1999. Priština. Only about a hundred Serbs left in the city. Darinka Jevrić, Mitra Reljić and I in the apartment in Kupusište. We speak with Lubarda over the phone for three hours every day.
– Before the word was a line. Draw, draw! – yells Feary the Fearsome from the village of Sijerci, from Singidunum. – Each of you should draw a clock. Set it to 1.
On an island in the middle of the city, in house arrest for Serbs, we learn to draw in a correspondence school. The city stinks of decaying meat. Ethnical cleansing of meat began. Especially suspicious is minced meat, they suspect its pork. New inhabitants of Priština are arranging their freezers. Plastic bags are flying. Trash cans are far away, so the bags fly from the windows, falling on streets, lawns. Only chicken remain in the freezers. The "victorious NATO army" is cleaning the streets with gas masks, upturning the bad smell of the newly arrived. It's coming from all sides.
– Army, cross the mountains, shake the fruit trees. Give apples to people. Oh, light of Sopoćani, you sowed the seeds with your hand, reaped with the scythe. You also reaped my hair and beard with a scythe, sheared the goat – speaks Lubarda from Sijerci, from Singidunum.
His metaphors dispel the stink, dispel fear.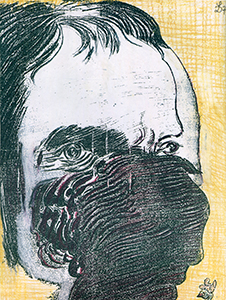 3.
Nighttime. Station. Sleepy passengers, Dragan Lubarda and I in a kafana.
– Why are you alone? – I ask him.
– Because there's no room for anyone between the sketchpad and ribs!
4.
In a black sweater, with clogs on his feet, he explains students what drawing a line is:
– Drawing a line is when my father on Romanija sharpens his scythe at dawn, turns it towards the sun and runs his thumb over it.
5.
There were three of them. Ilija Moljković (Red Khmer) who knew what a dot is ("The greatest art in the world is knowing where to put a dot." Babelj), Dragan who knew what a line is, and Dragiša Kalezić who knew what a word is.
6.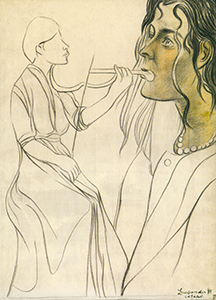 "Upon my arrival to populous Belgrade from Bosnia, and several years after it, I was silent so hard that many marveled at that unique, incredible phenomenon. Pale and neurotic Lisa, intoxicated by the scent of paint and turpentine, literally screamed once:
– Let's do something, good people! He's still silent!
Then came a moment when I suddenly started talking with some English tourists, to the horror of my friends, confused and worried about my silence up to then, and to the great amazement of the English, who readily stated that Serbian language is very similar to theirs. The English then went to mind their English business and I continued talking, for hours, for days. No one could stop me. I spoke about the four riders of the Apocalypse (War, Hunger, Plague and Death), about the nonsense of colonialism, about painting, chess, women, the unfortunate Italian with whom I spent almost two years of my gloomy boyhood, about the sky over Romanija and the magic of a goat's ear. About everything and against everything. The lucid and sly master M. wholeheartedly praised me before the entire class:
– You speak intensely, L., for a man who's been silent for so long.
I did continue talking, but less, more sparingly, more impatiently (it seemed I couldn't find the right word), until I became silent again: the magic of drawing pulled me into the abyss of silence! For many years I drew ambitiously, toughly, digging and burrowing my inner and secret hideouts, deaf to the phthisic and scrawny phrases buzzing around me like Pannonian flies.
I drew every day until the paw of everyday life scratched the magic mirror in which I perceived the world.
I don't draw any more, but, what's worst, I can't even write."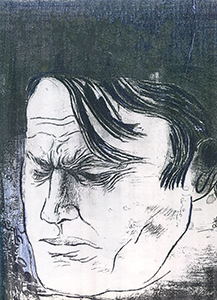 7.
"In order to speak, I need an interlocutor. Or at least a listener, which I cannot really stand. That's it, I'll speak to no one as if I were speaking to someone and I'll record it: there. How else would I know I told it? Finally, I'll leave it all to the uncatchable Ablesije Ablesijević, to keep it in the secret archive, where he keeps his antidynastic documents."
8.
I don't remember the first time Dragan and I were sitting in "Kolarac". I tried to draw him before that. His face was different from all the faces that appeared there.
I just remember that we found an advertisement in Politika, on the obituary pages:
"Srna Petrović is organizing a memorial service to Fyodor Mikhailovich Dostoyevsky.
Topčider Cemetary, tomb of Isidora Sekulić, 5 p.m."
A boy, no older than eight, came to us and said:
– Sir, I'm hungry.
Dragan ordered him lunch and we enjoyed watching him eat.
He paid the lunch with the last money he had in his pocket.
He was on strike those months. An unusual one, just as he was.
He refused to receive his salary, although he regularly held Evening Nude lectures.
Besides students from all four years of studies, who listened to all his lectures, poets also came. He used to sit in "Kolarac" with poets and in "Mažestik" with prose writers.
His death meant the disappearance of the last rider of the Apocalypse from the Terazije ridge.
9.
"I wanted to learn a lot, without missing the main thing. That ambition narrowed me in a painful way. My spirit accepted only certain food and benefited only from it. Everything it crammed from greed, vanity or propensity for imitating, overwhelmed and suffocated it, made it limp and slow. I don't know what key my spirit used for picking its contents. And I don't want to get into it.
While choosing what will become its inalienable part, my spirit was inexorable. Restlessly walking towards purposes beyond its real nature and opposing it, I abused my spirit soullessly."
10.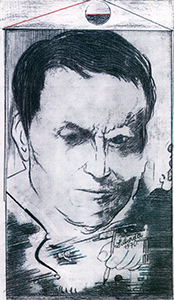 Dawn found us in a kafana. At the end, everyone in that station kafana fell asleep except Lubarda. He opened his sketchpad and drew all the sleeping heads.
He also drew me sleeping on his hand.
After that we went to the famous "trial to the six", accused of engaging in hostile activities. Before his hostile activity was discovered, Lubarda drew the public prosecutor, the judge and the accused. He was requested to leave the courtroom.
That drawing is still standing above my desk today. Because I was also involved in that antidynastic activity.
11.
"Some cousins of mine popped in last night, as if they were coming from Cappadocia, after forty years, and my light bulb was dead. I heard 'Good evening' seven times.
– What cousins? – I ask, and I know well that they are cousins and that they are mine.
Vukoje, Mikailo, Relja... I don't remember any more names, but there were seven of them.
I lit a leftover of a candle and there: they were all identical.
– Didn't you die in the war?
– What war, don't screw with us! We came to you to draw us – said one of the identical ones.
– Do you have your identity cards?
– We do.
– Leave me one. I'll send you the drawings by post."
12.
Dragan Lubarda departed from the Terazije ridge. The magical drawer.
Who will draw poets now? After all, what's the point of poets in the time of transition and, moreover, of those who draw them?
Who will teach people what drawing a line is?
Lubi left down the line, turning into a dot on the horizon. Until it disappeared as well. The story about his cult exhibition A Thousand and One Head remains. He never locked the door of his apartment. Unknown thieves took away the old professor's drawings.
***
Official Note
Dragomir Lubarda, Dragan, was born in the village of Sijerci near Sokolac, on Romanija. He completed the Middle School of Applied Arts in Sarajevo. Graduated from the Academy of Arts Painting Department in Belgrade in 1962, in the class of Professor Zoran Petrović and completed his postgraduate studies in 1964, in the class of Professor Milo Milutinović. Worked at the Belgrade Academy of Arts from 1969 as tutor, from 1972 as assistant professor for Painting and Drawing and from 1980 as associate professor. He also taught Evening Act. He had several solo exhibitions and participated at group exhibitions of ULUS, October Salon, Triennials of Yugoslav Art... Received the national pension in 2007. He passed away in 2017 and was buried at the New Bežanija Cemetery on July 3.
***
Refuge
One of the last exhibitions of Dragan Lubarda during his lifetime was in the Gallery of Ilija Kolarac's Legacy in 2011. The publication "Refuge" was issued for the occasion: besides drawings of Dragan Lubarda, it consisted of literary texts, mainly poems, written by important writers, creatively especially close to him, including Desanka Maksimović, Vasko Popa, Stevan Raičković, Branislav Petrović, Danilo Kiš, Ljubomir Simović, Slobodan Marković, Dragomir Brajković, Alek Vukadinović, Dragan Jovanović Danilov, Rajko Petrov Nogo, Matija Bećković, Jakov Grobarov, Dragiša Kalezić, Bajo Luković, Milan Nenadić, Ljubivoje Ršumović, Miroslav Maksimović, Zoran Gluščević...
***
The Hand that Sees
In the introductory text for Dragan Lubarda's "Refuge", D. J. Danilov inspiredly writes:
"If observed carefully, lines, faces and words are all around us. Dreamy portraits of beautiful boys and poets appear on cracked walls affected by moisture, faces of moonwalkers, newborns, delicate jaws of ballerinas, strange enigmas of faces of warriors, saints and people who suffer.
We cannot escape faces due to our staring at ourselves. We long for faces because we watch faces with a face. Watching is the most refined form of thinking. Poetry doesn't exist to be read and a line doesn't exist to be watched. Words and lines of unearthly refinement exist to read our faces.
The hand of this drawer sees only when it trembles before the observed. The lines it draws are too heavy – they make the earth tremble. Without magic tricks, faces of poets comprising a refuge come to life here. This drawer is not in the lines he drew anymore; he is in the unmasked faces of poets and something even further. His lines are actually words, more breathed than spoken. It's better not to even think about it."