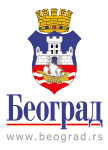 Entertainment
AN UNUSUAL ATTRACTION IN THE BELGRADE "GARDEN OF GOOD HOPE"
Popcorn Forever
Only several original Cretors' popcorn wagons from the XIX century exist today. One is in the Museum of Marion, two in private collections in Belgium and Switzerland… The best preserved wagon and the only that still makes popcorn is in the Belgrade Zoo, bringing joy to local children. Americans offered staggering amounts for it, but the seller-owner calmly informed them that only popcorn is for sale
By: Miloš Lazić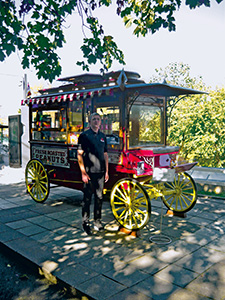 When Francisco Pizarro and his famished crew disembarked on Latin American soil in 1502, they were greeted by astounded natives carrying welcome gifts. It's just that, they didn't offer them gold, precious stones, paradise birds' feathers, tomato, corn and potato, souvenirs which these "enlightened missionaries" discovered later and thus destroyed the advanced civilization. They were offered popcorn! Confused conquistadors put their swords into their sheaths for a moment and fearfully tried the unfamiliar dish, only to, just a moment later, start eating voraciously! That's how this wondrous, autochthonous Indian dish paved its way to the stomachs and hearts of the idle ones, and, in the late XIX century, was assimilated all over the world.
The late nineteenth century hosted an important event in the history of popcorn. In 1893, a certain Charles Cretors patented the first automatic device for making the "sports entertainment" and exhibited it in Chicago. The exhibition was pretty important, since ingenious Nikola Tesla presented a few of his inventions there as well!
All this, and many more, can be heard in the Popcorn Museum in Marion, Ohio, as well as in the Belgrade Zoo, from Zoran Vujanović, proud owner of the last "popcornmobile" in the world, still working even after eleven decades. The joyful and chatty seller of popcorn and other snacks laughed at the word "popcornmobile". He liked it, but noticed that it was semantically wrong, because the name "popcorncarriage" suits it better! Although if you look more closely, the unusual device on wheels doesn't look like stagecoaches from westerns or our local barouches, and if we searched for its pair, it would be the unusual Amish carriage with a humble exterior.
ENCYCLOPEDIA OF POPCORNING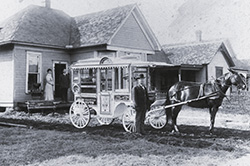 Although popcorn wagons can be seen on every corner in Serbia and stopped attracting attention a long time ago, this one is a real attraction, especially for American tourists, when they finish their wandering through the Serbian capital in Kalemegdan, in the Garden of Good Hope.
– Andrew, Charles Cretors' great-grandson, who inherited this unusual family business, came to Europe to see with his own eyes that the wagon designed and manufactured by his famous ancestor still exists and is still working – proudly tells Zoran. – He was surprised, especially when he found out that I managed to reconstruct some of its important parts with the help of my friends, so today it's considered the best preserved one. He was also delighted to hear that, even though his ancestor is celebrated worldwide as creator of the machine, I believe that his most important innovation was adding butter and salt to the specialty, which finally formed the familiar taste. Because he thinks the same!
Mister Andrew is actually the fifth Cretors' generation in charge of the "C. Cretors & Company" founded in 1885, and today covers about ninety percent of the popcorn machines world market. That means that only one out of ten popcorn wagons anywhere in the world is not from his factory in Wood Dale, Illinois!
– He was proud to tell me that he involved his son in the business as well, so I concluded that the popcorn trade will bloom, if not forever, then at least for another generation of the Cretors family.
Zoran Vujanović was born in Niš, grew up in Sokobanja, graduated from the middle school for tourism and catering and enrolled in the university, but, despite his parents' wishes and hopes, he committed himself to – popcorn!
– The 1990s crisis took away the opportunity from most young people to choose and decide – he sighed. – I was even lucky, I don't have any regrets! I served the army in 1989 in Sombor and I remember a popcorn wagon in front of the army barracks. There was always a line of gourmands waiting. That initiated me to try this business. Six years later, I imported the first wagon, paid the customs, received permissions and started. This business in our country was traditionally reserved for the Gorani, but they worked with Italian technology, and my first wagon was the American "Cretors". With it I received a large book, so to say an encyclopedia of "popcorning". The book mentions such a wagon as an important rarity of their technical history.
He says that there were popcorn wagons on wheels before, but that this model is the first and only designed for a horse carriage. Thus its strange name "Cretors Popcorn Horse-Drawn Wagon".
– The model saw the light of day already in 1904. Only a few were produced, so today they are historical artifacts and museum exhibits, somewhere even crowns of private collections – says Zoran. – I bought this "little lady", enlisted under number 3706 from 1906, a hundred years later at an auction. However, I doubt I would have succeeded if it weren't for Steva Živković, our compatriot living in Chicago for decades, because I, as a foreigner, didn't have the right to participate.
HISTORY ON AUCTION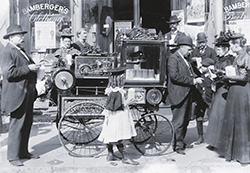 Then Zoran Vujanović did something similar to what Sava Kosanović did with the heritage of Nikola Tesla, his uncle, six decades later.
– Cretors didn't mind that the machine was bought by a Serb, but he was sincerely surprised they allowed me to export it from the US – he says smiling. – They have much more respect for their history. He immediately asked me to repurchase it, offering an amount that would make an average man dizzy, but I gained his great respect when I explained I have no intention of selling it! Only this could be the reason he offered me to send all parts for it for free, in case I'd need them!
That's perhaps normal for a country with a history lasting since 1783, where every true artifact is irreplaceable and large as life, but in Serbia it raises doubt in good intentions.
– Nonsense – said Zoran seriously. – We exchange letters from time to time… although he's mostly interested in the fate of the wagon, so I believe he's still hoping I'll change my mind and sell them. Maybe, but I'd have to have a really big reason for it!
So we find out that he's been in the Garden of Good Hope with his "popcorncarriage" for only four years, and that he found his way here first (chronologically) thanks to Dušan Kovačević, academician, famous playwright, who discovered him at the Zemun Quay, then to late Vukosav Bojović, the only person who recognized the significance of the "popcorncarriage" and Zoki's dedication to the seemingly banal job, and finally to the small and big visitors of the Zoo, who unmistakably find him in the labyrinth of walking paths.
Zoran seriously tells us about the nutritive values of popcorn and jokingly states a few "diets" which have this specialty as their basis, mentioned by pretty serious scientists and less serious magazines.
– By the way, did you know that Europeans first started sweetening them, while in Asia their taste is altered by spices and herbs – he said. – I'm risking to be accused of being a conservative traditionalist, but I'd never agree to such altering. Even when I have to paint this wagon, I purchase color in the United States. The original one.

***
Shaft
– Mr. Andrew Cretors forgave me for taking off the shaft from the wagon, used for harnessing horses, after I explained him that I care more about our children than for their history – says Zoran Vujanović. – He was pleasantly surprised to hear that I still keep the shaft, in spite of everything… if we ever complete his ancestor's wagon.