Care
RELIGIOUS CHARITY TRUSTEESHIP OF BELGRADE MOVES MOUNTAINS
The Heart Heals Everything
Renewed in 1996, upon the orders of then Patriarch Pavle, this Trusteeship prepares and distributes thousands of meals. It offers educational, legal, medical (...) support free of charge. It helps orphanages, shelters, nursing homes. Its members visit the ill and weak, prisoners, hospitals, especially pediatric oncology departments. Especially important is the concrete support to Serbian families to have four and more children, as well as the intention to apply extraordinary Russian experiences in Serbian lands to stop the birth rate drop of catastrophic proportions
By: Danijela Knežević Stevanović
Photo: Religious Charity Trusteeship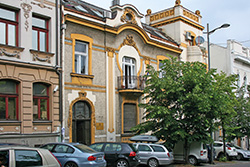 Predicted by the founding documents of the Serbian Orthodox Church, the Belgrade and Karlovci Archbishopric Religious Charity Trusteeship was established in 1934. Its president is His Holiness Patriarch of Serbia, it has its General Assembly, and the most important activities are operatively led by its general secretary. This glorious duty is today performed by priest Vladimir Marković.
Several times, during great crises and wars, the Religious Charity Trusteeship paused its work due to destitution, but it was renewed as soon as the circumstances allowed it. The last one was in 1996, when numerous people fleeing from the Southern-Slavic areas struck by war arrived to Belgrade and Serbia. The Trusteeship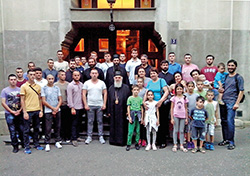 was renewed by archpriest-stavrofor Hadzi Ljubodrag Petrović. In those years, good father Ljuba introduced what people needed most. He first founded an Orthodox Missionary School at the Church of St. Alexander Nevsky in 1985, attended by more than ten thousand students of different age, including many future priests, monks, theologians, doctors, artists, professors and scientists. It also had an active theater of Orthodox Youth. With huge enthusiasm, young people prepared plays with ecclesiastical and national-historical subjects. It was one of the ways of being closer to the Church and real values. After father Ljuba retired, then Patriarch Pavle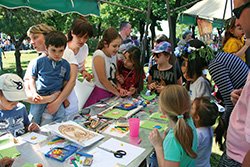 gave him a new assignment: to renew the Belgrade and Karlovci Archbishopric Religious Charity Trusteeship.
– Under management of priest Ljuba, the Trusteeship expanded its activities in several areas – says priest Vladimir Marković. – Our counseling centers offer free educational, legal, medical or humanitarian support. Father Ljuba also founded the Orthodox Adult Education Center, which organizes regular lectures and forums in the Patriarchy hall. Renowned lecturers and many people come. It also had its own publishing: printing Orthodox books, commencing the Church Life magazine. The "Classroom for Orthodoxy and Orthodox Living" operates successfully. They did charity field work, visited the ill and weak. The Trusteeship has always adjusted to the needs of the community... It's the same today.
CHARITY IS SALUTARY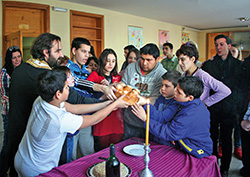 During the previous years, under management of priest Vladimir Marković, the Religious Charity Trusteeship especially developed the church soup kitchen. Up to two thousand free meals are cooked there from Monday to Friday.
– The kitchen, in a serious form, was opened in 2009 – continues father Vladimir. – We work every day except important church holidays, with the help of volunteers and donations. The coordinator of the kitchen is Vasilije Kovačević and more than seventy volunteers passed through it. The central kitchen and dining room are in Francuska 31, where food is cooked for all other points located in Belgrade churches: Church of All Serbian Saints in Karaburma, Church of Holy Prince Lazar in Zvezdara, Church of Ascension in Žarkovo and Church of St. George in Bežanija. Those churches only distribute food, while people can sit and eat in the dining room in Francuska Street.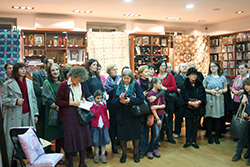 Besides the kitchen, the Trusteeship offices in Francuska Street also include a small infirmary and a pharmacy for health services. The manager of the health sector is Marija Popović, MD, neuropsychiatrist. Besides her, about forty doctors regularly volunteer here.
– The Charity Section is very active in field work. Its coordinator is Vasilije Kovačević. People from the Charity Section visit the ill and weak, most often on Sundays, after church services. They also visit social care centers in Belgrade: orphanages, shelters, nursing homes... We visit hospitals, especially pediatric departments in oncology clinics, as well as prisons – explains father Vladimir. – Our material help is then symbolic, but the point is in socializing with those people. Through conversation and time spent together, we become close to people in trouble, which means a lot to them. Hygiene products are most often taken to prisons, fruits to nursery homes, sweets and fruits to orphanages. We also distribute church magazines. And, what's most important, we spent time in socializing. We bring attention and care to the forgotten and neglected ones.
THE SANCTITY OF LIFE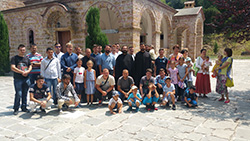 The newest sector in the Religious Charity Trusteeship is the "Sanctity of Life". It takes care of Serbian families with more children, supporting those having four and more.
– Besides offering material help to families with more children, help in food and basic foodstuffs, we also share special packages for newborns (diapers and everything necessary when the baby comes home). In cooperation with the Greek Orthodox Church, which began two years ago, we organize summer vacations for those families. We get several free terms during the summer and managed to send one group of families with more children the first year and the second year two – says priest Marković.
The "Family, Marriage and Bringing Up" counseling center has an especially important place in the Trusteeship. Priest Ljuba Petrović used to call that sector "Parents' Warm Love". It helps resolving family problems, gives advice about bringing up children, organizes pediatric examinations, all this very dedicatedly run by Milijana Abramović Savić, MD.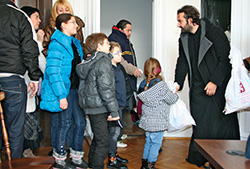 – I can say with great pleasure that last autumn we organized a symposium "Sanctity of Life and Support to Childbirth" in the Church of St. Sava parish home, with the blessing of patriarch Irinej – says Dr. Abramović Savić. – For that occasion, our guest was Jelena Yuryevna Shabalin, psychologist from Russia, manager of the Motherhood Protection Center "Shroud", a great promoter of activities for preserving the sanctity of life. In her lecture "Russian Orthodox Church and Support to Childbirth", she showed us how the project of fighting the drop of birth rate came to life in Russia. Their statistics show that as much as 30% of pregnant woman, after counseling with priests and experts, give up the deadly idea of having an abortion.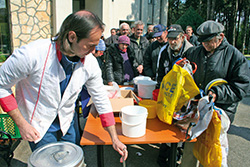 Russian patriarch Cyril signed an agreement with their Ministry of Health regarding cooperation in the battle for childbirth. The project was supported by the wider Russian community and many foundations, so only one of those organizations managed to save more than 4.000 babies last year from termination of life in prenatal stage! Looking up to the brotherly Russian Church, we made the first steps towards organizing a counseling center in hospital chapels and churches of the Serbian Orthodox Church, for women to make the right choice, to choose life and love, to have as many children born as possible.
"When someone does a good deed, he feels good about it." That is what our church fathers teach us. People in the Belgrade and Karlovci Archbishopric Religious Charity Trusteeship understand well and follow the church fathers' traces. They expand their mission by founding trusteeships in other bishoprics, helping quietly and concretely. Truly merciful. Living according to the Gospels.

***
Many Charitable Activities
– We also have numerous other charitable activities, classified into seven sectors – mentions father Vladimir Marković. – The legal counseling center, for example, works from 12 o'clock on Wednesdays. We organize regular foreign language courses, as well as supplementary education for children...
***
Craftswomen
Dr. Milijana Abramović Savić proudly underlines the Female Section, the famous Serbian craftswomen. Many Serbian ladies gather there – mothers, sisters, grandmothers – and organize sales exhibitions of their handicrafts every year. The entire income goes to the Religious Charity Trusteeship humanitarian activities.