Notebook
A DIFFERENT VIENNA, BROUGHT IN OUR YOUNG EYES
Colorful Face of the Old Strictness
Vienna might really be the "night sky full of rainbows". Maybe one can see everything from the heights of the giant carousel. Maybe the one in the Museum district or "Butterfly House" is the liveliest face of modern Vienna. Maybe one should really shuffle cards more often to understand the time and its game. It is nice that all of us can see the city differently. By our measure
Text and Photo: Dragana Barjaktarević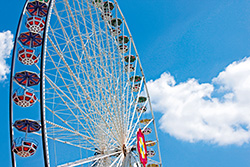 Even if you have never been in Vienna, it is easy to imagine it. Imagination leads to the New Year's concert, beautiful blue Danube, pastel couples dancing waltz inside pastel palaces and ornate gardens, secession, vanilla colored building with lacy flowers and gold plated twigs, Mozart balls, layer by layer, so that it melts on the palate: black chocolate, pistachios, hazelnut, then marzipan. But Vienna is much more than the learned stereotypes, classics and marzipan, much more than monarchy heritage in its full glow. Vienna is, if you know where to look, the night sky full of rainbows.
There is an online video guide through the Austrian capital, called "My perfect day in Vienna." Selected locals – a theater actress, street artist, editor of a men's magazine, a painter, a photographer, a student of journalism – reveal their Vienna, a lively city hidden somewhere between those top ten attractions from the standard tourist guides. They recommend their favorite cafes, stalls at the market, stalls with sausages, small galleries, great museums, viewpoints, parks, horse farms... So, where your interests overlap, you stop and write down suggestions. I chose Frau Isa as my guide, a cute artist who makes retro murals and falls asleep by counting the characters from The Simpsons.
STREET ART TO START THE DAY
"Rabbit Eye Movement" was on my "to do" list even before Frau Isa recommended it. Even before the idea that I would ever go to Vienna. That is why it is number one. And also because it's a nice place to start a day, with a gentle caffè latte and browsing of graffiti magazines: Amateur, SAM, Graffiti Art, Be Street... Maybe because it is otherwise inaccessible to us, and maybe I am just old-fashioned, but here, a print edition brings more joy to me than a page on Facebook. It can be touched, smelled, and if you like it a lot, you can also embrace it.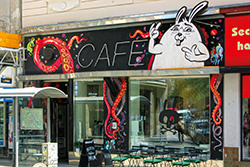 However, "Rabbit Eye" is not just a café. It is also a gallery and an artist promotion agency and a shop. It was founded by Nychos, a genius or eccentric who paints dissection of animals and cartoon characters on big walls all over the world. By using colors, he even disassembled the "Volvo" and it is one of the best commercials I have ever seen. In 2005, he painted rabbits constantly and everywhere. Only later he opened a gallery, became the symbol was the already well-known white rabbit. The name "Rabbit Eye Movement" is toying with the term Rapid Eye Movement (REM), which refers to the stage of the most effective sleep or, as Nychos says – the source of best ideas. Some of the biggest names from the world of street art have exhibited their work in the gallery so far. During my visit, Look had his exhibition. Later I realized that the title of his exhibition The Night Sky Full of Rainbows is actually the best description of my experience of Vienna. Like, say, I have always imagined my mother's early childhood in black and white, I always see Vienna in sepia. Tis fade image has now been broken with abundance of bright colors.
A few bus stops away is Stiegengasse, of all the streets I have seen – the sweetest one in Vienna. It feels like a sea coast, probably because it is narrow and all covered with stairs (in German: stiegen) and passages hiding art shops and restaurants serving exclusively daily menu. At the beginning of the street there is "Inoperable" Gallery. They are run by Nathalie Halgand and Nicholas Platzer. They are not artists, but love the arts, particularly street art, and since 2006 they have been bringing together talented local and international artists, opens the doors of their gallery to them and also help them legalize large walls – from Vienna to Miami.
THE CENTER OF MODERN ART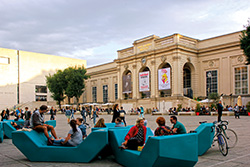 Another area with a similar concept is in Breitensee neighborhood, away from the city center, tourists and flashes, and this makes it particularly nice. It is AdhocPAD, a family corner where Lilo Krebernik and Kathi Macheiner with two children and one Dalmatian, under the motto "everything under one roof", live, work, collaborate, organize exhibitions, workshops, seminars, skating tournaments, residential programs for foreign artists... After years of searching for the perfect space, in September 2011, they came upon an old house tucked away in a quiet part of the city, reconstructed it in order to increase its capacity and functionality, and today it is a real little center of modern art, where you will always be warmly welcomed by the hosts.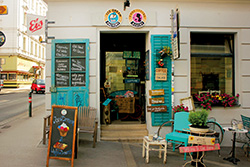 The next and inevitable destination for lovers of modern art is the Museum Quarter, the eighth largest cultural complex in the world, which includes a few museums and galleries. But the building, which first draws attention by its appearance, is the Museum of Modern Art – a huge cube of dark basalt and glass with the sign in neon letters saying MUMOK. The facade of this museum is often subject to imaginative and provocative interventions, and for a while an upside-down house was mounted on its roof, and during my stay Pinocchio poked his long nose from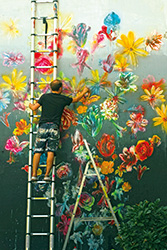 the museum balcony. In addition to installations that intrigue and entice passers-by, the facade of the building is still adorned by a large poster that clearly informs about current events at the museum. However, the visitors are still most attracted by the museum's permanent collection, consisting of about nine thousand exhibits of various art movements of the 20th and 21st century – pop art, photo-realism, neo-realism, activism, performance of the 20th century... The most popular are works by Andy Warhol, Pablo Picasso, Gerhard Richter, Jasper Johns, Roy Lichtenstein, Joseph Beuys.
There are different ways to take a break after the fatigue caused by the tour around Vienna. Vienna has nearly three hundred parks, a promenade along the canal, which is also a long and makeshift gallery of graffiti, cafes with easy chairs, a small beach on the Danube Island, beach chairs in the Museum Quarter... I chose to sit on the edge of the canal and eat käsekrainer, sausage with melted cheese, with my feet swinging above the Danube. And to pretend as if I belong to the museum district, as if I am one of them, well trained locals who, every evening after work, come to rest, socialize, laugh, drink cheap beer bought from a guy circling on a bicycle with a backpack.
PLACE FROM FAIRYTALE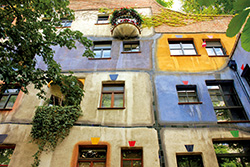 And finally, just so that people would later believe that you were really were in Vienna, two of those regular sights from the magnets and snow balls. And colorful, of course.
Hundertwasserhaus is one of the most unusual residential buildings in the world. Its creator is eccentric Austrian artist Friedensreich Hundertwasser. In the late 1970's, the city authorities of Vienna offered him a project for construction of a residential building. Tired of boring monotonous rectangular architecture, he erected a building according to only one rule – it has to look like a fairy tale. The facade is a colorful patchwork composed of little mirrors, gold glitter, ceramic, metal, concrete, brick, and the treetops. Hundertwasser was a great environmentalist and believed that the building disrupt the natural balance. That is why his terraces hold entire parks, and treetops are emerging through the windows. Each window has a different shape, size, color, and is set to a different height. He advocated the design of space in accordance with personality of the end user. And as each person is different, then his architecture becomes clear.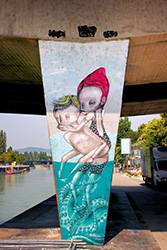 If you try to enter, you will probably encounter disapproval of the neighbors, who are already fed up with curious tourists. However, only a ten minute walk from there along the street Unter Weissgerberstrasse there is KunstHaus, another building designed by Hundertwasser, a museum dedicated to the artist, his works, interests and principles of ecology and the connection between man and nature. And to see the interior, you do not need to buy anyone's good will, just a ticket for the museum. The museum was opened in 1992, in a building that once housed a furniture factory. He selected it because it was close to the Danube Canal, because it satisfies his architectural desires, the floors are wooden and ceilings corrugated, and because it had its own history, its own story. Here also, each window is unique, there are no sharp edges, greenery is everywhere, only the colors are more subdued, and the black-and-white facade resembles a large chessboard.
Another fairy-tale-like place is "Prater" Amusement Park holding the largest ferris wheel in the world, Wiener Riesenrad. It is seventy meters high, which is about the height of a twenty-five story building. And from that height you can see the entire city. Therefore, when someone asks you afterwards what you saw in Vienna, you can safely say: everything!

***
A Man with Many Names
Hundertwasser changed his first, middle and last name several times, explaining this with the fact that he had more personalities inside him – painter, architect, visionary, ecologists... When he learned about the meaning of the Slavic word "sto" (one hundred), he first changed his last name from Stowasser to Hundertwasser, hundred waters, stressing how much water was important to him. He often lived on water, in the sailboat named "Regentag", meaning "Rainy Day", and he often introduced himself as Captain Regentag. Later he changed his name from Friedrich to Friedensreich, which means the realm of freedom. And lastly he added, dark colorful, because it agreed with his personality.
***
The House of Butterflies
In the most beautiful Art Nouveau glass building in the center of Vienna there is another interesting and colorful attraction – the "House of Butterflies". It is a large greenhouse with a huge garden, waterfall, bridges and hundreds of tropical butterflies, which have become accustomed to people and love to pose for the camera. Be careful if you go there in the winter, because the greenhouse has tropical climate, humidity is 80 percent and the temperature is 27 degrees.