Geo-poetics
SKETCHES FOR A SACRAL GEOGRAPHY AND "HAMVAS" CHARACTEROLOGY OF SERBIA
Signs in the Middle of the Road
Within today's political borders of Serbia, which do not cover all Serbian territories in the Balkans, we clearly see the genius loci. Different spirit of the place, genius of the space, climate, with which almost everything else is adapted: the pulse of life, human nature, psychology, cuisine, music, humor, rakia and wines, national dress, worldview. We will lead you through a shortcut through this, pointing to another important Serbian book that waits for its author, its poet
By: Branislav Matić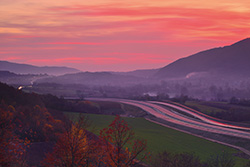 Drama of the space. This is an unusual country. One would think, as Tjutčev did for his country, that this country cannot be understood, it could only be loved.
Serbia is a big mystery. A country of border guards, in between worlds. The house in the middle of the road. The tower of holy warriors. The poem among nations. Yarn of the most ancient memories. This sun in our eyes, this bread on our palm.
This is how Serbia is described by its poets, in whom the drama and beauty of the Serbian area and Serbian destiny resonates deeply.
"We live in a geographical and spiritual watershed between two worlds, between two cultures, between East and West. Our national soul was sent to this mysterious world, and it was told: live on the edge of the sword", the Venerable Justin Ćelijski, one of the most prominent Serbian theologians of all time, used to warn us. "Can any of us, without danger to ourselves, live on the edge of the sword? Isn't it necessary, for such a life, that all atoms of our being are turned into never sleeping eyes, and all thoughts of our soul into pupils that cannot be blinded? On the one hand, our soul is attracted by the bustling West with its magnetic weight, and on the other hand, we are lured by the peaceful East with its mysterious beauty. Volcanic contradictions rumble under the polished bark of the West, while god-seeking underground rivers of the spirit run under the rough bark of the East. We are also torn between the two worlds. Where should we go: to the East or to the West? Our soul has to be a cherubim psychic and to have hearing like seraphs to be able to start and go along the path that will not end in its death."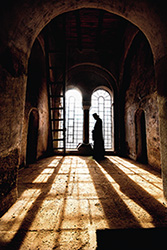 Many Serbian thinkers, since the Middle Ages, have understood that the solution is not in the horizontal and the worldly. They have turned to the vertical of the spirit and culture. Probably nobody uttered it better than St. Nicholas Lelićki, another gigantic Serbian theologian and philosopher of the 20th century:
"The Balkan is located geographically between East and West, and ideologically it stands above the East and the West. What is the ideological force that saves Balkans from being in between,in terms of ideas, and makes it rise above the East and the West? It is the Orthodox faith. All other factors, as geographical location, culture, science, Islam, politics, worldly tendencies and aspirations, keep Balkans between East and West. (...) Nothing is as intolerable as being between. If the thinking, that is Orthodox Balkans, conquered by the geographic Balkan and remained between East and West, it would look like that ass from a fairy tale who died of starvation between two haystacks. Unfortunately, from the early 20th century until today, the Orthodox Balkan has been very similar to that legendary Buridan's ass... Balkan is threatened by starvation... It will either die of hunger between Asia and Europe, or will be swallowed by one of these shark-like forces, if it does not rise above. Above the East and the West."
Being a bridge, true to both banks, with a foothold in oneself, being true to oneself. A bridge cannot have stronger foothold in one of the banks. It cannot choose one of them, but must connect them in the heights, in the best of both.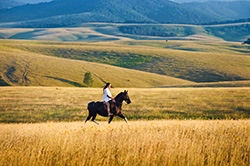 Sacred Geography. According sacred geography reading, Serbian area is marked by land, telurocracy and "groundwater" (civilization of rivers and lakes). In harmonious synthesis, it brings together the different forms and forces that exist within the telurocracy. (Serbs also have some primal longing for the sea, bright and delicate, amplified by periods of separation, but that's a topic for a separate large book.) Along the vertical, in the direction north-south, Serbian area is marked by the two holy mountains. Athos in the south and Fruška Gora in the north, one on the coast of the central sea of the world, and the other an island in the sea drained down the heavenly river, have on such a map ancient symbolism and semantics of a mountain. Together with both holy mountains, there is one mythical plains, sacrificial and ascetic agon, a field of gifts. In the south, it is Kosovo, with its dramatic eschatological meaning, in the north it is Vojvodina, the Serbian part of the mysterious First Plain, the "green bottom of the sea that migrated to Heaven".
Between the sacred mountains and mythical plains in the north and south, Serbian area i essentially marked by at least three distinct sacred geography elements: mountain, forest and river. We will see this by traveling through this country and this book, just as the strength of the bond between sacred geography and ethno-psychological will be clearer. This two-way relationship of transfiguration between the people and space.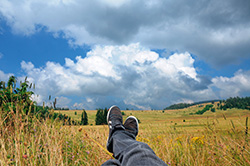 Five geniuses and a holy land. Within today's political borders of Serbia, which do not cover all Serbian territories in the Balkans, we clearly see the genius loci. Different spirit of the place, genius of the space, climate, with which almost everything else is adapted: the pulse of life, human nature, psychology, cuisine, music, humor, rakia and wines, national dress, worldview.
Vojvodina carries the spirit of the plains, the typos, "the seal of forces". It has its endless fields and heavens, organized villages, lowland rivers and central European towns. He lives a slower life, speaks by melodically elongating words, eats plenty of strong food, drinks brandy made of apricot and mulberry, its wines and cow's milk, preferably listens to tambourine and old town music, plus violins and czardas, likes dirty jokes and grumpy but witty people. The attitude towards time here also determined the view resembling an open sea.
Western Serbia is of Dinaric origin, in past centuries mostly immigrated from the rocks, from Old Herzegovina, Montenegro, Brdo, the Littoral. In many areas, especially in the mountain villages, people still speak ijekavica. It has beautiful mountains and towns below them, generous valleys, rivers that often start as mountainous and then become lowland. Under bushy mustache it hides his laughter. It drinks plum brandy, is a gourmet, loves baked food and pickles, is a good hunter, is generous and hospitable. It has the spirit of a good host and warrior, its ethics is from the old times, honor is more important than life. In crises, it acts with cool head and decisively. It gets carried away by accordion and flute, old folk songs and epics, it can tell stories around the fire. In everyday life it is relaxed and stylish, witty and funny.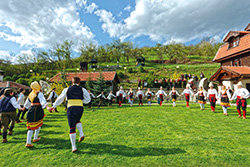 Eastern Serbia has always been closer to the imperial roads, more exposed to mixing and intertwining. This can be seen in the people, cuisine and music. It is more skilled in trade, more tactical, it better hides its strength and intentions, it is open to negotiations. It knows how to step aside, wait, but also to get out on the line, join the outlaws, such Haiduk Veljko. When he gets into a battle, it is brave and hearty, would not retreat, as the Timok Division. It has modern cities, but also remains of great ancient ones, like Viminacium and Felix Romuliana. It drinks softer rakia and Negotin wines, has many delicacies baked in ceramic pots. In Old, Kucajske and other mountains. it makes belmuž and vurda, well-known shepherd delicacies. Its rites are lively, fairy and magical.
Šumadija is a fertile transition between the western and eastern Serbia, both in terms of poetics, and character, and spirit. It is both the geographical center and the heart of modern-day Serbia. The area where Serbia awoke or was reborn. Cold plum rakia and cherry preserve under the walnut tree in the courtyard, the song that makes it happy or sad, villages like flocks scattered across the green hills, towns that have their own personality and their kolo dance, orchards and vineyards, forests and ports, distilleries and mills, all this blends in such a healthy attachment to the soil and sky, to the national credibility and its tradition, but not outside of its time and its achievements. In that country, created on small clearances of large forests (hence the name) without honor and freedom the life is not worth living.
South is fiery, passionate, both when it loves, when revels, wages war, and when it is selling something at the market. It has the best peppers in the world and the most oriental traces in Serbia. In the eastern manner, it is sitting on the bottom part of the door or in a cafe, drinking coffee in that way, crumbling the hours. It knows how to savor life slowly. Its dishes are spicy, all mixed-meat dishes, gourmet burgers, ironed sausages, guvech, eggplant, dried peppers with meat and nuts, and then it must drink new wine and dance fast kolo. Its speech is corrupt, but people are not. Its songs can heal, just as the water from its numerous spa resorts. We see the South in Koštana, in Zona Zamfirovoa, in "Iron Regiment". It likes to grumble, but with the homeland it does not calculate and is not cheap.
In addition to these five geniuses in Serbia, the genius loci, there is another one, above and beyond everything. Kosovo and Metohija. It is not a type, not an element, not a subspecies, but holy land. The Temple State. The best and most sublime that everybody else has in Kosovo is measured and certified. "The way we are in Kosovo tomorrow, that is how we will remain forever."
This typology only sketched here, is another book that awaits its writer. It has something to be based on, because there are Cvijić, Dvorniković, Erdeljanović, Đorđević... It should be written in the manner that the famous Bela Hamvas did for Hungarian area (Five Geniuses, Serbian edition 1996).
(From the monograph "Serbia under the Sun", "Princip Pres", Belgrade, 2018)
***
Monograph
The book "Serbia under the Sun" was published in the fall of 2017, in separate editions in Serbian, English, Russian and German languages. Besides its basic vision, it has a whole range of luxury bindings. It is written in a modern spirit, but still in the spirit of old masters, illustrated with exceptional photographs, on almost 400 pages.
Geo-poetics and travel writing. Genius loci. Country and people, people and customs, humor and songs, dishes and customs. Buildings and memories. Nature and other beauties. Sacral geography and the summits of Serbian culture. Traces of the ancient world (from Starčevo culture to the Celts). Roman cities and emperors born in the territory of today's Serbia. Medieval roads, fortresses, temples. Palaces, granges, spa resorts, ethno villages. Waterfalls, caves, rivers, lakes. Mountains and plains. Holy mountains and waters. The sites of major pilgrimages. Holy images. Magical Serbia. Stories from the road: roadside monuments, records, fairs, water mills. Great visionaries, poets, heroes. All this interwoven in an elegant bright arch that encompasses and describes Serbia, presenting its attractiveness and mystery.
***
Multi-Messenger
As an aid to this book we have invited many companions, invisible prompters. Familiar voices, the best ones, most important to us. We hear the old chronicles, great poets, a contemporary folk sage, living murmur. Like a beautiful old-time multi-messenger. Sometimes, their sentences intercept ours, sometimes it is the other way around, according to the ancient principle of the creation of precursors. Here it is all woven together, carved in one piece, and everybody is where they belong, with their own folk. It is all the same testimony and the same singing, Serbia under the sun.