Horizons
ANA RISTOVIĆ, POETESS AND DEFENDING HERSELF WITH PURPOSE
Poetry is the Art of Outcasts
Raised in the family of a famous poet and editor, in the neighborhood of Danilo Kiš and "Danube, the grand gentleman", she surrendered to the magic of books at an early age and lost all illusions about writers. She believes poetry is a sanctuary, a small intimate paradise, sometimes identified with love. She recommends Tomas Bernhard's "My Awards" to all those who feed their narcissism with literary awards. We live in a tragic age, when people regard the sparkling of a shop window more important than the shop's contents. What can the new slaves of neoliberal capitalism read during the short breaks in their almost continuous aimless work for a pittance? Where is the way out (if any)?
By: Gordana Simeunović
Photo: Guest's archive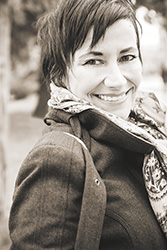 Ana Ristović (Belgrade, 1972) is one of the most significant Serbian poetesses today. She graduated Serbian literature and language with comparative literature at the Faculty of Philology in Belgrade. She is professor of literature in a high school in Belgrade and translator.
She grew up with poetry, built it into her world. She holds her "write-erase pen" prepared under her "tingling fingers". She writes about small things: a leaf of green salad, a carpet, the Moon. She contemplates and writes about fear, loneliness, love. Her verses flow naturally, because Ana is a poetess.
While composing collections of poems, from Dreamwater (1994), she led us to the Clearing (2015). The poetry of Ana Ristović was translated into several langauges and awarded with the most prominent Serbian awards.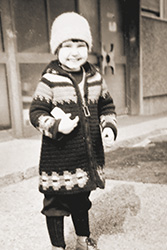 Childhood, Poetry. My childhood was filled with joy and poetry. I was surrounded with books of poetry ever since I was born, because my father, Aleksandar Ristović, was a poet and editor in the "Nolit" publishing house and kept bringing numerous books from famous editions. We lived in Voždovac until I was three, where our neighbor was Danilo Kiš. Unfortunately, I don't remember that earliest period of my childhood. We later moved to Zemun, across the street from the river and the Danube quay, where I still live today. I loved reading ever since I was very young, and my father used to bring me books from "Nolit's" famous edition "My Book" and "Summer Vacation". Already in elementary school, I wrote my first poems in numerous notebooks – some were even published in the school magazine when I was ten; they were haiku poems entitled: Miniature Poems for a Japanese Girl.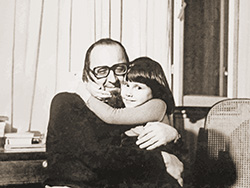 With Poets. The first poet I met was, of course, my father. Thanks to him and his cooperation with many poets, my illusion that a good poet must necessarily be a good man was broken very early. It's quite the opposite: there are many good-for-nothings among poets and writers, just like there are poets among common people who have completely different jobs and careers. Those people don't write, although their attitude towards the world is truly poetic. As I was growing older, I began meeting many poets, mostly at poetry festivals and literary evenings in Serbia and around the world. I often felt huge overload from such encounters and had the impression that the only thing they were talking about was themselves, their poetry and successes. So much vanity and egoism in one place! What a hassle! When speaking about such encounters, I found it more exciting to listen to a common Serbian peasant speaking about the ways of cultivating land and types of fertilizers. However, I also met many interesting people and have friends among poets. On the other hand, numerous festivals and meetings with poets give you an opportunity to listen to the poetry of other countries, to discover how poems pave their way in lands and worlds distant from us, and finally you realize – it's the same everywhere. Being a poet is everywhere difficult, yet wonderful. Being a poem is everywhere difficult, yet wonderful.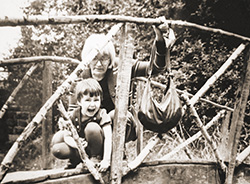 Inner Circle. I consider poetry the only correct way of expressing my inner world and my feeling of the world. It's a language inborn to me, whom I can use only in rare devoted moments; it is a space of inner exile, as well as a space of a small, intimate paradise. "Poetry is the art of outcasts. Anyone who writes poetry seriously writes it from the point of view of an outcast", said Charles Wright, American poet. I feel the same. Every time I start writing, I dive out from one in order to dive into another world. The language of poetry I use and the way I think is a way and language of an outcast from reality: no one understands me there, people there mostly express themselves by using phrases and common places, without dealing with the language or speech. Here, in my small poetic Garden of Eden, I polish every word and listen to it resonate within me, so that later, after being published, it could resonate in someone else. Here I revive words and images, the seen and the dreamed ones.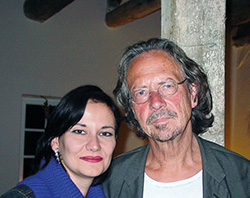 Birth of the First Book. My first collection of poems Dreamwater was published in 1994, in the then famous "Pegaz" edition for poetry debuts. I was extremely excited, joyful and sad at the same time, because my father, who passed away only a few months earlier, didn't live to see it. I thought: what would he tell me after reading it? Would he say that I was on the wrong path or would he like the verses? The book also included the poem "Daddy", dedicated to him and a childhood memory: him making play-dough figurines of animals and men and putting them under my pillow. None of the excitements about later published books and awards cannot be compared to that one. I was aware that I have stepped into a new world, from which there was no return, because of the responsibility towards verses and words… A challenging and magical world.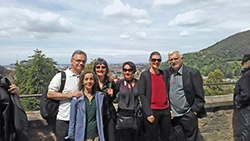 My Awards. I received several most prominent Serbian literary awards: "Branko's Award", "Branko Miljković", "Milica Stojadinović Srpkinja" awards, "Dis' Award", as well as the German "Hubert Burda" award for young south-eastern poetry. Each of those awards meant awareness about the great responsibility I have before me, because everything I write in the future has to be "on the level of the assignment" and "on the level of the trust" given to me by those who granted the award. However, my attitude towards literary awards is pretty realistic. We know that the awarding process and deciding also includes some non-literary parameters, that they are awarded according to the principle "you scratch my back and I'll scratch yours" … I suggest all those whose ego and narcissism grow with literary awards, as well as those who have too many illusions regarding the awards, to read Tomas Bernhard's book My Awards. An exquisite, forceful book that breaks down all illusions!
In a Tragic Age. The poetry scene both here and in the world is condemned to slavery to a tragic age, in which people regard the sparkling of a shop window more important than the shop's contents. An age in which books serve to comfortably rock the new slaves of the neoliberal capitalistic system to sleep, a short pause in continuous aimless working for a pittance. In such a situation, poetry is a sanctuary, which offers a genuine world in its form from a hundred, two hundred, five hundred years ago – a world that could reflect in a grain of sand, and seeing the world in one day, but only a few decide to visit that sanctuary, because it also implies the active work of the mind.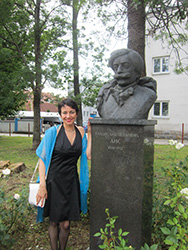 In School. I have been teaching Serbian language and literature at the Dental High School in Belgrade for already ten-odd years. I'm also homeroom teacher. Working with children in school, especially teenagers, is an enormous challenge: arousing their interest in literature, poetry and prose, books (since I spend part of my working time in the school library, I try to provoke their interest in different books outside of the required readings), break their prejudices that literature is something boring, that it's just something you have to do for school, tell them interesting details and stories about writers, bring the otherwise distant worlds closer to them… It's not easy, but catching their attention for a book is a huge reward each time. Their attention is scattered, a way has to be found to attract it. I personally would change the required readings, but, unfortunately it's not up to us, professors. I hear that some changes have been announced. Bringing books closer to young people would be much more efficient with comparative literature studies, than the present chronological approach. I believe that such an idealistic approach to teaching would imply having classrooms equipped with computers and projectors, so students in language classes could make a comparison between literary works and movies, as well as search for filmed literary works and compare them with what they have read. Oh, pipe dreams… Working in school is not easy at all and perhaps implies a much bigger responsibility than working somewhere else, because you influence the forming of young people.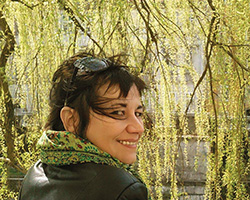 Challenges of Bridge Architects. I have been translating Slovenian prose, poetry and essays for fifteen years, and translated about thirty books from Slovenian up to now. I think that only poets can be good translators of poetry, because only they are entirely sensitive to all the shades of meaning and resounding of all the layers a poem contains within. However, unfortunately, I translated only a few books of poetry, much less than prose. During the seven years of living in Slovenia, Slovenian somehow became my second language. I believe that a different environment and the experience of living in it, remoteness from their own cultural core enrich a poet, since they open new spaces and windows in the poet, sometimes pleasant, sometimes not. Every author is essentially an outcast, an emigrant from a world which is not necessarily defined by geographic borders and determinants. Translators are bridge architects and, as such, they regularly travel to shores impossible to reach without a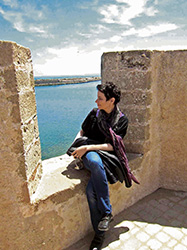 second language. They breathe with their author and try to think the same way – speak with his words, but in a different language. And this is very difficult.
Some of the authors I translated from Slovenian are Drago Jančar, Jani Virk, Aleš Čar, Aleš Debeljak, Aleš Šteger, Mojca Kumerdej, Suzana Tratnik, Lucija Stupica, Uroš Zupan, Feri Lainšček, Miha Macini, Vlado Žabot, Goran Vojnović, Marko Sosič, Dušan Čater. Translating takes away much time which I could dedicate to my own writing. Then I tell myself: "You will not translate for the following so and so months." Sometimes I don't translate for months, but then a mail arrives: "Would you…" And I say: "Yes". Sometimes I regret it. Because, if it weren't for the translations, I'd write more. This way I'm divided between school, translating, everyday life and necessary time for writing.
Provoking a Poem. I write poems with eyes wide open, watching the world around me. Thus everyday life enters my poems and becomes additionally unusual and upgraded. In my case, anything can provoke a poem. Sometimes it's just a glance through the window. People are given eyes to see, but they usually miss so many stories.

***
Books of Poetry
Besides many translations and presence in foreign selections of Serbian poetry, Ana Ristović published the following books of poetry: "Dreamwater" (1994), "Rope of Sand" (1997), "Entertainment for Lazybones Daughters" (1999), "Life in a Postcard" (2003), "Circling Zero" (2006), "P.S. (selected poems)" (2009), "Meteoric Debris" (2013), "Something Is Shining (selected and new poems)" (2014), "Clearing" (2015).
***
Appreciated
– Polish poets: Adam Zagajewski, Wislawa Szymborska, Ewa Lipska, Czeslaw Milosz, Zbigniew Herbert, Stanislav Baranczak, Ewa Sonnenberg, Andrzej Bursa. American poets: Charles Wright, James Tate, Elizabeth Bishop, Mark Strand, Sylvia Plath, Anne Sexton, Charles Simić (Serbian, yet foreign), Theodore Roethke, Tony Hoagland. English and Irish: Seamus Heaney, Michael Longley, Paul Muldoon, Ted Hughes, Philip Larkin… Czech: Vladimir Holan. Swedish: Thomas Tranströmer. Norwegian: Rolf Jacobsen. Russian: Marina Tsvetaeva, Anna Akhmatova… From an abundance of what I like, it is difficult to single out everyone without forgetting someone.
***
Local Soil
– If you ask me which authors I like, besides my father, Aleksandar Ristović, I'd certainly mention Stevan Raičković, Vasko Popa, Novica Tadić, Ivan V. Lalić, Nebojša Vasović, Miloš Komadina, Radmila Lazić, Danica Vukićević, Jelena Lengold, Ivana Milankova, Dejan Ilić, Nenad Jovanović, Dejan Aleksić… now I'll forget someone again, I probably already did.
***
You Are My Poetry
– Love is pure poetry. And poetry is absolute love. Thus poetry and love are actually one and the same. You could actually say to the one you love: you are my poetry! And that would mean that the being is an irreplaceable part of you, the best part you're not even aware of.