Winner
IGOR KOKOŠKOV, SERBIAN BASKETBALL COACH, THE FIRST EUROPEAN BORN HEAD COACH IN THE NBA
A Place Recognized a Long Time Ago
He led the national teams of Georgia and Slovenia, was assistant to Željko Obradović in the Serbia and Montenegro national team, worked with the LA Clippers, Detroit Pistons, Orlando Magic, Utah Jazz… and became head coach of the Phoenix Suns in May 2018. He follows Serbian basketball, understands its challenges, rejoices in the successes of Serbian players in the NBA. He likes to come to his Belgrade, just like his son and daughter, although he cannot make it too often. New great challenges await him across the ocean starting next summer
By: Dejan Bulajić
Photo: Guest's archive and Dragoslav Žarković ("Sportski žurnal")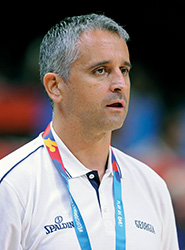 He got involved in basketball as a cadet, member of a very promising generation of the "Zvezda" junior team, but consequences of a traffic accident prevented him from further growing as a player. However, he didn't want to give up on basketball, so he soon tried his luck as a coach, in junior categories of Youth Basketball Club "Beograd", "Partizan", the Yugoslavian national team. This recommended him to depart to the cradle of basketball. The "American episode" of Igor Kokoškov has been lasting for almost two decades. He was assistant coach in LA Clippers, Detroit, Phoenix, Cleveland and Utah, and at the end of this season, he had the honor to be appointed head coach of the Phoenix Suns, as the first non-American head coach in history.
– That moment was the culmination of my entire career. I've also felt privileged up to now for having the opportunity to work in the highest-quality teams, gathered in the strongest league in the world. I've been in the NBA for years and that fact itself means a lot. I was obviously recommended by my talent, readiness to adjust and adopt new experiences. Only those involved in this business know how difficult it is to survive in it and keep a high level. I was given the opportunity to work with high-quality players, who are also good guys, ready to work hard, follow advices and advance. I'm very happy to return to the city I consider my second home and where I already experienced many nice moments. That is why I can't wait to build a good program, which will bring Phoenix much more joy in basketball. My satisfaction is even bigger because it's obvious how much energy I invest in my job, which is, finally, shown by achieved results.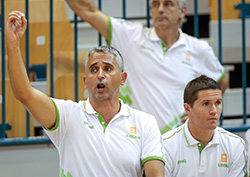 When entering this business, did you ever even anticipate that you'd reach such a high position as a coach?
It's been almost two decades. It would be unserious to say that I had NBA dreams back then, because the league was pretty closed for foreigners, with the exception of only a few players from abroad. Due to all that, I have a reason to consider myself a forerunner of a new wave. The NBA changed through time, it became much more open, both for players and coaches. Now it is an enormous caravan, sucking in everything truly valuable on the international scene, but at the time I was starting, it was completely different. Thus the gained experiences mean more to me and confirm that I deserve the position I'm in now.
THE MAN WHO OPENED DOORS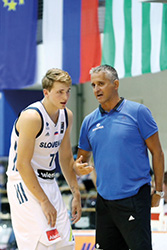 How was ice broken in the NBA?
It wasn't easy. It was clear that there were certain prejudices, that many people openly asked why they needed foreign coaches, since they invented the game and rule the world scene. All this was accompanied with cultural and language barriers, which clearly shows that it was really very difficult to enter the NBA world back then. Many of my European and other colleagues later passed through the door I left open, which gives full meaning to all my experiences. I believe, however, that it was easier for them to adapt and build a stable position.
How much did the league change in the meantime?
Drastically! It changed on all levels, because the entire story was designed as dynamic. The NBA today is a corporation, with enormous amounts of money in circulation. The entire organizational, media and marketing presentation, the course of the games, the game itself and players, everything changed in the past few years, let alone the past two decades. There is a mass of people, in the league and in clubs, who take care of every detail, nothing is left to chance, so it's no wonder the NBA is one of the most attractive planetary events today.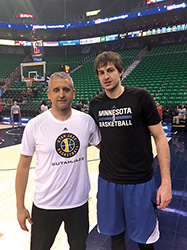 What can European players offer to the NBA?
In the past, players who entered the NBA were mostly good shooters and assistants, but today it's different. Now those who've been called physical workers until recently, those used for disturbing the game, for strong defense, are more respected now. I think that it's easier for all players, wherever they come from, to become distinguished, because they are surrounded with so many professionals in their teams, from agents to personal coaches, that it's almost impossible not to show quality, if they really have it. This also makes the NBA an exception, because the possibilities the players have are multiple and now everyone is offered an opportunity to present themselves.
An unpleasant trick of events took you, as a player, away from the court. Did such a successful coaching career compensate the wishes unaccomplished as a player?
I've never bothered myself with that. I come from a sportsmen family, I've always had the wish to be in sports and, finally, I afforded myself what many people wish for – my favorite hobby became my profession. However, regardless of the circumstances, I never bothered myself with what I'd become and what that will depend on. Even if I stayed in Serbia, in some local club or basketball camp, I would do it with the same pleasure and passion, because I saw my place in sports a long time ago.
RULES OF CONTEMPORARY SPORTS
Do you have a chance to follow basketball events in Serbia?
Not so intensively, due to my everyday obligations in the club, but enough to gain a correct perception. We have a great tradition, but it's wrong to make comparisons with the past times. What we used to be is a story of the past. Times have changed, conditions for advancing are dictated by money and we'll have to abide it. The economic situation in Serbia doesn't allow having several powerful clubs, not even a strong league. We should turn to what we can do – create players and help them mature, through local teams, European competitions, to the NBA. In that sense, we should use valuable experiences of our tradition and existing predispositions. That will, eventually, be most useful for our national team, which best shows how things are done. We have to be realistic, because the rules of contemporary sports have to be respected.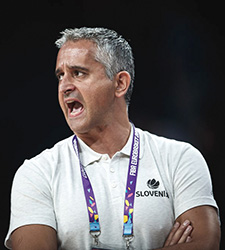 How do you explain the fact that so many good basketball players have matured in our lands?
Good foundations have been placed several decades ago, and the system, with its rises and falls, was improved through generations. Compared to many other countries, we have worked very seriously and improvised on the creative level. When you add certain genetic and character features, the fact that our people are of high stature and defiant attitude, you eventually gain good conditions for advancement. There is another reason why young people today decide to become seriously involved in sports: the financial effect and wish to identify themselves with already affirmed players. It's good because they compare themselves with Jokić, Teo, Bogdan and many other players, and they should be enabled to distinguish themselves, because that's the way to maintain and develop Serbian basketball.
A few words about Serbian players in the NBA?
I'm glad to say that the press frequently writes about them. Jokić had a great season. He is maturing and presenting himself not only as one of the best players in Denver, but as one of the best power forwards in the world, which is something no one in his club expected two years ago. As for Marjanović, it's good that he moved from Detroit to Los Angeles. He'll have a better opportunity to prove himself there. He is a positive personality, and that will help him patiently build a better position. Teodosić had a successful European career, which stopped him from coming to the NBA earlier. If his health is good, he'll show a lot. Bjelica had oscillations, according to the opportunities he was given, but he has an undoubted potential. It's good that he played in the playoff, because that experience will help him a lot. He still hasn't shown his real face. As for Bogdanović, perhaps it's good that he's playing in a somewhat lower-ranked team, because he plays under less pressure and was a starter in his first season. However, he'll present himself in time as one of the players with higher ambitions, and will be able to insist on them through his team or perhaps a different environment. Great years are ahead of him.
PRECIOUS MOMENTS OF THE HOMELAND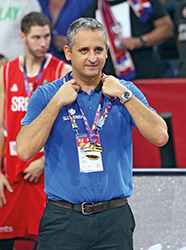 Do you have a wish to present yourself in Serbian basketball?
I can't say a lot about it at the moment, because my obligations are on a completely different side. However, as a Serb and born Belgradian, it's clear that I wish that all of us who work around the world will be able to come back one day and work in our country, with our players. However, many things have to fit in and it doesn't depend only on me or some other coach. The circumstances dominating international sports most often bring us further from our homeland, but these are now things that are not only related to sports and don't depend on sportsmen only.
How often do you have the chance to visit Serbia with your family?
Unfortunately, not so often, because during the past few years I shortened the period of my summer vacation to the minimum due to obligations in national teams. The moments I spend with my friends, family and dear people are precious to me. Then everything a man carries within since his childhood dives out, expressed as never before, when you're standing with both feet on your soil. That is actually what I miss most, because we don't have the chance to meet so often due to the large distance.
What reflexes of Serbia are especially present in you?
This is an age of developed technology and information is available wherever you are. You can also satisfy your need for language, culture, books, music. On the other hand, even Serbian cuisine is more and more available in each corner of the world. There is almost no bigger city, in any country, without a Serbian national restaurant. However, it's one thing when you're far away from your homeland, and something completely different when you land at the Belgrade airport and know you've arrived home.

***
Biography
Igor Kokoškov (1971). He ended his career as a player early, due to a traffic accident injury, and became the youngest basketball coach in Yugoslavia (Youth Basketball Club Beograd, 1995). He was coach to junior categories in Partizan and the Yugoslav national team. As assistant coach in the Serbia and Montenegro national team, he participated at the Olympic Games in Athens in 2004 and European Championship in 2005.
In 1999, he was hired as a college coach at the University of Missouri. The following year he became assistant coach of Los Angeles Clippers, as the first foreigner in that position in NBA history. From 2003, he was part of Larry Brown's team in Detroit Pistons. Assistant coach in the Phoenix Suns from 2008 to 2013. In the 2013/14 season, he worked as assistant coach in Cleveland Cavaliers, in 2015 in Orlando Magic, and in Utah Jazz until 2018. In May 2018, he was appointed head coach of the Phoenix Suns, as the first Serbian and first European head coach in an NBA team.
He was coach of the national team of Georgia from 2008 to 2015. As coach of the Slovenian national team in 2017, he won the first gold for that country at the European Championship.
He is married to Patricia (since 2009) and has a son Luka and daughter Elina.
***
Children
How do you present Serbia to your children?
In the best possible way. There are many things I can and want to tell them. I'm glad I can offer them a chance to discover a different model of history, culture, way of life, interpersonal relations, which most American children are deprived of. It will certainly enrich them, therefore they come with pleasure to spend time in Belgrade during their summer vacation.
***
Rest
Are you longing for rest after all the intensive experiences in the past years?
To be honest, yes, but I'm also aware that I'm a part of the machinery that doesn't grant the right to rest. These are the rules and there's no stepping back. The conquered position can be maintained only be continuous activity, thus I almost don't even think about the need to rest.