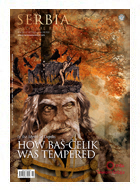 SERBIA - National review, No 68

Prologue
We addressed the geo-poetics of Serbia, its territories and temperaments. We visited the Professors' Colony in Belgrade and the famous Serbian Old Church in Sarajevo. We recalled generals Starina Novak and Petar Bigga. Talked with the painter Damjan Đakov, poet Ana Ristović and basketball coach Igor Kokoškov, the first European who became the head of the trade in the American League. (...) Meanwhile, the summer creeped up, finding many unprepared. For the summer mood, we miss ease and carelessness. But it is difficult to let go of the pressure under which we live. Let us try. <


CONTENTS
Prologue
NEW EDITIONS, OLD RIDDLES
The Roads in Us
Vitrage
NUMBERS, EVENTS, INTERESTING THINGS
Album
SEVENTY YEARS OF THE INSTITUTE FOR NATURE CONSERVATION
Treasures of Serbia
Geo-poetics
SKETCHES FOR A SACRAL GEOGRAPHY AND "HAMVAS" CHARACTEROLOGY OF SERBIA
Signs in the Middle of the Road
Within today's political borders of Serbia, which do not cover all Serbian territories in the Balkans, we clearly see the genius loci. Different spirit of the place, genius of the space, climate, with which almost everything else is adapted: the pulse of life, human nature, psychology, cuisine, music, humor, rakia and wines, national dress, worldview. We will lead you through a shortcut through this, pointing to another important Serbian book that waits for its author, its poet
By: Branislav Matić
City Tales
AN UNUSUAL BLOCK IN THE CAPITAL CITY OF SERBIA
The Smartest Colony in the Balkans
In the past, it was known which part of Belgrade was the residence of small craftsmen, which part of fishermen and boatmen, merchants and porters, doctors and lawyers. The Professors' Colony was established in the urban plan of 1923, on the right bank of the Nightingale's Creek, between present Cvijićeva, Bulevar despota Stefana, Mitropolita Petra and Braće Grim streets. The construction included 58 family houses and, since 1926, 45 professors of the Belgrade University moved into them, thereof as much as 14 members of the Academy. The descendants of most of them still live there today
By: Miloš Lazić
Chronicle
OLD SERBIAN CHURCH IN SARAJEVO, A MIRACLE OF SURVIVAL
Faith Stronger than Evil
When everything else was disappearing in the whirlpools of destruction and suffering, "the golden-winged lady" guarded this sanctity and its people. And the sanctity always came to life, the same as it was before. This long-lived church is a feat of faith and duration. Empires have changed, jurisdictions, armies, "manuscripts of the apocalypse", but this archangel church stood to indicate the path towards living Christ and in Christ. To "outlive transience and the Hade" with the church and through it
By: Sandra Kljajić
Mark
MORE THAN A BIOGRAPHY: STARINA NOVAK, SERBIAN HERO AND ROMANIAN GENERAL
A Wreath of Heroism and Legends
He had to live hundreds of years in order to perform all the heroic deed ascribed to him. He had several surnames and genealogies, was a general and a hayduk, performed miracles in Romania and Romanija, died several times before he was born, tortured and celebrated, praised in poems and untold. He was a light in long winters and nights of slavery, warmed the hearts and strings of the enslaved. St. Sava, Miloš Obilić and Marko Kraljević are the only Serbs with more toponyms under their name. Starina Novak was always able to "appear and flee", until our present days. It seems that he will outlive us as well
By: Petar Milatović
Code
PETAR BIGGA (1811–1879), SERBIAN HERO AND AUSTRIAN GENERAL, ORTHODOX CHRISTIAN KSHATRIYA
For the Emperor and My Nation
This inscription from the recently renewed tombstone on the grave of Petar Bigga at the Uspensko Cemetery in Novi Sad, engraved as a life motto and vow, indicates the entire depth of the imperial idea among Serbs. The lasting dream about a state based on the principles of Rome and rules of Heavens. Serbs have been carrying the symbols of such a state, from relics of saints to the regal eagle, through all fires and times. And when they moved from areas across the Sava and the Danube in times of dissatisfaction, they didn't move to the west, as economic migrants. They followed their star in the endless blue circle. To the Third Rome. This famous defender of Srbobran lived that idea
By: Đorđe M. Srbulović
Palette
DAMJAN ĐAKOV, A SERBIAN EUROPEAN, THE PAINTER WHO FREQUENTLY DEPARTED, BUT NEVER PARTED WITH HIS OWN
Resisting Mediocrity
In Italy he was close to transavantgarde and hyper-mannerism, which brought painting back to the center of attention. However, he found an autonomous expression and path, interlacing threads of Serbian tradition and influences of pop culture. His lights and colors shine on the inside, his symbols drag into ancient depths. Serbia is, he says, the greatest cultural power in southern Slavic lands, but it is necessary to fight every day against the banality of poisonous media and humiliating charlatanism
By: Dušica Milanović
Horizons
ANA RISTOVIĆ, POETESS AND DEFENDING HERSELF WITH PURPOSE
Poetry is the Art of Outcasts
Raised in the family of a famous poet and editor, in the neighborhood of Danilo Kiš and "Danube, the grand gentleman", she surrendered to the magic of books at an early age and lost all illusions about writers. She believes poetry is a sanctuary, a small intimate paradise, sometimes identified with love. She recommends Tomas Bernhard's "My Awards" to all those who feed their narcissism with literary awards. We live in a tragic age, when people regard the sparkling of a shop window more important than the shop's contents. What can the new slaves of neoliberal capitalism read during the short breaks in their almost continuous aimless work for a pittance? Where is the way out (if any)?
By: Gordana Simeunović
Winner
IGOR KOKOŠKOV, SERBIAN BASKETBALL COACH, THE FIRST EUROPEAN BORN HEAD COACH IN THE NBA
A Place Recognized a Long Time Ago
He led the national teams of Georgia and Slovenia, was assistant to Željko Obradović in the Serbia and Montenegro national team, worked with the LA Clippers, Detroit Pistons, Orlando Magic, Utah Jazz… and became head coach of the Phoenix Suns in May 2018. He follows Serbian basketball, understands its challenges, rejoices in the successes of Serbian players in the NBA. He likes to come to his Belgrade, just like his son and daughter, although he cannot make it too often. New great challenges await him across the ocean starting next summer
By: Dejan Bulajić
Record
THE LATE MUSICIAN PERA SANDOKAN, THE BENEVOLENT SPIRIT OF THE TAVERN "AT THE END OF THE WORLD"
Under the Sign of Accordion
Both Pera and the tavern are gone, but they are, of course, forever here. Those who know, right, can always visit them in time, in the dusk or dawn over the plain. We were then more soulful and humorous, bolder and reckless, we had ourselves all the time in this world. The money served us, not vice versa. We were able to live both under burden and at ease. Anecdotes and songs have remained, a memory from which one can sometimes live
By: Mišo Vujović
Heritage
THE MUNICIPALITY OF RUMA TAKES CARE OF ITS SPIRITUAL, CULTURAL AND HISTORICAL HERITAGE
Fostering the Culture of Memory
Marking the 100th anniversary of the unification of Srem and other areas of Vojvodina with Serbia, bringing back in the perspective the important personalities and dates, restoration of centuries-old temples and monuments from the liberation wars – all this reflects a responsible attitude towards what makes us a nation. For the Serbs today to preserve their identity, they say in Ruma, they must return to the values that made them great. "Death only takes away, oblivion kills"
By: Mile Vajagić
Catalogue
BEČEJ, A GENTLEMAN OF THE PLAIN, EXPANDS ITS TOURIST OFFER
New Sparks of the Old Attraction
Far from the banality and clichés of the tourism industry, this beautiful town in Bačka elegantly reveals to us its cultural and sacral treasuries, oases of nature, festivals, castles and chardaks, the Iodine Spa, potentials for sports tourism ... This is recognized by an increasing number of people who know how to travel and find joy in the journey
By: Aleksa Komet
Connections
CONTINUATION OF "MTS APP COMPETITION" OF "TELEKOM SRBIJA"
Regional app Challenge
In cooperation with "m:tel Montenegro" and "m:tel Bosnia and Herzegovina", high school students – winners of state competitions for mobile applications in three countries participated in the regional finals. There were twelve applications and teams from Podgorica, Doboj, East Sarajevo, Mostar, Prijedor, Senta, Belgrade, Šabac and Niš. The first place was divided by the teams from the Gymnasium "Bora Stanković" from Niš and High School "28. juni" from East Sarajevo. Members of both teams traveled to Berlin to one of the leading IoT conferences
Health
"MERKUR" FROM VRNЈAČKA BANЈA PUSHING THE BORDERS AND OPENING NEW MARKETS
Breakthrough in the Middle East
A record of over 200,000 overnight stays was achieved in the past year, and the trend of growth also continued in the first quarter of 2018. Last year, about 23,000 overnight stays were made by foreigners, mostly from Russia, Cyprus, Israel, Bulgaria and South Slavic countries. The recent opening of the International Tourism Fair in Dubai has opened up a space for business on a wide area from the Maghreb to the Middle East
Studies
PRINCIPLES OF DEVELOPMENT STRATEGY OF BELGRADE BUSINESS SCHOOL
For the Society of the Truly Educated
Although some elements of the new Law on Higher Education are not favorable for higher vocational education, BBS has harmonized all of its documents with it as soon as possible. Because, says prof. Đuro Đurović, PhD, Director of BBS, there is no greater patriotism than to respect the law of one's own state. Among the development projects of this school, they see as most important their transformation into the Academy of Vocational Studies, for which all the prescribed conditions have been met. The formula is cruel, but simple: it is hard for a country in which people whose value is objectively low come in a position to mean a lot