Eye
NEDELJKO GVOZDENOVIĆ (1902–1988), PAINTER, PROFESSOR, ACADEMICIAN
The Secret of Restraint and Play
The best Serbian art critics, experts and connoisseurs have written about him. His path from Herzegovina over Munich to Belgrade was often full of thorns, marked by poverty, but always gentlemanly. His students called him Marquise. He was a cultured painter, great expert in art history and master of subtly processed painting surface. He considered the sea too vulgar for painting, but loved to sneak out and take a city bus to the last stop, to the periphery of Belgrade. There he discovered refined consonances of colors, people, small coffee shops and atmosphere of a family he had never had
By: Dejan Đorić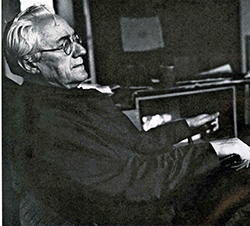 It has been thirty years since the death of Nedeljko Gvozdenović, painter, professor and academician. He was born in Mostar in 1902 and passed away in Belgrade in 1988. Gvozdenović is a phenomenon still attracting attention and respect. The greatest Serbian art critics, experts and connoisseurs have written affirmatively about his creative work, from Sreten Stojanović, Todor Manojlović, Rastko Petrović, Stefan Hakman, Dragan Aleksić, Mihailo Petrov, Bogdan Popović, Pjer Križanić, Đorđe Popović to postwar Oto Bihalji-Merin, Miodrag B. Protić, Pavle Vasić, Aleksa Čelebonović, Smail Tihić, Katarina Ambrozić, Zoran Pavlović, Dragoslav Đorđević, Stevan Stanić, Lazar Trifunović, Marija Pušić, Dušan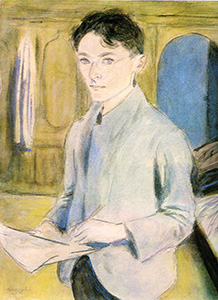 Pajin, Momo Kapor, Stanislav Živković and others. Perhaps the deepest or most poetic texts about him were written by surrealist Marko Ristić. Stojan Ćelić is the author of the first monograph about this painter in 1972. The third one was published in 1987, written by Nikola Kusovac, and the painter was more than happy to see it in the last days of his life.
His path from Herzegovina to Munich and Belgrade was too often full of thorns, marked by poverty. Impeccable in elementary school and gymnasium, he expressed his two affinities very early: his love towards painting and foreign languages. In his youth rich with hopes and fervors, he discovered a three-volume study about modern art, written by Julius Meier-Graefe and went to Munich in 1922. He didn't succeed in enrolling in the Academy, but he learned painting in Hans Hoffmann's private school. Cautious and gradual, the young artist attempted to form his own world of fine arts. He said: "When I think about the crucial moment today, I remember that one afternoon, bending over the window of my Munich apartment and looking at gardens and yards, I discovered impulses within me, which determined my expression and my future painting." Material circumstances forced him to leave Munich and come to Belgrade, where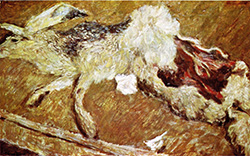 he made a living by teaching Latin, German and French. In 1929, he participated for the first time in an exhibition in the Art Pavilion in Kalemegdan, and in 1934 had his first single exhibition with Ivan Tabaković. He immediately attracted attention, although his paintings were small and in horrible frames. The fact that his second single exhibition was only in 1961, when he opened the Salon of the Museum of Contemporary Art Belgrade, shows the degree of his cautiousness. In 1940, he was appointed associate professor at the Academy of Fine Arts in Belgrade, where he continued teaching after the war as well. Although reserved and parsimonious in everything he did, he was the students' favorite teacher. Due to his inborn refinement,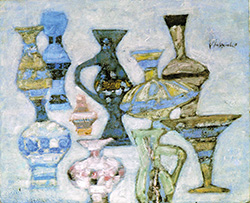 they called him Marquise. Stojan Ćelić remembers: "Apparently and truly distanced, inaccessible, very private, Gvozdenović was fully engaged as a pedagogue, ready to hand over his rich culture to the students while working with them. At the same time, the most important thing for him was the need to have young people, preparing to become authors or pedagogues, begin with the cognition that their first step at the studies has to be a creative step." Gvozdenović had a crucial role for Momčilo Moma Antonović, future professor and deacon of the Academy. He torn Aleksandar Cvetković from rock music and returned him to painting. Famous is his proofreading in classes. He addressed each student with respect, but in a way that no one except the two of them could hear what he was talking about. The professor never had narrow views of art: he also appreciated erotic graphics of Halil Tikveša.
INTIMISM OF THE BELGRADE SCHOOL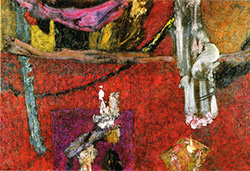 Gvozdenović had the luck to listen to lectures of Max Doerner in Munich, the best expert in painting technology in the twentieth century. His lessons forced him to restrain himself and reject possibilities he revealed in the painting procedure. The secret of his painting is working on a painting for a long period of time. He returned to many paintings after several years, and used to borrow paintings sold a long time ago from buyers to adapt them. For that purpose, he noted dates of painting on the backside of blind frames. He explains: "I often need long pauses while working on the same canvas; sometimes forgetting what I wanted does me well; when the original inspiration fades and when I'm free from its pressure, I can more easily find the path which, sometimes going backwards, brings me to the initial shock and leads into a state of relaxedness and necessary disposal, where lively and spontaneous play is the only possible thing; and that play, I can feel it, is still not just a play."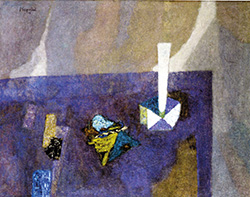 He was a very cultural painter, excellent connoisseur in the history of art and master of subtly processed painting, who knew how to rationalize his feelings. Miodrag B. Protić speaks about the almost patriarchal closeness and warmth, about the culture of performing works "whose emotionality transfers into visual obsession, which reminds of old precious tapestry by the nobility of the craft and refinedness of the color". The artist really did carefully study carpets and tapestries for a while, putting layers on a painting similar to old embroidery in a filigree manner, just as he was deeply amazed in his youth by texts written by Dimitrije Mitrinović about painters familiar with the philosophy of porcelain. That is probably why he loved refined, fragile objects and gentle figurines, never bringing his easel outside, which doesn't mean that his oils never show landscapes or austere, cruel or even aggressive details. Gvozdenović is a painter aesthetician, a poet inclined towards the loneliness and silence in the studio, classical music, the dusk and settings of strong light. His style is refined, he had a feeling for color and atmosphere, therefore French president Valéry Giscard d'Estaing, during his stay in Belgrade, asked to be taken to his studio to purchase a painting. Besides Ljubica Cuca Sokić, he is the most important representative of intimism of the Belgrade school, even more because he had never lost the healthy feeling for reality in his ebony tower. He considered the sea too vulgar for painting, but used to sneak out and take the bus to the last stops, to the Belgrade periphery, where he discovered quiet and refined consonances of colors, people, small coffee shops and the atmosphere of a family he had never had.

***
Life


Nedeljko Gvozdenović (Mostar, 1902) studied painting in Munich, in the International School with Professor Hans Hoffmann, from 1922 to 1926. After completing his studies, he came to Belgrade. He was professor at the Academy of Fine Arts in Belgrade, member of the Serbian Academy of Sciences and Arts. Many of his students are important names in Serbian art in the past century. Besides Belgrade, he exhibited in Paris, 1937, Venice, 1952, Tokyo, 1957, Brooklyn, 1963.
He bequeathed many of his works, his apartment with the studio and a certain amount of money for equipping the gallery for exhibiting his works to the Museum of Belgrade. The city of Belgrade placed Nedeljko Gvozdenović's legacy in 1983 under the charge of its Museum and the "Gvozdenović" Gallery was officially opened.
He was buried at the Alley of Deserved Citizens at the New Cemetery in Belgrade. A street in Bežanijska Kosa was named after him.
***
Exhibition
For the occasion of the 50th anniversary of the Serbian Academy of Sciences and Arts (SANU) Gallery and 30 years since the death of Nedeljko Gvozdenović, the exhibition "In Search of Absolute Painting" was opened in this reputable exhibition space on July 4. The exhibition includes about a hundred valuable works from the SANU Collection, created in different periods of Gvozdenović's creative work and in different techniques (gouache, drawings, tempera, aquarelles, still lives, landscapes, interiors…) This is the first single exhibition of Nedeljko Gvozdenović under the roof of the Academy whose member he was, in the Gallery he was one of the founders of.
The author of the retrospective and accompanying monograph is Dijana Metlić, PhD, associate professor at the Academy of Arts in Novi Sad. The exhibition will be open until August 5.
***
Before Nature
"It is best to stand before nature humbly, to first experience something, with the eyes I mean, and then express it as powerfully as possible with artistic means, composition, form, color, shade." (Nedeljko Gvozdenović)
***
Right to Existence
"If someone would shut me in my studio, I could change and arrange these blind frames until the end, left, right, here, there. And, believe me, it wouldn't be some formalistic-aesthetic exhibition. I'd attempt to give the right to existence to each of those arrangements, each version, in which every accent would have its color and role." (Nedeljko Gvozdenović)