Chant
SERBIAN CHURCH CHORAL SOCIETY FROM PRIJEDOR AND ITS BOOM ON YOUTUBE
Fairylike
Established more than a hundred and thirty years ago, "Vila" (Fairy) has always shared the fate of its nation. The strength of "Vila's" swing was a result of the degree of Serbian culture and spirituality among Serbs, faith and vertical of value. Renewed in 2000, "Vila" greatly contributed to the culture of Krajina and Srpska. It has never returned from any international competition without an award. Its performance of "Psalm 135" in the Prijedor church on the Pentecost, saint day of the city, had more than two and a half million views on YouTube. The comments below testify about being deeply moved by beauty, elevated by the divine-earthly chanting. About tears that run unwillingly and angelic choruses
By: Sandra Kljajić
Photo: Sandra Kljajić and "Vila's" Archive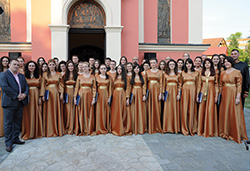 Since its founding, "Vila" has experienced and survived many things. At the time this society was established, in 1885, Prijedor, as an urban settlement, had less than 4.500 inhabitants, mostly merchants, craftsmen and farmers. Even in such a small environment, awareness existed about the importance of preserving tradition and cultural life. The founders of the Society were merchants, craftsmen and a few teachers.
Already at the beginning, despite the absence of professional musicians, the activities of the Choral Society were very successful, so the Provincial Government in Sarajevo was asked to approve its work. The Government approved the Rules and work of "Vila" in 1892, after which its activities grew stronger and new members enrolled.
For almost 60 years, the Society participated in all cultural events, received many awards, and sang at services in the Orthodox Christian church every Sunday. Thanks to "Vila", Prijedor has the longest tradition in choral singing in Srpska.
World War II brought the end of "Vila's" activities in 1941. The system established in the second Yugoslavia was also not favorable for the Society, so it was shut down and waited for its renewal until 2000.
The conductor of the present chorus, Aljoša Novaković, mentions that, in the years following its founding, "Vila" was one of the most esteemed societies and that it had an immeasurable contribution to the culture of Prijedor, Krajina and the entire Bosnia and Herzegovina.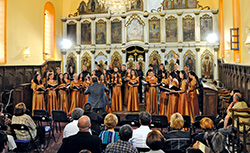 – "Vila", one of the oldest singing societies in the Southern-Yugoslav lands, was a unique "seed of culture". A school of music, theater, museum and other societies were created from it. "Mladen Stojanović" Cultural and Artistic Society, which continued cherishing the tradition of choral singing after the shutting down of "Vila", was founded after World War II. Unfortunately, there was no space for church singing at the time – says Novaković.
The renewal of "Vila" began in 2000. During the first three years, it was active as the chorus of the Church of Holy Trinity in Prijedor.
– We believed in success and the new age, when we should turn to our nation, to Orthodox Christianity. The beginning was very difficult. However, with hard work, faith and persistence, we obtained a sufficient number of members and achieved necessary quality, thereby stepping out of local borders – says Novaković. – In the year 2003, we officially became the Serbian Orthodox Church Singing Society "Vila". We tried hard to continue everything "Vila" was doing in the past, from singing at church services and weddings, participating at events, to festivals and competitions.
"Vila" has various compositions on its repertoire, with special attention given to the music of Russian composers.
YOUNG PEOPLE OF PRIJEDOR AS THE BACKBONE
"Vila" has always gathered young people, emphasizes Novaković, and Prijedor has always had many talented young men and women. Therefore it's no wonder that high school students, from the school of music and other schools, make the backbone of the present Society. About 500 of them passed the society from its renewal to the present day. It should be noted that "Vila" is not a professional association, and that it is based on the enthusiasm of its members, which is certainly very intense.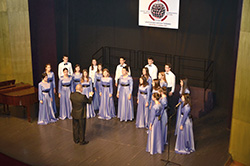 – This is very strenuous work, requesting efforts and sacrifice, but our members don't find it difficult. We have requesting rehearsals, many compositions to learn, preparing for concerts and competitions. Participating in church services is also a great responsibility. It is clear that those without a sense of rhythm, without an ear, without feeling, faith, respect, without the zeal for fulfilling these obligations, cannot participate – explains Novaković.
During the past few years, with talented children from Prijedor, "Vila" achieved enormous success and became famous worldwide.
– We took one step at a time. After winning all the awards at the International Festival of Choruses "Golden Fairy" in Prijedor, where we participated as hosts for years, we knew we could go into the world, since this is a particularly difficult competition – emphasizes Novaković.
Some of their performances include Paris, Thessaloniki, Byalistok, and they have never returned to Prijedor without an award. The crown was the Grand Prix of the Ninth Festival of Choruses in Ohrid 2016, where they received the award for the best performance of a spiritual piece of music (Bogoroditse Devo by Sergei Rachmaninoff), as well as the award for the masterful performance of the composition Alleluia written by the festival president, Zapro Zaprov.
TRANSFORMED BY FAITH
"Vila" became very popular worldwide with their clips on YouTube from the concert held a few years ago on the Pentecost, the saint day of the city of Prijedor.
Members of "Vila" still cannot believe they are so popular.
– The listeners were certainly attracted by the performers' talent. They noticed the sincerity, dedication, faith and sacrifice of the chorus' members, who despite being so young, succeed in performing the chant with such emotions. Wherever we have performed, people said that the members of "Vila" sing surreally, that the chorus has a soul. The fact that we come from a small environment makes the success even greater – emphasizes Novaković.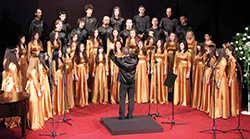 Kristina Rokvić, who has been singing in the chorus for several years, says that "Vila" brings something new to the world alienated from the spiritual meaning of life, the only real meaning.
– Our attempt to bring it back, to show and give a particle of that spirituality to people, influences those who listen to us, as well as our families, acquaintances, friends. We want to erase prejudices, which, unfortunately, still exist about this kind of music. Chanting certainly has a great influence on a human being and it can change their view of the world, positively of course. I myself have experienced such a change – states Kristina, violin player, who completed third grade of the Middle School of Music "Savo Balaban" in Prijedor. She believes that the most important thing in life is fellowship, and a chorus is exactly an institution with fellowship as its basis.
– We follow each other and rely on each other, because a chorus is a whole. It is hard find words to explain the kind of energy achieved by singing in a group, when you know that you belong to something bigger, something holy, invaluable. It's even harder to explain the feelings I experience, for example, while we are performing my favorite composition Bogoroditse Devo. I sing and listen to all the voices around me at the same time, that perfect harmony, energy and love we express together. One can rarely experience something like that in everyday life – tells Kristina.
Maja Fuštar has been with "Vila" for almost two years. Unlike Kristina, she is a student of the School of Economics and completed several grades of the Elementary School of Music.
– I decided to become member of the chorus thanks to my sister Nina, who has been with "Vila" for years. When she returned from the competition in Ohrid and told about the emotions she experienced during the competition and performing spiritual music, I wanted to be a part of it as well – tells Maja.
She, however, says that singing in a chorus isn't easy at all.
– The beginning was really difficult, especially because I came at the moment the chorus had already finished rehearsals of a large part of its repertoire and the entire liturgy. I went to church every Sunday, listened to and sang with them and thus learned the entire liturgy. That is what I enjoy most today. Chanting enlights a human being, and singing in a chorus brings emotions, which are hard to explain – states Maja.
SCATTERING AND SURVIVING
Aljoša Novaković reminds that "Vila" has given birth to many talents, including tenor Mladen Prodan, while other previous members of the Society, who live all around the world, also have successful careers. The switch of generations in the chorus is common, but the increasing emigration of young people in the past few years has reflected on the Society as well.
– After completing high school, members of the chorus go to universities in other cities, and there is a growing number of families who move abroad with children who used to sing in "Vila". We are now left with 20 members. Due to the lack of male voices, "Vila" grew into a female chorus – says Novaković.
Kristina will leave Prijedor already next year, due to her studies, and Maja will leave in three years. They both hope that "Vila" will survive, and Maja plans to, if the conditions are favorable, return to her city.
Novaković doesn't lose hope that previous members will return one day, to live here with their families and continue singing in the chorus.
– We had our ups and downs, but we worked with the same pace, same ardor, same energy both in difficult and good times. As long as we have young people willing to sing, I have the faith and hope that "Vila" will continue spreading its wings – concludes Novaković.

***
In Notre-Dame
Aljoša Novaković says that he remembers all their performances with joy, especially the unexpected one in the Notre-Dame cathedral in Paris.
– In order to hold a concert in Notre-Dame, you have to announce it several months earlier. We were visiting Paris and decided to see the cathedral. One of the members of the chorus asked the priests if we could sing something and they allowed us. We held a mini-concert, singing about 20 minutes before about 1.000 people from the whole world – tells Novaković.
***
Psalm 135
The performance of Psalm 135 (Praise the Lord) for the Pentecost in Prijedor has over two and a half million views on Youtube. The comments that arrived from all parts of the world, from people of different nations and religions, tell about people being moved with the beauty and ascended singing. People affectedly mention that this was the best performance of that song they have ever heard. They say that the voices of the chorus members are divine and angelic.