Pulsations
FROM THE BOOK OF MILADIN ĆULAFIĆ'S PROSE
Brains End like the Cherry Season
He has been listening, recognizing and noting for decades. He composes stories, sayings and words, backwards and forwards. He hunts the depths of the land and language, his small personal mythography. Entire characterology studies are spread, the features and wisdom of the nation, in the light of one of his images, in the flash of a sentence, in the spice of humor and paradox. Aware of its virtues and shortcomings, the writer loves our world and understands it. He knows that language remembers better than us, thus he asks for its help. That is how these masterly written miniatures appear, original and legendary, with big eyes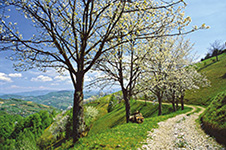 WHO IS LOOKING AT WHAT
Someone asked an old woman from our village, while she was visiting her son in the city: Can you read the clock? Why should I read the clock, she replied. I look at the sun.
HUNGER
Jovan died. His little daughter Nasta was crying. Everyone was consoling her. I'm not crying for him – finally said the girl – I'm hungry!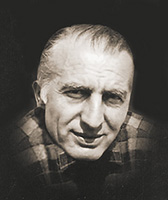 DEATH
At the time, a broken, collapsed army was passing before my childlike eyes. Two soldiers made a fire, to warm themselves (as if that was the only thing they still cared about). They must've been ill from typhus. They died there. One's fallen arm was burned to the elbow. There, as a child, watching that, I realized (if it could be realized at all) what death is… a man's hand is burning, while he…
WHEN YOU MARRY
Get married, you should do it, but open your eyes wide. It's not a wooden bowl of flour, it's your future. Take care to have it for the old woman too… If it doesn't exist now, it won't exist when she grows old… An evil woman is an eternal dungeon! There is nothing worse than a man leaving his home laughing and returning with a grim face… Watch out, open your eyes wide, wash your face with ice-cold water…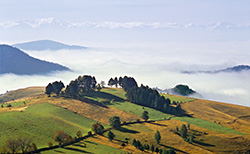 BORDERS
A man, wandering through a mountain, didn't notice the border – and there was nothing to be noticed – and took a little walk to the other side. Later, he stumbled upon the border again (again by accident), the border guard noticed him – on this side, "his people" – and everything became pretty complicated…
LOOKING AT THE DUST
He was a strange boy. Once, while we were coming back home from school, he stared at the ground. As if he had seen something we didn't notice.
– What's with you? What are you staring at?
– I'm thinking: dear God… when you die and never again, never, never, never…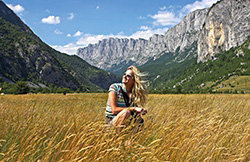 TEACHER
A child came home from school and said:
– Daddy, are you a bandit?
– What bandit, son? Who told you that?
– The teacher said so… She was telling us about the war, so… that's what she calls those you fought with in the war…
– All right, son… if the teacher says so. Listen to your teacher.
OUR MEDALS
Someone from the Municipality, along the way, passing by, told me: Come tomorrow, at so many hours, to that office. I was scared sick: what did he mean by that? When I arrived there – a medal. For courage, he says.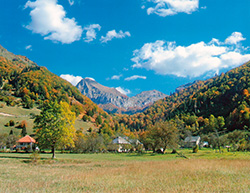 SISTER
A teacher scolded a girl. I don't want to see that again, he said. He scolded the girl because she was limping. And she was limping, the teacher told us, because her brother was limping.
THE POOR GUY FROM BETWEEN STREAMS
His house, between two streams. And that's what it's called – Between Streams. Two clear forest streams. So close that you had to shout when speaking to someone, if he were a bit further. And a tap is nearby.
He just lies down under a tree – and lies there all day long. He just sometimes crawls to another shade, if it's not too far away and if he thinks it's better. He becomes thirsty. And just sighs:
– Waterless Ulotina, God damn you!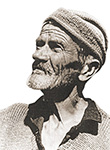 FAMILY
I don't remember any of my closest ones. My father was killed in the war. My mother died. She couldn't get over her brother's death. He was killed when he was seventeen. My grandfather took me. I don't remember him either. I just remember his coffin – while they were carrying it away.
HOW TO EXIT CAVES?
I have farmland, a house, a barn, some fruit, and a cave. The cave is up in the forest. It was always like that with us – every once in a while, to the cave. Our caves are always sooty. (We make fire at night – so the smoke wouldn't be seen.) The soot cannot be erased. Go out of the cave and, in complete darkness, steal something from your house, from your fruit tree…
SILENT
In the past, there was always someone singing while walking through the village.
No one brought water, herded sheep, passed through the forest, harvested or put a child to sleep without singing…
And now, either I'm deaf – I hope to God it's that! – or…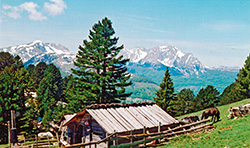 GOD
At dusk, there, at the edge of the forest, a shot was heard. The boy knew: at that time, deer go out to the meadow to graze. And that it was a shot of a hunter. Immediately after – it was cloudy – thunder was heard. It's God shooting at the one – the boy thought – who killed the deer.
FIRE
In my childhood, in the mountain, when the flaring of the sunset shuts down, when the distant hills slowly start turning into bunches of darkness, when the cool night wind (which perhaps crawled through the rocks of Prokletije) appears – we felt the need to make a fire on a height. We collected wood so persistently and vigorously on that barren mountain land! So our fire would ignite in the deaf spaces of the night. As a sign of our existence in the world. Elevated high towards the stars, yet so far away from them, we desperately attempted to have it burn as strong as possible and last as long as possible – that fire of ours.
KID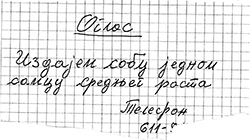 Once, when we were mowing grass, a goat with a kid came to the slope above us. The goat was grazing, while the kid was more eager to play. So they came under the rock. The kid, jumping left and right, using niches and cracks, started climbing up the rock. He was running, prancing – as if another kid was in front of him and they'd bump their heads – peacocked, showed off to his mother… Later, when he was supposed to come down, he was confused. He began bending cautiously, he was restrained. The joyfulness was gone! He called his mother in a different voice. She would raise her head, reply something and continue grazing.
It lasted a while.
What was left in him from some distant ancestor made him climb the rock; what it is now prevented him from returning.
PLAYFULNESS
In a slum – one of the settlements they usually call Gypsy-slum – he stopped in front of that house: family members were dancing to the music from the radio. And as if their entire house was dancing with them: its threshold, each chair, each window glass, the cradle – if they have it – coffee pot, spider web in some corner, light bulb… As if their entire home was dancing with them…
FOREIGN LANDS

When Ahmet's son – in Brčko, after the latest war – told him that they should go to Canada, he said:
Why should you go there, to a foreign land… everything is foreign here as well.
Later, after they had left, his son kept talking him into going there as well. Ahmet asked:
Do they have some other language there?
Yes, said his son.
I can't, said the father. Going there without a language… living like some blockhead…
Now his folks are living there, in Canada. The son called Ahmet to hear how he is. Ahmet complained that he was thirsty. They gave the attic to a woman (a refugee with her child), for free, just to watch over Ahmet. But, there, Ahmet was thirsty. The son called his school friend, Nada, and asked her to give water to Ahmet. She did it immediately. Ahmet drank the water. And died. So his son gave him the glass of water across the ocean (using Nada's hand). He probably didn't need anything else.
THE VRBAS
An old man from Banjaluka was wandering through Vancouver, its streets and parks, all day long. He fled from the war in his homeland to his folks; actually, that was what they wanted. So now he wanders through the city.
Dear man, someone asked him once, what is it you're looking for?
I'm looking for the Vrbas, said the old man.
SO MANY FEARS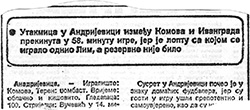 God, how many fears have I suffered in my lifetime!
I wouldn't say that I'm a big coward, but so many fears, my brother.
They were establishing those unfortunate peasants' – as they called it workers' – associations. I didn't want to be part of it – never. I can't. I divided the property with my father, my brothers – and they want to mix me with the village… Well, I could mix with someone, but with some never, oh, no – I'd rather mix with those at the graveyard.
They invited us to a conference. The famous Miodrag Mikašinović came to push the remaining poor people into the association. He started calling out.
Why don't you, Tojo, he asks me, want to enter the association?
I can't, I say. I'm an old man. I can't work. You will take what I have and then, according to the working efficiency… Like this, I'll manage somehow myself – be as it may…
All right, he asks, what makes you smarter than that one, that one…
No, I say, they are smarter, I'm a blockhead, that's exactly why I don't want to enter the association – not to, stupid as I am, ruin your business.
You talk too much, he says – and we don't have time to loose, he says, every moment is precious – so, just let me ask you a short question: You want to enter the association or not?
Not me.
Then he pointed his finger at me and said: Good, but just know that you'll regret it. THE WHEEL OF HISTORY – he said – WILL RUN YOU OVER.
I go home, poor man, and can't fall asleep. What kind of a wheel is it? Didn't all wheels already run over my back? When I did fall asleep, I jumped: some biiiiig wheel, as big as a mountain, is flying towards me…
(From the book "Brains End like the Cherry Season", SKZ, Beograd, 2016)

***
Biography
Miladin Ćulafić (Luge, Andrijevica, 1939). He was educated in Ulotina, Andrijevica, Berane (then Ivangrad) and Belgrade. He graduated at the Belgrade University Faculty of Philology, Group for Yugoslav and World Literature. As literature professor, he worked in Brčko, Mladenovac, Mrkonjić-Grad and Banjaluka. He worked as lector in the "Jež" newspaper and "Rad" publishing house.
Collections of stories: "Persistence of the Grass" (1969), "Something" (1972), "Misunderstandings" (1986), "Grimaces in the Air" (1983), "Wheel of History" (1988), "When Can I Stop Being Good – Thus Grew Stevan" (1990), "I Cannot Make a Single Move Without Freedom" (1993), "Brains End like the Cherry Season" (1997, 2005, 2016), "Master of the Skyscraper" (2000). Selected stories: "Wild Old Man" (1993), "Wealth" (1999), "Over the Border" (2007), "Eyes of the Deer" (2017).
Winner of awards "Isidora Sekulić", "Radoje Domanović", "Politika's" award for stories, as well as recognitions in his Andrijevica and Berane.
He lives in Belgrade.