Life, Novels
NIKOLA MALOVIĆ, WRITER, A WANDERING NATIVE OF THE BAY OF KOTOR STEADY ON HIS FEET, COASTGUARD OF SERBIAN LITERATURE
It's Hard to Be a Serb in Montenegro
His books are full of fishhooks, which save both the writer and the reader. From his bookstore "So" ("Salt"), on the square of Herzeg's city, on his timeless island, he prevents the Bay from sinking into convert madness and the world from becoming bland by unsalted lies. From his zero altitude he sees Serbia, crucified by the hands of foreigners and their marionettes, being raped and kicked in the head, in reason, in dignity. It needs a "hero of our time", ready to rise and die for Serbia. If it's not national, a state becomes a company. The Montenegrin treachery is not just apostasy; it is also a cultural suicide. The market totalitarianism and primitivism of liberal capitalism must be opposed with mastery. Not everything in the form of a book is a book
By: Branislav Matić
Photo: Guest's Archive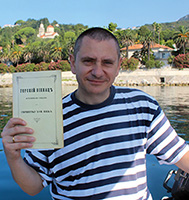 He is the eleventh generation of newcomers from Durmitor and Old Herzegovina, whose eyes turned blue from the sea. His mother tongue is Serbian, although his mother is a Slovenian from Styria. His father, the oldest barber in the Bay, shaved Ivo Andrić. The Bay is the entire world to him. It is the only place he travels and still hasn't managed to see everything. From The Last Decade to The Sail of Hope, this "Terazije Bayman" firmly wanders firmly those blue-striped landscapes. The nets of Serbian literature widespread from his window to the sea have never moved away from it.
Nikola Malović (Kotor, 1970) in National Review.
Origins. I have been a native of the Bay since 1694. That year, in the emigration of Orthodox Christians from Old Herzegovina, present Montenegro, my ancestors reached the coastal area liberated from the Turks in 1687.
In my novel The Wandering Man from the Bay of Kotor I said that the eyes of my ancestors turned blue from great astonishment when they saw the sea. I'm the eleventh generation originating from the village of Duži on Durmitor.
If it weren't for the sea, I wouldn't be here now. I say that with a reason, because Marjeta Štrakl, Slovenian girl from Styria, the youngest of three sisters, came to the Bay for her summer vacation, to visit her middle sister, who got married after spending a summer vacation with their eldest sister, married in Herceg-Novi.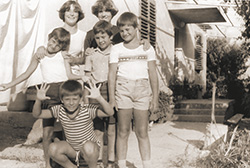 When asked what was the first thing she noticed in my father, my mother says that it were the Barber's blue eyes. We all call my father the Barber, because he is the oldest barber in the Bay, with a fifty-eight year-long career! He cut and shaved more than 100.000 people, five generations of some families (great-grandfather, grandfather, father, son and grandson), including Ivo Andrić. In the documentary prose book Barber of the Bay, signed by me, my father explains that Andrić's beard was one of the most difficult for shaving.
A curiosity: my mother tongue – if we define it as the language one starts speaking – is not Serbian, it's Slovenian. And if it weren't for the accident I had as a baby, I would surely, outside of hospitals, spend more time with my mother, because my father had to turn thousands of shavings and haircuts into a roof over our heads. Today, I definitely say that my mother tongue is – Serbian.
My parents were members of the Communist Party. My mother first out of conviction, and my father so that no one would question his private entrepreneurship. In such a family, God didn't exist and we never celebrated saint days. My first knowledge about Christianity came from my mother, who was Roman Catholic, more as Christian fairytales than as catechesis.
Since I was baptized in the Church of the Holy Virgin in Bijela after all, like all my ancestors except the first one, who came already baptized, I opened my spiritual eyes only in 1999 in Belgrade under bombs. Then I started celebrating my saint day.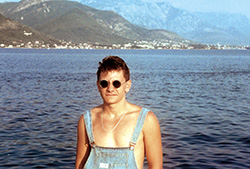 The Bay. The Bay of Kotor first used to be my homeland, while now it extended to the size of a world at scale. It is therefore no wonder that I present the Bay as teatrum mundi in my novels. My previous homeland and present world has baroque cities, an artificial island from the Renaissance, palimpsests of histories, rows of captains' palaces reflected in the calm sea, excellent cuisine, culture of tolerance, the island where Saint Sava established the Bishopric of Zeta in 1219…
If one would observe the Bay of Kotor, the only fiord in the Mediterranean, as an island, it wouldn't be a big mistake. The Bay is bordered on three sides with the sea of steep rocks and on the fourth side – with the sea of the sea. One needs several lifetimes to see the entire Bay. Proof? I have never set foot on the biggest island in the Bay, St. Marko. I've never been in Gornji Stoliv, the urban medallion with a bell tower and a clock. I've been on almost all mountain tops and sea depths, peninsulas and capes, I sailed the meandering contours of the Bay as the first Serb, happy that there's so much more left to experience and see.
The Bay of Kotor is a wondrous geography: it has its spiritual east on the geographical west (Herceg Novi) and its spiritual west on the geographical east (Kotor).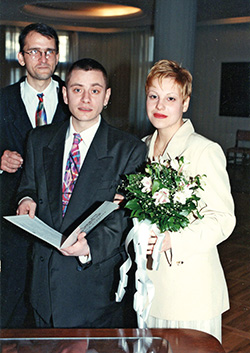 Being born in Kotor (1970) received its meaning later, when I saw how important Kotor is in all historical maps, both as the main port of our medieval state and as a city which, except for Dubrovnik, cannot be compared with any other.
All images of my childhood, except for the physically painful ones, are related to the summer. The trunks were a sufficient property to be happy in the privileged geography. Especially when you also have flippers and snorkels. One of the most impressive moving memo-images is the moment I'm looking through two ponts – two stone piers – everything is teeming with life. I see: seaweed, sea lettuce, algae whose names I don't know, crabs, sea spiders, schools of tiny Mediterranean sand smelts, a small school of tasty mullets, little wrasses, as colorful as macaws, clusters of mussels on processed rocks, oysters on unprocessed ones, warty venuses and vongole in the sand, little snails, cornets and limpets, sea urchins and squirting cucumbers… – all the way to the depth of five and length of a hundred meters. Alas, today this ecological paradise is buried! A hotel was built in the place of the previous Fish Processing Factory, where I used to swim as a boy. Its Monte-Moor owner poured pharaonic quantities of stone and soil of inadequate chemical structure on the beach – in order to place as many chargeable deck chairs and parasols as possible. The arrival of liberal capitalism buried a great part of my hopes that the beauty we received is eternal and that freedom doesn't need to be reconquered.
As all people are divided into living, dead and those who sail seas, thus those living in the coastal region are divided into those who sail and those who praise the sea, but stick to land. As professor of the ancient Naval Academy of Kotor, I say that I belong to the latter – those who stick to land, although many of my relatives and ancestors were seamen. I discovered ancestors under the Russian imperial navy flag in the capital photo-monograph History of Maritime in the Bay of Kotor written by Predrag V. Kovačević, edited and published by me.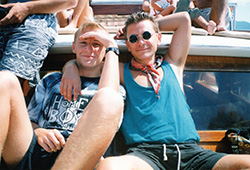 As soon as I anticipated, in 2004, two years prior to the Montenegro referendum, which was scooped of course, that the ideology of Montenegrinity will impair my Serbian language and literature professor's diploma, I moved from Kotor to Herceg Novi and, together with my wife, founded the "So" Bookshop, classical bookstore and publishing house. Thus I renewed the tradition of the oldest regional bookstore and publishing activity, with the permission of the heirs of Jovo Sekulović (1879–1950), who opened a bookstore in 1898, in the Austro-Hungarian Herceg Novi, three years before Geca Kon in Belgrade.
As a bookseller with an almost fifteen years' experience, I can confirm that there have never been many books about the sea in Serbian. Therefore all that write about blue and white subjects always have a double width.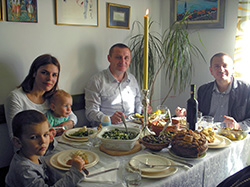 Herceg Novi. When my wife realized that, except for the seamen from our family, we don't know anyone who gained an apartment without a loan or inheritance, we felt especially proud. The "So" bookstore (since 2004) provided us a small apartment in Herceg Novi, with a view of the sea.
Perhaps the apartment would've been bigger if I haven't personally financed the publishing of an expensive, own photo-monograph Herceg Novi: A City of 100.001 Stairs. It was necessary to travel the length and breadth of the Riviera, again from zero altitude to the thousand-meter heights, to create a photo-monograph dedicated to the fact that a city founded in 1382 has more stairways than real streets, due to salt trade. For two years, my wife and I spent summers and winters in a nutshell, touring the seemingly small geography, however full of stairways.
There is a big difference between Herceg Novi and Kotor, as if two Bays exist. Kotor is the center of all chargeable events in the Bay, including masonry and the occult, while Herceg Novi is wild, cheaper, profaner, less educated, without social, political and artistic crème, such as those escorting Josip Broz Tito while he stayed in Igalo with members of his palace.
The Wandering Man from the Bay of Kotor squeezes Kotor like a lemon, while The Sail of Hope squeezes the essence from magical Perast.
In order to remain independent as a writer, I have to sacrifice a lot. Thus I'm living as if in an island. In my "So" bookstore at the main city square.
In time I became a souvenir, which is a growing burden for me, since I'm not a very social person. However, it's impossible to resist readers who come during the holiday season and claim that they had read my books several times.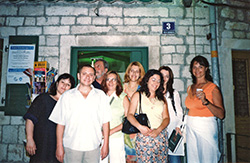 Belgrade. Although I salt my literary Serbian with Romancisms, I've never said that I have actually been writing in Belgrade style all this time. Literature connoisseurs know what that means.
In the mutual gifting between Belgrade and me, we all won, because if it weren't for The Wandering Man of the Bay of Kotor that year of 2007, we couldn't so convincingly say that there are a sea of Romancisms belonging to the Serbian language. Croatians would claim the right to the so-called Bay language, something that ideological Montenegrins still haven't thought of (sic!). Croatians spice their language version with Romancisms, many of them do so, unlike me, who is completely alone in contemporary Serbian literature.
Fortunately for me, that made me recognizable.
It's difficult to single out important places in the map of Belgrade, because Belgrade on this side of both rivers is for me the same emotional whole. I am testis temporum, the witness of time: everything that minced Belgrade minced me as well – from the agony of the disintegration of the Socialist Federal Republic of Yugoslavia and wars that followed, economic embargo imposed by the western world, students' and civil protests in the 90s, NATO bombing, fall of Milošević and coming to power of sponsored names and surnames – everything influenced my forming in a way I think today, that our perspective is in our retrospective.
Although my wife is Belgrade-born, I always stay in the "Kasina" hotel in Terazije. There is a memorial plate in front of room 308, stating: "Nikola Malović, awarded Serbian writer from the Bay of Kotor, stays in this room". I made up a new term for myself, which rightfully belongs to me: The Terazije Bayman.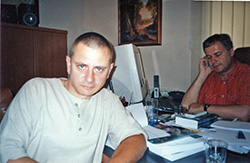 Big Writers of Small Towns. You're asking the wrong person whether he thinks that our charming little towns have lost their self-confidence and idea about their role and importance…
There are certain differences between charming little towns and a little town on the coast, impossible not to adore.
The little coastal town of Kotor was the main port of medieval Serbia, and it knows it. Just as Dubrovnik knows that it used to be a Republic, and now looks at present Zagreb from a historical height. If it had stayed within the Serbian state, Dubrovnik would also look at present Belgrade from a height, with a good reason.
The people from the Coast have an inborn feeling that they are not inside a frame of "little, charming towns", but that they have always been framed in historical independences, loose sovereignties, and certainly proven comunitads, such as, for example, Herceg Novi, which is celebrating 300 years of its comunitad. Municipality…
I believe there are a number of readers who want Herceg Novi to finalmente appear in a big novel, in an unusual, yet contemporary way.
Such a novel is in the process of creation. Its mission is to offer a new mythology of a coastal city, these times, as well as the time behind the curve of our days, and to endear life with a privileged view of the sea.
A country without a sea, when you take everything into consideration, isn't worth a thing.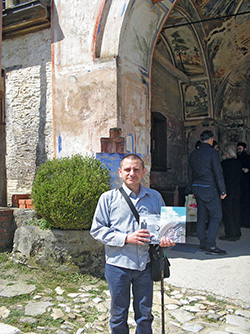 Century, Culture. I believe that the only thing the West can advance in is evil.
I believe that Serbs are organically not a part of that story, and that we need a hero of our times.
That hero must rise, ready to die for Serbia.
Without him, there is no independence or sovereignty, or culture that has been enriching the world heritage for centuries.
If it's not national, a state becomes a company. Today it's Serbia, tomorrow it can be Wal-Mart.
Serbian Drama. If viewed from zero altitude, our only chance is in the shuffling of global cards, and God save us from the shuffling of global cards!
Serbia seems like a multiply raped body, which is now kicked with boots in the head, teeth, stomach, genitals and spine. It is completely owned by foreigners, without a bit of self-respect, with destroyed healthcare, education and judiciary, with the Kosovo legs amputated to the knees, with an average age of over 40, with young people taught by politicians to take their diplomas and flee abroad. Or stay here and take their pants off, regardless of gender.
Instead of indicating the best people, Serbia is promoting wickedness. It is poisoning its youth, robbing its people, selling the economy and agricultural land. However, Serbia is still a role model to everyone and everything aware of the morality vertical and ethical spine, since it still hasn't officially betrayed the code, although it's dangerously close to doing it.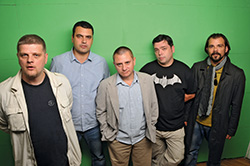 Montenegro. Really, I tell you, today it's hard to be a Serb in Montenegro.
The way the incontestable face of Serbian Sparta turned to the inside of its Montenegrin lining is explainable only esoterically. Because it's not possible to digress from your own code so much without selling your soul to the devil. Does the code exist at all? Yes, just as there are almond-shaped eyes or black color of the skin.
There has never been an example in a history of a nation, which formed its own culture on the basis of one ideal, to change the ideal and begin creating a new culture with a new subject. No. Nations incarnate the spirit in a form unique for them and thereby genetically last in the given frame, developing it, partially modifying it, but never replacing or betraying it. The Montenegrin treachery is not just apostasy, it is a cultural suicide. Similar tendencies are seen in Serbia as well, so we can speak about the syndrome of ethnic age and devaluation of a nation.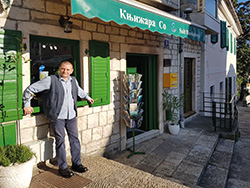 Books and High Culture. If Pavić, in his second phase, couldn't manage to maintain artistic literature in a time of market totalitarianism – other writers will find it very difficult as well, since they are also hungry for money. However, a good writer can appease the masses by throwing a few sexual intercourses here and there, while writing all the time about the only three subjects in literature: God, love and death.
The master of written words will be the one whose novel is eternally sold. Only such books should be written. People hungry for appearing in the media are wrong, thinking that those who write a "new book" every year earn more money. Such books will be sold only while the author is visiting TV studios.
Not everything in the form of a book is a book.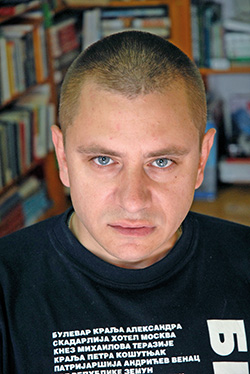 Collusion. Since I was given the assignment in high school to underline all sententiae in The Bridge on the Drina, I continued doing so and realized how all thoughts, which can be stated independently, influenced me, from the Epic of Gilgamesh to the novel of the recent winner of NIN's Award.
During my education, I passed through all literary steps and they all had an influence on me. I was lucky to conquer my own style, so my sentences, in which I break the syntagma with enclitics, along with using Romancisms, became recognizable. Thus I will say, for example, the Bay of Kotor finalmente lost its praiseworthy hinterland…
Everything we have learnt is either what we read or heard. I have heard most insights in a short period of time from Professor Aleksandar Jerkov.
I appreciate many Serbian writers, from Goran Petrović on. I am proud to be one of the founders of "Grupa P-70", which turned the other-Serbian writers into dust, whose traces I don't see as an experienced bookseller.
I don't fear criticism, because I'm mature. Before putting a final point, all my commas are in place. If I were living in Belgrade, I'd have more than the present ten awards, but life in Herceg Novi brought me a state of peace with a constantly vain price.

***
Sailing
Nikola Malović (Kotor, 1970) graduated at the Faculty of Philology in Belgrade. He published books "The Last Decade" (short stories), "Captain Vizin – 360 degrees around the Bay" (stories in the form of drama), "The Needlepoint of Perast", "Blue-Striped Stories", novels "The Wandering Man of the Bay of Kotor" (2007) and "The Sail of Hope" (2014), and more than 2.500 texts. He is author of the photo-monograph "Herceg Novi: The City of 100.001 Stairs" (2011), books of documentary prose "The Barber of the Bay of Kotor" (2015), "God in a Bottle" (2015), and editor of the "Humor of the Bay of Kotor" (2017).
He is editor in chief of the publishing department of the "So" Bookstore in Herceg Novi ("Bokeljologija" edition) and member of the Serbian Literary Association.
He lives in Herceg Novi.
***
Journeys
Odysseus is more famous for his wanderings than for his other real essence: that he hasn't left his homeland of Ithaca at all. The phenomenon according to which I'm centripetal, not centrifugal, according to which I'm anti-Odysseus, and according to which I declaratively never travel, is explained in my novel "The Wandering Man of the Bay of Kotor" ("Laguna", 2007, nine editions). The publisher in Moscow gave up on printing the translation of "The Wandering Man" because I didn't accept to travel to Moscow.
On the other hand, staying in one place, I make interviews with foreigners every day. Without cameras or dictation machines. I ask them everything and find out "what kind of people live on that side". Dived into geography dived into tourism, I see that tourism has spoiled everything it touched, and that tourists, exactly as in Dučić's definition, neither see what they're looking at, nor hear what is told to them.
To tell the truth, I did have a wish to go to my first and only journey, to Mt. Athos, as a pilgrim, not as a tourist. All those who said that one man goes to Chilandar and another one returns were right.
***
Workshop
Writing on a computer is different from writing by hand, but it has been impossible to write by hand for a long time now.
I write during the night, which is not good. I write both in Cyrillic and Latin alphabet, as I read. I published books both in Cyrillic and Latin alphabet. I would support and respect any regulation, which would give advantage to the Cyrillic alphabet, as the alphabet that determines us.
The first sentence and the title are very important. Only a bookseller, who is also a writer, knows the power of the well written text on the back cover. In a sea of titles, a reader holds a new book in his hands for 10-20 seconds. If the text hasn't thrown a hook in that time, the reader's eye leaves the luring text.
The first sentence in my novel "The Wandering Man of the Bay of Kotor" ("I'm still thinking in Serbian") is the most commented first sentence in contemporary Serbian literature. It was the first sentence in Serbian after the referendum in Montenegro and the first sentence in the dilated pupils of the Second Serbia.
I was writing my novel "The Sail of Hope" for six years in a room with a view of the sea, with only two Vangelis' compositions in my ears "Conquest of Paradise" and "12 O'clock". During my writing, I learned to hear the work of different wines and short, mostly Serbian brandies. I can write while people are ardently cooking on "24 Kitchen" channel, or with the sound completely muted during some sports event, but only on green fields.