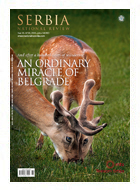 SERBIA - National review, No 69

Prologue
"Sometimes the Lord helps me by releasing the mob at me." Surrounded by today's faces of evil, from the projected self-hatred to the conversion madness, from those who bombarded maternity wards to the producers of horrific lies, let us remember the author of this sentence, the great poet. To all external pressures and internal destructions, in this 2018, about the centenary of the Great War one should talk through a book of the quotes of that time: what did the foreign statesmen, poets, military leaders say about the Serbs... And we know that today we still have what, how and the means to protect it. The new issue of the National Review speaks in favor of that. <


CONTENTS
Prologue
AFTER A HUNDRED YEARS OF WANDERING
An Ordinary Miracle of Belgrade
Vitrage
NUMBERS, EVENTS, INTERESTING THINGS
Album
ON THE FESTIVAL OD LAYING THE CHASUBLE OF THE HOLY MOTHER OF GOD
Glory in Karyes
Grain
HARVEST FESTIVITIES IN THE NORTH OF BAČKA
Gratitude for the Gifts of the Earth
It is the same everywhere beneath the vast skies over the Plain. It begins in April, when wheat is blessed, and ends in late September, when bread is symbolically handed over. In Bunjevci region, the harvesters are called risari, and they are led by the bandaš. Dužijanca, the harvest festival, has been celebrated in Subotica for more than a century. Since 1993, it has grown into a special cultural, religious and tourist event. As the locals would say: "During hay mowing, I should be with the sheep, during meals, I should be with the mowers"
Text and photo: Dragan Bosnić
Pilgrimages
ALONG THE UNDERGARMENTS OF TARA, THIS UNCERTAIN SUMMER
Down the Path of Rača Monks
This path through the forest, from the monastery to Lađevac spring, resembles a spiritual and God-searching path, full of signs and obstacles. It was overcome by the Monks of Rača, with their steps, those to whom Milorad Pavić and Milosav Tešić dedicated their poems, and who were called the "Brothers of the Drina" by Gavril Stefanović Venclović. "When things get blurred at a certain time, one should go to the source. Purity and clarity come from there"
By: Gordana Simeunović
Gatherings
TASTES AND SMELLS OF SERBIA: BEAN FESTIVAL IN PETROVARADIN
Paying Respect to Beans
Beans are the mother of the poor. They kept us going at least as much as humor and song. In difficult times, you eat them now, and then when it's there. Today, beans are used to make salads, burgers, spreads, winter preserves, all kinds of delicacies. It is mixed with cumin, ginger, mint, basil, rosemary... Uncle Google claims that beans are the most cooked meal in the world. Only in one Serbian website contains 192 recipes for bean dishes. And all over Serbia you will find gatherings that include simmering of the beans. Such occasions are always cheerful and windy. We will see how it went this summer at the Bean Festival on the Danube below the Petrovaradin Fortress

By: Petar Milatović
Rails
OLD RAILWAY STATION IN BELGRADE AND SHORT HISTORY OF AN IDEA
To the New Era by Train
After 134 years, this representative building, from where we have so often embarked on long journeys, now itself travels to history and in its own new role. That is why it is a good time for many little things, data and stories to be collected and preserved for the offspring. This transformation of Belgrade from the Oriental suburbs to the modern European capital was not easy, but it is bright and something to be proud of. It is touching to what extent they have been seriously thinking about the essence of the city and its development. In the same composition also includes electrification of Serbian cities, industrialization, new ways of production and many other things
By: Miloš Lazić
Memorial
ON THE RAMPART OF MEMORY: ĐORĐE MIHAILOVIĆ, ETERNAL KEEPER OF THE SERBIAN MILITARY CEMETERY IN THESSALONIKI
The Last Hero of the Great War
Even now, with the sixtieth anniversary of his service approaching, he never takes off the Serbian army uniform. Although officially retired, he still comes every day to help his successor. He still guards the tombs and memories of the greatest heroes of Serbia in its modern history. Being with them, he became one of them. Every encounter with Đorđe Mihailović, including the latest one, raises the same question: what about us, the descendants, who are we? Do we know and are we worthy?
By: Mišo Vujović
Eye
NEDELJKO GVOZDENOVIĆ (1902–1988), PAINTER, PROFESSOR, ACADEMICIAN
The Secret of Restraint and Play
The best Serbian art critics, experts and connoisseurs have written about him. His path from Herzegovina over Munich to Belgrade was often full of thorns, marked by poverty, but always gentlemanly. His students called him Marquise. He was a cultured painter, great expert in art history and master of subtly processed painting surface. He considered the sea too vulgar for painting, but loved to sneak out and take a city bus to the last stop, to the periphery of Belgrade. There he discovered refined consonances of colors, people, small coffee shops and atmosphere of a family he had never had
By: Dejan Đorić
Chant
SERBIAN CHURCH CHORAL SOCIETY FROM PRIJEDOR AND ITS BOOM ON YOUTUBE
Fairylike
Established more than a hundred and thirty years ago, "Vila" (Fairy) has always shared the fate of its nation. The strength of "Vila's" swing was a result of the degree of Serbian culture and spirituality among Serbs, faith and vertical of value. Renewed in 2000, "Vila" greatly contributed to the culture of Krajina and Srpska. It has never returned from any international competition without an award. Its performance of "Psalm 135" in the Prijedor church on the Pentecost, saint day of the city, had more than two and a half million views on YouTube. The comments below testify about being deeply moved by beauty, elevated by the divine-earthly chanting. About tears that run unwillingly and angelic choruses
By: Sandra Kljajić
Pulsations
FROM THE BOOK OF MILADIN ĆULAFIĆ'S PROSE
Brains End like the Cherry Season
He has been listening, recognizing and noting for decades. He composes stories, sayings and words, backwards and forwards. He hunts the depths of the land and language, his small personal mythography. Entire characterology studies are spread, the features and wisdom of the nation, in the light of one of his images, in the flash of a sentence, in the spice of humor and paradox. Aware of its virtues and shortcomings, the writer loves our world and understands it. He knows that language remembers better than us, thus he asks for its help. That is how these masterly written miniatures appear, original and legendary, with big eyes

Life, Novels
NIKOLA MALOVIĆ, WRITER, A WANDERING NATIVE OF THE BAY OF KOTOR STEADY ON HIS FEET, COASTGUARD OF SERBIAN LITERATURE
It's Hard to Be a Serb in Montenegro
His books are full of fishhooks, which save both the writer and the reader. From his bookstore "So" ("Salt"), on the square of Herzeg's city, on his timeless island, he prevents the Bay from sinking into convert madness and the world from becoming bland by unsalted lies. From his zero altitude he sees Serbia, crucified by the hands of foreigners and their marionettes, being raped and kicked in the head, in reason, in dignity. It needs a "hero of our time", ready to rise and die for Serbia. If it's not national, a state becomes a company. The Montenegrin treachery is not just apostasy; it is also a cultural suicide. The market totalitarianism and primitivism of liberal capitalism must be opposed with mastery. Not everything in the form of a book is a book
By: Branislav Matić
Arena
DUŠAN TADIĆ, FOOTBALL PLAYER, MEMBER OF THE SERBIAN NATIONAL TEAM AND, STARTING FROM THIS SUMMER, PLAYER OF DUTCH "AJAX"
A Road of Radical Changes
According to available quality, we could and should've done more at the World Cup in Russia. We should reconsider why it wasn't so. Big expectations of fans and the public shouldn't be suppressed. They should be fulfilled and used for feeding our boldness and strength. The fact that Serbian clubs have lately achieved better results on the Euro-scene is good. Positive chain reactions could lead us towards the solutions we are looking for. I came to Ajax, one of the fifteen best clubs in the world, because I'm lacking the Champions League and titles in my career
By: Dejan Bulajić
Ascending Line
RUMA MUNICIPALITY CONTINUES ITS DEVELOPMENT MOMENTUM
Leader in Investments
Together with Novi Sad and Sombor, as announced by the provincial government of Vojvodina, Ruma is leading in investments in this region. New factories are being built, streets and roads reconstructed, school and sports infrastructure, industrial-working zones are being improved. Since the beginning of 2018, the value of announced tenders in capital projects has exceeded RSD 500 million. And interest of investors is not dying down
By: Mile Vajagić
Connections
"TELEKOM SRBIJA" ENCOURAGES YOUNG PEOPLE TO MAKE POSITIVE CHANGE
Driving the Drivers
"Our idea is to build an architecture of the future based on individuals who, in their surroundings, drive both themselves and others, creating innovations in different areas", says Marija Bošković, Director of the PR Division in this renowned Serbian company. "Telekom Srbija" has looked into the future in a timely manner. We have recognized the area that has a development potential and is only natural that we encourage people to use and develop new technologies"
Health
"TERME MERKUR", MODERN SPA COMPLEX
Ointments of Nature and Knowledge
Terme brings together everything that makes a modern spa service: the use of mineral waters in treatment, through traditional services of "Merkur's" balneology, combined with contemporary medicine, high technology and preventive wellness and spa amenities. The services are available to all spa guests, regardless of the reasons of their arrival and the facility where they stay