Road Sign
THROUGH SRPSKA CRNJA, MARKING THE 140TH DEATH ANNIVERSARY OF THE FAMOUS SERBIAN PAINTER AND POET
In the Coat of Arms of Đura's Town
Life was not kind to him, nor was he kind to life. Fiery character and words, deep gentleness and pure picture, go with a price. He paid it with a smile, never bargaining with fate. The memory of him, his work and wounds, still lives in his hometown. A board at the entrance of Srpska Crnja states that it is his town. Everything in it, even the agricultural cooperative, is named after him. We have been there to remind: this year, the entire Serbian culture should express due gratitude to him
Text and Photo: Miodrag Grubački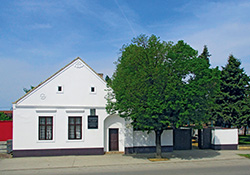 A settlement in central Banat, at the very border with Romania, Srpska Crnja, is the birthplace of famous painter, poet, playwright, teacher and bohemian Đura Jakšić (1832–1878). This year is his 140th death anniversary. The pride people of Crnja feel because of their most famous fellow citizen is visible already at the entrance of the town, where travelers are greeted with a sign "Welcome to Đura's town".
Now, people of Crnja will gladly discuss about whether it is a town or just a village, but it's for sure that many places were named after Đura's first and last name: elementary and high school, library and cultural center, cultural-artistic society, literary award, even a local women's association and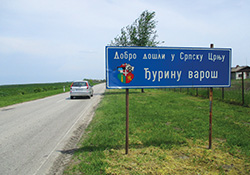 the agricultural cooperative. One of the longest streets, parallel to the main street, is Đura Jakšić's Street. Besides a bust in the park next to the church, a monument was raised to him in the town center, work of Aleksandar Zarin, another local artist. Perhaps the greatest honor was done to him by putting his face, resembling a knight with crossed writing pen and painting brush, in the official coat of arms of Srpska Crnja.
The house where Đura was born, only a fence away from the elementary and high school, is a Pannonian-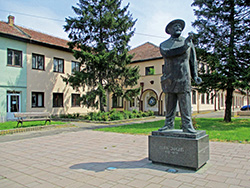 type building, built in the 1830s. It has two small street windows and a long open porch with concrete pillars along the front façade. Linden trees (what else?) are in the small paved yard. Pilgrims of art gather under their branches, celebrating the remarkable artist. Since 1980, the house has been storing a memorial collection – Museum of Đura Jakšić. Every year, in early June, it hosts "Đura's Days", a cultural event sometimes also called "Linden Evenings". During those days, Srpska Crnja is full of artists and events dedicated to Đura and his art.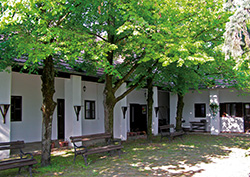 Important conservation works on restoring the house were done in 2011. The damaged roof construction was replaced, new tiles placed, and the façade completely renewed. The memorial museum exhibition was changed and prints of Đura's most famous pictures made. It is a beautiful building from 1788, where Dionisije Jakšić lived, the local parishioner in the Church of Great Martyr Procopius. On July 27, 1832, his wife Hristina gave birth to their first son Georgije – Đura, who lived in his town of birth until the age of twenty-four.
FIERY TEMPER, SINCERE ART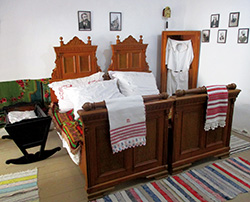 On his way from Srpska Crnja to Belgrade, he shortly stayed in Veliki Bečkerek, present Zrenjanin, where he learned painting in 1848 from Konstantin Danil, one of the top artists of XIX century Serbian painting. In his birth town, he left an artistic trace in the Church of Holy Procopius, where he worked in 1853 and painted eighteen altar icons and icons on gates, thrones and choirs, in the spirit of new ideas of Romanticism. Although they belong to his early works and are similar to icons painted by Danil, they are important because Jakšić did not leave many works of ecclesiastical painting. That year, 1853, was one of the crucial ones in Đura's life, because he left his painting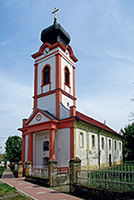 studies at the academy in Vienna and published his first poetry works in Serbski Letopis (Serbian Chronicle), later Letopis Matice Srpske (Chronicle of Matica Srpska).
Uroš Predić, another famous artist from Banat, did the same – returned from imperial Vienna to his village of birth. One more parallel can be drawn between these two remarkable men – Predić, in the church in Orlovat, and Jakšić, in Srpska Crnja, painted icons with faces of real people they were close to. Especially interesting are two Jakšić's icons, the first and the last one he painted, which have special places in the church, on the Virgin's and Archiereus' throne.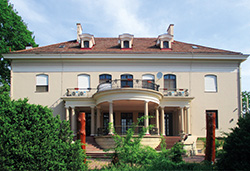 St. Sava painted in the icon has recognizable facial features of Đura's father, priest Dionisije, while the face of the Virgin, in the icon of Virgin with Christ, represents the face of his great, unrequited love, Emilija – Mila Popović, beautiful barmaid of the "At the White Cross" inn in Kikinda. Đura grew very fond of the daughter of Lazar Popović, the inn's owner, at the time he stayed in Kikinda and made his living by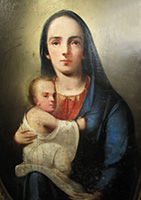 painting portraits of the local elite and rich clients.
"Wine, Mila!" – people stormed, / while Mila was here. / Now Mila is gone: / Some other hands bring wine. / Ana pours, Ana serves, / but the heart cries for Mila… wrote Jakšić his anthological verses, after Emilija's sister Ana replaced her at the inn. In an act of rage, following insulting comments around him, he tried to destroy his paintings, rushed to the church and damaged the icon in three places. He was somehow restrained, but the traces of Đura's impulsive temper remained on the icon of the Virgin for almost four decades, until 1892, when it was partially restored. However, a few cuts of the knife are still clearly visible on the lower part of the icon.
IN A WORLD WITHOUT LOVE, MY BROTHER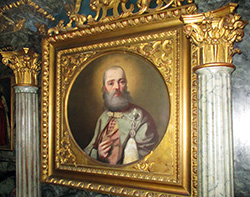 The Church of Holy Great Martyr Procopius and the Jakšić family house were restored at the same time, seven years ago, after the completed conservation works on the western façade and the bell tower. Interestingly, the form of the bell tower top was altered and returned to its XIX-century form. The church is single-nave, with an extended basis, a semi-circular apse and low bell tower. Đura is watching it from a mural painted on the neighboring wall, stating his immortal patriotic verses: "This is the homeland of Serbs!"
An average village of Vojvodina according to its population, but judging by its heritage and famous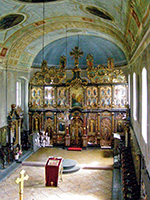 citizens, at least a town, or even more, Srpska Crnja has a long history. It was first mentioned already in 1373, under the name of Čorna and marked on the oldest preserved map of Hungary in 1528. According to the last census, it has a population of 3.685 and is two times bigger than the center of its municipality, Nova Crnja. The moving of the municipality center to Nova Crnja was influenced by the more favorable geographical position of the neighboring town, because there are only a few hundred steps from the last house in Srpska Crnja to the state border.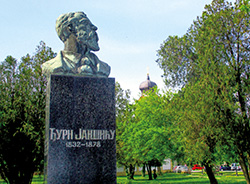 There, on the very border, where travelers already prepare their passports for entering Romania, there is another famous local building – "Neuhausen" Palace. Although it doesn't belong to the series of old palaces of Vojvodina, its history and appearance are certainly worthy of attention. This is the only palace in Banat raised during World War II, between 1941 and 1943, and was supposed to serve as a summer house to Franz Neuhausen, high officer of the German occupation army.
Several artists, who left a trace in Serbian literature and fine arts, were born in this small town of Crnja. Memorial plates were placed on their houses: writers Vojislav Kuzmanović, Đura's nephews Mileta and Milutin Jakšić, Momčilo Milankov, Draginja Gavrilović, sculptor Aleksandar Zarin.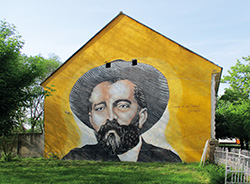 "There is no love in the world, my brother", sends Đura his last message on his tombstone. With those words, during his lifetime, he dedicated a collection of his poems to Prince Milan Obrenović in 1873. Whether because of Mila or everything that happened to him during his relatively short life, the suffering soul of Đura Jakšić could not have sent any different thought to his contemporaries for bidding them farewell. However, love was written with a big "L", leaving faith and hope that it does exist, that it has a name, and that, after all the wandering, it is something one can and must return to, because it cannot be any other way.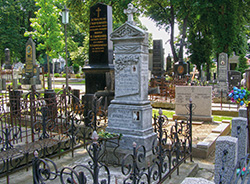 He died on November 16, 1878 in the capital city of Serbia, leaving in tears his bohemian Skadarlija, where he lived and subsisted, his "Three Hats" and "Two Deer" inns, those inexhaustible sources of his creative inspiration… He was buried on the old Tašmajdan cemetery, later moved to the New Cemetery in Belgrade, where he rests with his nephew Mileta and a few other members of the Jakšić family.
For this anniversary, Srpska Crnja, Banat, Belgrade and Serbia, will express gratitude to their Đura for his immortal works "Homeland", "Silent Midnight", "In the Linden Woods", "Girl in Blue", "Prince Lazar", "Uprising of Takovo"… A hundred and forty years since he left this earthly world, poet and painter Đura Jakšić is still present in his previous environment, perhaps even more distinctive and stronger than ever before…
***
Jakšićevo
The "Neuhausen" palace is surrounded by a green area, at the estate previously owned by landowner Count Čekonjić, in the immediate vicinity of the "Julija" estate. Meticulously designed, functional and harmonious, built of high quality materials, it is today one of the best preserved palaces in Serbian lands and turned into a hotel. Despite its official name, it is locally most often mentioned as the "Jakšićevo" palace.
***
Heritage Collection
Documents about artists from Crnja, as well as old editions of Đura's books from the XIX century, archive material about Srpska Crnja and other settlements of the Nova Crnja municipality, are kept in the heritage collection of the "Đura Jakšić" National Library. They also include two of his original manuscripts: letter to the Serbian Ministry of Education and a speech dedicated to a deceased, which Đura wrote on a commission.