Heritage
REGARDING DRAGIŠA MILOSAVLJEVIĆ'S BOOK "LAST GUARDIANS OF ZLATIBOR HERITAGE"
The Wisdom of Ancestors and the Mountain
A house and man are built mutually. According to their own measure. Like man, like house. The story about people of Zlatibor and their architecture is specific in many aspects. An art historian from Užice created a book from his several years of field research, and preserved important traces from the time when we lived much closer to nature, to the skies and earth, and to ourselves
By: Petar Milatović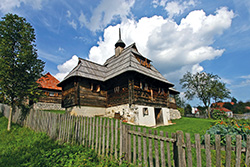 When you exit the tunnel above Čajetina and sail into the light of the Zlatibor plateau – for resting, recreation or some seminar – you think that you have arrived to a real city, a bunch of steel, concrete and glass. Budva on a meadow? Zlatibor, spread your branches and accept all our (tycoon) pals! Having a "Range Rover", "BMW", "Audi" or "Porsche Cayenne" doesn't mean a thing if one still hasn't erected or rented something in Zlatibor, if everyone who knows them knows that they don't have adequate real estate in Kraljeve Vode (King's Waters). What kind of king, or at least king's subject, are they?! The wonderful landscape also seems to (helplessly) wonder what struck him in the last twenty years. Who climbed on its back and pulled out the rug (meadows) under its feet, so it doesn't even look like itself any longer?! But, of course, it looks like many heroes of our days.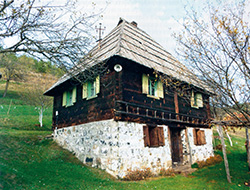 Fortunately for the other, much bigger part of Zlatibor, the one not easy to access even today, there is still the God-given plateau with numerous (unfortunately mostly desolate) villages, settlements, households and much different way of living. The Zlatibor that belongs to the people of Zlatibor, hard-working, resourceful and witty. The houses – log cabins, so-called "osaćanka", named after the masons from the other side of the Drina, as well as houses of their apprentices in Zlatibor, such as Kovačević from Dobroselica, Udovičić from Stublo or Bakić from Jablanica, stand as their (rare) traces that survived until our days.
Dragiša Milosavljević, art historian from Užice, set off down the traces of those last guardians of Zlatibor heritage and put his three-year field research – based on studying onsite with notes and corresponding photos, with using a multitude of archive material and local and foreign literature – into a richly illustrated monograph entitled Last Guardians of Zlatibor Heritage, recently published by "Službeni Glasnik".
"HOUSOTHEQUE" IN SIROGOJNO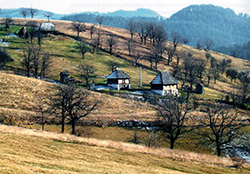 What to begin with and what to single out in a short news report without desecrating the richness of this stroll through history and geography of the Zlatibor area, through stories about people who grew into that land, about their worries and hopes? Because a house is a man and he builds it according to his measure. Like man, like house.
The author says the following about his motive for such an extraordinary literary work, valuable monument of our endurance:
"In those old Zlatibor 'guardians'… the wisdom of people, family dedication and science of survival were sifted and honed for centuries. The poor Zlatibor homes were classrooms, where people studied and graduated a unique school of life. The descendants, those growing up, had to be learned to respect and value the family in the first place, its requests and needs, to listen to the elders, not to step on a rotten plank, not to provoke envy, not to attack older and weak people… Searching for those old edifices, their constructions and dispositional features, where the spirit of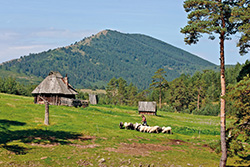 Zlatibor wisdom was crystalized, is one of the motives for writing this book."
It is important to emphasize that an important step in the, at least partial, preservation of old Zlatibor houses was done in the 1980s, with the building of ethno-village Sirogojno, where several beautiful Zlatibor houses are still showing off today. It is important because the "houseotheque" in Sirogojno inspired many people of Zlatibor to save the houses of their fathers from dilapidation or renew them to resemble the old ones. Luckily, many have done so.
SAME, YET DIFFERENT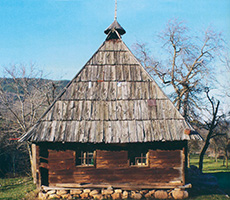 The houses, mostly already mentioned "osaćanka", one of the most important forms of Zlatibor architecture, which grew into and merged with the environment, were mostly built of pine trunks, covered with high-quality shingle, also made of pine. It is unusual and typical for this area that houses are not the same. They are always different in something, at least a detail. "The masters that built them, as well as the owners, searched for rational details to make the object more functional, more beautiful, better decorated, so as to recommend the masons for building other houses, regardless whether the masons were from Zlatibor villages or elsewhere. If we compare two "osaćanka" houses from the same village, we will find interesting differences, although they were erected by the same mason group and belonged to the same families…"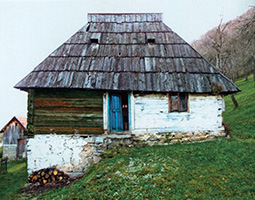 In the place where pine trees have been swinging their branches from ancient times, using iron in building was unthinkable. "All connections are made of wood, even the planks on the roof are hammered with wooden bolts. Houses are made of two parts, the 'house' and the room… The 'house' is always leaning on the side and partially dug into the ground, while the basement is most often under the room, dug into the steep side, often with its front wall made of tree trunks. The center of life is in the 'house'. It is a fireplace, placed in the center of the 'house' area – a rectangular or circular stone-paved surface with two 'prijeklad' stones. The house has two doors, opposite one another…"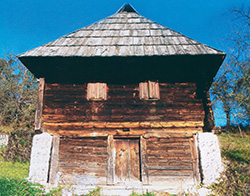 The Zlatibor architecture is also a witness of social circumstances.
"Wooden houses scattered on the slopes of Zlatibor give valuable historical data and write a chronicle of the entire area. The cattlemen log cabins in Dobroselica, Donje Selo, Jablanica, as well as other villages, testify about the upswing of animal husbandry in Zlatibor, when the economic status of many family communities was based on herds of sheep, cows, as well as the log cabins where they spent springs, summers and autumns… The quality of the building material testifies about the status of the owner, while numerous details on objects testify about the masons that performed the works…"
THERE ARE NO WASTE PRODUCTS IN NATURE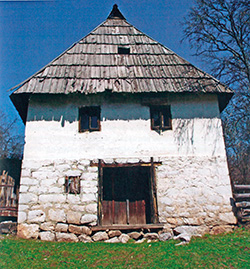 Dragiša Milosavljević explains how those houses were preserved:
"Old Zlatibor houses, built by the hands of self-taught and unknown masons, were preserved by a magical set of circumstances. In the times after World War II, when nothing good was happening to the poor inhabitants of Zlatibor villages, old log cabins were proclaimed reactionary relicts of the past. So was rural living, which, according to the request of party ideologists, had to be changed. The future was in the cities, not in villages. Luckily, most wise Zlatibor people were reserved towards new establishment, just like they were towards those before them. They were taught to stay away from authorities and not to trust them in any matter, so they continued living in houses their fathers and grandfathers lived in."
Sreten Vukosavljević (1881–1960), one of the founders of sociology in Serbia and professor of Belgrade University, excellent expert in villages, wrote this not so long ago: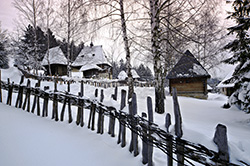 "Old buildings and devices, as well as old forms of life and work in villages, die differently than in cities. They don't die suddenly or hastily, but very slowly. And when they do die, they remain in memory much longer than in cities. There is much more continuity in villages in everything, including this. The old is not replaced at once and entirely, as in cities. They continue one another. Similar to nature, where there is no waste. Almost everything is in use. An old house is not brought down after a new one is built. It is used as a hangar. An old hangar is still used after building a new one… Retreated into the shadows, old devices and old edifices, even old people, slowly lose their importance, and die silently and unnoticeably. They are sometimes even late with dying."
***
Be cool and take a turn from Kraljeve Vode. Left or right, down a winding road, it's all the same. Believe this eternal traveler. It'll pay off, I guarantee you. That is the real Zlatibor. That is where the golden pines smell like themselves. So do black and white pine, spruce and fir trees. Check it, ozone here is the size of a New Year balloon.
***
The House
"In Serbs, the house is firstly the center of economic life and secondly a place of living. It is an area adjusted for various activities of a large, rural family. The objects are, therefore, built with a purpose, so, besides living, they served for other activities as well. Workshops, food storages, shelters for young cattle during winter months… Finally, they are places for dwelling, for celebrations and feasts, greetings and seeing offs, happy and sad gatherings, bringing up generations…"

***
The Tree
"Zlatibor masons believed that the tree had a soul, so before cutting it, they'd drink a bit of rakia and pray to God, asking for forgiveness for being forced to cut the tree... People in Zlatibor still tell about a mason from the Marjanović family in Dobroselica, who had many children and even more worries. He had a small piece of arable land and had to work as a mason, as well as other jobs when there was nothing to build. He had a pear tree in front of his house, which he especially loved and cherished. Returning home from work in the evening, he'd go to the pear tree, embrace it and watch it for a few moments. He began doing it regularly, so other members of his mason group noticed it and asked for an explanation. After much persuasion, he said: 'You know, brother, when I come home in the evening, I tell all my problems to the pear tree, rest a bit and enter the house. I kiss my children and have dinner in piece. When I start off to work the next morning, I take all my troubles and problems from the pear tree again. But, you know, my friend, I always take fewer troubles than I have left the previous evening.'"
***
The Fireplace
"Our ancestors considered the fireplace a shrine, where they swore and vowed, and such vows were considered as those given in the church. Some data indicate that Serbs took confessions on fireplaces, if there were no churches or temples in the vicinity, and taking a confession on the fireplace was considered equal to those in the church. Guests were received next to the fireplace, served and gifted. Loans were given and returned next to fireplaces, important business deals made. The first bathing of a newborn was done on the fireplace, believing that he or she will be connected to the house and fireplace their entire life. One mustn't spit, swear or in any way desecrate the fireplace. It cannot be contaminated or touched with the foot…"