Islands
VELJA MIHAJLOVIĆ AND HIS LIFE STORY, "THERE, FAR AWAY"
The Steps of an Upright Man
Arriving on Corfu in 1993 as a very young man, this clever guy from Foča managed to find his way around at an incredible pace. Guided by intuition and the blessing of St. Spiridon. He says that trouble is the greatest force that drives people forward. He learned Greek by writing delivery notes for ice cream, embarked on his own business with the tavern "Tamo daleko" ("There, Far Away"), and today the agency under that name organizes 50,000 overnight stays per season. On Corfu, his word is worth more than contracts and bank guarantees. "It is better to lose money than honor", he says. "Everything is already written, but we rarely read the signs sent to us by the Almighty"
By: Mišo Vujović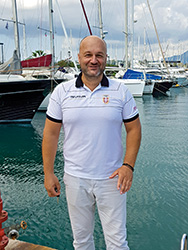 In a quarter of a century, the island of Corfu was visited by tens of hundreds, perhaps hundreds of thousands of Serbian tourists. Many of them were accommodated, welcomed, or otherwise helped by this entrepreneurial owner of the travel agency "There, Far Away", Velimir Velјa Mihajlović.
Always cheerful and smiling, this forty-four-year-old arrived on Corfu as a very young man, with no friends, relatives, almost without money, but with the iron will to succeed in that brotherly country in which, at that time, foreign workers were a rather rare phenomenon. After turning twenty, with a year of bloody war on his shoulders, this bold guy from Foča left his hometown in 1993, not to save his head, but to avoid the madness of that conflict of the unsettled issues of former neighbors, artificially masked by brotherhood and unity, this great deception of the powerful people from the shadows.
More intuitively than by plan, he arrived to Kerkyra, unaware of the significance of that Ionian island for the Serbian people in probably the most dramatic moments of their history.
Like most of our people who went abroad to seek their fortune, Velјa had no alternative. "Succeed or die", as many young people who were moving abroad with this moto thought. Unlike many, instead of luggage and a desire to succeed this man had a pure heart, filled with honesty and Christian postulate: "It is better to lose your head than your own soul".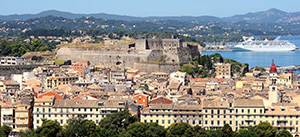 He started in the villages of Corfu to deliver ice cream in a worn-out refrigerator car, knowing only a few Greek words. Without navigation or the map, he reached remote villages in the hills, guided by scarce instructions ("turn left at the old olive tree"), but he managed to come everywhere thanks to his instinct, good orientation and, as he emphasizes, the blessing of St. Spiridon, patron saint of Corfu, travelling saint to whom he prays even today, printing his biography in Serbian language and distributing it to our tourists.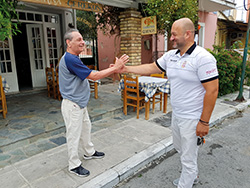 "My seasonal norm for that totally outsider area, away from tourist places on the coast, was about five million drachmas. I managed to triple it, because the people in these villages simply accepted me and loved me. The boss was astonished that someone who does not understand the language, does not know how to write in that language, does not know his way around, would achieve such a result", this cheerful and humble man remembers as we sit in the Corfu marina, resting our eyes on the beautiful and powerful vessels anchored in this port in Gouviá area, where the first units of the Serbian army disembarked in January 1916.
"Next year I got a better vehicle and more attractive destinations, which, of course, increased my performance, earnings and status in the company. In three years I broke all the records, received bonuses, awards, trips from the company 'Algida', I learned the language writing delivery notes", he remembers smiling, emphasizing that hardship is the greatest force that drives us and that everybody with strong will can move the hills, let alone succeed in a foreign country.
OPERATING ON VELJA'S WORD
However, his life aspirations exceeded by far the work he was doing and thanks to which he gained respect and contacts across the island. Before turning twenty-five, Velјa decided to embark on entrepreneurial waters, first by opening the tavern "There, Far Away".
"My village of Ustikolina was given to the Muslims by the Dayton Accord 1 in 1995. So, having remained lost my birthplace, I recognized myself in those verses: '... without a homeland, without a home, I live in Corfu, far away'."
Together with the tavern, thanks to the cooperation with some travel agencies, but above all his inclination to help people, he decides to enter the waters of tour packages, organizing groups, rentals of accommodation capacities not only in Corfu, but also in Khalkidhiki and Thassos. Today, the agency "There, Far Away" during the season realizes over fifty thousand overnight stays, which recommended it for cooperation with serious international tour operators.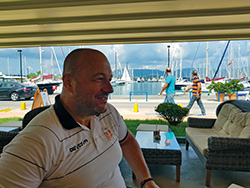 "My greatest success is that I have gained great trust with the local partners, from whom we rent accommodation, and most of us are doing business based on a given word. It even happens that I mediate, without any commission, for some of our agencies and I insist on signing mutual agreements. However, most Greeks ignore it by asking only oral guarantees from me, which are more valid to them than any legal forms", Velјa tells us, laughing, shyly adding that the role of the guarantor cost a lot of money this year because of the bankruptcy of several of our agencies.
"These days an agency from Čačak went bankrupt. I was just the mediator in those arrangements that they negotiated and legally formalized with the Greeks. However, my friends Greeks, who have been cooperating with our agency for years, regardless of the fact what we do not have any obligation, simply say:
– Mihajlović, it was you who brought them.
And what can I do, I have to rescue my honor. It is better to lose money than honor."
LESSONS AND SIGNS
"I want to believe that all these people of ours did not have bad intentions but have poorly assessed the situation, or some other circumstances contributed to their collapse. This year Turkey was reopened, with very competitive prices and the people started going there in large numbers. So the fiasco was inevitable, although bad intention did not exist", this benevolent man whose broadmindedness exceeds many spiritual people is trying to justify them.
What I have learned from the Greeks is solidarity – and their strength is reflected in it. If an accident occurs, in any part of Greece, everyone is on their feet. They sincerely suffer with the victims. They do not have pronoun "they", only "we". Whether they are in Rhodes, Thassos, Germany or America, they are unified everywhere. Unlike them, we are all "they". Those in Bosnia, in Montenegro, in Serbia. There is no such distance in Greece. Greeks share both good and bad. Any inconvenience or trouble, even something that we would hide or consider an embarrassment, they share with their environment."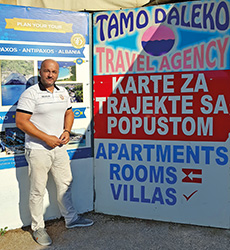 Velјa emphasizes that the people of Corfu are very open to foreigners, unlike some other areas. They have a very pronounced spirit of reciprocity.
"Here, if a person is just, they would never feel as a foreigner or be discriminated against in any way."
Velјa emphasizes that even today among the local Greeks, even younger generations, there is a living memory of the Serbian warriors who lived on the island a century ago. And most of our tourists visit Serbian sights on Corfu in organized trips, with a mandatory visit to the memorial charnel house on the island of Vido and the Serbian House with a new museum exhibition in the center of the city of Corfu.
"Every man has his own set path and a chance to walk upright on this path, if he is ready to fight. Everything is written, but we rarely read the signs sent to us by the Almighty. Once, a barn owl was crying all night long on my terrace. At dawn, I stepped out to see what was happening. It looked at me with its mysterious and cold eyes. For a moment, I thought it was hypnotizing me. It croaked a few more times, looking at me piercingly, then flapped its wings and flew away. That encounter with an abandoned bird had a strong impression on me. I woke up and began to intensely think about its persistent call until I came out. At work, I told my colleagues about the event. They found it on the internet, it is called barn owl. They told me that it always heralds something. Although my associate did not say that this kind of owl is usually the carrier of bad news, I felt the same discomfort in my stomach as when encountering the bird on my terrace. The same evening I was told that my father was seriously ill. There were complications and he passed away in two days."
***
A Word is a Word
"It has happened several times that we suffered serious financial damage because we have mediated between the Greeks some Serbian travel agencies. Specifically, this year, "Jazz Travel" from Čačak and several other agencies brought me into a very unpleasant and delicate situation", Velјa says without resentment.
He also mentions other infamous mediations, such as "Balkan Express" and "Čorus Travel" from Italy, whose owners are also our people. Despite the losses and unpleasantness, this man does not judge them.